Abstract
One hundred and twenty bacterial isolates were obtained from a hypersaline pond (c. 22% salinity) in Sichuan, China. Bacteria were isolated from hypersaline water, sediment and soil samples using three culture media and an incubation temperature of 37°C. Of these isolates, 47 were selected and examined by phylogenetic analysis of 16S rRNA gene sequences and by tests of salt tolerance. The phylogenetic analysis placed the 47 bacterial isolates either in the phylum Firmicutes or in the class Gammaproteobacteria and showed that they were affiliated with the genera Salimicrobium, Halalkalibacillus, Virgibacillus, Alkalibacillus, Marinococcus, Halobacillus, Halomonas, Idiomarina, Chromohalobacter and Halovibrio. All tested isolates were either halophilic or halotolerant and several were capable of growth in the presence of 30% (w/v) NaCl.
Access options
Buy single article
Instant access to the full article PDF.
US$ 39.95
Tax calculation will be finalised during checkout.
Subscribe to journal
Immediate online access to all issues from 2019. Subscription will auto renew annually.
US$ 79
Tax calculation will be finalised during checkout.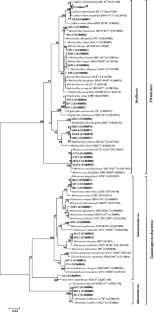 References
Antón J, Rosselló-Mora R, Rodríguez-Valera F, Amann R (2000) Extremely halophilic bacteria in crystallizer ponds from solar salterns. Appl Environ Microbiol 66:3052–3057

Antón J, Oren A, Benlloch S, Rodríguez-Valera F, Amann R, Rosselló-Mora R (2002) Salinibacter rubber gen. nov., sp. nov., a novel, extremely halophilic member of the bacteria from saltern crystallizer ponds. Int J Syst Evol Microbiol 52:485–491

Baati H, Amdouni R, Gharsallah N, Sghir A, Ammar E (2010) Isolation and characterization of moderately halophilic bacteria from Tunisian solar saltern. Curr Microbiol 60:157–161

Benlloch S, López-López A, Casamayor EO, Goddard LØV, Daae FL, Smerdon G, Massana R, Joint I, Thingstad F, Pedrós-Alió C, Rodríguez-Valera F (2002) Prokaryotic genetic diversity throughout the salinity gradient of a coastal solar saltern. Environ Microbiol 4:349–360

Caton TM, Witte LR, Ngyuen HD, Buchheim JA, Buchheim MA, Schneegurt MA (2004) Halotolerant aerobic heterotrophic bacteria from the great salt plains of Oklahoma. Microb Ecol 48:499–462

Cole JR, Wang Q, Cardenas E, Fish J, Chai B, Farris RJ, Kulam-Syed-Mohideen AS, McGarrell DM, Marsh T, Garrity GM, Tiedje JM (2009) The Ribosomal Database Project: improved alignments and new tools for rRNA analysis. Nucleic Acids Res 37:141–145. doi:10.1093/nar/gkn879

Echigo A, Fukushima T, Mizuki T, Kamekura M, Usami R (2007) Halalkalibacillus halophilus gen. nov., sp. nov., a novel moderately halophilic and alkaliphilic bacterium isolated from a non-saline soil sample in Japan. Int J Syst Evol Microbiol 57:1081–1085

Edwards U, Rogall H, Blöcker H, Emde M, Böttger EC (1989) Isolation and direct complete nucleotide determination of entire genes. Characterization of a gene coding for 16S ribosomal RNA. Nucleic Acids Res 17:7843–7853

Felsenstein J (1985) Confidence limits on phylogenies: an approach using the bootstrap. Evolution 39:783–791

Grant WD (2004) Life at low water activity. Philos Trans R Soc Lond B 359:1249–1267

Hedi A, Sadfi N, Fardeau ML, Rebib H, Cayol JL, Ollivier B, Boudabous A (2009) Studies on the biodiversity of halophilic microorganisms isolated from El-Djerid Salt Lake (Tunisia) under aerobic conditions. Int J Microbiol, Article ID 731786, doi:10.1155/2009/7317862009, 17 pages

Jiang HC, Dong HL, Zhang GX, Yu BS, Chapman LR, Fields MW (2006) Microbial diversity in water and sediment of Lake Chaka, an Athalassohaline Lake in Northwestern China. Appl Environ Microbiol 72:3832–3845

Jorquera M, Martinez O, Maruyama F, Marschner P, Mora M (2008) Current and future biotechnological applications of bacterial phytases and phytase-producing bactera. Microbes Environ 23:182–191

Kuhn O (2004) Ancient Chinese drilling. J Can Soc Exp Geophy Rec June 2004:39–43

Lefebvre O, Vasudevan N, Thanasekaran K, Moletta R, Godon JJ (2006) Microbial diversity in hypersaline wastewater: the example of tanneries. Extremophiles 10:505–513

Li C, Bai JH, Cai ZL, Ouyang F (2002) Optimization of a cultural medium for bacteriocin production by Lactococcus lactis using response surface methodology. J Biotechnol 93:27–34

Litchfield D, Oren A, Irby A, Sikaroodi M, Gillevet PM (2009) Temporal and salinity impacts on the microbial diversity at the Eilat, Israel solar salt plant. Glob NEST J 11:86–90

Margesin R, Schinner F (2001) Potential of halotolerant and halophilic microorganisms for biotechnology. Extremophiles 5:73–83

Maturrano L, Santos F, Rosselló-Mora R, Antón J (2006) Microbial diversity in Maras Salterns, a hypersaline environment in the Peruvian Andes. Appl Environ Microbiol 72:3887–3895

Nicholson A, Fathepure BZ (2004) Biodegradation of benzene by halophilic and halotolerant bacteria under aerobic conditions. Appl Environ Microbiol 70:1222–1225

Oren A (2008) Microbial life at high salt concentrations: phylogenetic and metabolic diversity. Saline Syst 4:2–14

Perreault NN, Andersen DT, Pollard WH, Greer CW, Whyte LG (2007) Characterization of the prokaryotic diversity in cold saline perennial springs of the Canadian High Arctic. Appl Environ Microbiol 73:1532–1543

Posada D (2006) ModelTest Server: a web-based tool for the statistical selection of models of nucleotide substitution online. Nucleic Acids Res 34:700–703

Saitou N, Nei M (1987) The neighbor-joining method: a new method for reconstructing phylogenetic trees. Mol Biol Evol 4:406–425

Schleifer KH (2009) Classification of Bacteria and Archaea: past, present and future. Syst Appl Microbiol 32:533–542

Tamura K, Nei M (1993) Estimation of the number of nucleotide substitutions in the control region of mitochondrial DNA in humans and chimpanzees. Mol Biol Evol 10:512–526

Tamura K, Dudley J, Nei M, Kumar S (2007) MEGA4: Molecular Evolutionary Genetics Analysis (MEGA) software version 4.0. Mol Biol Evol 24:1596–1599

Tsiamis G, Katsaveli K, Ntougias S, Kyrpides N, Andersen G, Piceno Y, Bourtzis K (2008) Prokaryotic community profiles at different operational stages of a Greek solar saltern. Res Microbiol 159:609–627

Wen HY, Yang L, Shen LL, Hu B, ZY L, Jin QJ (2009) Isolation and characterization of culturable halophilic microorganisms of salt ponds in Lianyungang, China. World J Microbiol Biotechnol 25:1727–1732

Wu QL, Zwart G, Schauer M, Agterveld MPKV, Hahn MW (2006) Bacterioplankton community composition along a salinity gradient of sixteen high-mountain lakes located on the Tibetan Plateau, China. Appl Environ Microbiol 72:5478–5485

Xiang WL, Guo JH, Feng W, Huang M, Chen H, Zhao J, Zhang J, Yang ZR, Sun Q (2008) Community of extremely halophilic bacteria in historic Dagong brine well in southwestern China. World J Microbiol Biotechnol 24:2297–2305

Xu XW, Wu YH, Zhou Z, Wang CS, Zhou YG, Zhang HB, Wang Y, Wu M (2007) Halomonas saccharevitans sp. nov., Halomonas arcis sp. nov. and Halomonas subterranea sp. nov., halophilic bacteria isolated from hypersaline environments of China. Int J Syst Evol Microbiol 57:1619–1624

Yeon SH, Jeong WJ, Park JS (2005) The diversity of culturable organotrophic bacteria from local solar salterns. J Microbiol 43:1–10

Zhou X, Li CJ, Ju XM, Du Q, Tong LH (1997) Origin of subsurface brines in the Sichuan Basin. Ground Water 35:55–58
Acknowledgment
This study was supported by a grant from the National High Technology Research and Development Program of China (Program 863; No. 2006AA02Z189).
About this article
Cite this article
Tang, J., Zheng, Ap., Bromfield, E.S.P. et al. 16S rRNA gene sequence analysis of halophilic and halotolerant bacteria isolated from a hypersaline pond in Sichuan, China. Ann Microbiol 61, 375–381 (2011). https://doi.org/10.1007/s13213-010-0137-x
Received:

Accepted:

Published:

Issue Date:
Keywords
Bacteria

Salt tolerance

Hypersaline

China

16S rRNA genes