Abstract
Zerovalent copper nanoparticles (Cu0) of 12 nm size were synthesized using an inert gas condensation method in which bulk copper metal was evaporated into an inert environment of argon with subsequent cooling for nucleation and growth of nanoparticles. Crystalline structure, morphology and estimation of size of nanoparticles were carried out by X-ray diffraction and transmission electron microscopy. The antibacterial activity of these nanoparticles against the Gram-negative bacterium Escherichia coli was assessed in liquid as well as solid growth media. It was observed from scanning electron microscopic analysis that the interaction of copper nanoparticles with E. coli resulted in the formation of cavities/pits in the bacterial cell wall. The antibacterial property of copper nanoparticles was attributed mainly to adhesion with bacteria because of their opposite electrical charges, resulting in a reduction reaction at the bacterial cell wall. Nanoparticles with a larger surface-to-volume ratio provide more efficient means for antibacterial activity.
Access options
Buy single article
Instant access to the full article PDF.
USD 39.95
Price excludes VAT (USA)
Tax calculation will be finalised during checkout.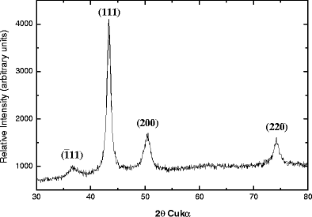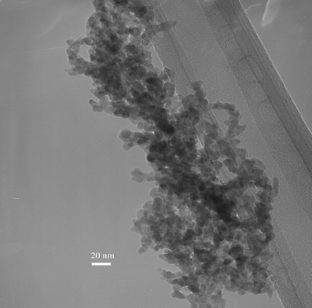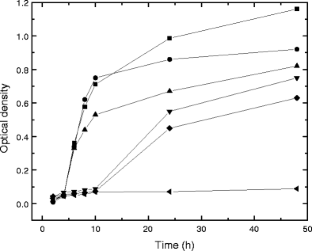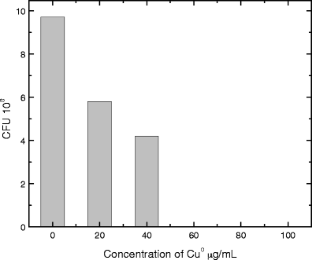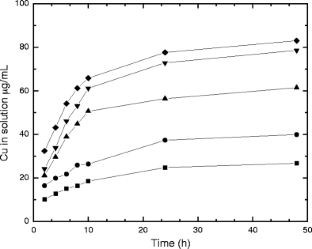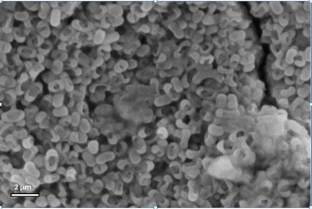 References
Avery SV, Howlett NG, Radice S (1996) Copper toxicity towards Saccharomyces cerevisiae: dependence on plasma membrane fatty acid composition. Appl Environ Microbiol 62:3960–3966

Birringer R, Gleiter H, Klein HP, Marquardt P (1984) Nanocrystalline materials: an approach to a novel solid structure with gas-like disorder. Phys Lett [A] 102:365–368

Chen CY, Chiang CL (2008) Preparation of cotton fibers with antibacterial silver nanoparticles. Mater Lett 62:3607–3609

Cioffi N, Torsi L, Ditaranto N (2004) Antifungal activity of polymer-based copper nanocomposite coatings. Appl Phys Lett 85:2417–2419

Cioffi N, Torsi L, Ditaranto N, Tantillo G, Ghibelli L, Sabbatini L (2005) Copper nanoparticles/ polymer composites with antifungal and bacteriostatic properties. Chem Mater 17:5255–5262

Cullity BD (1978) Elements of X-ray diffraction, 2nd edn. Addison-Wesley, Reading

Dan ZG, Ni HW, Xu BF (2005) Microstructure and antibacterial properties of AISI 420 stainless steel implanted by copper ions. Thin Solid Films 492:93–100

Granqvist CG, Buharman RA (1976) Ultrafine metal particles. J Appl Phys 47:2200–2219

Hoshino N, Kimura T, Yamaji A, Ando T (1999) Damage to the cytoplasmic membrane of Escherichia coli by catechin-copper (II) complexes. Free Radic Biol Med 27:1245–1250

Hoshino N, Kimura T, Hayakawa F, Yamaji A, Ando T (2000) Bactericidal activity of catechin-copper (II) complexes against Staphylococcus aureus compared with Escherichia coli. Lett Appl Microbiol 31:213–217

Hu CH, Xia MS (2006) Adsorption and antibacterial effect of copper-exchanged montmorillonite on Escherichia coli K88. Appl Clay Sci 31:180–184

Hughes MN, Poole RK (1989) Metals and microorganisms. Chapman & Hall, London

Koch AL (1990) Growth and form of the bacterial cell wall. Am Sci 78:327–340

Lee HJ, Yeo SY, Jeong SH (2003) Antibacterial effect of nanosized silver colloidal solution on textile fabrics. J Mater Sci 38:2199–2204

Levy S (1991) Antibiotic availability and use: consequences to man and his environment. J Clin Epidemiol 44:83S–88S

Lok C, Ho C, Chen R (2006) Proteomic analysis of the mode of antibacterial action of silver nanoparticles. J Prot Res 5:916–924

Mamunya YP, Zois H, Apekis L, Lebedev EV (2004) Influence of pressure on the electrical conductivity of metal powders used as fillers in polymer composites. Powder Technol 140:49–55

Michels HT, Wilks SA, Noyce JO, Keevil CW (2005) Copper alloys for human infectious disease control. Presented at "Materials Science and Technology Conference", 25–28 September 2005, Pittsburgh, PA

Neela EAA, Ahmed I (2005) Characterization of antibacterial copper releasing degradable phosphate glass fibers. Biomaterials 26:2247–2254

Ohsumi Y, Kitamoto K, Anraku Y (1988) Changes induced in the permeability barrier of the yeast plasma membrane by cupric ion. J Bacteriol 170:2676–2682

Raffi M, Hussain F, Bhatti TM, Akhter JI, Hameed A, Hasan MM (2008) Antibacterial characterization of silver nanoparticles against E. coli ATCC-15224. J Mater Sci Technol 24:192–196

Stoimenov PK, Klinger RL, Marchin GL, Klabunde KJ (2002) Metal oxide nanoparticles as bactericidal agents. Langmuir 18:6679–6686

Thiel J, Pakstis L, Buzzby S, Raffi M, Ni C, Pochan DJ, Shah I (2007) Antibacterial properties of silver-doped titania. Small 3:799–803

Tong G, Yulongb M, Peng G, Zirong X (2005) Antibacterial effects of the Cu(II)-exchanged montmorillonite on Escherichia coli K88 and Salmonella choleraesuis. Vet Microbiol 105:113–122

Zoroddu MA, Zanetti S, Pogni R, Basosi R (1996) An electron spin resonance study and antimicrobial activity of copper(II)-phenanthroline complexes. J Inorg Biochem 63:291–300
Acknowledgments
The authors express their sincere gratitude and gratefully acknowledge Prof. S. Ismat Shah, Sajid Mehmood, M. Yasin, Moazam Iqbal and Iqtidar Shakoor for their support and technical assistance. A partial financial grant provided by the Higher Education Commission (HEC), Pakistan for this research work is gratefully acknowledged.
About this article
Cite this article
Raffi, M., Mehrwan, S., Bhatti, T.M. et al. Investigations into the antibacterial behavior of copper nanoparticles against Escherichia coli . Ann Microbiol 60, 75–80 (2010). https://doi.org/10.1007/s13213-010-0015-6
Received:

Accepted:

Published:

Issue Date:

DOI: https://doi.org/10.1007/s13213-010-0015-6
Keywords
Copper nanoparticle

Antibacterial activity

Escherichia coli

X-ray diffraction

Electron microscopy