Abstract
The periosteal progenitor cell is suitable for bone tissue regeneration duo to its multipotent differentiation in osteogenesis and chondrogenesis. It was found that both physical and physiological stimuli can induce the differentiation of periosteal progenitor cells. However, the combined-effect of these two stimuli is not clear. The imitation of the nature movement—the cyclic tensile strain stimulation and the multiple growth factors producing cells—adipose-derived stem cells (ADSCs) were used as physical and physiological stimuli to investigate the differentiation of rabbit periosteal cells in this study. For this, a new membrane-type micro-system was invented to provide a simple examination platform for both factors in one single system. The specific rectangular culture chamber not only provided two different types of cells to grow separately but also delivered the single axial tensile strain generated in the micro-system to the cells. It was found that application of either physical or physiological stimuli alone was sufficient to induce the differentiation of periosteal cells. The low tensile strain (4, 5, 6 kPa) led to osteogenesis whereas high tensile strain (7 kPa) induced chondrogenesis. Even though the co-culture of ADSCs only induced osteogenic differentiation of periosteal cells, the co-culture of ADSCs to tensile strain treated periosteal cells further strengthened the osteogenic and chondrogenic differentiation potent in low and high tensile strain, respectively. This study provided the pre-clinical evidence of the stem cell therapy and continuous exercise in cell level bone tissue regeneration.
Access options
Buy single article
Instant access to the full article PDF.
US$ 39.95
Tax calculation will be finalised during checkout.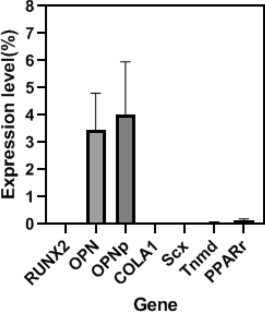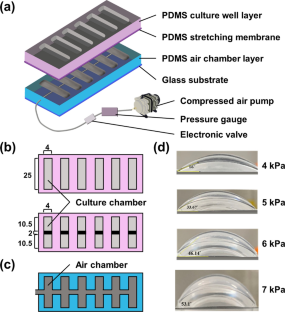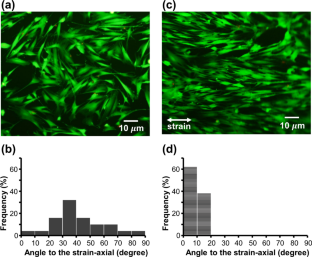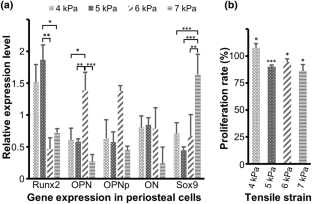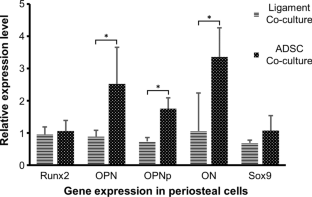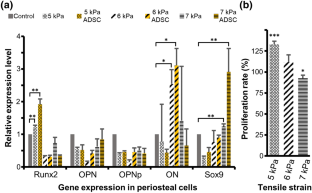 References
1.

Simon, T.M., Van Sickle, D.C., Kunishima, D.H., Jackson, D.W.: Cambium cell stimulation from surgical release of the periosteum. J. Orthop. Res. 21, 470–480 (2003)

2.

Arnsdorf, E.J., Jones, L.M., Carter, D.R., Jacobs, C.R.: The periosteum as a cellular source for functional tissue engineering. Tissue Eng. Part A 15, 2637–2642 (2009)

3.

Castro-Silva, I.I., Zambuzzi, W.F., de Oliveira Castro, L., Granjeiro, J.M.: Periosteal-derived cells for bone bioengineering: a promising candidate. Clin. Oral Implants Res. 23, 1238–1242 (2012)

4.

Ferretti, C., Mattioli-Belmonte, M.: Periosteum derived stem cells for regenerative medicine proposals: boosting current knowledge. World J. Stem Cells 6, 266 (2014)

5.

Ueno, T., Kagawa, T., Fukunaga, J., Mizukawa, N., Sugahara, T., Yamamoto, T.: Evaluation of osteogenic/chondrogenic cellular proliferation and differentiation in the xenogeneic periosteal graft. Ann. Plast. Surg. 48, 539–545 (2002)

6.

Ueno, T., Kagawa, T., Fukunaga, J., Mizukawa, N., Kanou, M., Fujii, T., Sugahara, T., Yamamoto, T.: Regeneration of the mandibular head from grafted periosteum. Ann. Plast. Surg. 51, 77–83 (2003)

7.

Ngdag, A.M.H., Saim, A.B., Tan, K.-K., Tan, G., Mokhtar, S.A., Rose, I.M., Othman, F., Idrus, R.B.H.: Comparison of bioengineered human bone construct from four sources of osteogenic cells. J. Orthop. Sci. 10, 192–199 (2005)

8.

Shen, T., Qiu, L., Chang, H., Yang, Y., Jian, C., Xiong, J., Zhou, J., Dong, S.: Cyclic tension promotes osteogenic differentiation in human periodontal ligament stem cells. Int. J. Clin. Exp. Pathol. 7, 7872–7880 (2014)

9.

Liu, X., Chen, W., Zhou, Y., Tang, K., Zhang, J.: Mechanical tension promotes the osteogenic differentiation of rat tendon-derived stem cells through the Wnt5a/Wnt5b/JNK signaling pathway. Cell. Physiol. Biochem. 36, 517–530 (2015)

10.

Haasper, C., Jagodzinski, M., Drescher, M., Meller, R., Wehmeier, M., Krettek, C., Hesse, E.: Cyclic strain induces FosB and initiates osteogenic differentiation of mesenchymal cells. Exp. Toxicol. Pathol. 59, 355–363 (2008)

11.

Arnsdorf, E.J., Tummala, P., Kwon, R.Y., Jacobs, C.R.: Mechanically induced osteogenic differentiation–the role of RhoA, ROCKII and cytoskeletal dynamics. J. Cell Sci. 122, 546–553 (2009)

12.

Hoey, D.A., Tormey, S., Ramcharan, S., O'Brien, F.J., Jacobs, C.R.: Primary cilia-mediated mechanotransduction in human mesenchymal stem cells. Stem Cells 30, 2561–2570 (2012)

13.

Lee, J.-M., Kim, M.-G., Byun, J.-H., Kim, G.-C., Ro, J.-H., Hwang, D.-S., Choi, B.-B., Park, G.-C., Kim, U.-K.: The effect of biomechanical stimulation on osteoblast differentiation of human jaw periosteum-derived stem cells. Maxillofac. Plast. Reconstr. Surg. 39, 1–9 (2017)

14.

Matthews, B., Wee, N.K.Y., Widjaja, V., Price, J., Kalajzic, I., Windahl, S.: αSMA osteoprogenitor cells contribute to the increase in osteoblast numbers in response to mechanical loading. Calcif. Tissue Int. 106, 208–217 (2020)

15.

Kanno, T., Takahashi, T., Ariyoshi, W., Tsujisawa, T., Haga, M., Nishihara, T.: Tensile mechanical strain up-regulates Runx2 and osteogenic factor expression in human periosteal cells: implications for distraction osteogenesis. J. Oral Maxillofac. Surg. 63, 499–504 (2005)

16.

Quarto, N., Wan, D.C., Kwan, M.D., Panetta, N.J., Li, S., Longaker, M.T.: Origin matters: differences in embryonic tissue origin and Wnt signaling determine the osteogenic potential and healing capacity of frontal and parietal calvarial bones. J. Bone Miner. Res. 25, 1680–1694 (2010)

17.

Maeda, K., Takahashi, N., Kobayashi, Y.: Roles of Wnt signals in bone resorption during physiological and pathological states. J. Mol. Med. 91, 15–23 (2013)

18.

Hu, K., Olsen, B.R.: The roles of vascular endothelial growth factor in bone repair and regeneration. Bone 91, 30–38 (2016)

19.

Mussano, F., Genova, T., Corsalini, M., Schierano, G., Pettini, F., Di, V., D., Carossa, S. : Cytokine, chemokine, and growth factor profile characterization of undifferentiated and osteoinduced human adipose-derived stem cells. Stem Cells Int. (2017). https://doi.org/10.1155/2017/6202783

20.

Wu, A.C., Raggatt, L.J., Alexander, K.A., Pettit, A.R.: Unraveling macrophage contributions to bone repair. BoneKEy Rep. (2013). https://doi.org/10.1038/bonekey.2013.107

21.

Kon, T., Cho, T.J., Aizawa, T., Yamazaki, M., Nooh, N., Graves, D., Gerstenfeld, L.C., Einhorn, T.A.: Expression of osteoprotegerin, receptor activator of NF-κB ligand (osteoprotegerin ligand) and related proinflammatory cytokines during fracture healing. J. Bone Miner. Res. 16, 1004–1014 (2001)

22.

Cho, T.J., Gerstenfeld, L.C., Einhorn, T.A.: Differential temporal expression of members of the transforming growth factor β superfamily during murine fracture healing. J. Bone Miner. Res. 17, 513–520 (2002)

23.

Kolar, P., Gaber, T., Perka, C., Duda, G.N., Buttgereit, F.: Human early fracture hematoma is characterized by inflammation and hypoxia. Clin. Orthop. Relat. Res. 469, 3118–3126 (2011)

24.

Zhang, H., Kot, A., Lay, Y.A.E., Fierro, F.A., Chen, H., Lane, N.E., Yao, W.: Acceleration of fracture healing by overexpression of basic fibroblast growth factor in the mesenchymal stromal cells. Stem Cells Transl. Med. 6, 1880–1893 (2017)

25.

Cui, F., Wang, X., Liu, X., Dighe, A.S., Balian, G., Cui, Q.: VEGF and BMP-6 enhance bone formation mediated by cloned mouse osteoprogenitor cells. Growth Factors 28, 306–317 (2010)

26.

Li, F., Zhou, C., Xu, L., Tao, S., Zhao, J., Gu, Q.: Effect of stem cell therapy on bone mineral density: a meta-analysis of preclinical studies in animal models of osteoporosis. PLoS ONE 11, e0149400 (2016)

27.

Ye, X., Zhang, P., Xue, S., Xu, Y., Tan, J., Liu, G.: Adipose-derived stem cells alleviate osteoporosis by enchancing osteogenesis and inhibiting adipogenesis in a rabbit model. Cytotherapy 16, 1643–1655 (2014)

28.

Liu, H.-Y., Chiou, J.-F., Wu, A.T., Tsai, C.-Y., Leu, J.-D., Ting, L.-L., Wang, M.-F., Chen, H.-Y., Lin, C.-T., Williams, D.F.: The effect of diminished osteogenic signals on reduced osteoporosis recovery in aged mice and the potential therapeutic use of adipose-derived stem cells. Biomaterials 33, 6105–6112 (2012)

29.

Chen, D., Zhang, X., He, Y., Lu, J., Shen, H., Jiang, Y., Zhang, C., Zeng, B.: Co-culturing mesenchymal stem cells from bone marrow and periosteum enhances osteogenesis and neovascularization of tissue-engineered bone. J. Tissue Eng. Regen. Med. 6, 822–832 (2012)

30.

Li, N., Song, J., Zhu, G., Li, X., Liu, L., Shi, X., Wang, Y.: Periosteum tissue engineering—a review. Biomater. Sci. 4, 1554–1561 (2016)

31.

Orciani, M., Fini, M., Di Primio, R., Mattioli-Belmonte, M.: Biofabrication and bone tissue regeneration: cell source, approaches, and challenges. Front. Bioeng. Biotechnol. 5, 17 (2017)

32.

Torino, S., Corrado, B., Iodice, M., Coppola, G.: Pdms-based microfluidic devices for cell culture. Inventions 3, 65 (2018)

33.

Kim, Y.C., Kang, J.H., Park, S.-J., Yoon, E.-S., Park, J.-K.: Microfluidic biomechanical device for compressive cell stimulation and lysis. Sens. Actuators B Chem. 128, 108–116 (2007)

34.

Kim, Y.C., Park, S.-J., Park, J.-K.: Biomechanical analysis of cancerous and normal cells based on bulge generation in a microfluidic device. Analyst 133, 1432–1439 (2008)

35.

Gao, X., Zhang, X., Tong, H., Lin, B., Qin, J.: A simple elastic membrane-based microfluidic chip for the proliferation and differentiation of mesenchymal stem cells under tensile stress. Electrophoresis 32, 3431–3436 (2011)

36.

Chiu, C.-H., Liu, J.-L., Chang, C.-H., Lei, K.F., Chen, A.C.-Y.: Investigation of osteogenic activity of primary rabbit periosteal cells stimulated by multi-axial tensile strain. Biomed. Microdevices 19, 13 (2017)

37.

Chiu, C.-H., Tong, Y.-W., Yeh, W.-L., Lei, K.F., Chen, A.C.-Y.: Self-renewal and differentiation of adipose-derived stem cells (ADSCs) stimulated by multi-axial tensile strain in a pneumatic microdevice. Micromachines 9, 607 (2018)

38.

Chiu, C.-H., Tong, Y.-W., Yu, J.-F., Lei, K.F., Chen, A.C.-Y.: Osteogenesis and chondrogenesis of primary rabbit periosteal cells under non-uniform 2-axial tensile strain. BioChip J. 14, 438–446 (2020)

39.

Chen, Y., Pasapera, A.M., Koretsky, A.P., Waterman, C.M.: Orientation-specific responses to sustained uniaxial stretching in focal adhesion growth and turnover. Proc. Natl. Acad. Sci. 110, E2352–E2361 (2013)

40.

Chen, X., Fu, X., Shi, J.-G., Wang, H.: Regulation of the osteogenesis of pre-osteoblasts by spatial arrangement of electrospun nanofibers in two-and three-dimensional environments. Nanomed. Nanotechnol. 9, 1283–1292 (2013)

41.

Nakahara, H., Dennis, J.E., Bruder, S.P., Haynesworth, S.E., Lennon, D.P., Caplan, A.I.: In vitro differentiation of bone and hypertrophic cartilage from periosteal-derived cells. Exp. Cell Res. 195, 492–503 (1991)

42.

Kawane, T., Qin, X., Jiang, Q., Miyazaki, T., Komori, H., Yoshida, C.A., dos Santos Matsuura-Kawata, V.K., Sakane, C., Matsuo, Y., Nagai, K.: Runx2 is required for the proliferation of osteoblast progenitors and induces proliferation by regulating Fgfr2 and Fgfr3. Sci. Rep. 8, 1–17 (2018)

43.

Komori, T.: Regulation of proliferation, differentiation and functions of osteoblasts by Runx2. Int. J. Mol. Sci. 20, 1694 (2019)

44.

Lund, S.A., Giachelli, C.M., Scatena, M.: The role of osteopontin in inflammatory processes. Cell Commun. Signal. 3, 311–322 (2009)

45.

Zhu, Y.S., Gu, Y., Jiang, C., Chen, L.: Osteonectin regulates the extracellular matrix mineralization of osteoblasts through P38 signaling pathway. J. Cell. Physiol. 235, 2220–2231 (2020)
Acknowledgements
This work was supported by Chang Gung Memorial Hospital, Linkou, Taiwan under the projects of CMRPG3H0691 and BMRPC05.
Ethics declarations
Conflict of interest
The authors declare that there is no conflict of interests.
Additional information
Publisher's Note
Springer Nature remains neutral with regard to jurisdictional claims in published maps and institutional affiliations.
About this article
Cite this article
Yang, YC., Hong, QH., Lei, K.F. et al. The Novel Membrane-Type Micro-system to Assess the Bonus Effect of Physiological and Physical Stimuli on Bone Regeneration. BioChip J (2021). https://doi.org/10.1007/s13206-021-00023-2
Received:

Revised:

Accepted:

Published:
Keywords
Periosteal cells

Adipose-derived stem cells

Osteogenesis

Orthopedics

Rehabilitation