Abstract
Acute hepatopancreatic necrosis disease (AHPND) is a contagious disease for the shrimp cultivation, thus early detection of disease is an unmet need. This present study documented for the first time a simple lateral flow immunoassay (LFIA) strip using polyclonal antibodies was created for the rapid detection both of PirAvp and PirBvp protein simultaneously. LFIA method based on the principle of sandwich format. The label is the colloidal gold. The polyclonal antibody was conjugated with the colloidal gold acting as biorecognition element and coated onto the conjugate pad. The rabbit anti-Pirvp, anti-PirBvp antibodies, and goat anti-rabbit IgG antibody were separately sprayed onto a nitrocellulose membrane to form two test lines and one control line, respectively. The appearance of red bands at the control line and the test line indicated a positive result. A single coloured band at control area indicated a negative result. The limit of detection of LFIA was found to be 125 ng, which could be visually detected by naked eye within 15 min. There was no cross-reactivity observed with VPnon-AHPND. Furthermore, the sensitivity and specificity of LFIA were 94.0% and 98.0%, respectively. The developed test strip could be a game changer for early and in situ diagnosis of AHPND.
Access options
Buy single article
Instant access to the full article PDF.
USD 39.95
Price excludes VAT (USA)
Tax calculation will be finalised during checkout.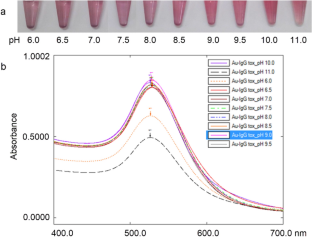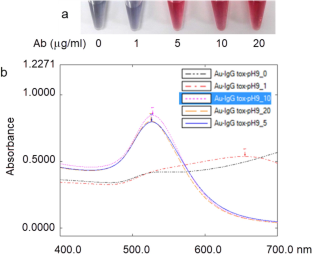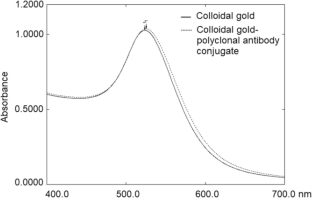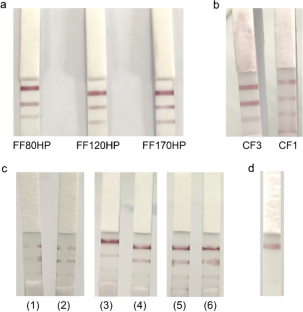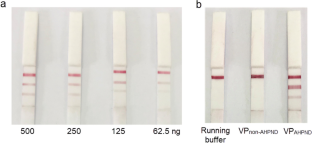 References
Azzazy HM, Mansour MM (2009) In vitro diagnostic prospects of nanoparticles. Clin Chim Acta 403:1–8. https://doi.org/10.1016/j.cca.2009.01.016

Duong ND, Nguyen-Phuoc KH, Do TKY, Nguyen TNT, Tran LT, Tran-Van H (2021) Production of polyclonal antibody against the recombinant PirBvp protein of Vibrio parahaemolyticus. J Genet Eng Biotechnol 19(70):1–8. https://doi.org/10.1186/s43141-021-00172-9

FAO Fisheries and Aquaculture Circular No. 1190 (2020) Shrimp acute hepatopancreatic necrosis disease strategy manual. FAO, Rome

Hanumanthappa SK, Kumar BTN, Patil P, Poojary SR, Ballyaya AP, Ramesh KS, Shankar KM, Tyagi A, Holeyappa SA (2020) Polyclonal antibody-based farmer-friendly flow-through test for the detection of acute hepatopancreatic necrosis disease in shrimp. Aquac Res 51(7):2863–2869. https://doi.org/10.1111/are.14625

Hu YQ, Huang XH, Guo LQ, Shen ZC, LV LX, Li FX, Zhou ZH, Zhang DF, (2021) Rapid and visual detection of Vibrio parahaemolyticus in aquatic foods using blaCARB-17 gene-based loop-mediated isothermal amplification with lateral flow dipstick (LAMP-LFD). J Microbiol Biotechnol 31(12):1672–1683. https://doi.org/10.4014/jmb.2107.07022

Kaminski MM, Abudayyeh OO, Gootenberg JS, Zhang F, Collins JJ (2021) CRISPR-based diagnostics. Nat Biomed Eng 5(7):643–656

Kumar R, Ng TH, Wang HC (2020) Acute hepatopancreatic necrosis disease in penaeid shrimp. Rev Aquac 12:1867–1880. https://doi.org/10.1111/raq.12414

Lee CT, Chen IT, Yang YT (2015) The opportunistic marine pathogen Vibrio parahaemolyticus becomes virulent by acquiring a plasmid that expresses a deadly toxin. PNAS 112(34):10798–10803. https://doi.org/10.1073/pnas.1503129112

Li C, Lin N, Feng Z, Lin M, Guan B, Liang W, Wang Q, Li M, You Y, Chen K, Chen Q (2021) CRISPR/Cas12a based rapid molecular detection of acute hepatopancreatic necrosis disease in shrimp. Front Vet Sci 8:1–10. https://doi.org/10.3389/fvets.2021.819681

Lightner D (2012) Biology and pathology of early mortality syndrome of shrimp. Global outlook for aquaculture leadership, Bangkok, 40

Lin SJ, Chen YF, Hsu KC, Chen YL, Ko TP, Lo CF, Wang HC, Wang HC (2019) Structural insights to the heterotetrameric interaction between the Vibrio parahaemolyticus PirAvp and PirBvp toxins and activation of the Cry-like pore-forming domain. Toxins 11(233):1–15. https://doi.org/10.3390/toxins11040233

Mai HN, Cruz-Flores R, Dhar AK (2020) Development of an indirect enzyme linked immunoassay (iELISA) using monoclonal antibodies against Photorhabdus insect related toxins, PirAVp and PirBVp released from Vibrio spp. J Microbiol Methods 176:1–9. https://doi.org/10.1016/j.mimet.2020.106002

Mai-Hoang TD, Tien HL, Chau-Hoang HM, Nguyen-Phuoc KH, Pham QH, Tran LT, Tran-Van H (2021) A novel PCR method for simultaneously detecting Acute hepatopancreatic necrosis disease (AHPND) and mutant-AHPND in shrimp. Aquac. https://doi.org/10.1016/j.aquaculture.2020.736336

Millipore EMD (2013) Rapid lateral flow test strips: considerations for product development. EMD Millipore Corporation: Billerica, MA, USA, 29, pp 702–707

NanoComposix (2016) Lateral flow assay development guide. NanoComposix, San Diego, pp 1–37

NanoComposix University (2021) Interpreting-particle-spectra-during-protein-conjugation. NanoComposix University, San Diego

Nguyen-Phuoc KH, Duong ND, Phan VT, Do TKY, Nguyen TNT, Tran LT, Tran-Van H (2021) Generation and evaluation of polyclonal antibodies specific for ToxA from Vibrio parahaemolyticus causing acute hepatopancreatic necrosis disease (AHPND) in shrimp. Mol Biol Res Commun 10(1):23–32. https://doi.org/10.22099/mbrc.2020.38774.1561

Parolo C, Sena-Torralba A, Bergua JF, Fuentes-Chust C, Hu L, Rivas L, Álvarez-Diduk R, Calucho E, Nguyen EP, Cinti S, Quesada-González D, Merkoçi A (2020) Tutorial: design and fabrication of nanoparticle based lateral-flow immunoassays. Nat Protoc 15(12):3788–3816. https://doi.org/10.1038/s41596-020-0357-x

Prachumwat A, Taengchaiyaphum S, Mungkongwongsiri N (2018) Update on early mortality syndrome/acute hepatopancreatic necrosis disease by April 2018. J World Aquac Soc 50:5–17. https://doi.org/10.1111/jwas.12559

Sirikharin R, Taengchaiyaphum S, Sanguanrut P, Chi TD, Mavichak R, Proespraiwong P, Sritunyalucksana K (2015) Characterization and PCR detection of binary, Pir-like toxins from Vibrio parahaemolyticus isolates that cause acute hepatopancreatic necrosis disease (AHPND) in shrimp. PLoS ONE 10(5):1–16. https://doi.org/10.1371/journal.pone.0126987

Thobhani S, Attree S, Boyd R, Kumarswami N, Noble J (2010) Bioconjugation and characterisation of gold colloid-labelled proteins. J Immunol Methods 356:60–69. https://doi.org/10.1016/j.jim.2010.02.007

Wangman P, Chaivisuthangkura P, Taengchaiyaphum S, Pengsuk C, Sithigorngul P, Longyant S (2019) Development of a rapid immunochromatographic strip test for the detection of Vibrio parahaemolyticus toxin B that cause acute hepatopancreatic necrosis disease. J Fish Dis 43(2):207–214. https://doi.org/10.1111/jfd.13115

Xu H, Tang H, Li R, Xia Z, Yang W, Zhu Y, Liu Z, Lu G, Ni S, Shen J (2022) A new method based on LAMP-CRISPR–Cas12a-lateral flow immunochromatographic strip for detection. Infect Drug Resist 15:685–696. https://doi.org/10.2147/IDR.S348456

Yeo ELL, Yeo HY, Chua AJS, Ng ML, Parthasarathy K, Kah JCY (2015) Understanding aggregation-based assays: nature of protein corona and number of epitopes on antigen matters. RSC Adv 5:14982–14993. https://doi.org/10.1039/C4RA12089B
Acknowledgements
This work was funded by the Mekong Delta Program Office under project No: 19/2018/HĐ-KHCN-TNB.ĐT/14-19/C31. Hieu Tran-Van was a recipient of the ASEA-UNINET, (project no.: ASEA 2020-2021/Vet Med Uni/1).
Ethics declarations
Conflict of interest
The authors declare that they have no conflict of interest in the publication.
Rights and permissions
Springer Nature or its licensor holds exclusive rights to this article under a publishing agreement with the author(s) or other rightsholder(s); author self-archiving of the accepted manuscript version of this article is solely governed by the terms of such publishing agreement and applicable law.
About this article
Cite this article
Duong, ND., Nguyen-Phuoc, KH., Mai-Hoang, TD. et al. Fabrication of lateral flow immunoassay strip for rapid detection of acute hepatopancreatic necrosis disease. 3 Biotech 12, 243 (2022). https://doi.org/10.1007/s13205-022-03311-2
Received:

Accepted:

Published:

DOI: https://doi.org/10.1007/s13205-022-03311-2
Keywords