Abstract
Organic nature of dyes and their commercially made products are widely utilized in many industries including paper, cosmetics, pharmaceuticals, photography, petroleum as well as in textile manufacturing. The textile industry being the top most consumer of a large variety of dyes during various unit processes operation generates substantial amount of wastewater; hence, nominated as "Major Polluter of Potable Water". The direct discharge of such effluents into environment poses serious threats to the functioning of biotic communities of natural ecosystems. The detection of these synthetic dyes is considered as relatively easy, however, it is extremely difficult to completely eliminate them from wastewater and freshwater ecosystems. Aromatic chemical structure seems to be the main reason behind low biodegradability of these dyes. Currently, various physiochemical and biological methods are employed for their remediation. Among them, microbial degradation has attracted greater attention due to its sustainability, high efficiency, cost effectiveness, and eco-friendly nature. The current review presents recent advances in biodegradation of industrial dyes towards a sustainable and tangible technological innovative solutions as an alternative to existing conventional physicochemical treatment processes.
Access options
Buy single article
Instant access to the full article PDF.
USD 39.95
Price excludes VAT (USA)
Tax calculation will be finalised during checkout.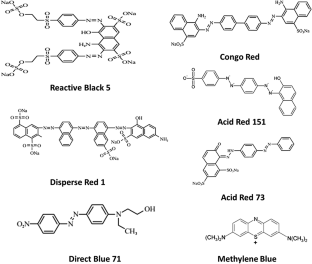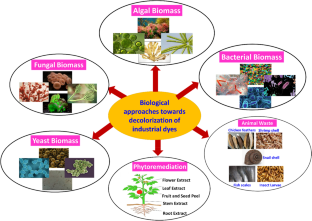 References
Abu Talha M, Goswami M, Giri BS, Sharma A, Rai BN, Singh RS (2018) Bioremediation of Congo red dye in immobilized batch and continuous packed bed bioreactor by Brevibacillus parabrevis using coconut shell bio-char. Bioresour Technol 252:37

Al-Amrani WA, Lim PE, Seng CE, Wan Ngah WS (2014) Factors affecting bio-decolorization of azo dyes and COD removal in anoxic-aerobic REACT operated sequencing batch reactor. J Taiwan Inst Chem Eng 45:609

Ali N, Hameed A, Ahmed S (2010) Role of brown-rot fungi in the bio removal of azo dyes under different conditions. Braz J Microbiol 41:907

Almeida EJR, Corso CR (2019) Decolorization and removal of toxicity of textile azo dyes using fungal biomass pelletized. Int J Environ Sci Technol 16:1319

Al-Najar B, Younis A, Hazeem L, Sehar S, Rashdan S, Shaikh MN, Albuflasa H, Hankin NP (2022) Thermally induced oxygen related defects in eco-friendly ZnFe2O4 nanoparticles for enhanced wastewater treatment efficiencies. Chemosphere 288:132525

Al-Tohamy R, Kenawy ER, Sun J, Ali SS (2020) Performance of a newly isolated salt-tolerant yeast strain Sterigmatomyces halophilus SSA-1575 for azo dye decolorization and detoxification. Front Microbiol 11:1163

Asses N, Ayed L, Hkiri N, Hamdi M (2018) Congo red decolorization and detoxification by Aspergillus niger: Removal mechanisms and dye degradation pathway. Int J BioMed Res 7:1

Bankole PO, Adekunle AA, Obidi OF, Olukanni OD, Govindwar SP (2017) Degradation of indigo dye by a newly isolated yeast, Diutina rugosa from dye wastewater polluted soil. J Environ Chem Eng 5:4639

Bankole PO, Adekunle AA, Obidi OF, Chandanshive VV (2018) Govindwar SP (2018–03) Biodegradation and detoxification of scarlet RR dye by a newly isolated filamentous fungus Peyronellaea prosopidis. Sustain Enviro Res 28:214

Bello K, Sarojini BK, Narayana B, Rao A, Byrappa K (2018) A study on adsorption behavior of newly synthesized banana pseudo-stem derived superabsorbent hydrogels for cationic and anionic dye removal from effluents. Carbohydr Polym 181:605

Bouras H, Isik Z, Arikan EB, Yeddou A, Bouras N, Chergui A, Favier L, Amrane A, Dizge N (2021) Biosorption characteristics of methylene blue dye by two fungal biomasses. Int J Environ Stud 78:365

Campos R, Kandelbauer A, Robra KH (2001) Artur Cavaco PauloGubitz GM Indigo degradation with purified laccases from Trametes hirsuta and Sclerotim rolfsii. J Biotechnol 8:131

Carolin CF, Kumar PS, Joshiba GJ (2021) Sustainable approach to decolourize methyl orange dye from aqueous solution using novel bacterial strain and its metabolites characterization. Clean Techn Environ Policy 23:173

Chen N, Younis A, Chu D, Li S (2019) Controlled fabrication of Pr(OH)3 nanowires for enhanced photocatalytic activities. J Rare Earths 37:60

Chen Y, Lin YC, Ho SH, Zhouc Y, Ren N (2018) Highly efficient adsorption of dyes by biochar derived from pigments extracted macroalgae pyrolyzed at different temperature. Bioresour Technol 259:104

Chung KT (2016) Azo dyes and human health: a review. J Environ Sci Health C 4:233

Contreras M, Grande-Tovar CD, Vallejo W, Chaves-López C (2019) Bio-removal of methylene blue from aqueous solution by Galactomyces geotrichum KL20A. Water 11:282

Daneshvar E, Vazirzadeh A, Niazi A, Kousha M, Naushad M, Bhatnagar A (2017) Desorption of Methylene blue dye from brown macroalga: effects of operating parameters, isotherm study and kinetic modelling. J Clean Prod 152:443

Das M, Samal A, Mehar N (2020) Butea monosperma leaf as an adsorbent of methylene blue: recovery of the dye and reuse of the adsorbent. Int J Environ Sci Technol 17:2105

Dellamatrice PM, Silva-Stenico ME, de Moraes LAB, Fiore MF, Monteiro RTR (2017) Degradation of textile dyes by cyanobacteria. Braz J Microbiol 48(1):25–31

Drumm FC, Grassi P, Georgin J, Tonato D, Franco DSP, Neto JRC, Mazutti MA, Jahn SL, Dotto GL (2019) Potentiality of the Phoma sp inactive fungal biomass, a waste from the bioherbicide production for the treatment of colored effluents. Chemosphere 235:596

Du H, Wang Y, Arandiyan H, Younis A, Scott J, Qu B, Wan T, Lin X, Chen J, Chu D (2017) Design and synthesis of CeO2 nanowire/MnO2 nanosheet heterogeneous structure for enhanced catalytic properties. Mater Today Commun 11:103

El-Mekkawi SA, Abdelghaffar RA, Abdelghaffar F, Abo El-Enin SA (2021) Application of response surface methodology for color removing from dyeing effluent using de-oiled activated algal biomass. Bull Natl Res Cent 45:80

Erradi G, Yousfi FE, Stitou M (2019) Valorization of snail shell (H´elixaspersa) from Tangier-Tetouan region (north of Morocco): an application to eliminate methylene blue. Mediterr J Chem 8:94

Escudero LB, Smichowski PN, Dotto GL (2017) Macroalgae of Iridaea cordata as an efficient biosorbent to remove hazardous cationic dyes from aqueous solutions. Water Sci Technol 76:11

Eslami H, Shariatifar A, Rafiee E, Shiranian M, Salehi F, Hosseini SS, Eslami G, Ghanbari R, Ebrahimi AA (2019) Decolorization and biodegradation of reactive Red 198 Azo dye by a new Enterococcus faecalis-Klebsiella variicola bacterial consortium isolated from textile wastewater sludge. World J Microbiol Biotechnol 35:38

Fatima M, Farooq R, Lindstrom RW, Saeed M (2017) A review on biocatalytic decomposition of azo dyes and electrons recovery. J Mol Liq 246:275

García-Sabido D, Lopez-Mesas M, Carrillo-Navarrete F (2016) Chicken feather fibres waste as a low-cost biosorbent of Acid Blue 80 dye. Desalin Water Treat 57:3732

Georgin J, Franco D, Grassi P, Tonato D, Piccilli DGA, Meili L, Dotto G (2019) Potential of Cedrella fissilis bark as an adsorbent for the removal of red 97 dye from aqueous effluents. Environ Sci Pollut Res Int 26:19207

Guadie A, Tizazu S, Melese M, Guo W, Ngo HH, Xia S (2017) Biodecolorization of textile azo dye using Bacillus sp. strain CH12 isolated from alkaline lake. Biotech Rep 15:92

Guo G, Tian F, Zhao Y, Tang M, Liu W, Liu C et al (2019) Aerobic decolorization and detoxification of acid scarlet gr by a newly isolated salt tolerant yeast strain Galactomyces geotrichum GG. Int Biodeter Biodegr 145:104818. https://doi.org/10.1016/j.ibiod.2019.104818

Hannachi Y, Hafidh A (2020) Biosorption potential of Sargassum muticum algal biomass for methylene blue and lead removal from aqueous medium. Int J Environ Sci Technol 17:3875

Imran M, Arshad M, Negm F, Khalid A, Shaharoona B, Hussain S, Nadeem SM, Crowley D (2016) Yeast extract promotes decolorization of azo dyes by stimulating azoreductase activity in Shewanella sp. strain IFN4. Ecotoxicol Environ Saf 124:42

Ishchi T, Sibi G (2020) Azo dye degradation by Chlorella vulgaris: optimization and kinetics. Int J Biol Chem 14:1

Jamee R, Siddique R (2019) Biodegradation of synthetic dyes of textile effluent by microorganisms: an environmentally and economically sustainable approach. Eur J Microbiol Immunol 9:114

Joshi AU, Hinsu AT, Kotadiya RJ, Rank JK, Andharia KN, Kothari RK (2020) Decolorization and biodegradation of textile di-azo dye Acid Blue 113 by Pseudomonas stutzeri AK6. 3 Biotech 10:214

Kabir SMF, Cueto R, Balamurugan S, Romeo LD, Kuttru JT, Marx BD, Negulescu II (2019) Removal of acid dyes from textile wastewaters using fish scales by absorption process. Clean Technol 1:311

Kabra AN, Khandare RV, Govindwar SP (2013) Development of a bioreactor for remediation of textile effluent and dye mixture: A plant–bacterial synergistic strategy. Water Res 47:1035

Khan R, Bhawana P, Fulekar MH (2013) Microbial decolorization and degradation of synthetic dyes: a review. Rev Environ Sci Bio/technol 12:75

Khandare RV, Govindwar SP (2015) Microbial degradation mechanism of textile dye and its metabolic pathway for environmental safety. In: Chandra R (ed) Environmental waste management. CRC Press

Kiran S, Rafique MA, Iqbal S, Nosheen S, Naz S, Rasheed A (2020) Synthesis of nickel nanoparticles using Citrullus colocynthis stem extract for remediation of reactive yellow 160 dye. Environ Sci Pollut Res 27:32998

Kurade MB, Waghmode TR, Govindwar SP (2011) Preferential biodegradation of structurally dissimilar dyes from a mixture by Brevibacillus laterosporus. J Hazard Mater 192:1746

Lebrona YAR, Moreira VR, Santos VRVS, Jacob RS (2018) Remediation of methylene blue from aqueous solution by Chlorella pyrenoidosa and Spirulina maxima biosorption: equilibrium, kinetics, thermodynamics and optimization studies. J Environ Chem Eng 6:6680

Lellis B, Favaro-Polonio CZ, Pamphile JA, Polonio JC (2019) Effects of textile dyes on health and the environment and bioremediation potential of living organisms. Biotechnol Res Innov 3:275

Liu W, You Y, Sun D, Wang S, Zhu J, Liu C (2018) Decolorization and detoxification of water-insoluble Sudan dye by Shewanella putrefaciens CN32 co-cultured with Bacillus circulans BWL1061. Ecotoxicol Environ Saf 166:11

López-Miranda JL, Silva R, Molina GA, Esparza R, Hernandez-Martinez AR, Hernández-Carteño J, Estévez M (2020) Evaluation of a dynamic bioremediation system for the removal of metal ions and toxic dyes using Sargassum Sp. J Mar Sci Eng 8:899

Madhushika HG, Ariyadasa TU, Gunawardena SHP (2019) Decolourization and degradation of reactive textile dyes by isolated strain Proteus mirabilis. Asian J Water Environ Pollut 16:1

Marrakchi F, Ahmed MJ, Khanday WA, Asif M, Hameed BH (2017) Mesoporous carbonaceous material from fish scales as low-cost adsorbent for reactive orange 16 adsorption. J Taiwan Inst Chem Eng 71:47

Mathivanan M, Prabinth V, Chinnaiah SS, Sundaram RS (2018) Dye degradation using Saccharomyces cerevisiae. Inter J Eng Technol 7:180

Mendonça ARV, Zanardi GB, Brum SS, Campos TA, Cardoso CMM, Zavarize DG (2019) RR2 dye adsorption to Hymenaea courbaril L. bark activated carbon associated with biofilm. Environ Sci Pollut Res 26:28524

Mishra S, Cheng L, Maiti A (2021) The utilization of agro-biomass/byproducts for effective bio-removal of dyes from dyeing wastewater: a comprehensive review. J Environ Chem Eng 9:104901

Naskar A, Majumder R (2017) Understanding the adsorption behavior of acid yellow 99 on Aspergillus niger biomass. J Mol Liq 242:892

Niero G, Corrˆea AXR, Trierweiler G, Feuzer- Matos AJ, Corrˆea R, Bazani HAG, Radetski CM (2019) Using modified fish scale waste from Sardinella brasiliensis as a low-cost adsorbent to remove dyes from textile effluents. J Environ Sci Health Part A 54:1083

Nouren S, Bhatti HN (2015) Mechanistic study of degradation of basic violet 3 by citrus limon peroxidase and phytotoxicity assessment of its degradation products. Biochem Eng J 95:9

Oloo CM, Onyari JM, Wanyonyi WC (2020) Adsorptive removal of hazardous crystal violet dye form aqueous solution using Rhizophora mucronata stem-barks: equilibrium and kinetics studies. Environ Chem Ecotoxicol 2:64

Pradhan P, Bajpai A (2020) Preparation and characterization of films from chicken feathers for dye adsorption. Mater Today Proc 29:1204

Rani B, Kumar V, Singh J, Bisht S, Teotia P, Sharma S, Kela R (2014) Bioremediation of dyes by fungi isolated from contaminated dye effluent sites for bio-usability. Braz J Microbiol 45:1055

Rauf MA, Meetani MA, Khaleel A, Ahmed A (2010) Photocatalytic degradation of Methylene Blue using a mixed catalyst and product analysis by LC/MS. Chem Eng J 157:373

Riegas-Villalobos A, Martínez-Morales F, Tinoco-Valencia R, Serrano-Carreón L, Bertrand B, Trejo-Hernández MR (2020) Efficient removal of azo-dye Orange II by fungal biomass absorption and laccase enzymatic treatment. Biotech 10:146

Saratale RG, Saratale GD, Chang JS, Govindwar SP (2011) Bacterial decolorization and degradation of azo dyes: a review. J Taiwan Inst Chem Eng 42:138

Saravanan P, Kumaran S, Bharathi S, Sivakumar P, Sivakumar P, Pugazhvendan SR, Aruni W, Renganathan S (2021) Bioremediation of synthetic textile dyes using live yeast Pichia pastoris. Environ Technol Inno 22:101442

Sehar S, Naz I, Das T, Ahmed S (2016) Evidence of microscopic correlation between biofilm kinetics and divalent cations for enhanced wastewater treatment efficiency. RSC Adv 6:15112

Sehar S, Naz I, Perveen I, Ahmed S (2019) Superior dye degradation using SnO2-ZnO hybrid heterostructure catalysts. Korean J Chem Eng 36:56

Sehar S, Hazeem LJ, Naz I, Rehman A, Sun W, Alhewairini SS, Thani ASB, Akhter MS, Younis A (2021a) Facile synthesis of zero valent sulfur nanoparticles for catalytic detoxification of hexavalent chromium, cytotoxicity against microalgae and ultraviolet protection properties. Korean J Chem Eng 38:2294

Sehar S, Naz I, Rehman A, Sun W, Alhewairini SS, Zahid MN, Younis A (2021b) Shape-controlled synthesis of cerium oxide nanoparticles for efficient dye photodegradation and antibacterial activities. Appl Organomet Chem 35:e6069

Shah M, Banerjee A (2020) Combined application of physico-chemical microbiological processes for industrial effluent treatment plant. Springer ast edn, Singapore

Shantkriti S, Senthil KS (2021) Biodegradation of textile azo dyes by textile effluent non-adapted and adapted Aeromonas hydrophila. Environ Res 194:110643

Sharif A, Nasreen Z, Bashir R, Kalsoom S (2020) Microbial degradation of textile industry effluents: a review. Pure Appl Biol (PAB) 9:2361

Siddique R, Alif FA (2018) Isolation and identification of orange M2R and green GS dye decolourizing Bacteria from textile sludge (soil) samples and determination of their optimum decolourization conditions. Ann Res Rev Biol 22:1

Singh G, Dwivedi SK (2020) Decolorization and degradation of Direct Blue-1 (Azo dye) by newly isolated fungus Aspergillus terreus GS28, from sludge of carpet industry. Environ Technol Innov 18:100751

Singh PK, Singh RL (2017) Bio-removal of azo dyes: a review. Int J Appl Sci 5:108

Solis M, Solís A, Pérez HI, Manjarrez N, Flores M (2012) Microbial decolouration of azo dyes: a review. Process Biochem 47:1723

Song L, Shao Y, Ning S, Tan L (2017) Performance of a newly isolated salt-tolerant yeast strain Pichia occidentalis G1 for degrading and detoxifying azo dyes. Bioresource Technol 233:21

Sudha M, Saranya A, Selvakumar G, Sivakumar N (2014) Microbial degradation of azo dyes: a review. Int J Curr Microbiol App Sci 3:670

Tang W, Xu X, Ye BC, Cao P, Ali A (2019) Decolorization and degradation analysis of Disperse Red 3B by a consortium of the fungus Aspergillus sp. XJ-2 and the microalgae Chlorella sorokiniana XJK. RSC Adv 9:14558

Varjani S, Upasani VN, Pandey A (2020) Bioremediation of oily sludge polluted soil employing a novel strain of Pseudomonas aeruginosa and phytotoxicity of petroleum hydrocarbons for seed germination. Sci Total Environ 737:139766

Yamjala K, Nainar MS, Ramisetti NR (2016) Methods for the analysis of azo dyes employed in food industry – a review. Food Chem 192:813

Yang SS, Chen Y, Kang JH, Xie TR, He L, Xing DF, Ren NQ, Ho SH, Wu WM (2019) Generation of high-efficient biochar for dye adsorption using frass of yellow mealworms (larvae of Tenebrio molitor Linnaeus) fed with wheat straw for insect biomass production. J Clean Prod 227:33

Younis A, Loucif A (2021) Defects mediated enhanced catalytic and humidity sensing performance in ceria nanorods. Ceram 47:1115500

Younis A, Shirsath SE, Shabbir B, Li S (2018) Controllable dynamics of oxygen vacancies through extrinsic doping for superior catalytic activities. Nanoscale 10:18576
Funding
This research receives no external funding.
Ethics declarations
Conflict of interest
The authors declare that they have no known competing financial interests or personal relationships that could have appeared to influence the work reported in this paper.
About this article
Cite this article
Sehar, S., Rasool, T., Syed, H.M. et al. Recent advances in biodecolorization and biodegradation of environmental threatening textile finishing dyes. 3 Biotech 12, 186 (2022). https://doi.org/10.1007/s13205-022-03247-7
Received:

Accepted:

Published:

DOI: https://doi.org/10.1007/s13205-022-03247-7
Keywords