Abstract
The aim of the current study is to ascertain the anticancer activity of exopolysaccharides (EPS) from probiotic Lactobacillus acidophilus in the 1, 2–dimethyl hydrazine (DMH)-induced colon cancer rat model and to determine the antioxidant status. Rats were divided into five groups of six animals each. Group I served as control, group II served as cancer control (DMH alone administered), group III as standard drug control (5-FU along with DMH) and group IV and V received EPS in two doses (200 mg/kg body weight and 400 mg/kg body weight along with DMH). EPS administration was found to reduce the number of polyps formed (Group IV—8.25 ± 1.258 and Group V—8.50 ± 1.732 vs Group II—14.50 ± 2.380) and to increase the levels of antioxidant enzymes viz. Superoxide dismutase (SOD), catalase (CAT) and glutathione peroxidase (GPx) and antioxidants like vitamin C (Vit. C), reduced glutathione (GSH) which was found to be reduced in colon cancer control rats. The status of lipid peroxidation (LPO) was also evaluated. All the values which were affected by the supplementation of DMH were brought to near normal levels by the treatment with EPS. The well-preserved histology of colon and the biochemical evaluation also show that EPS could be a potential agent for the prevention and treatment of colon cancer.
Access options
Buy single article
Instant access to the full article PDF.
US$ 39.95
Tax calculation will be finalised during checkout.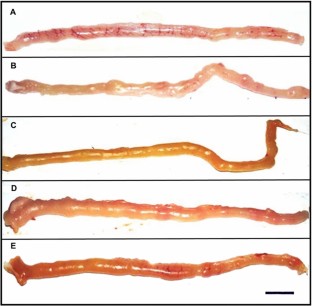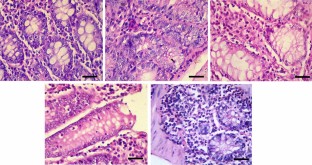 References
Aranganathan S, Panneer Selvam J, Nalini N (2009) Hesperetin exerts dose dependent chemopreventive effect against 1,2-dimethyl hydrazine induced rat colon carcinogenesis. Invest New Drugs. https://doi.org/10.1007/s10637-008-9158-8

Baskar AA, Al Numair KS, Gabriel Paulraj M et al (2012) β-sitosterol prevents lipid peroxidation and improves antioxidant status and histoarchitecture in rats with 1,2-dimethylhydrazine-induced colon cancer. J Med Food. https://doi.org/10.1089/jmf.2011.1780

Darband SG, Sadighparvar S, Yousefi B et al (2020) Quercetin attenuated oxidative DNA damage through NRF2 signaling pathway in rats with DMH induced colon carcinogenesis. Life Sci. https://doi.org/10.1016/j.lfs.2020.117584

Davis CD, Milner JA (2009) Gastrointestinal microflora, food components and colon cancer prevention. J Nutr Biochem 20(10):743–752

de Moreno de LeBlanc A, LeBlanc JG, Perdigón G et al (2008) Oral administration of a catalase-producing Lactococcus lactis can prevent a chemically induced colon cancer in mice. J Med Microbiol 57:100–105. https://doi.org/10.1099/jmm.0.47403-0

Deepak V, Ram Kumar Pandian S, Sivasubramaniam SD et al (2016a) Optimization of anticancer exopolysaccharide production from probiotic Lactobacillus acidophilus by response surface methodology. Prep Biochem Biotechnol. https://doi.org/10.1080/10826068.2015.1031386

Deepak V, Ramachandran S, Balahmar RM et al (2016b) In vitro evaluation of anticancer properties of exopolysaccharides from Lactobacillus acidophilus in colon cancer cell lines. Vitr Cell Dev Biol Anim. https://doi.org/10.1007/s11626-015-9970-3

Di W, Zhang L, Yi H et al (2018) Exopolysaccharides produced by Lactobacillus strains suppress HT-29 cell growth via induction of G0/G1 cell cycle arrest and apoptosis. Oncol Lett 16:3577–3586. https://doi.org/10.3892/ol.2018.9129

dos Reis SA, da Conceição LL, Siqueira NP et al (2017) Review of the mechanisms of probiotic actions in the prevention of colorectal cancer. Nutr Res 37:1–19. https://doi.org/10.1016/j.nutres.2016.11.009

Drago L (2019) Probiotics and colon cancer. Microorganisms 7:66. https://doi.org/10.3390/microorganisms7030066

El-Deeb NM, Yassin AM, Al-Madboly LA, El-Hawiet A (2018) A novel purified Lactobacillus acidophilus 20079 exopolysaccharide, LA-EPS-20079, molecularly regulates both apoptotic and NF-ΚB inflammatory pathways in human colon cancer. Microb Cell Fact. https://doi.org/10.1186/s12934-018-0877-z

Ellman GL (1959) Tissue sulfhydryl groups. Arch Biochem Biophys 82:70–77. https://doi.org/10.1016/0003-9861(59)90090-6

Escamilla J, Lane MA, Maitin V (2012) Cell-free supernatants from probiotic Lactobacillus casei and Lactobacillus rhamnosus GG decrease colon cancer cell invasion in vitro. Nutr Cancer. https://doi.org/10.1080/01635581.2012.700758

Fan Q, Wang X, Chinnathambi A et al (2020) Fisetin suppresses 1,2-dimethylhydrazine-induced colon tumorigenesis in Wistar rats via enhancing the apoptotic signaling pathway. J King Saud Univ Sci. https://doi.org/10.1016/j.jksus.2020.01.042

FAO/WHO (2001) Health and nutritional properties of probiotics in food including powder milk with liver lactic acid bacteria. Food and Agriculture Organization and World Health Organization Joint report

Fiala ES (1977) Investigations into the metabolism and mode of action of the colon carcinogens 1,2-dimethylhydrazine and azoxymethane. Cancer. https://doi.org/10.1002/1097-0142(197711)40:5+%3c2436::AID-CNCR2820400908%3e3.0.CO;2-U

Gilreath JA, Stenehjem DD, Rodgers GM (2014) Diagnosis and treatment of cancer-related anemia. Am J Hematol 89(2):203–212

Gurley KE, Moser RD, Kemp CJ (2015) Induction of colon cancer in mice with 1,2-Dimethylhydrazine. Cold Spring Harb Protoc. https://doi.org/10.1101/pdb.prot077453

Guz J, Foksinski M, Siomek A et al (2008) The relationship between 8-oxo-7,8-dihydro-2′-deoxyguanosine level and extent of cytosine methylation in leukocytes DNA of healthy subjects and in patients with colon adenomas and carcinomas. Mutat Res. https://doi.org/10.1016/j.mrfmmm.2007.12.013

Han PP, Sun Y, Wu XY et al (2014) Emulsifying, flocculating, and physicochemical properties of exopolysaccharide produced by cyanobacterium Nostoc flagelliforme. Appl Biochem Biotechnol. https://doi.org/10.1007/s12010-013-0505-7

Houghteling PD, Walker WA (2015) Why is initial bacterial colonization of the intestine important to infants' and children's health? J Pediatr Gastroenterol Nutr 60:294–307. https://doi.org/10.1097/MPG.0000000000000597

Iannitti T, Palmieri B (2010) Therapeutical use of probiotic formulations in clinical practice. Clin Nutr 29(6):701–725

Ighodaro OM, Akinloye OA (2018) First line defence antioxidants-superoxide dismutase (SOD), catalase (CAT) and glutathione peroxidase (GPX): their fundamental role in the entire antioxidant defence grid. Alexandria J Med 54:287–293. https://doi.org/10.1016/j.ajme.2017.09.001

Kakkar P, Das B, Viswanathan PN (1984) A modified spectrophotometric assay of superoxide dismutase. Indian J Biochem Biophys 21(2):130–132

Le Leu RK, Hu Y, Brown IL et al (2010) Synbiotic intervention of Bifidobacterium lactis and resistant starch protects against colorectal cancer development in rats. Carcinogenesis. https://doi.org/10.1093/carcin/bgp197

Lynch KM, Coffey A, Arendt EK (2018) Exopolysaccharide producing lactic acid bacteria: Their techno-functional role and potential application in gluten-free bread products. Food Res Int. https://doi.org/10.1016/j.foodres.2017.03.012

Martels JZH, Sadaghian Sadabad M, Bourgonje AR et al (2017) The role of gut microbiota in health and disease: in vitro modeling of host-microbe interactions at the aerobe-anaerobe interphase of the human gut. Anaerobe 44:3–12. https://doi.org/10.1016/j.anaerobe.2017.01.001

Nordberg J, Arnér ESJ (2001) Reactive oxygen species, antioxidants, and the mammalian thioredoxin system. Free Radic Biol Med 31(11):1287–1312

OECD (2002) Test no. 420: acute oral toxicity—fixed dose procedure

Ohkawa H, Ohishi N, Yagi K (1979) Assay for lipid peroxides in animal tissues by thiobarbituric acid reaction. Anal Biochem. https://doi.org/10.1016/0003-2697(79)90738-3

Perdigón G, Fuller R, Raya R (2001) Lactic acid bacteria and their effect on the immune system. Curr Issues Intest Microbiol 2(1):27–42

Rajeshkumar NV, Kuttan R (2003) Modulation of carcinogenic response and antioxidant enzymes of rats administered with 1,2-dimethylhydrazine by Picroliv. Cancer Lett. https://doi.org/10.1016/S0304-3835(02)00203-3

Riaz Rajoka MS, Mehwish HM, Fang H et al (2019) Characterization and anti-tumor activity of exopolysaccharide produced by Lactobacillus kefiri isolated from Chinese kefir grains. J Funct Foods 63:103588. https://doi.org/10.1016/j.jff.2019.103588

Rodríguez JM, Murphy K, Stanton C et al (2015) The composition of the gut microbiota throughout life, with an emphasis on early life. Microb Ecol Health Dis 26:26050. https://doi.org/10.3402/mehd.v26.26050

Rotruck JT, Pope AL, Ganther HE et al (1973) Selenium: biochemical role as a component of glatathione peroxidase. Science. https://doi.org/10.1126/science.179.4073.588

Sinha AK (1972) Colorimetric assay of catalase. Anal Biochem. https://doi.org/10.1016/0003-2697(72)90132-7

Slaoui M, Fiette L (2011) Histopathology procedures: from tissue sampling to histopathological evaluation. Methods Mol Biol 691:69–82

Sreedharan V, Venkatachalam KK, Namasivayam N (2009) Effect of morin on tissue lipid peroxidation and antioxidant status in 1, 2-dimethylhydrazine induced experimental colon carcinogenesis. Invest New Drugs. https://doi.org/10.1007/s10637-008-9136-1

Waris G, Ahsan H (2006) Reactive oxygen species: role in the development of cancer and various chronic conditions. J Carcinog 5:14. https://doi.org/10.1186/1477-3163-5-14

Xiao L, Ge X, Yang L et al (2020) Anticancer potential of an exopolysaccharide from: Lactobacillus helveticus MB2-1 on human colon cancer HT-29 cells via apoptosis induction. Food Funct. https://doi.org/10.1039/d0fo01345e

Yu BP (1994) Cellular defenses against damage from reactive oxygen species. Physiol Rev 74(1):139–162

Zińczuk J, Maciejczyk M, Zaręba K et al (2020) Pro-oxidant enzymes, redox balance and oxidative damage to proteins, lipids and DNA in colorectal cancer tissue. Is oxidative stress dependent on tumour budding and inflammatory infiltration? Cancers. https://doi.org/10.3390/cancers12061636

Zotta T, Parente E, Ricciardi A (2017) Aerobic metabolism in the genus Lactobacillus : impact on stress response and potential applications in the food industry. J Appl Microbiol 122:857–869. https://doi.org/10.1111/jam.13399
Acknowledgements
The work was supported by a grant from Science and Engineering Research Board, New Delhi to KS (SR/SO/HS-0248/2012). VD thanks the Management of Kalasalingam Academy of Research and Education for financial support.
Funding
Science and Engineering Research Board, New Delhi to KS (SR/SO/HS-0248/2012).
Ethics declarations
Conflict of interest
No conflicts of interest.
Ethical approval
The study was carried out after obtaining permission from the Institutional Animal Ethical Committee (KMCRET/PhD/15/2014–15).
About this article
Cite this article
Deepak, V., Sundar, W.A., Pandian, S.R.K. et al. Exopolysaccharides from Lactobacillus acidophilus modulates the antioxidant status of 1,2–dimethyl hydrazine-induced colon cancer rat model. 3 Biotech 11, 225 (2021). https://doi.org/10.1007/s13205-021-02784-x
Received:

Accepted:

Published:
Keywords
Lactobacillus acidophilus

Exopolysaccharides

Antioxidative enzymes

1,2–dimethyl hydrazine

Colon cancer

Anticancer