Abstract
Eukaryotic translation initiation factors (eIFs) are essential protein complexes involved in the translation of mRNA into proteins. These initiation factors are generally used as targets in the control of plant RNA virus infections. In the present study, we identified a total 190 eIFs, clustered phylogenetically into 40 distinct subfamilies in the allopolyploid Brassica juncea. Extensive evolutionary duplications of the eIFs in B. juncea suggest their increased genetic diversity and wide adaptability. The induction of expressions in some of the eIFs after inoculation against Turnip mosaic virus (TuMV) provided candidate targets to be used in the control of viral infections. In addition, the expression profiles of eIFs under different temperatures suggested that the TuMV epidemic was temperature dependent. The eIFs expressions suggested that the systemic viral infections were more acute in plants grown between 20 °C and 28 °C. In addition, our results revealed that new subgroups of eIFs, eIF2β, eIF2α, eIF2Bβ, EF1A, and PABP could be represented as targets for antiviral strategies in B. juncea. In summary, our findings would be helpful in studying the complex mechanisms of eIF-mediated, temperature-dependent RNA virus control in B. juncea.
Access options
Buy single article
Instant access to the full article PDF.
US$ 39.95
Tax calculation will be finalised during checkout.
Subscribe to journal
Immediate online access to all issues from 2019. Subscription will auto renew annually.
US$ 119
Tax calculation will be finalised during checkout.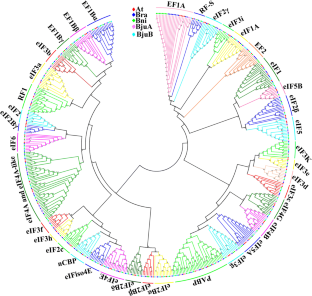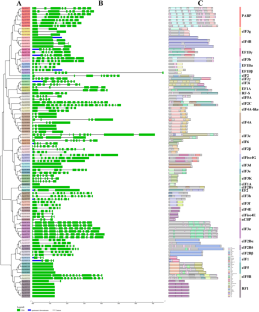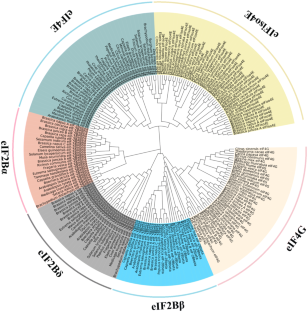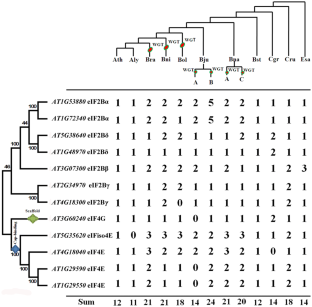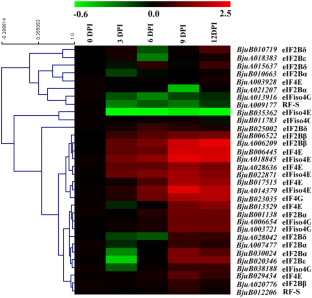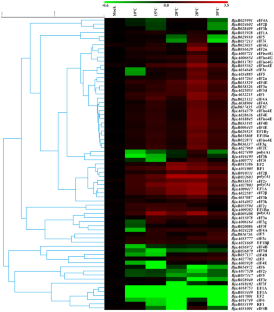 References
Benson D, Cavanaugh M, Clark K, Karsch-Mizrachi I, Lipman D, Ostell J, Sayers E (2013) GenBank. Nucleic Acids Res 41(D1):D36–D42

Bowers JE, Chapman BA, Rong JK, Paterson AH (2003) Unravelling angiosperm genome evolution by phylogenetic analysis of chromosomal duplication events. Nature 422(6930):433–438

Cheng F, Liu SY, Wu J, Fang L, Sun SL, Liu B, Li PX, Hua W, Wang XW (2011) BRAD, the genetics and genomics database for Brassica plants. BMC Plant Biol 11:136

Chung BN, Choi KS, Ahn JJ, Joa JH, Do KS, Park KS (2015) Effects of temperature on systemic infection and symptom expression of Turnip mosaic virus in Chinese cabbage (Brassica campestris). Plant Pathol J 31(4):363–370

Chung BN, Canto T, Tenllado F, Choi KS, Joa JH, Ahn JJ, Kim CH, Do KS (2017) The effects of high temperature on infection by potato virus Y, potato virus A, and Potato leafroll virus (vol 32, pg 321, 2016). Plant Pathol J 33(1):101–101

Duan WK, Song XM, Liu TK, Huang ZN, Ren J, Hou XL, Du JC, Li Y (2015) Patterns of evolutionary conservation of ascorbic acid-related genes following whole-genome triplication in Brassica rapa. Genome Biol Evol 7(1):299–313

Duprat A, Caranta C, Revers F, Menand B, Browning KS, Robaglia C (2002) The Arabidopsis eukaryotic initiation factor (iso)4E is dispensable for plant growth but required for susceptibility to potyviruses. Plant J 32(6):927–934

Edger PP, Pires JC (2009) Gene and genome duplications: the impact of dosage-sensitivity on the fate of nuclear genes. Chromosome Res 17(5):699–717

Elsby R, Heiber JF, Reid P, Kimball SR, Pavitt GD, Barber GN (2011) The alpha subunit of eukaryotic initiation factor 2B (eIF2B) is required for eIF2-mediated translational suppression of vesicular stomatitis virus. J Virol 85(19):9716–9725

Goodstein DM, Shu SQ, Howson R, Neupane R, Hayes RD, Fazo J, Mitros T, Dirks W, Hellsten U, Putnam N, Rokhsar DS (2012) Phytozome: a comparative platform for green plant genomics. Nucleic Acids Res 40(D1):D1178–D1186

Hily JM, Poulicard N, Mora MÁ, Pagán I, García-Arenal F (2016) Environment and host genotype determine the outcome of a plant–virus interaction: from antagonism to mutualism. New Phytol 209(2):812–822

Hwang J, Oh CS, Kang BC (2013) Translation elongation factor 1B (eEF1B) is an essential host factor for Tobacco mosaic virus infection in plants. Virology 439(2):105–114

Jackson RJ, Hellen CUT, Pestova TV (2010) The mechanism of eukaryotic translation initiation and principles of its regulation. Nat Rev Mol Cell Biol 11(2):113–127

Kato Y, Konishi M, Shigyo M, Yoneyama T, Yanagisawa S (2010) Characterization of plant eukaryotic translation initiation factor 6 (eIF6) genes: the essential role in embryogenesis and their differential expression in Arabidopsis and rice. Biochem Biophys Res Commun 397(4):673–678

Krzywinski M, Schein J, Birol I, Connors J, Gascoyne R, Horsman D, Jones SJ, Marra MA (2009) Circos: an information aesthetic for comparative genomics. Genome Res 19(9):1639–1645

Kumer SC, Vrana KE (1996) Intricate regulation of tyrosine hydroxylase activity and gene expression. J Neurochem 67(2):443–462

Lescot M, Dehais P, Thijs G, Marchal K, Moreau Y, Van de Peer Y, Rouze P, Rombauts S (2002) PlantCARE, a database of plant cis-acting regulatory elements and a portal to tools for in silico analysis of promoter sequences. Nucleic Acids Res 30(1):325–327

Li LS, Luo C, Huang F, Liu ZL, An ZY, Dong L, He XH (2019) Identification and characterization of the mango eIF gene family reveals MieIF1A-a, which confers tolerance to salt stress in transgenic Arabidopsis. Sci Hortic 248:274–281

Liu SY, Liu YM, Yang XH, Tong CB, Edwards D, Parkin IAP, Zhao MX, Ma JX, Yu JY, Huang SM, Wang XY, Wang JY, Lu K, Fang ZY, Bancroft I, Yang TJ, Hu Q, Wang XF, Yue Z, Li HJ, Yang LF, Wu J, Zhou Q, Wang WX, King GJ, Pires JC, Lu CX, Wu ZY, Sampath P, Wang Z, Guo H, Pan SK, Yang LM, Min JM, Zhang D, Jin DC, Li WS, Belcram H, Tu JX, Guan M, Qi CK, Du DZ, Li JN, Jiang LC, Batley J, Sharpe AG, Park BS, Ruperao P, Cheng F, Waminal NE, Huang Y, Dong CH, Wang L, Li JP, Hu ZY, Zhuang M, Huang Y, Huang JY, Shi JQ, Mei DS, Liu J, Lee TH, Wang JP, Jin HZ, Li ZY, Li X, Zhang JF, Xiao L, Zhou YM, Liu ZS, Liu XQ, Qin R, Tang X, Liu WB, Wang YP, Zhang YY, Lee J, Kim HH, Denoeud F, Xu X, Liang XM, Hua W, Wang XW, Wang J, Chalhoub B, Paterson AH (2014) The Brassica oleracea genome reveals the asymmetrical evolution of polyploid genomes. Nat Commun 5:3930

Livak KJ, Schmittgen TD (2001) Analysis of relative gene expression data using real-time quantitative PCR and the 2-ΔΔCT method. Methods 25(4):402–408

Lv X, Lan S, Guy KM, Yang J, Zhang M, Hu Z (2016) Global expressions landscape of NAC transcription factor family and their responses to abiotic stresses in Citrullus lanatus. Sci Rep 6:30574

Lynch M, Conery JS (2000) The evolutionary fate and consequences of duplicate genes. Science 290(5494):1151–1155

Nicaise V (2014) Crop immunity against viruses: outcomes and future challenges. Front Plant Sci 5:660

Nix DA, Eisen MB (2005) GATA: a graphic alignment tool for comparative sequence analysis. BMC Bioinform 6:9

Parizipour MHG, Ramazani L, Sardrood BP (2018) Temperature affected transmission, symptom development and accumulation of Wheat dwarf virus. Plant Prot Sci 54(4):222–233

Qian WF, Liao BY, Chang AYF, Zhang JZ (2010) Maintenance of duplicate genes and their functional redundancy by reduced expression. Trends Genet 26(10):425–430

Qian W, Zhang SJ, Zhang SF, Li F, Zhang H, Wu J, Wang XW, Walsh JA, Sun RF (2013) Mapping and candidate-gene screening of the novel Turnip mosaic virus resistance gene retr02 in Chinese cabbage (Brassica rapa L.). Theor Appl Genet 126(1):179–188

Revers F, Nicaise V (2014) Plant resistance to infection by viruses. In: eLS. Wiley, Chichester. https://doi.org/10.1002/9780470015902.a0000757.pub3

Rubio B, Cosson P, Caballero M, Revers F, Bergelson J, Roux F, Schurdi-Levraud V (2019) Genome-wide association study reveals new loci involved in Arabidopsis thaliana and Turnip mosaic virus (Tu MV) interactions in the field. New Phytol 221(4):2026–2038

Sato M, Nakahara K, Yoshii M, Ishikawa M, Uyeda I (2005) Selective involvement of members of the eukaryotic initiation factor 4E family in the infection of Arabidopsis thaliana by potyviruses. FEBS Lett 579(5):1167–1171

Shopan J, Mou HP, Zhang LL, Zhang CT, Ma WW, Walsh JA, Hu ZY, Yang JH, Zhang MF (2017) Eukaryotic translation initiation factor 2B-beta (eIF2Bβ), a new class of plant virus resistance gene. Plant J 90(5):929–940

Swarbreck D, Wilks C, Lamesch P, Berardini TZ, Garcia-Hernandez M, Foerster H, Li D, Meyer T, Muller R, Ploetz L (2007) The Arabidopsis information resource (TAIR): gene structure and function annotation. Nucleic Acids Res 36(suppl_1):D1009–D1014

Tamura K, Peterson D, Peterson N, Stecher G, Nei M, Kumar S (2011) MEGA5: molecular evolutionary genetics analysis using maximum likelihood, evolutionary distance, and maximum parsimony methods. Mol Biol Evol 28(10):2731–2739

Thompson JD, Gibson TJ, Higgins DG (2003) Multiple sequence alignment using ClustalW and ClustalX. Curr Protoc Bioinform 1:2.3. 1–2.3. 22

Trębicki P, Nancarrow N, Bosque-Pérez NA, Rodoni B, Aftab M, Freeman A, Yen A, Fitzgerald GJ (2017) Virus incidence in wheat increases under elevated CO2: a 4-year study of yellow dwarf viruses from a free air carbon dioxide facility. Virus Res 241:137–144

Trezbicki P, Nancarrow N, Cole E, Bosque-Perez NA, Constable FE, Freeman AJ, Rodoni B, Yen AL, Luck JE, Fitzgerald GJ (2015) Virus disease in wheat predicted to increase with a changing climate. Glob Change Biol 21(9):3511–3519

Truniger V, Aranda MA (2009) Recessive resistance to plant viruses. Adv Virus Res 75:119

Van Munster M, Yvon M, Vile D, Dader B, Fereres A, Blanc S (2017) Water deficit enhances the transmission of plant viruses by insect vectors. PLoS ONE 12(5):e0174398

Velazquez K, Renovell A, Comellas M, Serra P, Garcia ML, Pina JA, Navarro L, Moreno P, Guerri J (2010) Effect of temperature on RNA silencing of a negative-stranded RNA plant virus: Citrus psorosis virus. Plant Pathol 59(5):982–990

Wallbach M, Escobar JD, Babaeikelishomi R, Stahnke MJ, Blume R, Schroder S, Kruegel J, Maedler K, Kluth O, Kehlenbach RH, Miosge N, Oetjen E (2016) Distinct functions of the dual leucine zipper kinase depending on its subcellular localization. Cell Signal 28(4):272–283

Walsh JA, Sharpe AG, Jenner CE, Lydiate DJ (1999) Characterisation of resistance to turnip mosaic virus in oilseed rape (Brassica napus) and genetic mapping of TuRB01. Theor Appl Genet 99(7–8):1149–1154

Wang XW, Wang HZ, Wang J, Sun RF, Wu J, Liu SY, Bai YQ, Mun JH, Bancroft I, Cheng F, Huang SW, Li XX, Hua W, Wang JY, Wang XY, Freeling M, Pires JC, Paterson AH, Chalhoub B, Wang B, Hayward A, Sharpe AG, Park BS, Weisshaar B, Liu BH, Li B, Liu B, Tong CB, Song C, Duran C, Peng CF, Geng CY, Koh CS, Lin CY, Edwards D, Mu DS, Shen D, Soumpourou E, Li F, Fraser F, Conant G, Lassalle G, King GJ, Bonnema G, Tang HB, Wang HP, Belcram H, Zhou HL, Hirakawa H, Abe H, Guo H, Wang H, Jin HZ, Parkin IAP, Batley J, Kim JS, Just J, Li JW, Xu JH, Deng J, Kim JA, Li JP, Yu JY, Meng JL, Wang JP, Min JM, Poulain J, Wang J, Hatakeyama K, Wu K, Wang L, Fang L, Trick M, Links MG, Zhao MX, Jin MN, Ramchiary N, Drou N, Berkman PJ, Cai QL, Huang QF, Li RQ, Tabata S, Cheng SF, Zhang S, Zhang SJ, Huang SM, Sato S, Sun SL, Kwon SJ, Choi SR, Lee TH, Fan W, Zhao X, Tan X, Xu X, Wang Y, Qiu Y, Yin Y, Li YR, Du YC, Liao YC, Lim Y, Narusaka Y, Wang YP, Wang ZY, Li ZY, Wang ZW, Xiong ZY, Zhang ZH (2011) The genome of the mesopolyploid crop species Brassica rapa. Nat Genet 43(10):1035–U1157

Wortham NC, Proud CG (2015) eIF2B: recent structural and functional insights into a key regulator of translation. Biochem Soc Trans 43:1234–1240

Yang JH, Liu DY, Wang XW, Ji CM, Cheng F, Liu BN, Hu ZY, Chen S, Pental D, Ju YH, Yao P, Li XM, Xie K, Zhang JH, Wang JL, Liu F, Ma WW, Shopan J, Zheng HK, Mackenzie SA, Zhang MF (2018) The genome sequence of allopolyploid Brassica juncea and analysis of differential homoeolog gene expression influencing selection (vol 48, pg 1225, 2016). Nat Genet 50(11):1616–1616

You J, Zhang L, Song B, Qi X, Chan Z (2015) Systematic analysis and identification of stress-responsive genes of the NAC gene family in Brachypodium distachyon. PLoS ONE 10(3):e0122027

Yvon M, Vile D, Brault V, Blanc S, Van Munster M (2017) Drought reduces transmission of Turnip yellows virus, an insect-vectored circulative virus. Virus Res 241:131–136

Zhang W, Ruan J, T-hD Ho, You Y, Yu T, Quatrano RS (2005) Cis-regulatory element based targeted gene finding: genome-wide identification of abscisic acid-and abiotic stress-responsive genes in Arabidopsis thaliana. Bioinformatics 21(14):3074–3081

Zhang Z, Li J, Zhao X-Q, Wang J, Wong GK-S, Yu J (2006) KaKs_Calculator: calculating Ka and Ks through model selection and model averaging. Genom Proteom Bioinform 4(4):259–263
Acknowledgements
This work was supported by grants from the National Natural Science Foundation of Zhejiang Province (Grant No. Z20C150008) and the National Natural Science Foundation of China (Grant No. 31872095). We thank LetPub (https://www.letpub.com) for its linguistic assistance during the preparation of this manuscript.
Ethics declarations
Conflict of interest
There is no conflict of interest.
Electronic supplementary material
Below is the link to the electronic supplementary material.
Visualization of the eIF linkage groups. Chromosomal distributions of eIF-related genes in the B. juncea genome. The lines represent putative orthologs of eIF genes in Arabidopsis and B. juncea. At1 to At5, Bj1 to Bj10, and Bj11 to Bj18 represent the Arabidopsis, B. juncea subgenome A, and B. juncea subgenome B chromosome numbers, respectively. Fig. S2 Phylogenetic relationships, gene structures, and protein structures of the B. junceae subgenome B eIF genes. (A) The phylogenetic tree was constructed with MEGA 5.0 using the NJ method with 1,000 bootstrap replicates based on a multiple alignment of 91 eIF aa sequences from BjuBeIF. The 38 major subfamilies are indicated by name and are marked with backgrounds colored differently. (B) Exon/intron structures of eIF genes from BjuBeIF. Exons and introns are represented by blue boxes and black lines, respectively. The sizes of the exons and introns are estimated using the scale at the bottom. (C) Schematic of the conserved motifs in the eIF proteins from BjuB, elucidated by MEME. Every motif is represented by one colored box with a number. The black lines represent the non-conserved sequences. Fig. S3 Sequence logos for the conserved motifs of eIFBjuB domain proteins. Fig. S4 Sequence comparisons of eIF2Bβ, eIF4E, and eIFiso4E duplicated genes between A and B subgenome promoter regions in B. juncea. Pairs of horizontal bars represent subgenome A (upper) and subgenome B (lower) promoter region sequences. Highly similar regions are illustrated by black lines and inverted regions by red lines. Similar sequences are connected by black lines. Similar sequences but in reverse orientation are connected with red lines. Unfilled boxes represent sequences absent in one or another contig. Red broken lines connect similar regions in the inverted match and solid dark lines connect similar regions. Fig. S5 Graphical representation of phosphorylation site predictions in BjuAeIFs. Fig. S6 Graphical representation of phosphorylation site predictions in BjuBeIFs. Fig. S7 Graphical representation of signal peptide predictions in BjuAeIFs. Fig. S8 Graphical representation of signal peptide predictions in BjuBeIFs. (DOCX 9504 kb)
About this article
Cite this article
Shopan, J., Liu, C., Hu, Z. et al. Identification of eukaryotic translation initiation factors and the temperature-dependent nature of Turnip mosaic virus epidemics in allopolyploid Brassica juncea. 3 Biotech 10, 75 (2020). https://doi.org/10.1007/s13205-020-2058-0
Received:

Accepted:

Published:
Keywords
Eukaryotic translation initiation factors

Phylogenetic evolution

Virus epidemic

Duplication