Abstract
Polyhydroxyalkanoate (PHA) is the most promising solution to major ecological problem of plastic accumulation. The biodegradable and biocompatible properties of PHA make it highly demanding in the biomedical and agricultural field. The limited market share of PHA industries despite having tremendous demand as concerned with environment has led to knock the doors of scientific research for finding ways for the economic production of PHA. Therefore, new methods of its production have been applied such as using a wide variety of feedstock like organic wastes and modifying PHA synthesizing enzyme at molecular level. Modifying metabolic pathways for PHA production using new emerging techniques like CRISPR/Cas9 technology has simplified the process spending less amount of time. Using green solvents under pressurized conditions, ionic liquids, supercritical solvents, hypotonic cell disintegration for release of PHA granules, switchable anionic surfactants and even digestion of non-PHA biomass by animals are some novel strategies for PHA recovery which play an important role in sustainable production of PHA. Hence, this review provides a view of recent applications, significance of PHA and new methods used for its production which are missing in the available literature.
Access options
Buy single article
Instant access to the full article PDF.
USD 39.95
Price excludes VAT (USA)
Tax calculation will be finalised during checkout.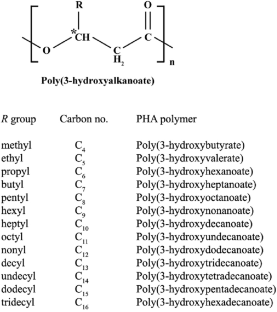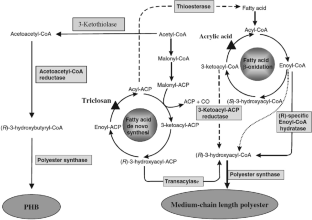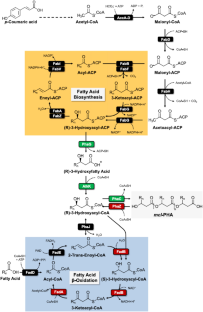 References
Abid S, Raza ZA, Hussain T (2016) Production kinetics of polyhydroxyalkanoates by using Pseudomonas aeruginosagammaraymutantstrainEBN-8culturedonsoyabeanoil. Biotech 6:142–152

Anjum A, Zuber M, Zia KM, Noreen A, Anjum MN, Tabasum S (2016) Microbial production of polyhydroxyalkanoates (PHAs) and its copolymers: a review of recent developments. Int J Biol Macromol 89:161–174

Arauz AOP, Rabiela AEA, Torres AV, Hernandez AIR, Hernandez NC, Porras BV, Cuellar MRL (2019) Production and characterization of biodegradable films of a novel polyhydroxyalkanoate (PHA) synthesized from peanut oil. Food Packag Shelf Life. https://doi.org/10.1016/j.fpsl.2019.01.001

Arikawa H, Sato S, Fujiki T, Matsumoto K (2017) Simple and rapid method for isolation and quantitation of Polyhydroxyalkanoate by SDS-sonication treatment. J Biosci Bioeng 20:1–5

Basnett P, Marcello E, Lukasiewicz B, Panchal B, Nigmatullin R, Knowles JC, Roy I (2018) Biosynthesis and characterization of a novel, biocompatible medium chain length polyhydroxyalkanoate by Pseudomonas mendocina CH50 using coconut oil as the carbon source. J Mater Sci: Mater Med 29:179–190

Bustamante D, Tortajada M, Ramon D, Rojas A (2019) Camelina oil as a promising substrate for mcl-PHA production in Pseudomonas sp. cultures. Appl Food Biotechnol 6:61–70

Caston IS, Kelly CA, Fitzgerald AVL, Leeke GA, Jenkins M, Overton TW (2015) Development of a rapid method to isolate polyhydroxyalkanoates from bacteria for screening studies. J Biosci Bioeng 20:1–4

Castro OV, Calderon JC, Leon E, Segura A, Arias M, Perez L, Sobral PJA (2016) Characterization of a polyhydroxyalkanoate obtained from pineapple peel waste using Ralstonia eutropha. J Biotechnol 231:232–238

Chee JY, Tan Y, Samian MR, Sudesh K (2010) Isolation and characterization of a Burkholderia sp. USM (JCM15050) capable of producing polyhydroxyalkanoate (PHA) from trigycerides, fatty acids and glycerols. J Polym Environ 18:584–592

Chen GQ (2009) A microbial polhydroxyalkanoates (PHA) based bio- and materials industry. Chem Soc Rev 38:2434–2446

Ciesielski S, Mozejko J, Pisutpaisal N (2015) Plant oils as promising substrate for polyhydroxyalkanoates production. Clean J Prod 106:408–421

Cruz MV, Freitas F, Paiva A, Mano F, Dionisio M, Ramos AM, Reis AM (2016) Valorization of fatty acids-containing wastes and byproducts into short and medium chain length polyhydroxyalkanoates. New Biotechnol 33:206–215

de las Heras AM, Portugal-Nunes DJ, Rizza N, Sandström AG, Gorwa-Grauslund MF (2016) Anaerobic poly-3-hydroxybutyrate production from xylose in recombinant Saccharomyces cerevisiae using a NADH-dependent acetoacetyl-CoA reductase. Microb Cell Fact 15:197

Dubey S, Bharmoria P, Gehlot PS, Agrawal V, Kumar A, Mishra S (2018) 1-Ethyl-3- methylimidazolium diethylphosphate based extraction of bioplastic "Polyhydroxyalkanoates" from bacteria: green and sustainable approach. ACS Sustain Chem Eng 6:766–773

Fauzi AHM, Chua ASM, Yoon LW, Nittami T, Yeoh HK (2019) Enrichment of PHA- accumulators for sustainable PHA production from crude glycerol. Process Saf Environ 122:200–208

Findlay RH, White DC (1983) Polymeric beta hydroxyalkanoates from environmental samples and Bacillus megaterium. Appl Environ Microbiol 45:71–78

Fuchtenbusch B, Steinbuchel A (1999) Biosynthesis of polyhydroxyalkanoates from low-rank coal liquefaction products by Pseudomonas oleovorans and Rhodococcus ruber. Appl Microbiol Biotechnol 52:91–95

Fukui T, Shiomi N, Doi Y (1998) Expression and characterization of (R)-specific enoyl coenzyme A hydratase involved in Polyhydroxyalkanoate biosynthesis by Aeromonas caviae. J Bacteriol 180:667–673

Ghosh S, Gnaim R, Greiserman S, Fadeev L, Gozin M, Golberg A (2019) Macroalgal biomass subcritical hydrolysates for the production of Polyhydroxyalkanoate (PHA) by Haloferax mediterranei. Bioresour Technol 271:166–173

Haas R, Jin B, Zepf FT (2014) Production of Poly(3-hydroxybutyrate) from waste potato starch. Biosci Biotechnol Bioschem 72:1–4

Hiroe A, Tsuge K, Nomura CT, Itaya M, Tsuge T (2012) Rearrangement of gene order in the phaCAB operon leads to effective production of ultrahigh-molecular-weight poly [(R)-3-hydroxybutyrate] in genetically engineered Escherichia coli. Appl environ microbiol 78:3177–3184

Hoffmann N, Amara AA, Beermann BB, Qi Q, Hinz HJ, Rehm BH (2002) Biochemical characterization of the Pseudomonas putida 3-hydroxyacyl ACP:CoA transacylase, which diverts intermediates of fatty acid de novo biosynthesis. J Biol Chem 77:42926–42936

Hrabak O (1992) Industrial production of poly-β-hydroxybutyrate. FEMS Microbiol Rev 103:251–256

Huang TY, Duan KJ, Huang SY, Chen CW (2006) Production of polyhydroxyalkanoates from inexpensive extruded rice bran and starch by Haloferax mediterranei. J Ind Microbiol Biotechnol 33:701–706

Insomphun C, Kobayashi S, Fujiki T, Numata K (2016) Biosynthesis of polyhydroxyalkanoates containing hydroxyl group from glycolate in Escherichia coli. AMB Express 6:29–37

Ishak AK, Annuar MSM, Heidelberg T, Gumel AM (2016) Ultrasound-assisted rapid extraction of bacterial intracellular medium-chain-length poly(3-hydroxyalkanoates) (mcl- PHAs) in medium mixture of solvent/marginal non-solvent. Arab J Sci Eng 41:33–44

Jangra MR, Ikbal NKS, Jangra S, Pippal A, Sikka VK (2018) Recent updates on the economic use of poly hydroxy butyrate (PHB): a green alternative to plastics. Biosci Biotech Res Comm 11:97–109

Kachrimanidou V, Kopsahelis N, Vlysidis A, Papanikolaou S, Kookos IK et al (2016) Downstream separation of poly (hydroxyalkanoates) using crude enzyme consortia produced via solid state fermentation integrated in a biorefinery concept. Food Bioprod Proc 100:323–334

Khosravi-Darani K, Vasheghani-Farahani E, Shojaosadati SD, Yamini Y (2004) Effect of process variables on supercritical fluid disruption of Ralstonia eutropha cells for poly-(R)-hydroxybutyrate recovery. Biotechnol Progr 20:1757–1765

Khunthongkaew P, Murugan P, Sudesh K, Iewkittayakorn J (2018) Biosynthesis of polyhydroxyalkanoates using Cupriavidus necator H16 and its application for particleboard production. J polym Res 25:131–140

Koller M (2018a) Biodegradable and biocompatible polyhydroxy-alkanoates (PHA): auspicious microbial macromolecules for pharmaceutical and therapeutic applications. Molecules 23:362–382

Koller M (2018b) Chemical and biochemical engineering approaches in manufacturing polyhydroxyalkanoate (PHA) biopolyesters of tailored structure with focus on the diversity of building blocks. Chem Biochem Eng Q 32:413–438

Koller M (2020) Established and advanced approaches for recovery of microbial polyhydroxyalkanoate (PHA) biopolyesters from surrounding microbial biomass. Eurobiotech j 4:113–126

Koller M, Braunegg G (2015) Biomediated production of structurally diverse poly (hydroxyalkanoates) from surplus streams of the animal processing industry. Polimery. https://doi.org/10.14314/polimery.2015.298

Koller M, Bona R, Chiellini E, Fernandes EG, Horvat P, Kutschera C, Hesse P, Braunegg G (2008) Polyhydroxyalkanoate production from whey by Pseudomonas hydrogenovora. Bioresour Technol 99:4854–4863

Kunasundari B, Sudesh K (2011) isolation and recovery of microbial polyhydroxyalkanoates. EXPRESS Polym Lett 7:620–634

Kunasundari B, Arza CR, Maurer FHJ, Murugaiyah V, Kaur G, Sudesh K (2017) Biological recovery and properties of poly(3-hydroxybutyrate) from Cupriavidus necatorH16. Sep Purif Technol 172:1–6. https://doi.org/10.1016/j.seppur.2016.07.043

Langenbach S, Rehm BR, Steinbuchel A (1997) Functional expression of the PHA synthase gene pha C1 from Pseudomonas aeruginosa in Escherichia coli results in poly (3-hydroxyalkanoate) synthesis. FEMS microbiol lett 150:303–309

Lemechko P, Magali LF, Bruzaud S (2019) Production of poly(3-hydroxybutyrate-co-3- hydroxyvalerate) using agro-industrial effluents with tunable proportion of 3-hydroxyvalerate monomer units. Int J Biolog Macromol 128:429–434

Ling C, Qiao GQ, Shuai BW, Olavarria K, Yin J, Xiang RJ, Song KN, Shen YH, Guo Y, Chen GQ (2018) Engineering NADH/NAD+ ratio in Halomonas bluephagenesis for enhanced production of Polyhydroxyalkanoates (PHA). MetaboL Eng. https://doi.org/10.1016/j.ymben.2018.09.007

Marjadi D, Dharaiya N (2014) Recovery and characterization of poly(3-hydroxybutyric acid) synthesized in Staphylococcus epidermidis. Afric J Environ Sci Technol 8:319–329

Martin DP, Peoples OP, Williams SF, Zhong LH (2002) US Patent No. 6380244

Martino L, Cruz MV, Scoma A, Freitas F, Bertin L et al (2014) Recovery of amorphous polyhydroxybutyrate granules from Cupriavidus necator cells grown on used cooking oil. Int J Biol Macromol 71:117–123. https://doi.org/10.1016/j.ijbiomac.2014.04.016

Mohapatra S, Mohanta P, Sarkar B, Daware A, Kumar C, Samantaray D (2015) Production of polyhydroxyalkanoates (PHAs) by Bacillus strain isolated from waste water and its biochemical characterization. Proc Natl Acad Sci India Sect Biolog Sci. https://doi.org/10.1007/s40011-015-0626-6

Obruca S, Benesova P, Petrik S, Oborna J, Prikryl R, Marova I (2015) Production of polyhydroxyalkanoates using hydrolysate of spent coffee grounds. Proc Biochem 49:1409–1414

Obruca S, Sedlacek P, Krzyzanek V, Mravec F, Hrubanova K, Samek O, Kucera D, Benesova P, Marova I (2016) Accumulation of poly(3-hydroxybutyrate) helps bacterial cells to survive freezing. PLoS ONE. https://doi.org/10.1371/journal.pone.0157778

Obruca S, Sedlacek P, Slaninova E, Fritz I, Daffert C, Meixner K, Sedrlova Z, Koller M (2020) Novel unexpected functions of PHA granules. Appl Microbiol Biotechnol 104:4795–4810

Pfeiffer D, Jendrossek D (2014) PhaM is the physiological activator of poly(3- hydroxybutyrate) (PHB) synthase (PhaC1) in Ralstonia eutropha. Appl Environ Microbiol 80:555–563

Qin Q, Ling C, Yiqing Z, Yang T, Yin J, Guo Y, Chen GQ (2018) CRISPR/Cas9 editing genome of extremophile Halomonas spp. Metab Eng. https://doi.org/10.1016/j.ymben.2018.03.018

Rebocho AT, Pereira JR, Freitas F, Neves LA, Alves VD, Sevrin C (2019) Production of medium-chain length polyhydroxyalkanoates by Pseudomonas citronellolis grown in Apple pulp waste. Appl Food Biotechnol 6:71–82

Reddy MV, Mawatari Y, Onodera R, Nakamura Y, Yajima Y, Chang YC (2017) Polyhydroxyalkanotes (PHA) production from synthetic waste using Pseudomonas pseudoflava: PHA synthase enzyme activity analysis from P. pseudoflava and P. palleronii. Bioresour Technol 234:99–105

Rehm BH (2003) Polyester synthases: natural catalysts for plastics. Biochem J 376:15–33

Rehm BH (2006) Genetics and biochemistry of Polyhydroxyalkanoate granule self-assembly: the key role of polyester synthases. Biotechnol Lett 28:207–213

Sabapathy PC, Devaraj S, Parthiban A, Kathirvel P (2018) Bioprocess optimization of PHB homopolymer and copolymer P3(HB-co-HV) by Acinetobacter junii Bp25 utilizing rice mill effluent as sustainable substrate. Environ Technol 39:1441–1430

Sabapathy PC, Devaraj S, Parthiban A, Pugazhendhi A, Kathirvel P (2019) Aegle marmelos: A novel low-cost substrate for the synthesis of Polyhydroxyalkanoate by Bacillus aerophilus RSL-7. Biocatal Agric Biotechnol. https://doi.org/10.1016/j.bcab.2019.101021

Sadasivam S, Sigamani S, Venkatachalam H, Ramamurthy D (2018) A new method for the production of polyhydroxyalkanoates by Bacillus sp. and detect the presence of PHA synthase. Smart Sci. https://doi.org/10.1080/23080477.2018.1437332

Saharan BS, Grewal B, Kumar A (2014) Biotechnological production of polyhydroxyalkanoates: a review on trends and latest developments. Chin J Biol 2014:1–18

Salvachua D, Rydzak T, Auwae R, Capite AD, Black BA, Bouvier JT et al (2019) Metabolic engineering of Pseudomonas putida for increased Polyhydroxyalkanoate production from lignin. Microbial biotechnol 13:290–298

Shen R, Ning ZY, Lan YX, Chen JC, Chen GQ (2019) Manipulation of Polyhydroxyalkanoate granular sizes in Halomonas bluephagenesis. Metab Eng 54:117–126

Singh M, Kumar P, Ray S, Kalia VC (2015) Challenges and opportunities for customizing polyhydroxyalkanoates. Indian J Microbiol 55:235–249

Tan GYA, Chen CL, Li L, Ge L, Wang L, Razaad IMN, Li Y, Zhao L, Mo Y, Wang JY (2014) Start a research on biopolymer polyhydroxyalkanoate (PHA): a review. Polymers 6:706–754

Urtuvia V, Villegas P, Fuentes S, Gonzalez M, Seegaer M (2018) Burkholderia xenovorans LB400 possesses a functional polyhydroxyalkanoate anabolic pathway encoded by the pha genes and synthesizes poly(3-hydroxybutyrate) under nitrogen-limiting conditions. Int Microbiol 21:47–57

Van-Thuoc D, Quikkaguaman J, Mamo G, Mattiasson B (2008) Utilization of agricultural residues for poly(3-hydroxybutyrate) production by Halomonas boliviensis LC1. J Appl Microbiol 104:420–428

Verlinden RAJ, Hill DJ, Kenward MA, Williams CD, Piotrowska-Seget Z, Radecka IK (2011) Production of polyhydroxyalkanoates from waste frying oil by Cupriavidus necator. AMB Express 1:11–19

Vinet L, Zhedanov A (2010) A "missing" family of classical orthogonal polynomials. J Phys A Math Theor 54:450–472

Volova T, Demidenko A, Kiselev E, Baranovskiy S, Shishatskaya E, Zhila N (2019) Polyhydroxyalkanoate synthesis based on glycerol and implementation of the process under conditions of pilot production. Appl Microbiol Biotechnol 103:225–237

Wallen LL, Rohwedder WK (1974) Poly-β-hydroxyalkanoate from activated sludge. Environ Sci Technol 8:576–579

Wu H, Chen J, Chen GQ (2016) Engineering the growth pattern and cell morphology for enhanced PHB production by Escherichia coli. Appl Microbiol Biotechnol 100:9907–9916

Xiong B, Li Z, Liu L, Zhao D, Zhang X, Bi C (2018) Genome editing of Ralstonia eutropha using an electroporation-based CRISPR-Cas9 technique. Biotechnol Biofuels 11:172–181

Yano T, Nomoto T, Kozaki S, Imamura T, Honma T, Canon KK (2006) US Patent No. 2006263432

Zhao F, Gong T, Liu X, Fan X, Huang R, Ma T, Wang S, Gao W, Yang C (2019) Morphology engineering for enhanced production of medium-chain-length polyhydroxyalkanoates in Pseudomonas mendocina NK-01. Appl Microbiol Biotechnol 103:1713–1724

Zheng Y, Yuan Q, Yang X, Ma H (2017) Engineering Escherichia coli for poly-(3-hydroxybutyrate) production guided by genome-scale metabolic network analysis. Enzyme Microb Technol 106:60–66
Acknowledgements
The financial support from Department of Biotechnology, Ministry of Science and Technology, Govt. of India, to Department of Biotechnology, Himachal Pradesh University, Shimla (India), is thankfully acknowledged. The financial assistance from CSIR (Council of Scientific and Industrial Research), in the form of Senior Research Fellow (SRF) is thankfully acknowledged.
Ethics declarations
Conflict of interest
The authors declare that they have no conflict of interest.
About this article
Cite this article
Sehgal, R., Gupta, R. Polyhydroxyalkanoate and its efficient production: an eco-friendly approach towards development. 3 Biotech 10, 549 (2020). https://doi.org/10.1007/s13205-020-02550-5
Received:

Accepted:

Published:

DOI: https://doi.org/10.1007/s13205-020-02550-5
Keywords
Applications

Biodegradable plastic

Biosynthesis of PHA

Economic production

Molecular approach