Abstract
The market of probiotics is growing dynamically for the food and supplements, which provides better health to an individual. Probiotics are used as dietary management for diseases, but it varies between regions and persons. Systems biology can help in resolving the strain specificity of probiotics by studying their genome level organization. In this review, we have compiled facets of systems biology and next-generation omics methods such as metagenomics, proteomics and metabolomics. These tools are crucial for the optimization of the metabolic processes in probiotics and hence, their use for human health. The limitations and challenges associated with the development of probiotics involve their stability and function in different individuals. Systems biology facilitates emerging metabolic engineering approaches to improve probiotics strain for their broader application. This review provides comprehensive and updated knowledge of engineered probiotics as therapeutics and various challenges in the development of engineered probiotics.
Access options
Buy single article
Instant access to the full article PDF.
US$ 39.95
Tax calculation will be finalised during checkout.
Subscribe to journal
Immediate online access to all issues from 2019. Subscription will auto renew annually.
US$ 119
Tax calculation will be finalised during checkout.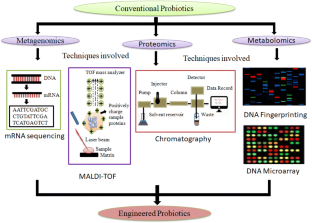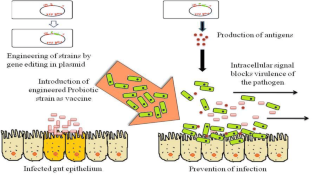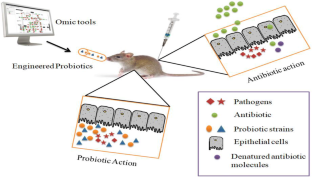 References
Aguilar-Toalá JE, Garcia-Varela R, Garcia HS, Mata-Haro V, González-Córdova AF, Vallejo-Cordoba B (2018) Postbiotics: an evolving term within the functional foods field. Trends Food Sci Technol 75:105–114. https://doi.org/10.1016/j.tifs.2018.03.009

Ai C, Zhang Q, Ren C, Wang G, Liu X, Tian F et al (2014) Genetically engineered Lactococcus lactis protect against house dust mite allergy in a BALB/c mouse model. PLoS One 9:109461. https://doi.org/10.1371/journal.pone.0109461

Ai C, Zhang Q, Ding J, Ren C, Wang G, Liu X (2015) Suppression of dust mite allergy by mucosal delivery of a hypoallergenic derivative in a mouse model. Appl Microbiol Biotechnol 99:4309–4319. https://doi.org/10.1007/s00253-015-6407-6

Ai C, Zhang Q, Ding J, Wang G, Liu X, Tian F (2016) Mucosal delivery of allergen peptides expressed by Lactococcus lactis inhibit allergic responses in a BALB/c mouse model. Appl Microbiol Biotechnol 100:1915–1924. https://doi.org/10.1007/s00253-015-7187-8

Aires J, Butel MJ (2011) Proteomics, human gut microbiota and probiotics. Expert Rev Proteom 8:279–288. https://doi.org/10.1586/epr.11.5

Bäckhed F, Ley RE, Sonnenburg JL, Peterson DA, Gordon JI (2005) Host-bacterial mutualism in the human intestine. Science 307:1915–1920. https://doi.org/10.1126/science.1104816

Chang CY, Ho BY, Pan TM (2019) Lactobacillus paracasei subsp. paracasei NTU 101-fermented skim milk as an adjuvant to uracil-tegafur reduces tumor growth and improves chemotherapy side effects in an orthotopic mouse model of colorectal cancer. J Funct Foods 55:36–47. https://doi.org/10.1016/j.jff.2019.02.025

Chen JQ, Zhan YF, Wang W, Jiang SN, Li XY (2015) The engineered Salmonella typhimurium inhibits tumorigenesis in advanced glioma. OncoTargets Ther 8:2555. https://doi.org/10.2147/OTT.S86899

Chiu CY, Miller SA (2019) Clinical metagenomics. Nat Rev Genet 20:341–355. https://doi.org/10.1038/s41576-019-0113-7

Chlebowska-Śmigiel A, Kycia K, Neffe-Skocińska K, Kieliszek M, Gniewosz M, Kołożyn-Krajewska D (2019) Effect of pullulan on physicochemical, microbiological, and sensory quality of yogurts. Curr Pharm Biotechnol 20(6):489–496. https://doi.org/10.2174/1389201020666190416151129

Choi KR, Jang WD, Yang D, Cho JS, Park D, Lee SY (2019) Systems metabolic engineering strategies: integrating systems and synthetic biology with metabolic engineering. Trends Biotechnol. https://doi.org/10.1016/j.tibtech.2019.01.003

Chua KJ, Kwok WC, Aggarwal N, Sun T, Chang MW (2017) Designer probiotics for the prevention and treatment of human diseases. Curr Opin Chem Biol 40:8–16. https://doi.org/10.1016/j.cbpa.2017.04.011

Copeland DR, McVay MR, Dassinger MS, Jackson RJ, Smith SD (2009) Probiotic fortified diet reduces bacterial colonization and translocation in a long-term neonatal rabbit model. J Pediatr Surg 44(6):1061–1064. https://doi.org/10.1016/j.jpedsurg.2009.02.014

De Filippo C, Cavalieri D, Di Paola M, Ramazzotti M, Poullet JB, Massart S et al (2010) Impact of diet in shaping gut microbiota revealed by a comparative study in children from Europe and rural Africa. Proc Natl Acad Sci 107(33):14691–14696. https://doi.org/10.1073/pnas.1005963107

Del Carmen S, Rosique RM, Saraiva T, Zurita-Turk M, Miyoshi A, Azevedo V et al (2014) Protective effects of lactococci strains delivering either IL-10 protein or cDNA in a TNBS-induced chronic colitis model. J Clin Gastroenterol 48:S12–S17. https://doi.org/10.1097/MCG.0000000000000235

Duan FF, Liu JH, March JC (2015) Engineered commensal bacteria reprogram intestinal cells into glucose-responsive insulin-secreting cells for the treatment of diabetes. Diabetes 64:1794–1803. https://doi.org/10.2337/db14-0635

Ehrlich SD (2010) Metagenomics of the intestinal microbiota: potential applications. Gastroenterol Clin Biol 34:S23–S28. https://doi.org/10.1016/S0399-8320(10)70017-8

Franzosa EA, Morgan XC, Segata N, Waldron L, Reyes J, Earl AM et al (2014) Relating the metatranscriptome and metagenome of the human gut. Proc Natl Acad Sci. https://doi.org/10.1073/pnas.1319284111

Ghoshal UC, Gwee KA, Holtmann G, Li Y, Park SJ, Simadibrata M et al (2018) The role of the microbiome and the use of probiotics in gastrointestinal disorders in adults in the Asia–Pacific region-background and recommendations of a regional consensus meeting. J Gastroenterol Hepatol 33:57–69. https://doi.org/10.1016/j.tibtech.2013.04.004

Gibson GR, Roberfroid MB (1995) Dietary modulation of the human colonic microbiota: introducing the concept of prebiotics. J Nutr 125:1401–1412. https://doi.org/10.1093/jn/125.6.1401

Graham EB, Knelman JE, Schindlbacher A, Siciliano S, Breulmann M, Yannarell A et al (2016) Microbes as engines of ecosystem function: when does community structure enhance predictions of ecosystem processes. Front Microbiol 7:214. https://doi.org/10.3389/fmicb.2016.00214

Gronbach K, Eberle U, Müller M, Ölschläger TA, Dobrindt U, Leithäuser F, Niess JH, Döring G, Reimann J, Autenrieth IB, Frick JS (2010) Safety of probiotic Escherichia coli strain Nissle 1917 depends on intestinal microbiota and adaptive immunity of the host. Infect Immun 78(7):3036–3046. https://doi.org/10.1128/IAI.00218-10

Guo ZL, Yu B, Ning BT, Chan S, Lin QB, Li JCB et al (2015) Genetically modified" obligate" anaerobic Salmonella typhimurium as a therapeutic strategy for neuroblastoma. J Hematol Oncol 8(1):99. https://doi.org/10.1186/s13045-015-0196-3

Hamon E, Horvatovich P, Izquierdo E, Bringel F, Marchioni E, Aoude-Werner D et al (2011) Comparative proteomic analysis of Lactobacillus plantarum for the identification of key proteins in bile tolerance. BMC Microbiol 11:63. https://doi.org/10.1186/1471-2180-11-63

He X, Marco ML, Slupsky CM (2013) Emerging aspects of food and nutrition on gut microbiota. J Agric Food Chem 61:9559–9574. https://doi.org/10.1021/jf4029046

Hill C, Guarner F, Reid G, Gibson GR, Merenstein DJ, Pot B, Morelli L, Canani RB, Flint HJ, Salminen S, Calder PC (2014) The international scientific association for probiotics and prebiotics consensus statement on the scope and appropriate use of the term probiotic. Nat Rev Gastroenterol Hepatol 11(8):506–514. https://doi.org/10.1038/nrgastro.2014.66

Imperlini E, Santorelli L, Orrù S, Scolamiero E, Ruoppolo M, Caterino M (2016) Mass spectrometry-based metabolomic and proteomic strategies in organic acidemias. Biomed Res Int. https://doi.org/10.1155/2016/9210408

Isaac NI, Philippe D, Nicholas A, Raoult D, Eric C (2019) Metaproteomics of the human gut microbiota: challenges and contributions to other OMICS. Clin Mass Spectrom. https://doi.org/10.1016/j.clinms.2019.06.001

Jin Song S, Woodhams DC, Martino C, Allaband C, Mu A, Javorschi-Miller-Montgomery S, Suchodolski JS, Knight R (2019) Engineering the microbiome for animal health and conservation. Exp Biol Med. 244(6):494–504. https://doi.org/10.1177/1535370219830075

Jovel J, Patterson J, Wang W, Hotte N, O'Keefe S, Mitchel T et al (2016) Characterization of the gut microbiome using 16S or shotgun metagenomics. Front Microbiol 7:459. https://doi.org/10.3389/fmicb.2016.00459

Kambouris ME, Pavlidis C, Skoufas E, Arabatzis M, Kantzanou M, Velegraki A, Patrinos GP (2018) Culturomics: a new kid on the block of OMICS to enable personalized medicine. Omics 22(2):108–118. https://doi.org/10.1089/omi.2017.0017

Karlsson FH, Fåk F, Nookaew I, Tremaroli V, Fagerberg B, Petranovic D et al (2012) Symptomatic atherosclerosis is associated with an altered gut metagenome. Nat Commun 3:1245. https://doi.org/10.1038/ncomms2266

Khangwal I, Shukla P (2019a) Prospecting prebiotics, innovative evaluation methods, and their health applications: a review. 3 Biotech 9(5):187. https://doi.org/10.1007/s13205-019-1716

Khangwal I, Shukla P (2019b) Potential prebiotics and their transmission mechanisms: recent approaches. J Food Drug Anal. https://doi.org/10.1016/j.jfda.2019.02.003

Khangwal I, Shukla P (2019c) Combinatory biotechnological intervention for gut microbiota. Appl Microbiol Biotechnol 103(9):3615–3625. https://doi.org/10.1007/s00253-019-09727

Korem T, Zeevi D, Suez J, Weinberger A, Avnit-Sagi T, Pompan-Lotan M et al (2015) Growth dynamics of gut microbiota in health and disease inferred from single metagenomic samples. Science. https://doi.org/10.1126/science.aac4812

Kota RK, Ambati RR, AK YVV, Srirama K, Reddy PN (2018) Recent advances in probiotics as live biotherapeutics against gastrointestinal diseases. Curr Pharm Des 24(27):3162–3171. https://doi.org/10.2174/1381612824666180717105128

Kumar A, Mosa KA, Ji L, Kage U, Dhokane D, Karre S et al (2018) Metabolomics-assisted biotechnological interventions for developing plant-based functional foods and nutraceuticals. Crit Rev Food Sci Nutr 58:1791–1807. https://doi.org/10.1080/10408398.2017.1285752

Kumar R, Sood U, Gupta V, Singh M, Scaria J, Lal R (2019) Recent advancements in the development of modern probiotics for restoring human gut microbiome dysbiosis. J Microbiol. https://doi.org/10.1007/s12088-019-00808-y

LeBlanc JG, Chain F, Martín R, Bermúdez-Humarán LG, Courau S, Langella P (2017) Beneficial effects on host energy metabolism of short-chain fatty acids and vitamins produced by commensal and probiotic bacteria. Microb Cell Fact 16(1):79. https://doi.org/10.1186/s12934-017-0691-z

Lee K, Lee HG, Choi YJ (2008) Proteomic analysis of the effect of bile salts on the intestinal and probiotic bacterium Lactobacillus reuteri. J Biotechnol 137:14–19. https://doi.org/10.1016/j.jbiotec.2008.07.1788

Lugli GA, Mangifesta M, Mancabelli L, Milani C, Turroni F, Viappiani A et al (2019) Compositional assessment of bacterial communities in probiotic supplements by means of metagenomic techniques. Int J Food Microbiol 294:1–9. https://doi.org/10.1016/j.ijfoodmicro.2019.01.011

Ma Y, Liu J, Hou J, Dong Y, Lu Y, Jin L et al (2014) Oral administration of recombinant Lactococcus lactis expressing HSP65 and tandemly repeated P277 reduces the incidence of type I diabetes in non-obese diabetic mice. PLoS One 9:105701. https://doi.org/10.1371/journal.pone.0105701

Madsen KL, Doyle JS, Tavernini MM, Jewell LD, Rennie RP, Fedorak RN (2000) Antibiotic therapy attenuates colitis in interleukin 10 gene-deficient mice. Gastroenterol 118(6):1094–1105. https://doi.org/10.1016/S0016-5085(00)70362-3

Marques Da Silva W, Oliveira LC, Soares SC, Sousa CS, Tavares GC, Resende CP, Pereira FL, Ghosh P, Figueiredo HC, Azevedo VA (2019) Quantitative proteomic analysis of the response of probiotic putative Lactocuccus lactis NCDO 2118 strain to different oxygen availability under temperature variation. Front Microbiol 10:759. https://doi.org/10.3389/fmicb.2019.00759

Martín R, Martín R, Chain F, Chain F, Miquel S, Miquel S et al (2014) Effects in the use of a genetically engineered strain of Lactococcus lactis delivering in situ IL-10 as a therapy to treat low-grade colon inflammation. Hum Vaccin Immunother 10(6):1611–1621. https://doi.org/10.4161/hv.28549

Mayers MD, Moon C, Stupp GS, Su AI, Wolan DW (2017) Quantitative metaproteomics and activity-based probe enrichment reveals significant alterations in protein expression from a mouse model of inflammatory bowel disease. J Proteome Res 16(2):1014–1026. https://doi.org/10.1021/acs.jproteome.6b00938

McNulty NP, Yatsunenko T, Hsiao A, Faith JJ, Muegge BD, Goodman AL et al (2011) The impact of a consortium of fermented milk strains on the gut microbiome of gnotobiotic mice and monozygotic twins. Sci Transl Med 3(106):106ra106. https://doi.org/10.1126/scitranslmed.3002701

Menezes AG, Ramos CL, Cenzi G, Melo DS, Dias DR, Schwan RF (2019) Probiotic potential, antioxidant activity, and phytase production of indigenous yeasts isolated from indigenous fermented foods. Probiotics Antimicro 26:1–9. https://doi.org/10.1007/s12602-019-9518-z

Mills K, Mills P, Jackson M, Worthington V, Beesley C, Mann A et al (2006) Diagnosis of congenital disorders of glycosylation type-I using protein chip technology. Proteomics 6(7):2295–2304. https://doi.org/10.1002/pmic.200500682

Ohtake T et al (2017) Metabolomics-driven approach to solving a CoA imbalance for improved 1-butanol production in Escherichia coli. Metab Eng 41:135–143. https://doi.org/10.1016/j.ymben.2017.04.003

Paul E, Albert A, Ponnusamy S, Mishra SR, Vignesh AG, Sivakumar SM et al (2018) Designer probiotic Lactobacillus plantarum expressing oxalate decarboxylase developed using group II intron degrades intestinal oxalate in hyperoxaluric rats. Microbiol Res 15:65–75. https://doi.org/10.1016/j.micres.2018.06.009

Peñalver Bernabé B, Cralle L, Gilbert JA (2018) Systems biology of the human microbiome. Curr Opin Biotechnol 51:146–153. https://doi.org/10.1016/j.copbio.2018.01.018

Plaza-Diaz J, Ruiz-Ojeda FJ, Gil-Campos M, Gil A (2019) Mechanisms of action of probiotics. Adv Nutr. https://doi.org/10.1093/advances/nmy063

Shigemori S, Namai F, Yamamoto Y, Nigar S, Sato T, Ogita T, Shimosato T (2017) Genetically modified Lactococcus lactis producing a green fluorescent protein–bovine lactoferrin fusion protein suppresses proinflammatory cytokine expression in lipopolysaccharide-stimulated RAW 264.7 cells. J Dairy Sci 100(9):7007–7015. https://doi.org/10.3168/jds.2017-12872

Singh B, Mal G, Gautam SK, Mukesh M (2019) Designer probiotics: the next-gen high efficiency biotherapeutics. Adv Anim Biotechnol. https://doi.org/10.1007/978-3-030-21309-1_7

Sireswar S, Ghosh I, Dey G (2019) First and second generation probiotic therapeutics for inflammatory bowel disease. PharmaNutrition. https://doi.org/10.1016/j.phanu.2019.100159

Sola-Oladokun B, Culligan EP, Sleator RD (2017) Engineered probiotics: applications and biological containment. Annu Rev Food Sci T 8:353–370. https://doi.org/10.1146/annurev-food-030216-030256

Tabashsum Z, Peng M, Salaheen S, Comis C, Biswas D (2018) Competitive elimination and virulence property alteration of Campylobacter jejuni by genetically engineered Lactobacillus casei. Food Control 85:283–291. https://doi.org/10.1016/j.foodcont.2017.10.010

Terpou A, Papadaki A, Lappa IK, Kachrimanidou V, Bosnea LA, Kopsahelis N (2019) Probiotics in food systems: significance and emerging strategies towards improved viability and delivery of enhanced beneficial value. Nutrients 11(7):1591. https://doi.org/10.3390/nu11071591

Thomas WR, Smith WA, Hales BJ, Mills KL, O'Brien RM (2002) Characterization and immunobiology of house dust mite allergens. Int Arch Allergy Immunol 129:1–18. https://doi.org/10.1159/000065179

Turroni F, Milani C, Duranti S, Mancabelli L, Mangifesta M, Viappiani A et al (2016) Deciphering bifidobacterial-mediated metabolic interactions and their impact on gut microbiota by a multi-omics approach. ISME J 10(7):1656. https://doi.org/10.1038/ismej.2015.236

Van De Vijver MJ, He YD, Veer LJ, Dai H, Hart AA, Voskuil DW, Schreiber GJ, Peterse JL, Roberts C, Marton MJ, Parrish M (2002) A gene-expressionsignature as a predictor of survival in breast cancer. N Engl J Med 347(25):1999–2009. https://doi.org/10.1056/NEJMoa021967

Ventura M, O'flaherty S, Claesson MJ, Turroni F, Klaenhammer TR, Van Sinderen D, O'toole PW (2009) Genome-scale analyses of health-promoting bacteria: probiogenomics. Nat Rev Microbiol 7(1):61. https://doi.org/10.1038/nrmicro2047

Vinusha KS, Deepika K, Johnson TS, Agrawal GK, Rakwal R (2018) Proteomic studies on lactic acid bacteria: a review. Biochem Biophys Rep 14:140–148. https://doi.org/10.1016/j.bbrep.2018.04.009

Wei SH, Chen YP, Chen MJ (2015) Selecting probiotics with the abilities of enhancing GLP-1 to mitigate the progression of type 1 diabetes in vitro and in vivo. J Funct Foods 8:473–486. https://doi.org/10.1016/j.jff.2015.08.016

Wei C, Xun AY, Wei XX, Yao J, Wang JY, Shi RY (2016) Bifidobacteria expressing tumstatin protein for antitumor therapy in tumor-bearing mice. Technol Cancer Res T J 15:498–508. https://doi.org/10.1177/1533034615581977

Wu R, Wang W, Yu D, Zhang W, Li Y, Sun Z et al (2009) Proteomics analysis of Lactobacillus casei Zhang, a new probiotic bacterium isolated from traditional home-made koumiss in Inner Mongolia of China. Mol Cell Proteom 8:2321–2338. https://doi.org/10.1074/mcp.M800483-MCP200

Xu YG, Yu H, Zhang L, Liu M, Qiao XY, Cui W et al (2016) Probiotic properties of genetically engineered Lactobacillus plantarum producing porcine lactoferrin used as feed additive for piglets. Process Biochem 51:719–724. https://doi.org/10.1016/j.procbio.2016.03.007

Xu H, Zhao F, Hou Q, Huang W, Liu Y, Zhang H, Sun Z (2019) Metagenomic analysis revealed beneficial effects of probiotics in improving the composition and function of the gut microbiota in dogs with diarrhoea. Food Funct 10:2618–2629

Yadav M, Shukla P (2019) Efficient engineered probiotics using synthetic biology approaches: a review. Biotechnol Appl Biochem. https://doi.org/10.1002/bab.1822

Yadav R, Kumar V, Baweja M, Shukla P (2018a) Gene editing and genetic engineering approaches for advanced probiotics: a review. Crit Rev Food Sci Nutr 58(10):1735–1746. https://doi.org/10.1080/10408398.2016.1274877

Yadav R, Singh KP, Shukla P (2018b) Metabolic engineering for probiotics and their genome-wide expression profiling. Curr Protein Pept Sc 19(1):68–74. https://doi.org/10.2174/1389203718666161111130157

Yang G, Jiang Y, Yang W, Du F, Yao Y, Shi C, Wang C (2015) Effective treatment of hypertension by recombinant Lactobacillus plantarum expressing angiotensin converting enzyme inhibitory peptide. Microb Cell Fact 14:202. https://doi.org/10.1186/s12934-015-0394-2

Zhang Y (2018) Probiotic effects of Lactobacillus casei Zhang: from single strain omics to metagenomics. Chinese Sci Bull 64(3):307–314. https://doi.org/10.1360/N972018-00591

Zhang R, Peng X, Duan G, Shi Q, Chen S, Wang C et al (2016) An engineered Lactococcus lactis strain exerts significant immune responses through efficient expression and delivery of Helicobacter pylori Lpp20 antigen. Biotechnol Lett 38(12):2169–2175. https://doi.org/10.1007/s10529-016-2209-x

Zheng JH, Nguyen VH, Jiang SN, Park SH, Tan W, Hong SH et al (2017) Two-step enhanced cancer immunotherapy with engineered Salmonella typhimurium secreting heterologous flagellin. Sci Transl Med. https://doi.org/10.1126/scitranslmed.aak9537

Zhou H, He Z, Wang C, Xie T, Liu L, Liu C (2016) Intravenous administration is an effective and safe route for cancer gene therapy using the bifidobacterium-mediated recombinant HSV-1 thymidine kinase and ganciclovir. Int J Mol Sci 17:891. https://doi.org/10.3390/ijms17060891

Zhu Y, Pei G, Niu X, Shi M, Zhang M, Chen L, Zhang W (2015) Metabolomic analysis reveals functional overlapping of three signal transduction proteins in regulating ethanol tolerance in cyanobacterium Synechocystis sp. PCC 6803. Mol BioSyst 11(3):770–782
Acknowledgements
The authors acknowledge Maharshi Dayanand University, Rohtak, India for providing infrastructure facility. PS acknowledges the infrastructural support from Department of Science and Technology, New Delhi, Govt. of India, through FIST grants (Grant No. 1196 SR/FST/LS-I/2017/4) and Department of Biotechnology, Government of India (Grant no. BT/PR27437/BCE/8/1433/2018).
Ethics declarations
Conflict of interest
The authors don't have any conflict of interest.
Ethical statement
This review article does not contain any studies with human participants or animals performed by any of the authors.
About this article
Cite this article
Yadav, M., Shukla, P. Recent systems biology approaches for probiotics use in health aspects: a review. 3 Biotech 9, 448 (2019). https://doi.org/10.1007/s13205-019-1980-5
Received:

Accepted:

Published:
Keywords
Probiotics

Systems biology

Proteomics

Metabolomics

Metagenomics