Abstract
Gluconacetobacter xylinus was used for production of bacterial cellulose (BC). The obtained BC was washed and floated in the nontoxic dose of the herb aqueous extract that was obtained from the methyl thiazol tetrazolium (MTT) assay. Twenty-four Wistar rats were divided into four separated groups and after inducing the wounds (15 mm in diameter), each group was treated with honey, BC, herb aqueous extract, and the combination of BC–herb aqueous extract. Each day the contraction percentages of the wound sites were measured. On days 3, 7, and 14, two rats from each group were euthanized, the skin samples from the wound regions were achieved and their paraffin blocks were prepared. Finally after trichrome staining, the microscopic examinations were done. MTT assay results indicated that the herb aqueous extract had dose-dependent toxic effects and the nontoxic dose of the extract was prepared and utilized for in vivo assay. Although the macroscopic analysis revealed that the BC and the herb aqueous extract had better activity in the wound contraction percentages than their combination, microscopic analysis indicated that the combination of BC–herb aqueous extract revealed all the characteristics that each material induced in the wound site alone. In conclusion, the speed of the wound healing should not be solely considered and its quality should be considered as well.
This is a preview of subscription content, log in to check access.
Access options
Buy single article
Instant access to the full article PDF.
US$ 39.95
Price includes VAT for USA
Subscribe to journal
Immediate online access to all issues from 2019. Subscription will auto renew annually.
US$ 210
This is the net price. Taxes to be calculated in checkout.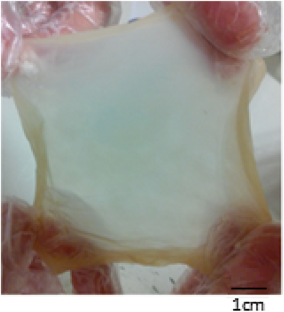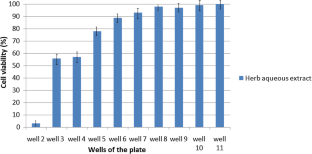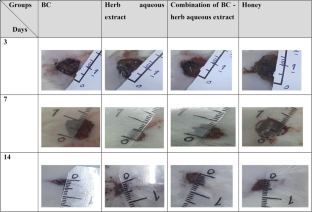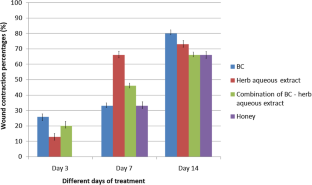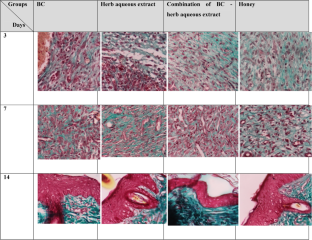 References
Al-Amin ZM, Thomson M et al (2006) Anti-diabetic and hypolipidaemic properties of ginger (Zingiber officinale) in streptozotocin-induced diabetic rats. Br J Nut 96(4):660–666

Barua CC, Talukdar A et al (2009) "Wound healing activity of methanolic extract of leaves of Alternanthera brasiliana Kuntz using in vivo and in vitro model". Indian J Exp Biol 47(12):1001–1005

Bhagavathula N, Warner RL et al (2009) A combination of curcumin and ginger extract improves abrasion wound healing in corticosteroid-impaired hairless rat skin. Wound Repair Regen 17(3):360–366

Bishop S, Walker M et al (2003) Importance of moisture balance at the wound-dressing interface. J Wound Care 12(4):125–128

Esa F, Tasirin SM et al (2014) Overview of bacterial cellulose production and application. Agric Agric Sci Proc 2:113–119

Goel R, Sairam K (2002) Anti-ulcer drugs from indigenous sources with emphasis on Musa sapientum, tamrahbasma, Asparagus racemosus and Zingiber officinale. Indian J Pharmacol 34(2):100–110

Grzanna R, Lindmark L et al (2005) Ginger—an herbal medicinal product with broad anti-inflammatory actions. J Med Food 8(2):125–132

Heggers JP, Kucukcelebi A et al (1996) Beneficial effect of Aloe on wound healing in an excisional wound model. J Altern Complementary Med 2(2):271–277

Ji K, Wang W et al (2016) "Bacterial cellulose synthesis mechanism of facultative anaerobe Enterobacter sp. FY-07". Sci Rep 6:21863

Kucińska-Lipka J, Gubanska I et al (2015) Bacterial cellulose in the field of wound healing and regenerative medicine of skin: recent trends and future prospectives. Polym Bull 72(9):2399–2419

Moradian S, Almasi H et al (2018) Development of bacterial cellulose-based active membranes containing herbal extracts for shelf life extension of button mushrooms (Agaricus bisporus). J Food Process Preserv 42(3):e13537

Nayak BS, Pinto Pereira LM (2006) Catharanthus roseus flower extract has wound-healing activity in Sprague Dawley rats. BMC Complement Altern Med 6(41):1472–6882

Ojewole JA (2006) Analgesic, antiinflammatory and hypoglycaemic effects of ethanol extract of Zingiber officinale (Roscoe) rhizomes (Zingiberaceae) in mice and rats. Phytother Res 20(9):764–772

Penna S, Medeiros M et al (2003) Anti-inflammatory effect of the hydralcoholic extract of Zingiber officinale rhizomes on rat paw and skin edema. Phytomedicine 10(5):381–385

Pilehvar-Soltanahmadi Y, Dadashpour M et al (2018) An overview on application of natural substances incorporated with electrospun nanofibrous scaffolds to development of innovative wound dressings. Mini Rev Med Chem 18(5):414–427

Pourali P, Yahyaei B (2016) Biological production of silver nanoparticles by soil isolated bacteria and preliminary study of their cytotoxicity and cutaneous wound healing efficiency in rat. J Trace Elem Med Biol 34:22–31

Pourali P, Yahyaei B (2018) Effect of silver nanoparticles produced by Paenibacillus on rat Cutaneous wound healing. J Mazandaran Univ Med Sci 28(163):107–112

Pourali P, Yahyaei B et al (2014) Impregnation of the bacterial cellulose membrane with biologically produced silver nanoparticles. Curr Microbiol 69(6):785–793

Pourali P, Razavian N, Zadeh et al (2016) Silver nanoparticles production by two soil isolated bacteria, Bacillus thuringiensis and Enterobacter cloacae, and assessment of their cytotoxicity and wound healing effect in rats. Wound Repair Regen 24(5):860–869

Pourali P, Badiee SH et al (2017) Biosynthesis of gold nanoparticles by two bacterial and fungal strains, Bacillus cereus and Fusarium oxysporum, and assessment and comparison of their nanotoxicity in vitro by direct and indirect assays. Electron J Biotechnol 29:86–93

Pourali P, Razavianzadeh N et al (2018) Assessment of the cutaneous wound healing efficiency of acidic, neutral and alkaline bacterial cellulose membrane in rat. J Mater Sci Mater Med 29(7):90

Ross P, Mayer R et al (1991) Cellulose biosynthesis and function in bacteria. Microbiol Rev 55(1):35–58

Sen CK, Gordillo GM et al (2009) Human skin wounds: a major and snowballing threat to public health and the economy. Wound repair Regen 17(6):763–771

Siddhan P, Sakthivel K et al (2016) "Biosynthesis of bacterial cellulose imparting antibacterial property through novel bio-agents". Res J Biotechnol 11:9

Suwantong O, Ruktanonchai U et al (2008) Electrospun cellulose acetate fiber mats containing asiaticoside or Centella asiatica crude extract and the release characteristics of asiaticoside. Polymer 49(19):4239–4247

Yahyaei B, Peyvandi N et al (2016) Production, assessment, and impregnation of hyaluronic acid with silver nanoparticles that were produced by Streptococcus pyogenes for tissue engineering applications. Appl Biol Chem 59(2):227–237

Yahyaei B, Manafi S et al (2018) Production of electrospun polyvinyl alcohol/microbial synthesized silver nanoparticles scaffold for the treatment of fungating wounds. Appl Nanosci 8(3):417–426
Ethics declarations
Conflict of interest
The authors declare that there is no conflict of interest regarding the publication of the present paper.
About this article
Cite this article
Pourali, P., Yahyaei, B. The healing property of a bioactive wound dressing prepared by the combination of bacterial cellulose (BC) and Zingiber officinale root aqueous extract in rats. 3 Biotech 9, 59 (2019). https://doi.org/10.1007/s13205-019-1588-9
Received:

Accepted:

Published:
Keywords
Bacterial cellulose (BC)

Zingiber officinale root

Aqueous extract

Wound-healing assay