Abstract
Tribulus terrestris (TT), a herb belonging to Zygophyllaceae family is widely used due to its medicinal properties. This study was undertaken to elucidate the anticancer mechanism of TT on MCF-7 breast cancer cells. Cytotoxic effect of the herb was assessed by 3-(4,5-diethylthiazol-2-yl)-2,5-diphenyl tetrazolium bromide (MTT) assay. Apoptotic potential was assessed through DNA fragmentation, TUNEL and caspase 3 activity assays. Expressions of genes regulating the apoptotic pathway were examined by RT-PCR and expression of proteins was analyzed by immunocytochemistry. The result of MTT assay revealed that methanolic and saponin extracts from leaves and seeds of TT were cytotoxic to MCF-7 cells. Cytotoxicity studies on peripheral blood mononuclear cells (PBMC) proved that TT extracts were non-toxic to non-malignant cells. Treatment of human breast cancer MCF-7 cells with seed and leaf methanol and saponin extracts of TT resulted in fragmentation of DNA and induction of apoptosis. This was evident by agarose gel electrophoresis of DNA and TUNNEL assay. The extracts of TT also caused a significant increase in caspase 3 activity in MCF-7 cells. TT extracts caused an induction of intrinsic apoptotic pathway which was evident by the upregulation in the expression of Bax and p53 genes and downregulation in the expression of Bcl-2. FADD, AIF and caspase 8 genes were also upregulated indicating the possible induction of extrinsic apoptotic pathway. Therefore, our results suggest that the Tribulus terrestris (TT) extracts may exert their anticancer activity by both extrinsic and intrinsic apoptotic pathways.
This is a preview of subscription content, log in to check access.
Access options
Buy single article
Instant access to the full article PDF.
US$ 39.95
Price includes VAT for USA
Subscribe to journal
Immediate online access to all issues from 2019. Subscription will auto renew annually.
US$ 210
This is the net price. Taxes to be calculated in checkout.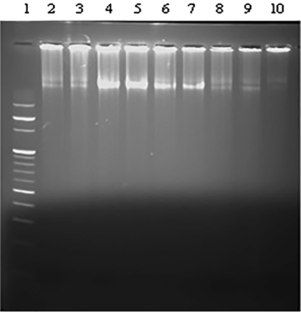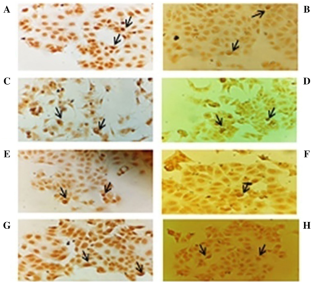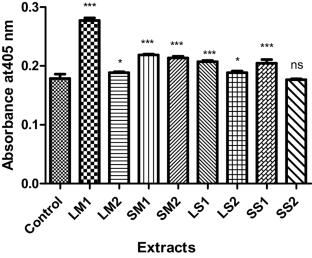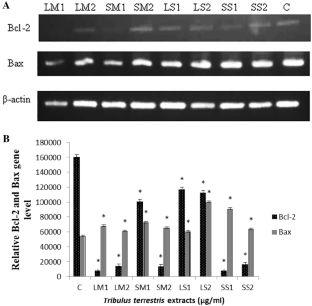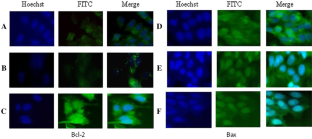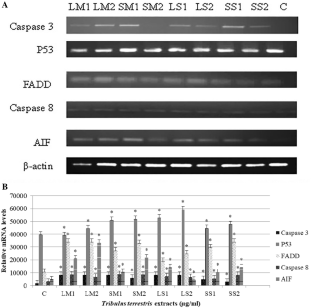 References
Amaral JD, Xavier JM, Steer CJ, Rodrigues CM (2010) The role of p53 in apoptosis. Discov Med 9:145–152

Angelova S, Gospodinova Z, Krasteva M, Antov G, Lozanov V et al (2013) Antitumor activity of Bulgarian herb Tribulus terrestris L. on human breast cancer cells. J Biosci Biotechnol 2:25–32

Basaiyye SS, Naoghare PK, Kanojiya S, Bafana A, Arrigo P, Krishnamurthi K, Sivanesan S (2017) Molecular mechanism of apoptosis induction in Jurkat E6-1 cells by Tribulus terrestris alkaloids extract. J Tradit Complement Med 8:410–419. https://doi.org/10.1016/j.jtcme.2017.08.014

Bedir E, Khan IA, Walker LA (2002) Biologically active steroidal glycosides from Tribulus terrestris. Pharmazie 57:491–493

Breast cancer: Prevalence, statistics, and risk factors (2012). https://www.medicalnewstoday.com/articles/317135.php. Accessed 3 Oct 2018

Comşa Ş, Cîmpean AM, Raica M (2015) The story of MCF-7 breast cancer cell line: 40 years of experience in research. Anticancer Res 35:3147–3154

Cucina A, Proietti S, D'Anselmi F, Coluccia P, Dinicola S, Frati L, Bizzarri M (2009) Evidence for a biphasic apoptotic pathway induced by melatonin in MCF-7 breast cancer cells. J Pineal Res 46(2):172–180. https://doi.org/10.1111/j.1600-079X.2008.00645.x

Doglioni C, Dei Tos AP, Laurino L, Chiarelli C, Barbareschi M, Viale G (1994) The prevalence of bcl-2 immunoreactivity in breast carcinomas and its clinicopathological correlates, with particular reference to estrogen receptor status. Virchows Arch 424:47–51

Fantl V, Smith R, Brookes S, Dickson C, Peters G (1993) Chromosome 11q13 abnormalities in human breast cancer. Cancer Surv 18:77–94

Gibcus JH, Menkema L, Mastik MF, Hermsen MA, de Bock GH, van Velthuysen ML, Takes RP, Kok K, Marcos CA, Alvarez, van der Laan BF et al (2007) Amplicon mapping and expression profiling identify the Fas-associated death domain gene as a new driver in the 11q13.3 amplicon in laryngeal/pharyngeal cancer. Clin Cancer Res 13:6257–6266

Golshan A, Amini E, Emami SA, Asili J, Jalali Z, Sabouri-Rad S, Sanjar-Mousavi N, Tayarani-Najaran Z (2016) Cytotoxic evaluation of different fractions of Salvia chorassanica Bunge on MCF-7 and DU 145 cell lines. Res Pharm Sci 11:73–80

Graham JG, Quinn ML, Fabricant DS, Fransworth NR (2000) Plants used against cancer-an extension of the work of Jonathan Hartwell. J Ethanopharmocol 73:347–377

Hockenbery D, Nunez G, Milligan C, Schreiber RD, Korsmeyer SJ (1990) Bcl-2 is an inner mitochondrial membrane protein that blocks programmed cell death. Nature 348:333–336

Horiuchi N, Nakagawa K, Sasaki Y, Minato K, Fujiwara Y, Nezu K, Ohe Y, Saijo N (1988) In vitro antitumor activity of mitomycin C derivative (RM-49) and new anticancer antibiotics (FK973) against lung cancer cell lines determined by tetrazolium dye (MTT) assay. Cancer Chemother Pharmacol 22:246–250

Hu K, Yao X (2003) The cytotoxicity of methyl protodioscin against human cancer lines in vitro. Cancer Investig 21:389–393

Jemal A, Bray F, Center MM, Ferlay J, Ward E, Forman D (2011) Global cancer statistics. CA Cancer J Clin 61:69–69

Johnson VL, Ko SC, Holmstrom TH, Eriksson JE, Chow SC (2000) Effector caspases are dispensable for the early nuclear morphological changes during chemical-induced apoptosis. J Cell Sci 113:2941–2953

Kim HJ, Kim JC, Min JS et al (2011) Aqueous extract of Tribulus terrestris Linn induces cell growth arrest and apoptosis by down-regulating NF-κB signaling in liver cancer cells. J Ethnopharmacol 136:197–203

Kulsoom B, Shamsi TS, Afsar NA, Memon Z, Ahmed N, Hasnain SN (2018) Bax, Bcl-2, and Bax/Bcl-2 as prognostic markers in acute myeloid leukemia: are we ready for Bcl-2-directed therapy? Cancer Manag Res 10:403–416. https://doi.org/10.2147/CMAR.S154608

Lacroix M, Haibe-Kains B, Hennuy B, Laes JF, Lallemand F, Gonze I et al (2004) Gene regulation by phorbol 12-myristate 13-acetate in MCF-7 and MDA-MB-231, two breast cancer cell lines exhibiting highly different phenotypes. Oncol Rep 12:701–707

Neychev VK, Nikolova E, Zhelev N, Mitev VI (2007) Saponins from Tribulus terrestris L are less toxic for normal human fibroblasts than for many cancer lines: influence on apoptosis and proliferation. Exp Biol Med 232:126–133

Noomhorm N, Chang CJ, Wen CS, Wang JY, Chen JL, Tseng LM, Chen WS, Chiu JH, Shyr YM (2014) In vitro and in vivo effects of xanthorrhizol on human breast cancer MCF-7 cells treated with tamoxifen. J Pharmacol Sci 125:375–385

Obadoni BO, Ochuko PO (2001) Phytochemical studies and comparative efficacy of the crude extracts of some homeostatic plants in Edo and delta states of Nigeria. Glob J Pure Appl Sci 8:203–208

Oltvai Z, Milliman C, Korsmeyer SJ (1993) Bcl-2 heterodimerizes in vivo with a conversed homolog, Bax, that accelerates programmed cell death. Cell 74:609–619

Portt L, Norman G, Clapp C, Greenwood M, Greenwood MT (2011) Anti-apoptosis and cell survival: a review. Biochim Biophys Acta 1813:238–259

Schorr K, Li M, Krajewski S, Reed JC, Furth PA (1999) Bcl-2 gene family and related proteins in mammary gland involution and breast cancer. J Mammary Gland Biol Neoplasia 4:153–164

Sevrioukova IF (2011) Apoptosis-inducing factor: structure, function, and redox regulation. Antioxid Redox Signal 14:2545–2579

Siewe T (2007) The p53 family in differentiation and tumorigenesis. Nat Rev Cancer 7:165–168

Singh R, Saini N (2012) Downregulation of BCL2 by miRNAs augments drug-induced apoptosis—a combined computational and experimental approach. J Cell Sci 125:1568–1578

Su L, Chen G, Feng SG, Wang W, Li ZF, Chen H, Liu YX, Pei YH (2009) Steroidal saponins from Tribulus terrestris. Steroids 74:399–403

Sun B, Qu W, Baiet Z (2003) The inhibitory effect of saponins from Tribulus terrestris on Bcap-37 breast cancer line in vitro. Zhong Yao Cai 26:104–106

Sun SY, Hail N, Lotan RJ (2004a) Apoptosis as a novel target for cancer chemoprevention. J Natl Cancer Inst 4:662–672

Sun B, Qu WJ, Zhang XL (2004b) Ivestigation on inhibitory and apoptosis-inducing effects of saponins from Tribulus terrestris on hepatoma cell line BEL-7402. Zhongguo Zhong Yao Za Zhi 29:681–684

Vermeulen K, Van Bockstaele DR, Berneman ZN (2005) Apoptosis: mechanisms and relevance in cancer. Ann Hematol 84(10):627–639

Wu GS, Burns TF, McDonald ER 3rd, Jiang W, Meng R, Krantz ID, Kao G, Gan DD, Zhou JY, Muschel R, Hamilton SR, Spinner NB, Markowitz S, Wu G, el-Deiry WS (1997) KILLER/DR5 is a DNA damage-inducible p53-regulated death receptor gene. Nat Genet 17:141–143

Yang E, Korsmeyer S (1996) Molecular thanatopsis: a discourse on the BCL2 family and cell death. Blood 88:386–401

Zhang JD, Coa YB, Xu Z, Sun HH, An MM, Yan L, Chen HS, Gao PH, Wang Y, Jia XM, Jian YY (2005) In vitro and in vivo antifungal activities of the eight steroid saponins from Tribulus terrestris L, with potent activity against fluconazole-resistant fungal pathogens. Biol Pharm Bull 28:2211–2215
Acknowledgements
The authors are grateful to Dr.Gaurav Shastri (Gene care Lab, Surat, Gujarat, India) for assisting in fluorescence microscopy. The study was supported by Grant of the Gujarat Council of Science & Technology (GujCOST), Department of Science and Technology, Gujarat, India to AS and PS.
Ethics declarations
Conflict of interest
On behalf of all authors, the corresponding author states that there is no conflict of interest.
About this article
Cite this article
Patel, A., Soni, A., Siddiqi, N.J. et al. An insight into the anticancer mechanism of Tribulus terrestris extracts on human breast cancer cells. 3 Biotech 9, 58 (2019). https://doi.org/10.1007/s13205-019-1585-z
Received:

Accepted:

Published:
Keywords
Tribulus terrestris

Breast cancer

Apoptosis

Cytotoxicity

Anticancer activity