Abstract
This study aimed to evaluate the use of a lyophilized fermented solid (named solid enzymatic preparation, SEP), with lipase activity, as a low-cost biocatalyst for esterification reactions of fatty acids present in acid raw materials for biodiesel synthesis. The SEP was obtained by solid-state fermentation (SSF) of soybean bran using the strain of Yarrowia lipolytica IMUFRJ 50682 and contains the lipases secreted by this yeast. The esterification reaction of ethanol and the predominant fatty acids present in different acid oil sources for biodiesel production (oleic, linoleic, stearic and palmitic acids) was investigated. Oleic acid conversion of above 85% was obtained after 24 h, using 30 wt% of SEP and ethanol/oleic acid molar ratio of 1, at 30 °C, in a reaction medium with and without solvent (n-hexane). Similar results were achieved with stearic (79%), palmitic (82%) and linoleic (90%) acids. The reusability of SEP was investigated over ten successive batches by washing it with different solvents (ethanol, water or n-hexane) between the cycles of ethyl oleate synthesis. Washing with water allowed the SEP to be reused for six cycles maintaining over 80% of the conversion reached in the first cycle. These results show the potential of this biocatalyst to reduce the content of free fatty acids in acid oils for biodiesel synthesis with a potential to be applied in a broad plethora of raw materials.
This is a preview of subscription content, log in to check access.
Access options
Buy single article
Instant access to the full article PDF.
US$ 39.95
Price includes VAT for USA
Subscribe to journal
Immediate online access to all issues from 2019. Subscription will auto renew annually.
US$ 210
This is the net price. Taxes to be calculated in checkout.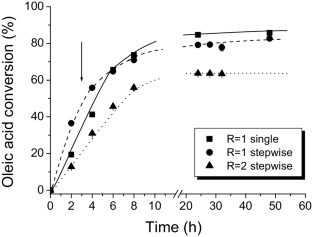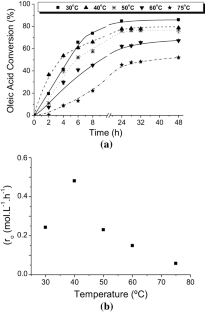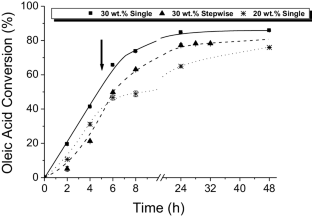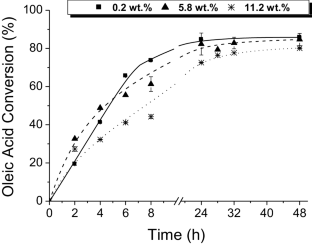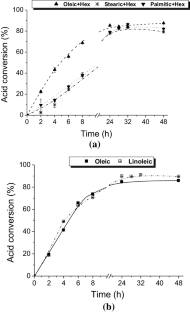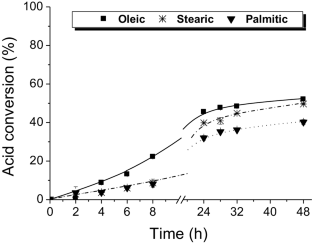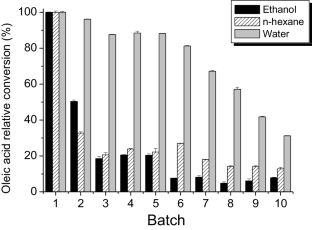 References
Aarthy M, Saravanan P, Gowthaman MK, Rose C, Kamini NR (2014) Enzymatic transesterification for production of biodiesel using yeast lipases: an overview. Chem Eng Res Des 92:1591–1601

Aguieiras ECG, Cavalcanti-Oliveira ED, Castro AM, Langone MAP, Freire DMG (2014) G. Biodiesel production from Acrocomia aculeata acid oil by (enzyme/enzyme) hidroesterification process: use of vegetable lipase and fermented solid as low-cost biocatalysts. Fuel 135:315–321

Aguieiras ECG, Cavalcanti-Oliveira ED, Freire DMG (2015) Current status and new developments of biodiesel production using fungal lipases. Fuel 159:52–67

Aguieiras ECG, Ribeiro DS, Couteiro PP, Bastos CMB, Queiroz DS, Parreira JM, Langone MAP (2016) Investigation of the reuse of immobilized lipases in biodiesel synthesis: influence of different solvents in lipase activity. App Biochem Biotechnol 179:485–496

Aguieiras ECG, Cavalcanti-Oliveira ED, Castro AM, Langone MAP, Freire DMG (2017a) Simultaneous enzymatic transesterification and esterification of an acid oil using fermented solid as biocatalyst. J Am Oil Chem Soc 94:551–558

Aguieiras ECG, Barros DSN, Sousa H, Fernandez-Lafuente R, Freire DMG (2017b) Influence of the raw material on the final properties of biodiesel producedusing lipase from Rhizomucor miehei grown on babassu cake as biocatalyst of esterification reactions. Renew Energy 113:112–118

Aguieiras ECG, Barros DSN, Fernandez-Lafuente R, Freire DMG (2019) Production of lipases in cottonseed meal and application of the fermented solid as biocatalyst in esterification and transesterification reactions. Renew Energy 130:574–581

Alves JS, Garcia-Galan C, Schein MF, Silva AM, Barbosa O, Ayub MAZ, Fernandez-Lafuente R, Rodrigues RC (2014) Combined effects of ultrasound and immobilization protocol on butyl acetate synthesis catalyzed by CALB. Molecules 19:9562–9576

Bergmann JC, Tupinamba DD, Costa OYA, Almeida JRM, Barreto CC, Quirino BF (2013) Biodiesel production in Brazil and alternative biomass feedstocks. Renew Sust Energy Rev 21:411–420

Bernardes OL, Bevilaqua JV, Leal MCMR, Freire DMG, Langone MAP (2007) Biodiesel fuel production by the transesterification reaction of soybean oil using immobilized lipase. Appl Biochem Biotechnol 136–140:105–114

Brígida AIS, Amaral PFF, Coelho MAZ, Gonçalves LRB (2014) Lipase from Yarrowia lipolytica: Production, characterization and application as an industrial biocatalyst. J Mol Cat B 101:148–158

Carrea G, Riva S (2008) Organic Synthesis with Enzymes in Non-aqueous Media. Wiley, Weinheim

Chandane VS, Rathod AP, Wasewar KL (2016) Enhancement of esterification conversion using pervaporation membrane reactor. Resour Effic Technol 2:S47–S52

Christopher LP, Kumar H, Zambare VP (2014) Enzymatic biodiesel: challenges and opportunities. Appl Energy 119:497–520

Colombo CA, Berton LHC, Diaz BG, Ferrari RA (2018) Macauba: a promising tropical palm for the production of vegetable oil. Oilseeds Fats Crop Lipid 25:1. https://doi.org/10.1051/ocl/2017038

D'Agosto MA, Silva MAV, Oliveira CM, Franca LS, Marques LGC, Murta ALS, Freitas MAV (2015) Evaluating the potential of the use of biodiesel for power generation in Brazil. Renew Sust Energy Rev 43:807–817

Fernandes MLM, Saad EB, Meira JA, Ramos LP, Mitchell DA, Krieger N (2007) Esterification and transesterification reactions catalysed by addition of fermented solids to organic reaction media. J Mol Cat B: 44:8–13

Ferreira-Leitão VS, Cammarota MC, Aguieiras ECG, Sá LRV, Fernandez-Lafuente R, Freire DMG (2017) The protagonism of biocatalysis in green chemistry and its environmental benefits. Catalysts 7:9:1–34

Fickers P, Marty A, Nicaud JM (2011) The lipases from Yarrowia lipolytica: Genetics, production, regulation, biochemical characterization and biotechnological applications. Biotech Adv 29:632–644

Firdaus MY, Guo Z, Fedosov SN (2016) Development of kinetic model for biodiesel production using liquid lipase as a biocatalyst, esterification step. Biochem Eng J 105:52–61

Gog A, Roman M, Tosa M, Paizs C, Irimie FD (2012) Biodiesel production using enzymatic transesterification—current state and perspectives. Renew Energy 39:10–16

Halling PJ (1994) Thermodynamic predictions for biocatalysis in nonconventional media: Theory, tests, and recommendations for experimental design and analysis. Enzyme Microb Technol 16:178–206

Hama S, Kondo A (2013) Enzymatic biodiesel production: an overview of potential feedstocks and process development. Bioresour Technol 135:386–395

Hanefeld U, Gardossi L, Magner E (2009) Understanding enzyme immobilization. Chem Soc Rev 38:453–468

Huang D, Han S, Han Z, Lin Y (2012) Biodiesel production catalyzed by Rhizomucor miehei lipase-displaying Pichia pastoris whole cells in an isooctane system. Biochem Eng J 63:10–14

Jegannathan KR, Eng-Seng C, Ravindra P (2011) Economic assessment of biodiesel production: comparison of alkali and biocatalyst processes. Renew Sust Energy Rev 15:745–751

Ledesma-Amaro R, Nicaud JM (2016) Yarrowia lipolytica as a biotechnological chassis to produce usual and unusual fatty acids. Progr Lipid Res 61:40–50

Lin J, Zhao B, Cao Y, Xu H, Ma S, Guo M, Qiao D, Cao Y (2014) Rationally designed Fe-MCM-41 by protein size to enhance lipase immobilization, catalytic efficiency and performance. Appl Catal A 478:175–185

Liu Y, Li C, Meng X, Yan Y (2013) Biodiesel synthesis directly catalyzed by the fermented solid of Burkholderia cenocepacia via solid state fermentation. Fuel Proc Technol 106:303–309

Meng Y, Wang G, Yang N, Zhou Z, Li Y, Liang X, Chen J, Li Y, Li J (2011) Two-step synthesis of fatty acid ethyl ester from soybean oil catalyzed by Yarrowia lipolytica lipase. Biotech Biofuel 4:6

Nielsen PM, Rancke-Madsen A (2011) Enzymatic large-scale production of biodiesel. Lipid Technol 23:230–233

Poppe JK, Matte CR, Fernandez-Lafuente R, Rodrigues RC, Ayub MAZ (2018) Transesterification of waste frying oil and soybean oil by combi-lipases under ultrasound-assisted reactions. Appl Biochem Biotechnol 1–14

Ribeiro BD, Castro AM, Coelho MAZ, Freire DMG (2011) Production and use of lipase in bioenergy: a review from the feedstocks to biodiesel production. Enzyme Res 2011:1–16. https://doi.org/10.4061/2011/615803

Rodrigues RC, Volpato G, Wada K, Ayub MAZ (2008) Enzymatic synthesis of biodiesel from transesterification reactions of vegetable oils and short chain alcohols. J Am Oil Chem Soc 85:925–930

Rodrigues RC, Ortiz C, Berenguer-Murcia Á, Torres R, Fernández-Lafuente R (2013) Modifying enzyme activity and selectivity by immobilization. Chem Soc Ver 42:6290–6307

Shimada Y, Watanabe Y, Sugihara A, Toninaga Y (2002) Enzymatic alcoholysis for biodiesel fuel production and application of the reaction to oil processing. J Mol Catal B: Enzym 17:133–142

Soares D, Serres JDS, Corazza ML, Mitchell DA, Gonçalves AG, Krieger N (2015) Analysis of multiphasic behavior during the ethyl esterification of fatty acids catalyzed by a fermented solid with lipolytic activity in a packed-bed bioreactor in a closed-loop batch system. Fuel 159:364–372

Souza CEC, Farias MA, Ribeiro BD, Coelho MAZ (2017) Adding value to agro-industrial co-products from canola and soybean oil extraction through lipase production using Yarrowia lipolytica in solid-state fermentation. Waste Biomass Valor 8:1163–1176

Stergiou PY, Foukis A, Filippou M, Koukouritaki M, Parapouli M, Theodorou LG, Hatziloukas E, Afendra A, Pandey A, Papamichael EM (2013) Advances in lipase-catalyzed esterification reactions. Biotech Adv 31:1846–1859

Sun J, Yu B, Curran P, Liu SQ (2012) Lipase-catalysed transesterification of coconut oil with fusel alcohols in a solvent-free system. Food Chem 134:89–94

Sun J, Yu B, Curran P, Liu SQ (2013) Lipase-catalysed ester synthesis in solvent-free oil system: is it esterification or transesterification? Food Chem 141:2828–2832

Veerabhadrappa MB, Shivakumar SB, Devappa S (2014) Solid-state fermentation of Jatropha seed cake for optimization of lipase, protease and detoxification of anti-nutrients in Jatropha seed cake using Aspergillus versicolor CJS-98. J Biosci Bioeng 117:208–214

Yu M, Qin S, Tan T (2007) Purification and characterization of the extracellular lipase Lip2 from Yarrowia lipolytica. Proc Biochem 42:384–391
Acknowledgements
The authors would like to thank PETROBRAS and Coordenação de Aperfeiçoamento de Pessoal de Nível Superior - Brasil (CAPES) for the financial support received for this research.
Ethics declarations
Conflict of interest
On behalf of all authors, the corresponding author states that there is no conflict of interest.
About this article
Cite this article
da Silva, J.R., de Souza, C.E.C., Valoni, E. et al. Biocatalytic esterification of fatty acids using a low-cost fermented solid from solid-state fermentation with Yarrowia lipolytica. 3 Biotech 9, 38 (2019). https://doi.org/10.1007/s13205-018-1550-2
Received:

Accepted:

Published:
Keywords
Solid enzymatic preparation

Lipase

Yarrowia lipolytica

Oleic acid

Esterification