Abstract
Bacillus velezensis ZY-1-1 was isolated from the larval gut of the lignocellulose-rich diet-fed scarab beetle, Holotrichia parallela, and confirmed to possess extremely high xylanase (48153.8 ± 412.1 U/L) and relatively moderate cellulase activity (610.1 ± 8.2 U/L). Notably, these xylanase and cellulase activities were enhanced by xylan (1.4 and 5.8-fold, respectively) and cellulose (1.1 and 3.5-fold, respectively), which indicated the hemicellulosic/cellulosic substrate-inducible lignocellulolytic activities of this strain. The complete genome of B. velezensis ZY-1-1 comprises of 3,899,251 bp in a circular chromosome with a G + C content of 46.6%. Among the predicted 3688 protein-coding genes, 24 genes are involved in the degradation of lignocellulose and other polysaccharides, including 8, 7 and 2 critical genes for the degradation of xylan, cellulose and lignin, respectively. This genome-based analysis will facilitate our understanding of the mechanism underlying the biodegradation of lignocellulose and the biotechnological application of this novel lignocellulolytic bacteria or related enzymes.
This is a preview of subscription content,
to check access.
Access this article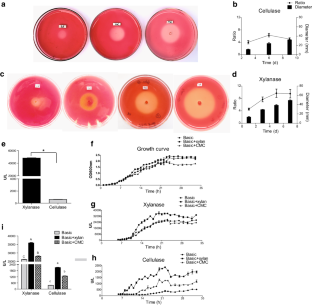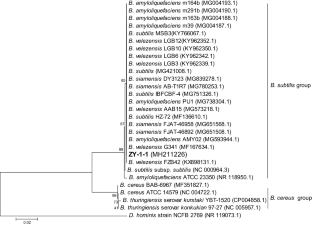 References
Chen L, Gu W, Xu H, Yang G, Shan X, Chen G, Wang CF, Qian AD (2018) Complete genome sequence of Bacillus velezensis 157 isolated from Eucommia ulmoides with pathogenic bacteria inhibiting and lignocellulolytic enzymes production by SSF. 3 Biotech 8(2):114. https://doi.org/10.1007/s13205-018-1326-8

de Gonzalo G, Colpa DI, Habib MH, Fraaije MW (2016) Bacterial enzymes involved in lignin degradation. J Biotechnol 236:110–119. https://doi.org/10.1016/j.jbiotec.2016.08.011

Dunlap CA, Kim S, Kwon S, Rooney AP (2016) Bacillus velezensis is not a later heterotypic synonym of Bacillus amyloliquefaciens; Bacillus methylotrophicus, Bacillus amyloliquefaciens subsp. plantarum and 'Bacillus oryzicola' are later heterotypic synonyms of Bacillus velezensis based on phylogenomics. Int J Syst Evol Micr 66(3):1212–1217. https://doi.org/10.1099/ijsem.0.000858

Dutta N, Mukhopadhyay A, Dasgupta AK, Chakrabarti K (2014) Improved production of reducing sugars from rice husk and rice straw using bacterial cellulase and xylanase activated with hydroxyapatite nanoparticles. Bioresour Technol 153:269–277. https://doi.org/10.1016/j.biortech.2013.12.016

Fan B, Blom J, Klenk HP, Borriss R (2017) Bacillus amyloliquefaciens, Bacillus velezensis, and Bacillus siamensis form an "Operational group B. amyloliquefaciens" within the B. subtilis species complex. Front Microbiol 8:22. https://doi.org/10.3389/fmicb.2017.00022

Glaser R (2015) Enzyme-based lignocellulose hydrolyzation—Sauter mean diameter of raw materials as a basis for cellulase performance characterization and yield prediction. J Biotechnol 214:9–16. https://doi.org/10.1016/j.jbiotec.2015.08.024

Gong G, Kim S, Lee SM, Woo HM, Park TH, Um Y (2017) Complete genome sequence of Bacillus sp. 275, producing extracellular cellulolytic, xylanolytic and ligninolytic enzymes. J Biotechnol 254:59–62. https://doi.org/10.1016/j.jbiotec.2017.05.021

Hongoh Y (2010) Diversity and genomes of uncultured microbial symbionts in the termite gut. Biosci Biotechnol Biochem 74(6):1145–1151. https://doi.org/10.1271/bbb.100094

Khelil O, Choubane S, Cheba BA (2016) Polyphenols content of spent coffee grounds subjected to physico-chemical pretreatments influences lignocellulolytic enzymes production by Bacillus sp. R2. Bioresour Technol 211:769–773. https://doi.org/10.1016/j.biortech.2016.03.112

Koren S, Walenz BP, Berlin K, Miller JR, Bergman NH, Phillippy AM (2017) Canu: scalable and accurate long-read assembly via adaptive k-mer weighting and repeat separation. Genome Res 27(5):722–736. https://doi.org/10.1101/gr.215087.116

Kumar S, Stecher G, Tamura K (2016) MEGA7: molecular evolutionary genetics analysis version 7.0 for bigger datasets. Mol Biol Evol 33(7):1870–1874. https://doi.org/10.1093/molbev/msw054

Mansour AA, Da CA, Arnaud T, Lu-Chau TA, Fdz-Polanco M, Moreira MT, Cacho RJ (2016) Review of lignocellulolytic enzyme activity analyses and scale-down to microplate-based assays. Talanta 150:629–637. https://doi.org/10.1016/j.talanta.2015.12.073

McArthur AG, Waglechner N, Nizam F et al (2013) The comprehensive antibiotic resistance database. Antimicrob Agents Chemother 57(7):3348–3357. https://doi.org/10.1128/AAC.00419-13

Sheng P, Huang S, Wang Q, Wang A, Zhang H (2012) Isolation, screening, and optimization of the fermentation conditions of highly cellulolytic bacteria from the hindgut of Holotrichia parallela larvae (Coleoptera: Scarabaeidae). Appl Biochem Biotechnol 167(2):270–284. https://doi.org/10.1007/s12010-012-9670-3

Sheng P, Xu J, Saccone G, Li K, Zhang H (2014) Discovery and characterization of endo-xylanase and beta-xylosidase from a highly xylanolytic bacterium in the hindgut of Holotrichia parallela larvae. J Mol Catal B-Enzym 105:33–40. https://doi.org/10.1016/j.molcatb.2014.03.019

Tatusova T, DiCuccio M, Badretdin A, Chetvernin V, Nawrocki EP, Zaslavsky L, Lomsadze A, Pruitt KD, Borodovsky M, Ostell J (2016) NCBI prokaryotic genome annotation pipeline. Nucleic Acids Res 44(14):6614–6624. https://doi.org/10.1093/nar/gkw569

Teather RM, Wood PJ (1982) Use of Congo red-polysaccharide interactions in enumeration and characterization of cellulolytic bacteria from the bovine rumen. Appl Environ Microbiol 43(4):777–780

Walker BJ, Abeel T, Shea T, Priest M, Abouelliel A, Sakthikumar S, Cuomo CA, Zeng Q, Wortman J, Young SK, Earl AM (2014) Pilon: an integrated tool for comprehensive microbial variant detection and genome assembly improvement. Plos One 9(11):e112963. https://doi.org/10.1371/journal.pone.0112963

Wilson DB (2011) Microbial diversity of cellulose hydrolysis. Curr Opin Microbiol 14(3):259–263. https://doi.org/10.1016/j.mib.2011.04.004

Yoon SH, Ha SM, Lim J, Kwon S, Chun J (2017) A large-scale evaluation of algorithms to calculate average nucleotide identity. Antonie Van Leeuwenhoek 110(10):1281–1286. https://doi.org/10.1007/s10482-017-0844-4

Zhang H, Jackson TA (2008) Autochthonous bacterial flora indicated by PCR-DGGE of 16S rRNA gene fragments from the alimentary tract of Costelytra zealandica (Coleoptera: Scarabaeidae). J Appl Microbiol 105(5):1277–1285. https://doi.org/10.1111/j.1365-2672.2008.03867.x
Acknowledgements
This study was supported by National Natural Science Foundation of China (31501634 and 30671404) and National Key R&D Program of China (2017YFD0202000).
Ethics declarations
Conflict of interest
On behalf of all authors, the corresponding author states that there is no conflict of interest.
Electronic supplementary material
Below is the link to the electronic supplementary material.
About this article
Cite this article
Zhang, Zy., Raza, M.F., Zheng, Z. et al. Complete genome sequence of Bacillus velezensis ZY-1-1 reveals the genetic basis for its hemicellulosic/cellulosic substrate-inducible xylanase and cellulase activities. 3 Biotech 8, 465 (2018). https://doi.org/10.1007/s13205-018-1490-x
Received:

Accepted:

Published:

DOI: https://doi.org/10.1007/s13205-018-1490-x
Keywords