Abstract
A thermostable keratinase designated as KBALT was purified from Bacillus altitudinis RBDV1 from a poultry farm in Gujarat, India. The molecular weight of the native KBALT (nKBALT) purified using ammonium sulfate and ion exchange and gel permeation chromatography with a 40% yield and 80-fold purification was estimated to be ~ 43 kDa. The gene for KBALT was successfully cloned, sequenced and expressed in Escherichia coli. Recombinant KBALT (rKBALT) when purified using a single step Ni–NTA His affinity chromatography achieved a yield of 38.20% and a 76.4-fold purification. Comparison of the deduced amino acid sequence of rKBALT with known proteases of Bacillus species and inhibitory effect of PMSF suggest that rKBALT was a subtilisin-like serine protease. Both native and rKBALT exhibited higher activity at 85 °C and pH 8.0 in the presence of Mg2+, Mn2+, Zn2+, Ba2+ and Fe3+ metal ions. Interestingly, 70% of their activity was retained at temperatures ranging from 35 to > 95 °C. The keratinolytic activity of both nKBALT and rKBALT was enhanced in the presence of reducing agents. They exhibited broad substrate specificity towards various protein substrates. KBALT was determined for its kinetic properties by calculating its Km (0.61 mg/ml) and Vmax (1673 U/mg/min) values. These results suggest KBALT as a robust and promising contender for enzymatic processing of keratinous wastes in waste processing plants.
This is a preview of subscription content, log in to check access.
Access options
Buy single article
Instant access to the full article PDF.
US$ 39.95
Price includes VAT for USA
Subscribe to journal
Immediate online access to all issues from 2019. Subscription will auto renew annually.
US$ 210
This is the net price. Taxes to be calculated in checkout.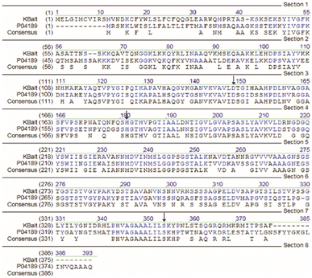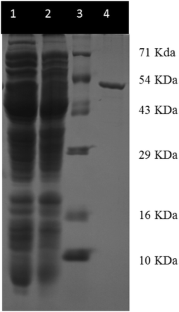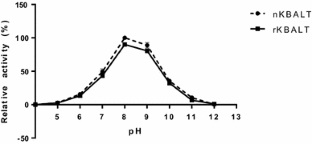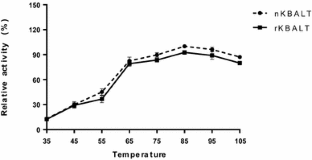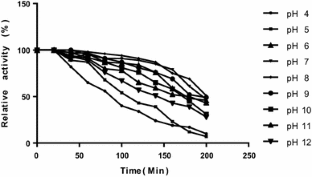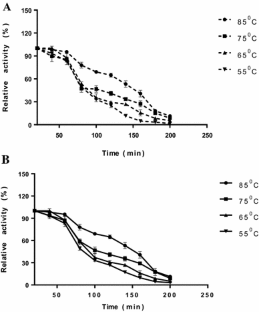 References
Altschul S, Madden TL (1997) Gapped BLAST and PSI-BLAST: a new generation of protein database search programs. Nucleic Acids Res 25(17):3389–3402. https://doi.org/10.1093/nar/25.17.3389

Anitha TS, Palanivelu P (2012) Research article production and characterization of keratinolytic protease(s) from the fungus, Aspergillus parasiticus. Fungal Genom Biol 2(2):87–93

Bressollier P, Letourneau F et al (1999) Purification and characterization of a keratinolytic serine proteinase from Streptomyces albidoflavus. Appl Environ Microbiol 65(6):2570–2576

Farag AM, Hassan MA (2004) Purification, characterization and immobilization of a keratinase from Aspergillus oryzae. Enzyme Microb Technol 34:85–93

Felix CR (2002) Heterologous production of Aspergillus fumigatus keratinase in Pichia pastoris. World J Microbiol Biotechnol 18:563–568

Gödde C et al (2005) Cloning and expression of islandisin, a new thermostable subtilisin from Fervidobacterium islandicum, in Escherichia coli. Appl Environ Microbiol 71(7):3951–3958. https://doi.org/10.1128/AEM.71.7.3951-3958.2005

Gopinath SCB et al (2015) Biotechnological aspects and perspective of microbial keratinase production. Biomed Res Int 2015(2015):140726. https://doi.org/10.1155/2015/140726

Gradisar H et al (2005) Similarities and specificities of fungal keratinolytic proteases: comparison of keratinases of Paecilomyces marquandii and Doratomyces microsporus to some known proteases. Appl Environ Microbiol 71(7):3420–3426

Guo J, Ma Y (2008) High-level expression, purification and characterization of recombinant Aspergillus oryzae alkaline protease in Pichia pastoris. Protein Expr Purif 58:301–308

Gupta MR, Ramnani P (2006) Microbial keratinases and their prospective applications: an overview. Appl Microbiol Biotechnol 70:21–33

Gupta S, Nigam A, Singh R (2015) Purification and characterization of a Bacillus subtilis keratinase and its prospective application in feed industry. Acta Biol Szeged 59(2):197–204

Hu H et al (2013) Expression of a keratinase (kerA) gene from Bacillus licheniformis in Escherichia coli and characterization of the recombinant enzymes. Biotechnol Lett 35(2):239–244

Abdel-Naby MA (2017) Structural characterization, catalytic, kinetic and thermodynamic properties of Keratinase from Bacillus pumilus FH9. Int J Biol Macromol 105(1):973–980. https://doi.org/10.1016/j.ijbiomac.2017.07.118

Baweja M, Singh PK (2017) Cost effective characterization process and molecular dynamic simulation of detergent compatible alkaline protease from Bacillus pumilus strain MP27. Process Biochem 58:199–203

Kumar EV et al (2011) A novel serine alkaline protease from Bacillus altitudinis GVC11 and its application as a dehairing agent. Bioprocess Biosyst Eng 34(4):403–409

Kumar V et al (2016) Recent developments in systems biology and metabolic engineering of plant–microbe interactions. Front Plant Sci 7:1–12

Lange L, Huang Y, Busk PK (2016) Microbial decomposition of keratin in nature-a new hypothesis of industrial relevance. Appl Microbiol Biotechnol 100:2083–2096

Lin X et al (1992) Purification and characterization of a keratinase from a feather-degrading Bacillus licheniformis strain Bacillus licheniformis strain. Appl Environ Microbiol 58(10):3271–3275.

Lin X et al (1997) Expression of the Bacillus licheniformis PWD-1 keratinase gene in B. subtilis. J Ind Biotechnol 19(2):134–138

More SS et al (2013) Purification and properties of a novel fungal alkaline keratinase from Cunninghamella echinulata. Turk J Biochem 38(1):68–74

Nayaka S (2013) Purification and characterization of keratinase from hair-degrading Streptomyces albus. Int J Bioassays 2(3):599–604

Onifade AA (1998) A review: potentials for biotechnological applications of keratin-degrading microorganisms and their enzymes for nutritional improvement of feathers and other keratins as livestock feed resources. Bioresour Technol 66:1–11

Peña-montes C et al (2008) Purification and biochemical characterization of a broad substrate specificity thermostable alkaline protease from Aspergillus nidulans. Appl Environ Microbiol 78:603–612

Pushpam PL, Rajesh T, Gunasekaran P (2011) Identification and characterization of alkaline serine protease from goat skin surface metagenome. AMB Express 1(1):3. https://doi.org/10.1186/2191-0855-1-3

Radha S, Gunasekaran P (2007) Cloning and expression of keratinase gene in Bacillus megaterium and optimization of fermentation conditions for the production of keratinase by recombinant strain. J Appl Microbiol 103:1301–1310

Radha S, Gunasekaran P (2009) Purification and characterization of keratinase from recombinant Pichia and Bacillus strains. Protein Expr Purif 64(1):24–31. https://doi.org/10.1016/j.pep.2008.10.008

Rajput R, Sharma R, Gupta R (2010) Biochemical characterization of a thiol-activated, oxidation stable keratinase from Bacillus pumilus KS12. Enzyme Res 2010:132148. https://doi.org/10.4061/2010/132148

Saibabu V, Niyonzima FN, More SS (2013) Isolation, partial purification and characterization of keratinase from Bacillus megaterium. Int Res J Biol Sci 2(2):13–20

Sareen R, Bornscheuer UT, Mishra P (2005) Cloning, functional expression and characterization of an alkaline protease from Bacillus licheniformis. Biotechnol Lett 9(5):1901–1907

Selvam K, Vishnupriya B (2012) Biochemical and molecular characterization of microbial keratinase and its remarkable applications. Int J Pharm Biol Arch 3(2):267–275

Sharma R, Gupta R (2010) Extracellular expression of keratinase Ker P from Pseudomonas aeruginosa in E. coli. Biotechnol Lett 32:1863–1868

Sivakumar T, Shankar T, Vijayabaskar P et al (2012) Optimization for keratinase enzyme production using Bacillus thuringiensis TS2. Acad J Plant Sci (AJPS) 5(3):102–109

Sivakumar T, Shankar T, Ramasubramanian V (2012b) Purification properties of Bacillus thuringiensis TS2 keratinase enzyme. Am Eurasian J Agric Environ Sci 12(12):1553–1557

Zhang J, Li B (2013) Expression and characterization of extreme alkaline, oxidation-resistant keratinase from Bacillus licheniformis in recombinant Bacillus subtilis WB600 expression system and its application in wool fiber processing. World J Microbiol Biotechnol 29(5):825–832
Acknowledgements
Authors are thankful to P.G. Department of Biosciences, Sardar Patel University for providing facilities to conduct research.
Ethics declarations
Conflict of interest
The authors declare that they have no conflict of interest.
About this article
Cite this article
Pawar, V.A., Prajapati, A.S., Akhani, R.C. et al. Molecular and biochemical characterization of a thermostable keratinase from Bacillus altitudinis RBDV1. 3 Biotech 8, 107 (2018). https://doi.org/10.1007/s13205-018-1130-5
Received:

Accepted:

Published:
Keywords
Bacillus altitudinis

Keratinase

Protease

Heterologous expression