Abstract
Biogas production from cow dung with co-substrate agricultural waste is one of the most demanding technologies for generating energy in a sustainable approach considering eco-friendly. In the present study, coffee pulp (CP) was pre-treated with 1% NaOH and combined with various proportions of cow dung (CD) to explore its biogas producing potentiality. The optimization of the process was studied using Response surface methodology. Statistics based on 3-D plots were generated to evaluate the changes in the response surface and to understand the relationship between the biogas yield and other parameters. The highest methane production (144 mL/kg) was achieved after 90 h of incubation with 1:3 of CP and CD at 40 °C. Gas chromatography analyzes the chemical compositions of the generated biogas and its post combustion emissions. The chemical composition of the substrates before digestion and after fermentation (biogas spent sludge) were measured in terms of fiber content and the values were noted as, total solids (0.53%), ash content (9.2%), volatile fatty acid (100 mg/L), organic carbon (46%) and a total carbohydrate (179 mg/g). The results of the optimization of biogas production presented in this work found to have significance with the process parameters. The outcome of the study has supported the fact of conventional combustion technology that has to be upgraded to prevent these hazardous emissions into the atmosphere.
Access options
Buy single article
Instant access to the full article PDF.
USD 39.95
Price excludes VAT (USA)
Tax calculation will be finalised during checkout.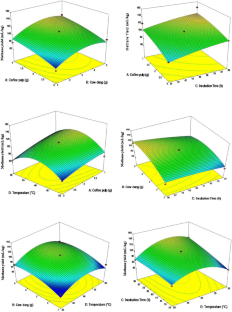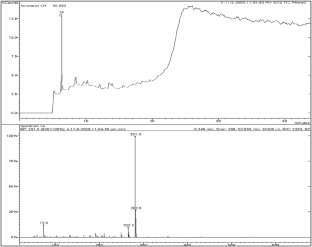 References
Abbasi T, Abbasi SA (2010) Biomass energy and the environmental impacts associated with its utilization. Renew Sustain Energy Rev 14:919–937

Adams MR, Dougan J (1981) Biological management of coffee processing wastes. Trop Sci 23(3):177–195

Amiri H, Karimi K (2015) Improvement of acetone butanol and ethanol production from woody biomass by using organosolv pretreatment. Bioprocess Biosyst Eng 38:1959–1972

APHA (1995) Standard methods for the examination of water and wastewater, 19th edn. American Public Health Association, Washington

Bagi Z, Norbat AC, Balint B, Horvath L, Dobo K, Katalin R, Rakhely G, Kovacs K (2007) Biotechnological intoxification of biogas production. Appl Microbiol Biotechnol 76:473–482

Bansal N, Tewari R, Gupta JK, Soni SK, Soni R (2011) A novel strain of Aspergillus niger producing a cocktail of industrial depolymerising enzymes for the production of second generation biofuels. Bio Res 6:552–569

Boopathy R, Mariappan M, Sunderasan BB (1986) The carbon to nitrogen ratio and methane production of coffee pulp. J Coffee Res 16:47–50

Borja R, Rincon B, Alba J, Martin A (2002) A study of anaerobic digestibility of two phase olive mill solid waste (OMSW) at mesophilic temperature. Process Biochem 38:733–742

Chandra R, Takeuchi H, Hasegawa T, Kumar R (2012) Improving biodegradability and biogas production of wheat straw substrates using sodium hydroxide and hydrothermal pretreatments. Energy 43:273–282

Corro G, Paniagua L, Pal U, Banuelos F, Rosas M (2013) Generation of biogas from coffee-pulp and cow dung co-digestion: infrared studies of post combustion emissions. Energy Convers Manage 74:471–481

Deublein D, Steinhauser A (2008) Biogas from waste and renewable sources: an introduction. Wiley-VCH, Weinheim

Diaz-Malvaez BE, Garcia-Almendarez A, Hernandez-Arana A, Amaro-Reyes C, Regalado-Gonzalez C (2013) Isolation and properties of β-xylosidase from Aspergillus niger GS1 using corn peri carp upon solid state fermentation. Process Biochem 48:1018–1024

Fan L, Soccol AT, Pandey A, Soccol CR (2003) Cultivation of pleurotus mushroom on Brazilian coffee husk and its effect on caffeine and tannic acid. Micol Aplicada Int 15:15–21

Fantozzi F, Buratti C (2009) Biogas production from different substrates in an experimental continuously stirred tank reactor anaerobic digester. Bioresour Technol 100:5783–5789

Fantozzi F, Buratti C (2011) Anaerobic digestion of mechanically treated OFMSW: experimental data on biogas/methane production and residues characterization. Bioresour Technol 102:8885–8892

Franca AS, Oliviera IS, Ferreira ME (2009) Kinetics and equilibrium studies of methylene blue adsorption by spent coffee grounds. Desalination 249:267–272

Francese AP, Aboagye-mathiesen G, Olesen T, Cordoba PR, Sinerz F (2000) Feeding approaches for biogas production from animal wastes and industrial effluents. World J Microbiol Biotechnol 10:147–150

Fujita M, Scharo JM, Moo-Yeng M (1980) Effect of corn straw addition on the anaerobic digestion of swine manure. Agri Wastes 2:177–184

Govarthanan M, Park SH, Kim JW, Lee KJ, Cho M, Kamala-Kannan S, Oh BT (2014) Statistical optimization of alkaline protease production from brackish environment Bacillus sp. SKK11 by SSF using horse gram husk. Prep Biochem Biotechnol 44:119–131

Govarthanan M, Selvankumar T, Selvam K, Sudhakar C, Vincent Aroulmoji, Kamala-Kannan S (2015) Response surface methodology based optimization of keratinase production from alkali-treated feather waste and horn waste using Bacillus sp MGMASC-BT. J Ind Eng Chem 27:25–30

Grisel C, Umapada P, Surinam C (2014) Enhanced biogas production from coffee pulp through deligninocellulosic photocatalytic pretreatment. Energy Sci Eng 2:177–187

Leaneza Coalla H, Blano JM, Fernandez MA, Moran M, Lopez Bobo MR (2009) Biogas generation apple pulp. Bioresource Technol 100:3843–3847

Madahava Naidu M, Vijayanada P, Usha Devi A, Vijayalakshmi MR, Ramalakshmi K (2004) Utilization of coffee by-products in food industry, preparation of jam using coffee pulp as raw material. In: Plantation crops research and development in the new millennium, Placrosym XIV, pp 201–203

Niemann HB, Atreya SK, Bauer SJ, Carignan GR, Demick JE, Frost RL, Gautier D, Haberman JA (2005) The abundance of constituents of Titan's atmosphere from the GC–MS instrument on the Huggens probe. Nature 438:779–784

Osman GA, Eitinay AH, Mohamed EF (2006) Biogas production from agricultural wastes. J Food Technol 4:37–39

Pandey A, Soccol CR, Nigam P, Brand D, Mohan R, Roussos S (2000) Biotechnological potential of coffee pulp and coffee husk for bioprocesses. J Biochem Eng 6:153–158

Reddy LV, Wee YJ, Yun JS, Ryu HW (2008) Optimization of alkaline protease production by batch culture of Bacillus sp, RKY3 through Plackett–Burman and response surface methodological approaches. Bioresour Technol 99:2242–2249

Selvam K, Govarthanan M, Kamala-Kannan S, Govindharaju M, Senthilkumar B, Selvankumar T, Sengottaiyan A (2014) Process optimization of cellulase production from alkali-treated coffee pulp and pineapple waste using Acinetobacter sp, TSK272 MASC. RSC Adv 4:13045–13051

Selvam K, Selvankumar T, Rajiniganth R, Srinivasan P, Sudhakar C, Senthilkumar B, Govarthanan M (2016a) Enhanced production of amylase from Bacillus sp. using groundnut shell and cassava waste as a substrate under process optimization: waste to wealth approach. Biocatal Agric Biotechnol 7:250–256

Selvam K, Govarthanan M, Senthilkumar B, Senbagam D, Selvankumar T, Kamala-Kannan S, Sudhakar C (2016b) Optimization of protease production from surface-modified coffee pulp waste and corncobs using Bacillus sp. by SSF. 3 Biotech 6:167

Shaochuan S, Nges IA, Yun J, Liu J (2013) Pre-treatments for enhanced bio-chemical methane potential of bamboo waste. Chem Eng J 240:253–259

Simpson-Holley M, Higson A, Evans G (2007) Bring on the biorefinery. J Chem Eng 163:46–59

Solangel IM, Ercilia MSM, Silvia M, Jose AT (2011) Production composition and application of coffee and its industrial residues. Food Bioprocess Technol 4:661–672

Trevelyan WE, Harrison JS (1952) Studies on yeast metabolism yeast carbohydrate fractions, separation from nucleic acid analysis and behaviour during anaerobic fermentation. Biochem J 50:298

Walkley A, Black IA (1934) An examination of Degtjareff method for determining organic carbon in soils: effect of variations in digestion conditions and of inorganic soil constituents. Soil Sci 63:251–263

Wang SH, Huang DJ (2005) Assessemnt of greenhouse gas emissions from poultry enteric fermentation. Asian-Aust J Anim Sci. 18:873–878

Wang J, Duan C, Ji Y, Sun Y (2010) Methane emissions during storage of different treatments from cattle manure in Tianjin. J Environ sci 22:1564–1569

Westerholm M, Hansson M, Schnurer A (2012) Improved biogas production from whole stillage by co-digestion with cattle manure. Bioresour Thechnol 114:314–319
Ethics declarations
Conflict of interest
The authors declare that they have no conflict of interest.
About this article
Cite this article
Selvankumar, T., Sudhakar, C., Govindaraju, M. et al. Process optimization of biogas energy production from cow dung with alkali pre-treated coffee pulp. 3 Biotech 7, 254 (2017). https://doi.org/10.1007/s13205-017-0884-5
Received:

Accepted:

Published:

DOI: https://doi.org/10.1007/s13205-017-0884-5
Keywords