Abstract
Banana bunchy top virus (BBTV) affects all varieties of banana plants and causes heavy economic loss in most of the banana cultivating areas. The BBTV genome comprises of six DNA components; in this study, we have cloned the six BBTV-DNA components from one of the BBTV-infected plants (Tri-8) and were submitted to GenBank. Analysis of the BBTV DNA-R component showed that it belonged to south Pacific group. Resistance against BBTV has not been observed so far in banana plants and removal and killing of the infected plants has been routinely practiced. Hence, early detection of BBTV infection would be desirable and various detection methods routinely employed include enzyme linked immunosorbent assay (antigen–antibody based) and molecular-based methods such as polymerase chain reaction (PCR), qPCR, or LAMP PCR. Most of these methods require enzymes or antibodies for detection and hence are expensive. Here, we report a visual detection method (AuNP probe assay) using gold nanoparticles (AuNPs) functionalized with an ssDNA-thiolated probe (CR1). This method is based on the hybridization of the functionalized AuNPs with the target DNA (BBTV). In the AuNP probe assay, the functionalized AuNPs retains red colour when BBTV DNA is present, and in the absence of BBTV DNA, the colour of the functionalized AuNPs changes to purple when salt is added. The AuNP probe assay was compared with PCR for the detection of banana plants and it was found that AuNP probe assay was better than PCR in detecting BBTV infection (86.5% for AuNP probe assay and 65% for PCR). The AuNP probe assay was found to be highly specific to BBTV and was found to detect up to 1 pg/μl of the plasmid (pTZBBTri 4, BBTV DNA) mixed with healthy banana DNA.
This is a preview of subscription content, log in to check access.
Access options
Buy single article
Instant access to the full article PDF.
US$ 39.95
Price includes VAT for USA
Subscribe to journal
Immediate online access to all issues from 2019. Subscription will auto renew annually.
US$ 210
This is the net price. Taxes to be calculated in checkout.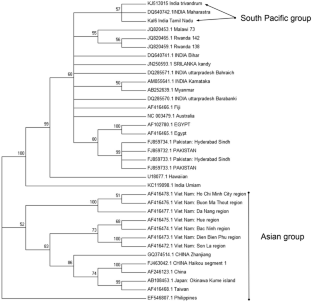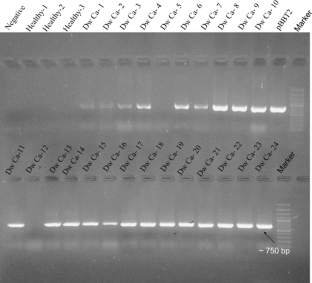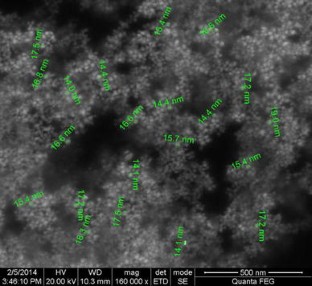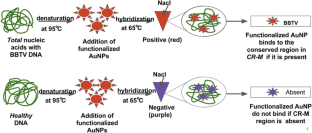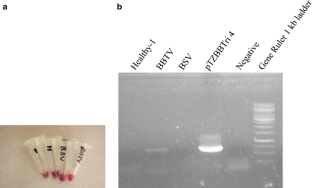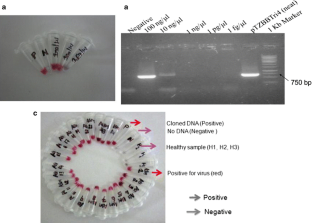 References
Anandhi J, Vijila C, Viswanath GS, Lokeswari TS (2007) Screening banana plants for banana bunchy top virus with primers specific to Indian isolates. J Plant Dis Prot 114:101–107. doi:10.1007/bf03356715

Andreadou M, Margarita A, Emmanouil L et al (2014) A novel non-amplification assay for the detection of Leishmania spp. in clinical samples using gold nanoparticles. J Microbiol Methods 96:56–61. doi:10.1016/j.mimet.2013.10.011

Baptista PV, Koziol-Montewka M, Paluch-Oles J et al (2006) Gold-nanoparticle-probe-based assay for rapid and direct detection of Mycobacterium tuberculosis DNA in clinical samples. Clin Chem 52:1433–1434. doi:10.1373/clinchem.2005.065391

Chen Y, Hu X (2013) High-throughput detection of banana bunchy top virus in banana plants and aphids using real-time TaqMan® PCR. J Virol Methods 193:177–183. doi:10.1016/j.jviromet.2013.06.013

Dale JL (1987) Banana bunchy top: an economically important tropical plant virus disease. Adv Virus Res. 33:301–325

Dharanivasan G, Mohammed Riyaz SU, Michael Immanuel Jesse D et al (2016) DNA templated self-assembly of gold nanoparticle clusters in the colorimetric detection of plant viral DNA using a gold nanoparticle conjugated bifunctional oligonucleotide probe. RSC Adv 6:11773–11785. doi:10.1039/c5ra25559g

Dietzgen RG, Thomas JE, Smith GR, Maclean DL (1999) PCR-based detection of viruses in banana and sugarcane. Curr Topics Virol 1:105–118

Fu H-C, Hu J-M, Hung T-H et al (2009) Unusual events involved in Banana bunchy top virus strain evolution. Phytopathology 99:812–822. doi:10.1094/PHYTO-99-7-0812

Furuya N, Somowiyarjo S, Natsuaki KT (2004) Virus detection from local banana cultivars and the first molecular characterization of Banana bunchy top virus in Indonesia. J Agri Sci Tokyo. 49(3):75–81

Geering A, Thomas JE (1996) A comparison of four serological tests for the detection of banana bunchy top virus in banana. Aust J Agric Res 47:403–412

Grabar KC, Freeman RG, Hommer MB, Natan MJ (1995) Preparation and characterization of Au colloid monolayers. Anal Chem 67:735–743. doi:10.1021/ac00100a008

Hafner GJ, Harding RM, Dale JL (1997) A DNA primer associated with banana bunchy top virus. J Gen Virol 78(Pt 2):479–486. doi:10.1099/0022-1317-78-2-479

Heslop-Harrison JS, Schwarzacher T (2007) Domestication, genomics and the future for banana. Ann Bot 100:1073–1084. doi:10.1093/aob/mcm191

Hill HD, Mirkin CA (2006) The bio-barcode assay for the detection of protein and nucleic acid targets using DTT-induced ligand exchange. Nat Protoc 1:324–336. doi:10.1038/nprot.2006.51

Hu JS, Xu MQ, Wu ZC, Wang M (1993) Detection of banana bunchy top virus in Hawaii. Plant Dis 77:952

Hu JS, Wang M, Sether D et al (1996) Use of polymerase chain reaction (PCR) to study transmission of banana bunchy top virus by the banana aphid (Pentalonia nigronervosa). Ann Appl Biol 128:55–64. doi:10.1111/j.1744-7348.1996.tb07089.x

Islam MN et al (2010) Genetic diversity and possible evidence of recombination among banana bunchy top virus (BBTV) isolates. Int Res J Microbiol 1:001–12

Karan M, Harding RM, Dale JL (1994) Evidence for two groups of banana bunchy top virus isolates. J Gen Virol 75(Pt 12):3541–3546. doi:10.1099/0022-1317-75-12-3541

Kesavamoorthy RC (1980) Radical changes in ecosystem in the Pulney hills. In: Proceedings of the 13th national seminar on banana production technology, pp. 23–28

Kimura M (1980) A simple method for estimating evolutionary rates of base substitutions through comparative studies of nucleotide sequences. J Mol Evol 16:111–120

King AMQ, Adams MJ, Lefkowitz EJ (2011) Virus taxonomy: classification and nomenclature of viruses: ninth report of the international committee on taxonomy of viruses. Springer, Wein

Kumar PL, Hanna R, Alabi OJ et al (2011) Banana bunchy top virus in sub-Saharan Africa: investigations on virus distribution and diversity. Virus Res 159:171–182. doi:10.1016/j.virusres.2011.04.021

Kumar PL, Selvarajan R, Iskra-Caruana M-L et al (2015) Biology, etiology, and control of virus diseases of banana and plantain. Adv Virus Res 91:229–269. doi:10.1016/bs.aivir.2014.10.006

Larguinho M, Miguel L, Rafaela C et al (2015) Gold nanoprobe-based non-crosslinking hybridization for molecular diagnostics. Expert Rev Mol Diagn 15:1355–1368. doi:10.1586/14737159.2015.1077704

Liu Z, Zhanmin L, Xueying X et al (2015) Visual detection of Maize chlorotic mottle virus using unmodified gold nanoparticles. RSC Adv 5:100891–100897. doi:10.1039/c5ra16326a

Magee CJP (1927) Investigation on the bunchy top disease of the banana. Bull Council Sci Ind Res Aust 30:64

Mansoor S, Qazi J, Amin I et al (2005) A PCR-based method, with internal control, for the detection of Banana bunchy top virus in banana. Mol Biotechnol 30:167–170. doi:10.1385/MB:30:2:167

Mirkin CA, Letsinger RL, Mucic RC, Storhoff JJ (1996) A DNA-based method for rationally assembling nanoparticles into macroscopic materials. Nature 382:607–609. doi:10.1038/382607a0

Oben TT, Hanna R, Ngeve J et al (2009) Occurrence of banana bunchy top disease caused by the banana bunchy top virus on banana and plantain (Musa sp.) in Cameroon. Plant Dis 93:1076–1076. doi:10.1094/PDIS-93-10-1076C

Padmavathy B, Bakthavathsalam P, Kumar RV, Ali BMJ (2012) A direct detection of Escherichia coli genomic DNA using gold nanoprobes. J Nanobiotechnol 10:8. doi:10.1186/1477-3155-10-8

Peng J, Zhang J, Xia Z et al (2012) Rapid and sensitive detection of banana bunchy top virus by loop-mediated isothermal amplification. J Virol Methods 185:254–258. doi:10.1016/j.jviromet.2012.06.026

Shawky SM, Bald D, Azzazy HME (2010) Direct detection of unamplified hepatitis C virus RNA using unmodified gold nanoparticles. Clin Biochem 43:1163–1168. doi:10.1016/j.clinbiochem.2010.07.001

Soo P-C, Horng Y-T, Chang K-C et al (2009) A simple gold nanoparticle probes assay for identification of Mycobacterium tuberculosis and Mycobacterium tuberculosis complex from clinical specimens. Mol Cell Probes 23:240–246. doi:10.1016/j.mcp.2009.04.006

Stainton D, Kraberger S, Walters M et al (2012) Evidence of inter-component recombination, intra-component recombination and reassortment in banana bunchy top virus. J Gen Virol 93:1103–1119. doi:10.1099/vir.0.040337-0

Stainton D, Martin DP, Muhire BM et al (2015) The global distribution of banana bunchy top virus reveals little evidence for frequent recent, human-mediated long distance dispersal events. Virus Evolut. doi:10.1093/ve/vev009

Su HJ, Tsao LY, Wu ML, Hung TH (2003) Biological and molecular categorization of strains of banana bunchy top virus. J Phytopathol 151:290–296

Thomas JE (1991) Virus indexing procedures for banana in Australia

Thomas JE, Dietzgen RG (1991) Purification, characterization and serological detection of virus-like particles associated with banana bunchy top disease in Australia. J Gen Virol 72(Pt 2):217–224. doi:10.1099/0022-1317-72-2-217

Wanitchakorn R, Harding RM, Dale JL (1997) Banana bunchy top virus DNA-3 encodes the viral coat protein. Arch Virol 142:1673–1680

Watanabe S, Bressan A (2013) Tropism, compartmentalization and retention of banana bunchy top virus (Nanoviridae) in the aphid vector Pentalonia nigronervosa. J Gen Virol 94:209–219. doi:10.1099/vir.0.047308-0

Wei J, Liu H, Liu F et al (2014) Miniaturized paper-based gene sensor for rapid and sensitive identification of contagious plant virus. ACS Appl Mater Interfaces 6:22577–22584. doi:10.1021/am506695g

Wu RY, Su HJ (1990a) Purification and characterization of banana bunchy top virus. J Phytopathol 128:153–160. doi:10.1111/j.1439-0434.1990.tb04261.x

Wu RY, Su HJ (1990b) Production of monoclonal antibodies against banana bunchy top virus and their use in enzyme-linked immunosorbent assay. J Phytopathol 128:203–208
Acknowledgements
We thank Sri Ramachandra University for providing all facilities and support to carry out this research work. Authors thank Kalpana A and Dhanushya S and Vignesh for their immense help during the study. We thank Munmi Borah, PhD scholar (Assam Agricultural University, Jorhat) for the samples as well as Jain irrigation systems for the Healthy, diseased and BSV-infected samples for the study.
Ethics declarations
Conflict of interest
Authors declare no conflict of interest.
About this article
Cite this article
Kumar, P., Arun, V. & Lokeswari, T.S. Cloning of BBTV (Banana Bunchy Top Virus) components and screening of BBTV using functionalized gold nanoparticles. 3 Biotech 7, 225 (2017). https://doi.org/10.1007/s13205-017-0849-8
Received:

Accepted:

Published:
Keywords
Banana bunchy top virus

Gold nanoparticles

AuNP probe assay

Viral detection

Polymerase chain reaction