Abstract
Unfolding of highly hydrophobic water-insoluble proteins in aqueous phase is important to understand for their appropriate applications in food industry. Unfolding of wheat, rice, and zein proteins were determined by following the in-situ synthesis of Au nanoparticles (NPs) as indicators in aqueous micellar solutions of different anionic and cationic surfactants. The unfolding behavior was simultaneously monitored by UV–visible studies due to the surface plasmon resonance of Au NPs in the visible region while DLS size and zeta potential helped us in understanding the solid–liquid interfacial adsorption of protein–surfactant complex on Au NPs surface. Microscopic analysis and the Bradford method were used for characterizing and estimating the amount of protein conjugated to the Au NPs' surface. Protein conjugated Au NPs were further used for estimating the isoelectric point (Ip) of solid–liquid interfacial conjugated protein which was quite different from the conventional solution-phase Ip of each protein. The results concluded that the unfolding temperature of zein was relatively lower than that of wheat and rice proteins because of its favorable solubilization in the micellar phase. It resulted in its preferential solid–liquid interfacial adsorption. Thus, unfolding and solid–liquid interfacial adsorption of proteins on nano metallic surfaces are interlinked phenomena of bionanomaterials with diverse applications in biological systems.
Access options
Buy single article
Instant access to the full article PDF.
USD 39.95
Price excludes VAT (USA)
Tax calculation will be finalised during checkout.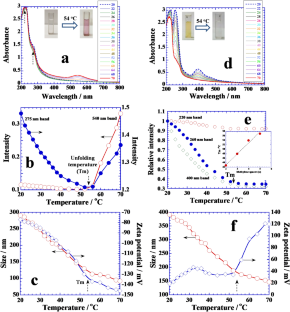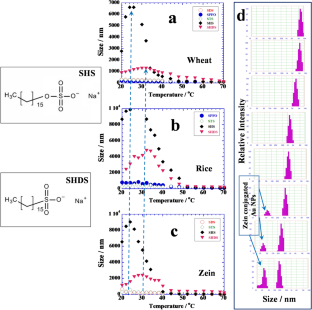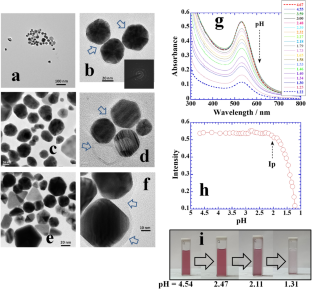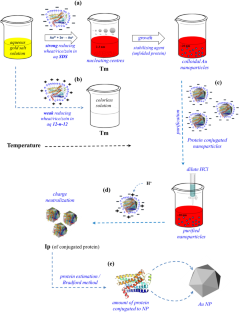 References
Agarwal V, Gupta V, Bhardwaj VK, Singh K, Khullar P, Bakshi MS (2021) Avoiding hemolytic anemia by understanding the effect of the molecular architecture of gemini surfactants on hemolysis. Langmuir 37:3709–3720

Ahluwalia GK. (2017) Applications of Chalcogenides: S, Se and Te. Chapter 3: Nanostructured chalcogenides. ISBN 978-3-319-41188-0

Anjos JLV, Santiago PS, Tabak M, Alonso A (2011) On the interaction of bovine serum albumin with ionic surfactants: temperature induced EPR changes of a maleimide nitroxide reflect local protein dynamics and probe solvent accessibility. Coll Surf B-Biointerfaces 88:463–470

Bakshi MS (2011) Nanoshape control tendency of phospholipids and proteins: protein-nanoparticle composites, seeding, self-aggregation, and their applications in bionanotechnology and nanotoxicology. J Phys Chem C 115:13947–13960

Bakshi MS (2016) How surfactants control crystal growth of nanomaterials. Cryst Growth Des 16:1104–1133

Bakshi MS (2017) Nanotoxicity in systemic circulation and wound healing. Chem Res Toxicol 30:1253–1274

Bakshi MS, Zhao L, Smith R, Possmayer F, Petersen NO (2008) Metal nanoparticle pollutants interfere with pulmonary surfactant function in vitro. Biophys J 94:855–868

Bakshi MS, Thakur P, Kaur G, Kaur H, Banipal TS, Possmayer F, Petersen NO (2009) Stabilization of PbS nanocrystals by bovine serum albumin in its native and denatured states. Adv Func Mater 19:1451–1458

Bouman J, Belton P, Venema P, van der Linden E, de Vries R, Qi S (2016) Controlled release from zein matrices: interplay of drug hydrophobicity and PH. Pharm Res 33:673–685

Bradford MM (1976) A rapid and sensitive for the quantitation of microgram quantities of protein utilizing the principle of protein-dye binding. Anal Biochem 72:248–254

Branco MA, Pinherio L, Faustino C (2015) Amino acid-based cationic gemini surfactant-protein interactions. Coll Surf A-Physicochem Eng Asp 480:105–112

Clarke S, Smigel MD (1989) Size and shape of membrane protein-detergent complexes—hydrodynamic studies. Methods Enzym 172:696–709

Derjaguin B, Landau L (1941) Theory of the stability of strongly charged lyophobic sols and of the adhesion of strongly charged particles in solution of electrolytes. Acta Physico Chemica URSS 14:633–662

Eissa AS (2019) Effect of SDS on whey protein polymers molecular investigation via dilute solution viscometry and dynamic light scattering. Food Hydrocoll 87:97–100

English LR, Voss SM, Tilton EC, Paiz EA, So S, Parra GL, Whitten ST (2019) Impact of heat on coil hydrodynamic size yields the energetics of denatured state conformational bias. J Phys Chem B 123:10014–10024

Ikeda S (2003) Atomic force microscopy and raman scattering spectroscopy studies on heat-induced fibrous aggregates of beta-lactoglobulin. Spectrosc-An Int J 17:195–202

Katyal M, Singh N, Virdi AS, Kaur A, Chopra N, Ahlawat AK, Singh AM (2017) Extraordinarily soft, medium-hard and hard indian wheat varieties: composition, protein profile, dough and baking properties. Food Res Int 100:306–317

Kaur G, Bakshi MS (2010) Nonideal mixing of Se-Te in aqueous micellar phase for nanoalloys over the whole mole mixing range with morphology control from nanoparticles to nanoribbons. J Phys Chem C 114:143–154

Kaur P, Pal P, Virdi AS, Kaur A, Singh N, Mahajan G (2016) Protein and starch characteristics of milled rice from different cultivars affected by transplantation date. J Food Sci Technol 53:3186–3196

Kezwon A, Wojciechowski K (2014) Effect of temperature on surface tension and surface dilational rheology of type I collagen. Coll Surf A-Physicochem Eng Asp 460:168–175

Khullar P, Mahal A, Singh V, Banipal TS, Kaur G, Bakshi MS (2010) How PEO-PPO-PEO triblock polymer micelles control the synthesis of gold nanoparticles: temperature and hydrophobic effects. Langmuir 26:11363–11371

Khullar P, Singh V, Mahal A, Dave PN, Thakur S, Kaur G, Singh J, Singh Kamboj S, Singh Bakshi M (2012) Bovine serum albumin bioconjugated gold nanoparticles; synthesis, hemolysis and cytotoxicity towards cancer cell lines. J Phys Chem C 116:8834–8843

Kik MC (1960) Rice protein supplementation, further studies on the nutritional improvement of rice. J Agric Food Chem 8:380–382

Levine S, Dube GP (1940) Interaction between two hydrophobic colloidal particles, using the approximate Debye-Hückel theory I general properties. Trans Faraday Soc 35:1125–1140

Liao L, Zhang Z, Meng F, Liu D, Wu B, Li Y, Xie W (2021) A novel slurry for chemical mechanical polishing of single crystal diamond. Appl Surf Sci 564:150431

Linlaud N, Ferrer E, Puppo MAC, Ferrero C (2011) Hydrocolloid interaction with water, protein, and starch in wheat dough. J Agric Food Chem 59:713–719

Mahal A, Khullar P, Kumar H, Kaur G, Singh N, Jelokhani-Niaraki M, Bakshi MS (2013) Green chemistry of zein protein toward the synthesis of bioconjugated nanoparticles: understanding unfolding, fusogenic behavior, and hemolysis. ACS Sustain Chem Eng 1:627–639

Mandial D, Khullar P, Mahal A, Kumar H, Singh N, Ahluwalia GK, Bakshi MS (2018) Applications of rice protein in nanomaterials synthesis, nanocolloids of rice protein, and bioapplicability. Int J Biol Macromol 120:394–404

Mandial D, Khullar P, Gupta V, Kumar H, Singh N, Ahluwalia GK, Bakshi MS (2019) Role of gluten in surface chemistry: nanometallic bioconjugation of hard, medium, and soft wheat protein. J Agric Food Chem 67:7886–7897

Minowa K, Sumino K (1992) Stress-induced amorphization of silicon crystal by mechanical scratching. Phys Rev Lett 69:320–322

Pathania SK, Sharma V, Thakur RC, Kumar A, Sharma S (2015) A Comparative study of interactions between protein (lysozyme) and ionic surfactants (SDS, CTAB) in aqueous rich mixtures of Dmso at different temperatures. Res J Pharm, Biol Chem Sci 6:721–729

Riedesel S, Kaur R, Bakshi MS (2021) Distinguishing nanoparticle-nanoparticle interactions between gold and silver nanoparticles controlled by gemini surfactants: stability of nanocolloids. J Phys Chem C 125:5399–5411

Scanavachi G, Espinosa YR, Yoneda JS, Rial R, Ruso JM, Itri R (2020) Aggregation features of partially unfolded bovine serum albumin modulated by hydrogenated and fluorinated surfactants: molecular dynamics insights and experimental approaches. J Coll Interface Sci 572:9–21

Sharma V, Yanez O, Zuniga C, Kumar A, Singh G, Cantero-Lopez P (2020) Protein -surfactant interactions: a multitechnique approach on the effect of Co-solvents over bovine serum albumin (BSA)-cetyl pyridinium chloride (CPC) system. Chem Phys Lett 747:137349

Sotnikov DV, Berlina AN, Ivanov VS, Zherdev AV, Dzantiev BB (2019) Adsorption of proteins on gold nanoparticles: one or more layers? Coll Surf B-Biointerfaces 173:557–563

Srivastava R, Alam MS (2020) The Multi -spectroscopic approach on the interaction between rabbit serum albumin and cationic surfactant: investigation on the formation and solubilization of the protein aggregation. Spectrochimica Acta Part A-Mol Biomol Spectrosc 239:118542

Sun Y, Oseliero PL, Oliveira CLP (2017) Alpha-Lactalbumin and sodium dodecyl sulfate aggregates: denaturation, complex formation and time stability. Food Hydrocoll 62:10–20

Tavanti F, Pedone A, Menziani MC (2019) Multiscale molecular dynamics simulation of multiple protein adsorption on gold nanoparticles. Int J Mol Sci 20:3539

Tsai DH, Delrio FW, Keene AM, Tyner KM, MacCuspie RI, Cho TJ, Zachariah MR, Hackley VA (2011) Adsorption and conformation of serum albumin protein on gold nanoparticles investigated using dimensional measurements and in situ spectroscopic methods. Langmuir 27:2464–2477

van Swieten E, Friesen RR, de Kruif CG, Robillard GT (2003) Size and shape of the repetitive domain of high molecular weight wheat gluten proteins II hydrodynamic studies. Biopolymers 69:325–332

Vogler A, Kunkely H (2001) Photoreactivity of gold complexes. Coord Chem Rev 219–221:489–507

Wang YC, Zhang W, Wang LY, Zhuang Z, Ma E, Li J, Shan ZW (2016) In situ TEM study of deformation-induced crystalline-to-amorphous transition in silicon. NPG Asia Mater 8:e291

Wang B, Zhang Z, Chang K, Cui J, Rosenkranz A, Yu J, Lin CTE, Chen G, Zang K, Luo J, Jiang N, Guo D (2018) New deformation-induced nanostructure in silicon. Nano Lett 18(7):4611–4617

Wiedenmann V, Frister M, Oehlke K, van der Schaaf U, Karbstein HP (2019) Properties of beta-lactoglobulin aggregates and gels as affected by ternary emulsifier mixtures of tween 20, lecithin, and sucrose palmitate. J Agric Food Chem 67:9601–9610

Wiesner R, Scheller C, Krebs F, Watzig H, Oltmann-Norden I (2021) A comparative study of CE-SDS, SDS-PAGE, and simple western: influences of sample preparation on molecular weight determination of proteins. Electrophoresis 42:206–218

Woerdeman DL, Veraverbeke WS, Parnas RS, Johnson D, Delcour JA, Verpoest I, Plummer CJG (2004) Designing new materials from wheat protein. Biomacromol 5:1262–1269

Wu SW, Myers DJ, Johnson LA (1997) Factors affecting yield and composition of zein extracted from commercial corn gluten meal. Cereal Chem 74:258–263

Wu YQ, Huang H, Zou J, Zhang LC, Dell JM (2010) Nanoscratch-induced phase transformation of monocrystalline si. Scr Mater 63:847–850

Xie W, Zhang Z, Liao L, Liu J, Su H, Wang S, Guo D (2020) Green chemical mechanical polishing of sapphire wafers using a novel slurry. Nanoscale 12(44):22518–22526

Yan JW, Takahashi H, Tamaki J, Gai XH, Harada H, Patten J (2005) Nanoindentation tests on diamond-machined silicon wafers. Appl Phys Lett 86:181913

Zarudi I, Nguyen T, Zhang LC (2005) Effect of temperature and stress on plastic deformation in monocrystalline silicon induced by scratching. Appl Phys Lett 86:011922

Zhang Z, Wang B, Kang R, Zhang B, Guo D (2015) Changes in surface layer of silicon wafers from diamond scratching. CIRP Ann 64(1):349–352

Zhang Z, Shi Z, Du Y, Yu Z, Guo L, Guo D (2018) A Novel approach of chemical mechanical polishing for a titanium alloy using an environment-friendly slurry. Appl Surf Sci 427:409–415

Zhang Z, Cui J, Zhang J, Liu D, Yu Z, Guo D (2019) Environment friendly chemical mechanical polishing of copper. Appl Surf Sci 467–468:5–11

Zhang Z, Liao L, Wang X, Xie W, Guo D (2020) Development of a novel chemical mechanical polishing slurry and its polishing mechanisms on a nickel alloy. Appl Surf Sci 506:144670

Zhang Z, Wang X, Meng F, Liu D, Huang S, Cui J, Wang J, Wen W (2022) Origin and evolution of a crack in silicon induced by a single grain grinding. J Manuf Process 75:617–626

Zhu KX, Sun XH, Chen ZC, Peng W, Qian HF, Zhou HM (2010) Comparison of functional properties and secondary structures of defatted wheat germ proteins separated by reverse micelles and alkaline extraction and isoelectric precipitation. Food Chem 123:1163–1169
Acknowledgements
R. Kaur (Principal Investigator) and P. Khullar (Scientist Mentor) thankfully acknowledge the DST-WOS-B research project [ref no: DST/WOS-B/2018/ETD/Rajpreet(G)] for providing financial support to carry out the experimental studies. Funds from UWGB are also thankfully acknowledged.
Ethics declarations
Conflict of interest
There is no conflict of interest.
Ethical approval
The article does not contain any study with human subject or animals performed by any of the authors.
Informed consent
No informed consent.
Additional information
Publisher's Note
Springer Nature remains neutral with regard to jurisdictional claims in published maps and institutional affiliations.
Supplementary Information
Below is the link to the electronic supplementary material.
About this article
Cite this article
Kaur, R., Khullar, P., Gupta, A. et al. In-situ synthesis of gold nanoparticles as an indicator of unfolding and solid–liquid interfacial adsorption of proteins. Appl Nanosci 12, 2609–2620 (2022). https://doi.org/10.1007/s13204-022-02505-7
Received:

Accepted:

Published:

Issue Date:

DOI: https://doi.org/10.1007/s13204-022-02505-7
Keywords
Protein unfolding

Food proteins

Hydrophobic interactions

Gold nanoparticles

Micellar solution