Abstract
Numerous concentrations of graphene oxide (GO)-doped into ZnO nanostructures were synthesized with co-precipitations method. The characterization of the designed composite was carried out using a number of techniques, and their photocatalytic ability was also evaluated. The parameters such as plane orientation, interplanar distance as confirmed using XRD were consistent with HRTEM results. The PL analysis revealed a blueshift in the energies associated with NBEs, which verified the impact of dopant quenching. The findings indicate that ZnO was loaded uniformly on the GO surface due to an efficient interface coupling. Due to such interface coupling between ZnO and GO, electrons can be passed directly from the ZnO (VB) to the GO. The facile nanocomposites (NCs) exhibited excellent photoactivity and are considered to offer a new path for designing next-generation graphene-based semiconductor composites. Furthermore, as-synthesized samples exhibited promising bactericidal potential towards gram-positive (G + ve) and gram-negative (G − ve) bacteria in S. aures and E. coli media, respectively for bacterium. Furthermore, molecular docking studies was employed to unveil the mystery behind bactericidal activity of GO-ZnO NRs and suggested inhibition of β-lactamase and DNA gyrase as mechanism behind these in vitro findings.
Access options
Buy single article
Instant access to the full article PDF.
USD 39.95
Price excludes VAT (USA)
Tax calculation will be finalised during checkout.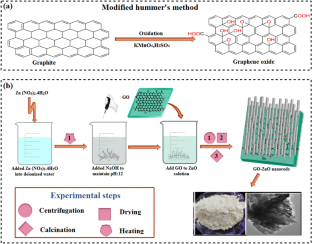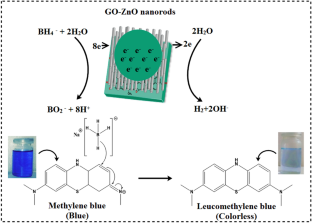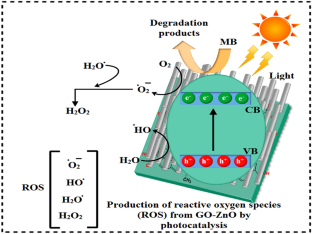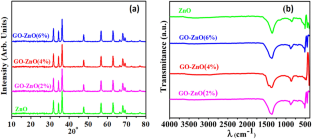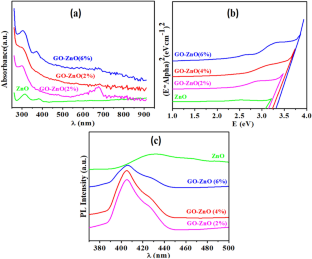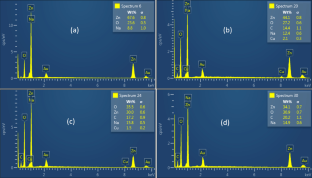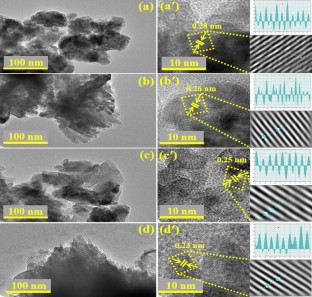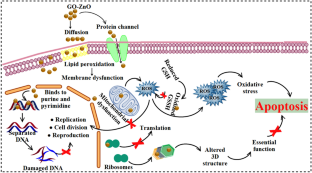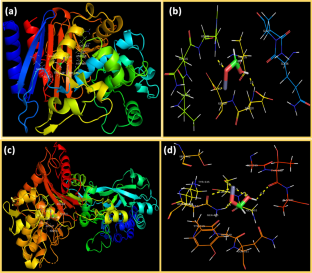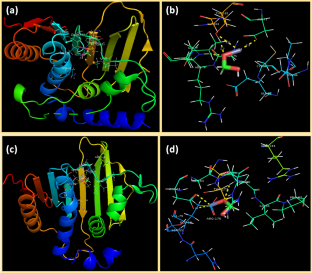 References
Abagyan R, Totrov M (1994) Biased probability monte carlo conformational searches and electrostatic calculations for peptides and proteins. J Mol Biol 235(3):983–1002. https://doi.org/10.1006/jmbi.1994.1052

Afzal H et al (2019) Enhanced drug efficiency of doped ZnO-GO (graphene oxide) nanocomposites, a new gateway in drug delivery systems (DDSs). Mater Res Express 7(1):015405. https://doi.org/10.1088/2053-1591/ab61ae

Ahmad M et al (2015) Enhanced photocatalytic activity of Ce-doped ZnO nanopowders synthesized by combustion method. J Rare Earths 33(3):255–262. https://doi.org/10.1016/S1002-0721(14)60412-9

Ahmad SOA, Ikram M, Imran M, Naz S, Ul-Hamid A, Haider A, Shahzadi A, Haider J (2021) Novel prism shaped C3N4-doped Fe@Co3O4 nanocomposites and their dye degradation and bactericidal potential with molecular docking study. RSC Adv 11(38):23330–23344

Ahmed B, Hashmi A, Khan MS, Musarrat J (2018) ROS mediated destruction of cell membrane, growth and biofilms of human bacterial pathogens by stable metallic AgNPs functionalized from bell pepper extract and quercetin. Adv Powder Technol 29(7):1601–1616

Ahmed B, Solanki B, Zaidi A, Khan MS, Musarrat J (2019) Bacterial toxicity of biomimetic green zinc oxide nanoantibiotic: insights into ZnONP uptake and nanocolloid–bacteria interface. Toxicol Res (camb) 8:246–261. https://doi.org/10.1039/C8TX00267C

Alamdari S et al (2019) Preparation and characterization of GO-ZnO nanocomposite for UV detection application. Opt Mater (amst) 92(March):243–250. https://doi.org/10.1016/j.optmat.2019.04.041

Altaf S, Haider A, Naz S, Ul-Hamid A, Haider J, Imran M, Shahzadi A, Naz M, Ajaz H, Ikram M (2020) Comparative study of selenides and tellurides of transition metals (Nb and Ta) with respect to its catalytic, antimicrobial, and molecular docking performance. Nanoscale Res Lett 15:1–16. https://doi.org/10.1186/s11671-020-03375-0

Anliker R (1979) Ecotoxicology of dyestuffs—a joint effort by industry. Ecotoxicol Environ Saf 3(1):59–74. https://doi.org/10.1016/0147-6513(79)90060-5

Arsalan A, Younus H (2018) Enzymes and nanoparticles: modulation of enzymatic activity via nanoparticles. Int J Biol Macromol 118:1833–1847. https://doi.org/10.1016/j.ijbiomac.2018.07.030

Atchudan R, Edison TNJI, Perumal S, Karthikeyan D, Lee YR (2016) Facile synthesis of zinc oxide nanoparticles decorated graphene oxide composite via simple solvothermal route and their photocatalytic activity on methylene blue degradation. J Photochem Photobiol B Biol 162:500–510. https://doi.org/10.1016/j.jphotobiol.2016.07.019

Barelier S et al (2014) Increasing chemical space coverage by combining empirical and computational fragment screens. ACS Chem Biol 9(7):1528–1535. https://doi.org/10.1021/cb5001636

Bu Y, Chen Z, Li W, Hou B (2013) Highly efficient photocatalytic performance of graphene-ZnO quasi-shell-core composite material. ACS Appl Mater Interfaces 5(23):12361–12368. https://doi.org/10.1021/am403149g

Bury NR, Wood CM (1999) Mechanism of branchial apical silver uptake by rainbow trout is via the proton-coupled Na+ channel. Am J Physiol Regul Integr Comp Physiol 277(5):R1385–R1391. https://doi.org/10.1152/ajpregu.1999.277.5.r1385

Buxeraud J, Faure S (2016) Beta lactam antibiotics. Actual Pharm 55(558S):1–5. https://doi.org/10.1016/j.actpha.2016.06.001

Chanda A, Rajkonwar N, Bin Masood K, Singh J, Shukla P (2020) Study of bio-polymer derived graphene oxide-ZnO nano-composite thin films. In: Third Int. Conf. Condens. Matter Appl. Phys., vol 2220, May, p 020070. https://doi.org/10.1063/5.0001315.

Durmus Z, Kurt BZ, Durmus A (2019) Synthesis and characterization of graphene oxide/zinc oxide (GO/ZnO) nanocomposite and its utilization for photocatalytic degradation of basic Fuchsin Dye. Chem Sel 4(1):271–278. https://doi.org/10.1002/slct.201803635

Haan TY, AdilahRosnan N, Mohammad AW (2018) Synthesis and characterization of ZnO-decorated GO nanocomposite material with different ZnO loading through sol-gel method. J Kejuruter 30(2):249–255. https://doi.org/10.17576/jkukm-2018-30(2)-15

Haider A, Ijaz M, Imran M, Naz M, Majeed H, Khan J, Ali M, Ikram M (2019) Enhanced bactericidal action and dye degradation of spicy roots' extract-incorporated fine-tuned metal oxide nanoparticles. Appl Nanosci 10:1095–1104

Haider A, Ijaz M, Ali S, Haider J, Imran M, Majeed H, Shahzadi I, Ali MM, Khan JA, Ikram M (2020) Green synthesized phytochemically (Zingiber officinale and Allium sativum) reduced nickel oxide nanoparticles confirmed bactericidal and catalytic potential. Nanoscale Res Lett 15(1):1–11

Han W et al (2014) Synthesis of CdS/ZnO/graphene composite with high-efficiency photoelectrochemical activities under solar radiation. Appl Surf Sci 299:12–18. https://doi.org/10.1016/j.apsusc.2014.01.170

Hashim N et al (2016) A brief review on recent graphene oxide-based material nanocomposites: synthesis and applications. J Mater Environ Sci 7(9):3225–3243

Higgins DL et al (2005) Telavancin, a multifunctional lipoglycopeptide, disrupts both cell wall synthesis and cell membrane integrity in methicillin-resistant Staphylococcus aureus. Antimicrob Agents Chemother 49(3):1127–1134. https://doi.org/10.1128/AAC.49.3.1127-1134.2005

Hong D et al (2018) Construction of a Pt-modified chestnut-shell-like ZnO photocatalyst for high-efficiency photochemical water splitting. Electrochim Acta 283:959–969. https://doi.org/10.1016/j.electacta.2018.05.051

Ikram M, Tabassum R, Qumar U, Ali S, Ul-Hamid A, Haider A, Raza A, Imran M, Ali S (2020) Promising performance of chemically exfoliated Zr-doped MoS2 nanosheets for catalytic and antibacterial applications. RSC Adv 10:20559–20571. https://doi.org/10.1039/d0ra02458a

Ikram M, Inayat T, Haider A, Ul-Hamid A, Haider J, Nabgan W, Saeed A, Shahbaz A, Hayat S, Ul-Ain K, Butt AR (2021) Graphene oxide-doped MgO nanostructures for highly efficient dye degradation and bactericidal action. Nanoscale Res Lett 16(1):1–11

Kant R (2012) Textile dyeing industry an environmental hazard. Nat Sci 04(01):22–26. https://doi.org/10.4236/ns.2012.41004

Kavitha MK, Pillai SC, Gopinath P, John H (2015) Hydrothermal synthesis of ZnO decorated reduced graphene oxide: understanding the mechanism of photocatalysis. J Environ Chem Eng 3(2):1194–1199. https://doi.org/10.1016/j.jece.2015.04.013

Khan SA, Shahid S, Kanwal S, Rizwan K, Mahmood T, Ayub K (2019a) Synthesis of novel metal complexes of 2-((phenyl (2-(4-sulfophenyl) hydrazono) methyl) diazenyl) benzoic acid formazan dyes: characterization, antimicrobial and optical properties studies on leather. J Mol Struct 1175:73–89. https://doi.org/10.1016/j.molstruc.2018.07.081

Khan SA et al (2019b) Synthesis of TiO2/graphene oxide nanocomposites for their enhanced photocatalytic activity against methylene blue dye and ciprofloxacin. Compos B Eng 175:107120

Kumar S, Kaushik RD, Upadhyay GK, Purohit LP (2021) rGO-ZnO nanocomposites as efficient photocatalyst for degradation of 4-BP and DEP using high temperature refluxing method in in-situ condition. J Hazard Mater 406:124300. https://doi.org/10.1016/j.jhazmat.2020.124300

Lim D, Strynadka NCJ (2002) Structural basis for the β-lactam resistance of PBP2a from methicillin-resistant Staphylococcus aureus. Nat Struct Biol 9(11):870–876. https://doi.org/10.1038/nsb858

Lin Y, Hong R, Chen H, Zhang D, Xu J (2020) Green synthesis of ZnO-GO composites for the photocatalytic degradation of methylene blue. J Nanomater 2020:4147357. https://doi.org/10.1155/2020/4147357

Lu J et al (2014) Structures of kibdelomycin bound to Staphylococcus aureus GyrB and ParE showed a novel U-shaped binding mode. ACS Chem Biol 9(9):2023–2031. https://doi.org/10.1021/cb5001197

Madhusudhana Reddy M et al (2017) Synthesis of zinc oxide and carbon nanotube composites by CVD method: photocatalytic studies. J Porous Mater 24(1):149–156. https://doi.org/10.1007/s10934-016-0247-3

Moharram AH, Mansour SA, Hussein MA, Rashad M (2014) Direct precipitation and characterization of ZnO nanoparticles. J Nanomater 2014:716210. https://doi.org/10.1155/2014/716210

Moorthy SK, Viswanathan C, Ponpandian N (2017) Facile approach for synthesis of GO/ZnO nanocomposite for highly efficient photocatalytic degradation of organic dyes under visible light. Nano Hybrids Compos 17:121–126. https://doi.org/10.4028/www.scientific.net/nhc.17.121

Mullis MM, Rambo IM, Baker BJ, Reese BK (2019) Diversity, ecology, and prevalence of antimicrobials in nature. Front Microbiol 10:2518. https://doi.org/10.3389/fmicb.2019.02518

Mututu V, Sunitha AK, Thomas R, Pandey M, Manoj B (2019) An investigation on structural, electrical and optical properties of GO/ZnO nanocomposite. Int J Electrochem Sci 14(4):3752–3763. https://doi.org/10.20964/2019.04.49

Nagamine S, Inohara K (2018) Photocatalytic microreactor using anodized TiO2 nanotube array. Adv Powder Technol 29(12):3100–3106. https://doi.org/10.1016/j.apt.2018.08.013

Nagaraj E, Shanmugam P, Karuppannan K, Chinnasamy T, Venugopal S (2020) The biosynthesis of a graphene oxide-based zinc oxide nanocomposite using: Dalbergia latifolia leaf extract and its biological applications. New J Chem 44(5):2166–2179. https://doi.org/10.1039/c9nj04961d

Nazari A (2019) Preparation of electroconductive, antibacterial, photoactive cotton fabric through green synthesis of ZnO/reduced graphene oxide nanocomposite. Fibers Polym 20(12):2618–2624. https://doi.org/10.1007/s12221-019-9180-9

Panchaud P et al (2017) Discovery and optimization of isoquinoline ethyl ureas as antibacterial agents. J Med Chem 60(9):3755–3775. https://doi.org/10.1021/acs.jmedchem.6b01834

Pradhan P, Alonso JC, Bizarro M (2012) Photocatalytic performance of ZnO: Al films under different light sources. Int J Photoenergy 2012:780462. https://doi.org/10.1155/2012/780462

Prema D et al (2019) Mechanism of inhibition of graphene oxide/zinc oxide nanocomposite against wound infection causing pathogens. Appl Nanosci 10(3):827–849. https://doi.org/10.1007/s13204-019-01152-9

Pruna A, Wu Z, Zapien JA, Li YY, Ruotolo A (2018) Enhanced photocatalytic performance of ZnO nanostructures by electrochemical hybridization with graphene oxide. Appl Surf Sci 441:936–944. https://doi.org/10.1016/j.apsusc.2018.02.117

Punithavathy IK, Richard JP, Jeyakumar SJ, Jothibas M, Praveen P (2017) Photodegradation of methyl violet dye using ZnO nanorods. J Mater Sci Mater Electron 28(3):2494–2501. https://doi.org/10.1007/s10854-016-5823-4

Raizada P, Shandilya P, Singh P, Thakur P (2017a) Solar light-facilitated oxytetracycline removal from the aqueous phase utilizing a H2O2/ZnWO4/CaO catalytic system. J Taibah Univ Sci 11(5):689–699. https://doi.org/10.1016/j.jtusci.2016.06.004

Raizada P, Kumari J, Shandilya P, Dhiman R, Pratap Singh V, Singh P (2017b) Magnetically retrievable Bi2WO6/Fe3O4 immobilized on graphene sand composite for investigation of photocatalytic mineralization of oxytetracycline and ampicillin. Process Saf Environ Prot 106:104–116. https://doi.org/10.1016/j.psep.2016.12.012

Raizada P, Sudhaik A, Singh P (2019) Photocatalytic water decontamination using graphene and ZnO coupled photocatalysts: a review. Mater Sci Energy Technol 2(3):509–525. https://doi.org/10.1016/j.mset.2019.04.007

Rajan PI, Vijaya JJ, Jesudoss S, Kaviyarasu K, Kennedy LJ, Jothiramalingam R, Al-Lohedan HA, Vaali-Mohammed M-A (2017) Green-fuel-mediated synthesis of self-assembled NiO nano-sticks for dual applications—photocatalytic activity on Rose Bengal dye and antimicrobial action on bacterial strains. Mater Res Express 4(8):085030

Shaikh S, Fatima J, Shakil S, Rizvi SMD, Kamal MA (2015) Antibiotic resistance and extended spectrum beta-lactamases: types, epidemiology and treatment. Saudi J Biol Sci 22(1):90–101. https://doi.org/10.1016/j.sjbs.2014.08.002

Siripireddy B, Mandal BK (2017) Facile green synthesis of zinc oxide nanoparticles by Eucalyptus globulus and their photocatalytic and antioxidant activity. Adv Powder Technol 28(3):785–797. https://doi.org/10.1016/j.apt.2016.11.026

Soignard E, Machon D, McMillan PF, Dong J, Xu B, Leinenweber K (2005) Spinel-structured gallium oxynitride (Ga3O3N) synthesis and characterization: an experimental and theoretical study. Chem Mater 17(22):5465–5472. https://doi.org/10.1021/cm051224p

Suresh K, Yusoff F (2020) Thermal stability and porosity of reduced graphene oxide/zinc oxide nanoparticles and their capacity as a potential oxygen reduction electrocatalyst. Malaysian J Anal Sci 24(3):405–412

Trinh LT, Quynh LAB, Hieu NH (2018) Synthesis of zinc oxide/graphene oxide nanocomposite material for antibacterial application. Int J Nanotechnol 15:108–117

Toporovska L et al (2020) Zinc oxide: reduced graphene oxide nanocomposite film for heterogeneous photocatalysis. Opt Quantum Electron 52(1):1–12. https://doi.org/10.1007/s11082-019-2132-1

Víctor-Román S et al (2020) Controlling the surface chemistry of graphene oxide: key towards efficient ZnO-GO photocatalysts. Catal Today 357:350–360. https://doi.org/10.1016/j.cattod.2019.05.049

Wang Z, Wu A, Ciacchi LC, Wei G (2018) Recent advances in nanoporous membranes for water purification. Nanomaterials 8(2):65. https://doi.org/10.3390/nano8020065

Zarrabi M, Haghighi M, Alizadeh R (2018) Sonoprecipitation dispersion of ZnO nanoparticles over graphene oxide used in photocatalytic degradation of methylene blue in aqueous solution: influence of irradiation time and power. Ultrason Sonochem 48:370–382. https://doi.org/10.1016/j.ultsonch.2018.05.034

Zhang LL et al (2012) Highly conductive and porous activated reduced graphene oxide films for high-power supercapacitors. Nano Lett 12(4):1806–1812. https://doi.org/10.1021/nl203903z

Zhang X et al (2015) Carbon-doped ZnO nanostructures: facile synthesis and visible light photocatalytic applications. J Phys Chem C 119(35):20544–20554. https://doi.org/10.1021/acs.jpcc.5b07116
Acknowledgements
Authors are thankful to HEC, Pakistan through project 21-1669/SRGP/R&D/HEC/2017. We are extremely appreciative of the support offered by the Core Research Facilities at KFUPM in Dhahran, Saudi Arabia.
Ethics declarations
Conflict of interest
Authors confirm no conflict of interest.
Additional information
Publisher's Note
Springer Nature remains neutral with regard to jurisdictional claims in published maps and institutional affiliations.
Supplementary Information
Below is the link to the electronic supplementary material.
About this article
Cite this article
Shaheen, S., Iqbal, A., Ikram, M. et al. Graphene oxide-ZnO nanorods for efficient dye degradation, antibacterial and in-silico analysis. Appl Nanosci 12, 165–177 (2022). https://doi.org/10.1007/s13204-021-02251-2
Received:

Accepted:

Published:

Issue Date:

DOI: https://doi.org/10.1007/s13204-021-02251-2
Keywords