Abstract
Hydroxycoumarins and their based conjugates revealed a wide-ranged biological activity providing potential scaffolds to serve better in therapy. This work aims to synthesize six new azo-coumarinic conjugates termed SY1-SY6 and investigate their potentials as antitumor and antibacterial applicants. The synthesis of these conjugates started from cantabiline, which was employed as a synthetic precursor and comparable agent in the biological assessment. The antitumor activity of the conjugates was investigated versus four tumor-cell lines by applying an MTT-based assay; these cell-lines included KYSE-30, MCF-7, HeLa, and SK-OV-3. The antibacterial activity was evaluated versus four standard bacterial strains using a broth-dilution technique; these strains were Klebsiella pneumonia, Salmonella typhi, Shigella dysenteriae, and Escherichia coli. The spectral data acquired from various spectrophotometers were confirmed the chemical structures of the synthesized conjugates. The biological investigation exhibited that the conjugates have moderate-to-good antitumor and antibacterial activities. Also, the substituent on the inserted aromatic component of the azo bond exerts a notable influence on the investigated activities. When this substituent has an electron-withdrawing character, the activity shifted toward the antitumor than antibacterial effect. This shifting was reversed in the case of electron-donation substituents. The authors concluded that the utilization of these two findings may result in the construction of new conjugates with an activity directed toward fighting cancer or bacterial infections by modulating the nature of the substituted group.
Access options
Buy single article
Instant access to the full article PDF.
USD 39.95
Price excludes VAT (USA)
Tax calculation will be finalised during checkout.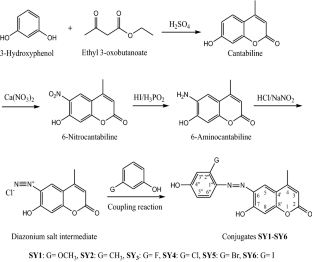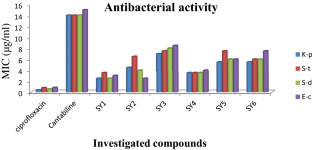 References
Alhayani B, Abdallah AA (2020) Manufacturing intelligent Corvus corone module for a secured two way image transmission under WSN. Eng Comput. https://doi.org/10.1108/EC-02-2020-0107 (ahead-of-print)

Alhayani B, Ilhan H (2020a) Efficient cooperative image transmission in one-way multi-hop sensor network. Int J Electr Eng Educ 57(4):321–339

Alhayani B, Ilhan H (2020b) Visual sensor intelligent module based image transmission in industrial manufacturing for monitoring and manipulation problems. J Intell Manuf 4:1–14

Annunziata F, Pinna C, Dallavalle S, Tamborini L, Pinto A (2020) An overview of coumarin as a versatile and readily accessible scaffold with broad-ranging biological activities. Int J Mol Sci 21(13):1–83. https://doi.org/10.3390/ijms21134618

Bashir MK, Mustafa YF, Oglah MK (2020) Synthesis and antitumor activity of new multifunctional coumarins. Period Tche Quim 17(36):871–883

Chaudhari HK, Pahelkar A, Takale BS (2017) Preparative-scale synthesis of amino coumarins through new sequential nitration and reduction protocol. Tetrahedron Lett 58(43):4107–4110. https://doi.org/10.1016/j.tetlet.2017.09.040

Engdahl AJ, Torres EA, Lock SE, Engdahl TB, Mertz PS, Streu CN (2015) Synthesis, characterization, and bioactivity of the photoisomerizable tubulin polymerization inhibitor azo-combretastatin A4. Org Lett 17(18):4546–4549. https://doi.org/10.1021/acs.orglett.5b02262

Hussien FA, Keshe M, Alzobar K, Merza J, Karam A (2016) Synthesis and nitration of 7-hydroxy-4-methyl coumarin via Pechmann condensation using eco-friendly medias. Int Lett Chem Phys Astron 69:66–73. doi:10.18052/ https://doi.org/www.scipress.com/ILCPA.69.66

Khalil RR, Mustafa YF (2020) Phytochemical, antioxidant and antitumor studies of coumarins extracted from Granny Smith apple seeds by different methods. Syst Rev Pharm 11(2):57–63. https://doi.org/10.5530/srp.2020.2.10

Kosikowska U, Wujec M, Trotsko N, Płonka W, Paneth P, Paneth A (2020) Antibacterial activity of fluorobenzoylthiosemicarbazides and their cyclic analogues with 1,2,4-triazole scaffold. Molecules 26(1):1–18. https://doi.org/10.3390/molecules26010170

Mahmood AAJ, Mustafa YF, Abdulstaar M (2014) New coumarinic azo-derivatives of metoclopramide and diphenhydramine: synthesis and in vitro testing for cholinesterase inhibitory effect and protection ability against chlorpyrifos. Int Med J Malays 13(1):3–12

Mohammed ET, Mustafa YF (2020) Coumarins from red delicious apple seeds: extraction, phytochemical analysis, and evaluation as antimicrobial agents. Syst Rev Pharm 11(2):64–70. https://doi.org/10.5530/srp.2020.2.11

Molchanova N, Nielsen JE, Sørensen KB, Prabhala BK, Hansen PR, Lund R, Barron AE, Jenssen H (2020) Halogenation as a tool to tune antimicrobial activity of peptoids. Sci Rep 10(1):1–10. https://doi.org/10.1038/s41598-020-71771-8

Mustafa YF (2019) Synthesis, characterization and preliminary cytotoxic study of sinapic acid and its analogues. J Glob Pharma Technol 11(9):1–10

Mustafa YF, Abdulaziz NT (2020) Biological potentials of hymecromone-based derivatives: a systematic review. Syst Rev Pharm 11(11):438–452. https://doi.org/10.31838/srp.2020.11.65

Mustafa YF, Mohammed ET, Khalil RR (2020) Antioxidant and antitumor activities of methanolic extracts obtained from red delicious and Granny Smith apples' seeds. Syst Rev Pharm 11(4):570–576. https://doi.org/10.31838/srp.2020.4.84

Oglah MK, Mustafa YF (2020) Synthesis, antioxidant, and preliminary antitumor activities of new curcumin analogues. J Glob Pharma Technol 12(2):854–862

Oglah MK, Bashir MK, Mustafa YF, Mohammed ET, Khalil RR, Mustafa YF (2020a) Synthesis and biological activities of 3,5-disubstituted-4-hydroxycinnamic acids linked to a functionalized coumarin. Syst Rev Pharm 11(6):717–725. https://doi.org/10.31838/srp.2020.6.106

Oglah MK, Mustafa YF, Bashir MK, Jasim MH (2020b) Curcumin and its derivatives: a review of their biological activities. Syst Rev Pharm 11(3):472–481. https://doi.org/10.5530/srp.2020.3.60

Prestinaci F, Pezzotti P, Pantosti A (2015) Antimicrobial resistance: a global multifaceted phenomenon. Pathog Glob Health 109(7):309–318. https://doi.org/10.1179/2047773215Y.0000000030

Rizk HF, Ibrahim SA, El-Borai MA (2015) Synthesis, fastness properties, color assessment and antimicrobial activity of some azo reactive dyes having pyrazole moiety. Dyes Pigments 112(1):86–92. https://doi.org/10.1016/j.dyepig.2014.06.026

Sahoo J, Kumar Mekap S, Sudhir Kumar P (2015) Synthesis, spectral characterization of some new 3-heteroaryl azo 4-hydroxy coumarin derivatives and their antimicrobial evaluation. J Taibah Univ Sci 9(2):187–195. https://doi.org/10.1016/j.jtusci.2014.08.001

Shinada NK, De Brevern AG, Schmidtke P (2019) Halogens in protein-ligand binding mechanism: a structural perspective. J Med Chem 62(21):9341–9356. https://doi.org/10.1021/acs.jmedchem.8b01453

Shridhar AH, Keshavayya J, Peethambar SK, Joy Hoskeri H (2016) Synthesis and biological activities of Bis alkyl 1,3,4-oxadiazole incorporated azo dye derivatives. Arab J Chem 9:S1643–S1648. https://doi.org/10.1016/j.arabjc.2012.04.018

Stefanachi A, Leonetti F, Pisani L, Catto M, Carotti A (2018) Coumarin: a natural, privileged and versatile scaffold for bioactive compounds. Molecules. https://doi.org/10.3390/molecules23020250

Su R, Lü L, Zheng S, Jin Y, An S (2015) Synthesis and characterization of novel azo-containing or azoxy-containing Schiff bases and their antiproliferative and cytotoxic activities. Chem Res Chin Univ 31(1):60–64. https://doi.org/10.1007/s40242-015-4355-4

Timothy CJ, Kogularamanan S, Stephen JL (2016) The next generation of platinum drugs: targeted Pt(II) agents, nanoparticle delivery, and Pt(IV) prodrugs timothy. Chem Rev 116(5):3436–3486. https://doi.org/10.1021/acs.chemrev.5b00597.The

Wakamatsu K, Tanaka H, Tabuchi K, Ojika M, Zucca FA, Zecca L, Ito S (2014) Reduction of the nitro group to amine by hydroiodic acid to synthesize o-aminophenol derivatives as putative degradative markers of neuromelanin. Molecules 14(1):8039–8050. https://doi.org/10.3390/molecules19068039
Funding
This study was self-funded.
Ethics declarations
Conflict of interest
All authors declare that they have no conflict of interest.
Additional information
Publisher's Note
Springer Nature remains neutral with regard to jurisdictional claims in published maps and institutional affiliations.
About this article
Cite this article
Mustafa, Y.F., Kasim, S.M., Al-Dabbagh, B.M. et al. Synthesis, characterization and biological evaluation of new azo-coumarinic derivatives. Appl Nanosci 13, 1095–1102 (2023). https://doi.org/10.1007/s13204-021-01873-w
Received:

Accepted:

Published:

Issue Date:

DOI: https://doi.org/10.1007/s13204-021-01873-w
Keywords
Coumarin

Cantabiline

Azo conjugates

Antibacterial

Antitumor