Abstract
A preliminary phytochemical screening of the EtOH extract of the Pithecellobium dulce fruit peel showed the presence of alkaloids, glycosides, flavonoids, steroids, tannins, saponin and polyphenols. Notable amounts of phenolics and flavonoids were observed in the fruit peel extract. P. dulce fruit feel extract could potentially prevent the ROS damage and oxidative stress. The crude extract displayed higher DPPH (92.44%) and ABTS (94.51%) radical-scavenging activities. The GC–MS analysis of fruit peel extract revealed the presence of 36 bioactive compounds with pinitol, L-Rhamnose and 1, 5-anhydro-6-deoxyhexo-2, 3-diulose being the dominant compound and these might be responsible for the maximum radical-scavenging activities. Among these bioactive compounds, Pinitol was explored with the best drug-likeness properties with suitable pharmacokinetic properties. Docking and dynamics studies of GRP78-pinitol complex showed the minimized binding affinity (−6.8 kcal/mol) and exhibited the stable binding mode. The present results showed that the three lead compounds of P. dulce may act as noble inhibitors for GRP78 and the compounds can be re-designed and synthesized for potential anticancer activity.
Access options
Buy single article
Instant access to the full article PDF.
US$ 39.95
Tax calculation will be finalised during checkout.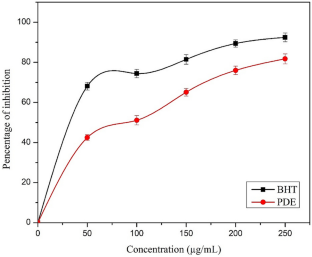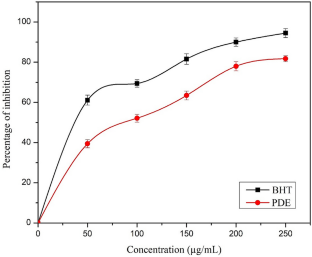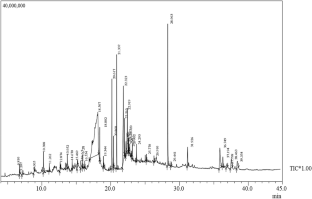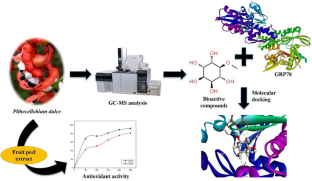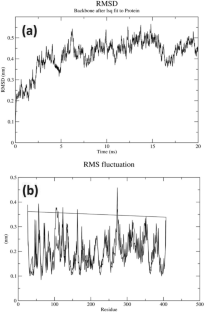 References
Alamgir ANM (2018) Therapeutic use of medicinal plants and their extracts:, vol 2. ANM Alamgir Google Books

Aathmanathan VS, Jothi N, Prajapati VK (2018) Investigation of immunogenic properties of Hemolin from silkworm Bombyx mori as carrier protein: an immunoinformatic approach. Sci Rep. https://doi.org/10.1038/s41598-018-25374-z

Abraham MJ, Murtola T, Schulz R, Páll S, Smith JC, Hess B, Lindah E (2015) Gromacs: high performance molecular simulations through multi-level parallelism from laptops to supercomputers. SoftwareX 1–2:19–25. https://doi.org/10.1016/j.softx.2015.06.001

Al-Hashimi AA, Lebeau P, Majeed F, Polena E, Lhotak Š, Collins CAF, Pinthus JH, Gonzalez-Gronow M, Hoogenes J, Pizzo SV, Crowther M, Kapoor A, Rak J, Gyulay G, D'Angelo S, Marchiò S, Pasqualini R, Arap W, Shayegan B, Austin RC (2017) Autoantibodies against the cell surface-associated chaperone GRP78 stimulate tumor growth via tissue factor. J Biol Chem 292:21180–21192. https://doi.org/10.1074/jbc.M117.799908

Ara A, Saleh-E-In MM, Hashem MA, Ahmad M, Hasan CM (2019) Phytoconstituents of Adenanthera pavonina Linn from the bark extracts. Beni-Suef Univ J Basic Appl Sci. https://doi.org/10.1186/s43088-019-0013-0

Araujo N, Hebbar N, Rangnekar VM (2018) GRP78 is a targetable receptor on cancer and stromal cells. EBio Med 33:2–3. https://doi.org/10.1016/j.ebiom.2018.06.030

Ataollahi M, Sedighi S, Masoumi SZ (2014) Nutritional and unhealthy behaviors in women with and without breast cancer. Iran Red Crescent Med J. https://doi.org/10.5812/ircmj.19684

Babjuk M, Böhle A, Burger M, Capoun O, Cohen D, Compérat EM, Hernández V, Kaasinen E, Palou J, Rouprêt M, van Rhijn BWG, Shariat SF, Soukup V, Sylvester RJ, Zigeuner R (2017) EAU guidelines on non–muscle-invasive urothelial carcinoma of the bladder: update 2016. Eur Urol 71:447–461. https://doi.org/10.1016/j.eururo.2016.05.041

Beserra FP, Vieira AJ, Gushiken LFS, de Souza EO, Hussni MF, Hussni CA, Nóbrega RH, Martinez ERM, Jackson CJ, de Azevedo Maia GL, Rozza AL, Pellizzon CH (2019) Lupeol, a dietary triterpene, enhances wound healing in streptozotocin-induced hyperglycemic rats with modulatory effects on inflammation, oxidative stress, and angiogenesis. Oxid Med Cell Longev. https://doi.org/10.1155/2019/3182627

Bray F, Ferlay J, Soerjomataram I, Siegel RL, Torre LA, Jemal A (2018) Global cancer statistics 2018: GLOBOCAN estimates of incidence and mortality worldwide for 36 cancers in 185 countries. CA Cancer J Clin 68:394–424. https://doi.org/10.3322/caac.21492

Carta G, Murru E, Banni S, Manca C (2017) Palmitic acid: physiological role, metabolism and nutritional implications. Front Physiol 8:1–14. https://doi.org/10.3389/fphys.2017.00902

Chokshi M, Patil B, Khanna R, Neogi SB, Sharma J, Paul VK, Zodpey S (2016) Health systems in India. J Perinatol 36:S9–S12. https://doi.org/10.1038/jp.2016.184

Cortes J, Perez-García JM, Llombart-Cussac A, Curigliano G, El Saghir NS, Cardoso F, Barrios CH, Wagle S, Roman J, Harbeck N, Eniu A, Kaufman PA, Tabernero J, García-Estévez L, Schmid P, Arribas J (2020) Enhancing global access to cancer medicines. Cancer J Clin 70:105–124. https://doi.org/10.3322/caac.21597

Dhanisha SS, Drishya S, Guruvayoorappan C (2020) Pithecellobium dulce fruit extract mitigates cyclophosphamide-mediated toxicity by regulating proinflammatory cytokines. J Food Biochem 44:1–15. https://doi.org/10.1111/jfbc.13083

Ertl P, Rohde B, Selzer P (2000) Fast calculation of molecular polar surface area as a sum of fragment-based contributions and its application to the prediction of drug transport properties. J Med Chem 43:3714–3717. https://doi.org/10.1021/jm000942e

Ezeonu CS, Ejikeme CM (2016) Qualitative and quantitative determination of phytochemical contents of indigenous nigerian softwoods. New J Sci 2016:5601327. https://doi.org/10.1155/2016/5601327

Sukantha TA, Subashini KS, Ravindran NT, Balashanmugam P (2011) Evaluation of in vitro antioxidant and antibacterial activity of Pithecellobium dulce Benth fruit peel. Int J Curr Res 3(11):378–382

Garcia-Oliveira P, Otero P, Pereira AG, Chamorro F, Carpena M, Echave J, Fraga-Corral M, Simal-Gandara J, Prieto MA (2021) Status and challenges of plant-anticancer compounds in cancer treatment. Pharmaceuticals 14:157. https://doi.org/10.3390/ph14020157

Gelband H, Sankaranarayanan R, Gauvreau CL, Horton S, Anderson BO, Bray F, Cleary J, Dare AJ, Denny L, Gospodarowicz MK, Gupta S, Howard SC, Jaffray DA, Knaul F, Levin C, Rabeneck L, Rajaraman P, Sullivan T, Trimble EL, Jha P (2016) Costs, affordability, and feasibility of an essential package of cancer control interventions in low-income and middle-income countries: key messages from disease control priorities. Lancet 387:2133–2144. https://doi.org/10.1016/S0140-6736(15)00755-2

Gopal U, Pizzo SV (2018) The endoplasmic reticulum chaperone grp78 also functions as a cell surface signaling receptor, cell surface GRP78, a new paradigm in signal transduction biology. Elsevier Inc

Gupta N, Khatoon N, Mishra A, Verma VK, Prajapati VK (2019) Structural vaccinology approach to investigate the virulent and secretory proteins of Bacillus anthracis for devising anthrax next-generation vaccine. J Biomol Struct Dyn. https://doi.org/10.1080/07391102.2019.1688197

Hassanpour SH, Dehghani M (2017) Review of cancer from perspective of molecular. J Cancer Res Pract 4:127–129. https://doi.org/10.1016/j.jcrpr.2017.07.001

Hosseinzadeh S, Jafarikukhdan A, Hosseini A, Armand R (2015) The application of medicinal plants in traditional and modern medicine: a review of <i>Thymus vulgaris</i>. Int J Clin Med 06:635–642. https://doi.org/10.4236/ijcm.2015.69084

Ibrahim IM, Abdelmalek DH, Elfiky AA (2019) GRP78: a cell's response to stress. Life Sci 226:156–163. https://doi.org/10.1016/j.lfs.2019.04.022

Ingole SP, Kakde AU, Bonde PB (2016) A Review on statistics of cancer in India. IOSR J Environ Sci 10:107–116. https://doi.org/10.9790/2402-100701107116

Jamakhandi KVK (2018) Medicinal uses of Pithecellobium dulce and its health benefits. J Pharmacogn Phytochem 7:700–704

Jamshidi-Kia F, Lorigooini Z, Amini-Khoei H (2018) Medicinal plants: past history and future perspective. J HerbMed Pharmacol 7:1–7. https://doi.org/10.15171/jhp.2018.01

Korbecki J, Bajdak-Rusinek K (2019) The effect of palmitic acid on inflammatory response in macrophages: an overview of molecular mechanisms. Inflamm Res 68:915–932. https://doi.org/10.1007/s00011-019-01273-5

Krishnan BR, Selvakumar MRM, Sasikumar SKA, Geerthi DV (2020) A facile green approach of cone—like ZnO NSs synthesized via Jatropha gossypifolia leaves extract for photocatalytic and biological activity. J Inorg Organomet Polym Mater. https://doi.org/10.1007/s10904-020-01576-9

Kumar LD, Prathiviraj R, Selvakumar M, Guna R, Abbirami E, Sivasudha T (2020) HRLC-ESI-MS based identification of active small molecules from Cissus quadrangularis and likelihood of their action towards the primary targets of osteoarthritis. J Mol Struct 1199:127048. https://doi.org/10.1016/j.molstruc.2019.127048

Louessard M, Bardou I, Lemarchand E, Thiebaut AM, Parcq J, Leprince J, Terrisse A, Carraro V, Fafournoux P, Bruhat A, Orset C, Vivien D, Ali C, Roussel BD (2017) Activation of cell surface GRP78 decreases endoplasmic reticulum stress and neuronal death. Cell Death Differ 24:1518–1529. https://doi.org/10.1038/cdd.2017.35

Malinowska M, Miroslaw B, Sikora E, Ogonowski J, Wojtkiewicz AM, Szaleniec M, Pasikowska-Piwko M, Eris I (2019) New lupeol esters as active substances in the treatment of skin damage. PLoS ONE 14:1–15. https://doi.org/10.1371/journal.pone.0214216

Megala J, Geetha A (2010) Free radical-scavenging and H+, K+-ATPase inhibition activities of Pithecellobium dulce. Food Chem 121:1120–1128. https://doi.org/10.1016/j.foodchem.2010.01.059

Misra UK, Pizzo SV (2015) Activated α2-macroglobulin binding to human prostate cancer cells triggers insulin-like responses. J Biol Chem 290:9571–9587. https://doi.org/10.1074/jbc.M114.617837

Murugesan S, Kumar Lakshmanan D, Arumugam V, Alexander RA (2019) Nutritional and therapeutic benefits of medicinal plant Pithecellobium dulce (Fabaceae): a review article info. J Appl Pharm Sci 9:130–139. https://doi.org/10.7324/JAPS.2019.90718

Murugesan S, Ravichandran D, Lakshmanan DK, Ravichandran G, Arumugam V, Raju K, Geetha K, Thilagar S (2020a) Evaluation of anti rheumatic activity of Piper betle L. (Betelvine) extract using in silico, in vitro and in vivo approaches. Bioorg Chem. https://doi.org/10.1016/j.bioorg.2020.104227

Murugesan S, Venkateswaran MR, Jayabal S, Periyasamy S (2020b) Evaluation of the antioxidant and anti-arthritic potential of Zingiber officinale Rosc by in vitro and in silico analysis. S Afr J Bot 130:45–53. https://doi.org/10.1016/j.sajb.2019.12.019

Naeim H, El-Hawiet A, Abdel Rahman RA, Hussein A, El Demellawy MA, Embaby AM (2020) Antibacterial activity of Centaurea pumilio L. root and aerial part extracts against some multidrug resistant bacteria. BMC Complement Med Ther 20:1–13. https://doi.org/10.1186/s12906-020-2876-y

Nagmoti DM, Khatri DK, Juvekar PR, Juvekar AR (2012) Antioxidant activity free radical-scavenging potential of Pithecellobium dulce Benth seed extracts. Free Radic Antioxidants 2:37–43. https://doi.org/10.5530/ax.2012.2.2.7

Ojha R, Amaravadi RK (2017) Targeting the unfolded protein response in cancer. Pharmacol Res 120:258–266. https://doi.org/10.1016/j.phrs.2017.04.003

Palanisamy SK, Arumugam V, Ramadoss A, Nachimuthu S (2018) Chemical diversity and anti-proliferative activity of marine algae. Nat Prod Res. https://doi.org/10.1080/14786419.2018.1488701

Pío-León JF, Díaz-Camacho S, Montes-Avila J, López-Angulo G, Delgado-Vargas F (2013) Nutritional and nutraceutical characteristics of white and red Pithecellobium dulce (Roxb.) Benth fruits. Fruits 68:397–408. https://doi.org/10.1051/fruits/2013084

Prasad S (2015) Traditional medicine: the goldmine for modern drugs. Adv Tech Biol Med 03:1–2. https://doi.org/10.4172/2379-1764.1000e108

Rahuman AA, Gopalakrishnan G, Ghouse BS, Arumugam S, Himalayan B (2000) Effect of Feronia limonia on mosquito larvae. Fitoterapia 71:553–555. https://doi.org/10.1016/S0367-326X(00)00164-7

Raiter A, Lipovetzki J, Lubin I, Yerushalmi R (2020) GRP78 expression in peripheral blood mononuclear cells is a new predictive marker for the benefit of taxanes in breast cancer neoadjuvant treatment. BMC Cancer 20:1–10. https://doi.org/10.1186/s12885-020-06835-z

Raut NB, Tiwari UL, Adhikari BS, Rawat GS, Chandola S (2013) Population status of commercially important medicinal plants in Dehradun forest division. Not Sci Biol 5:175–182. https://doi.org/10.15835/nsb528299

Ravi L, Krishnan K (2016) Cytotoxic potential of N-hexadecanoic acid extracted from Kigelia pinnata leaves. Asian J Cell Biol 12:20–27. https://doi.org/10.3923/ajcb.2017.20.27

Ravichandran G, Lakshmanan DK, Murugesan S, Elangovan A, Rajasekaran NS, Thilagar S (2021) Attenuation of protein glycation by functional polyphenolics of dragon fruit (Hylocereus polyrhizus); an in vitro and in silico evaluation. Food Res Int. https://doi.org/10.1016/j.foodres.2020.110081

Sánchez-Hidalgo M, León-González AJ, Gálvez-Peralta M, González-Mauraza NH, Martin-Cordero C (2020) d-Pinitol: a cyclitol with versatile biological and pharmacological activities. Phytochem Rev. https://doi.org/10.1007/s11101-020-09677-6

Schnipper LE, Davidson NE, Wollins DS, Tyne C, Blayney DW, Blum D, Dicker AP, Ganz PA, Hoverman JR, Langdon R, Lyman GH, Meropol NJ, Mulvey T, Newcomer L, Peppercorn J, Polite B, Raghavan D, Rossi G, Saltz L, Schrag D, Smith TJ, Yu PP, Hudis CA, Schilsky RL (2015) American Society of Clinical Oncology statement: a conceptual framework to assess the value of cancer treatment options. J Clin Oncol 33:2563–2577. https://doi.org/10.1200/JCO.2015.61.6706

Sharma M (2016) Selective cytotoxicity and modulation of apoptotic signature of breast cancer cells by Pithecellobium dulce leaf extracts. Biotechnol Prog 32:756–766. https://doi.org/10.1002/btpr.2261

Shimizu F, Schaller KL, Owens GP, Cotleur AC, Kellner D, Takeshita Y, Obermeier B, Kryzer TJ, Sano Y, Kanda T, Lennon VA, Ransohoff RM, Bennett JL (2017) Glucose-regulated protein 78 autoantibody associates with blood-brain barrier disruption in neuromyelitis optica. Sci Transl Med. https://doi.org/10.1126/scitranslmed.aai9111

Tariq A, Sadia S, Pan K, Ullah I, Mussarat S, Sun F, Abiodun OO, Batbaatar A, Li Z, Song D, Xiong Q, Ullah R, Khan S, Basnet BB, Kumar B, Islam R, Adnan M (2017) A systematic review on ethnomedicines of anti-cancer plants. Phyther Res 31:202–264. https://doi.org/10.1002/ptr.5751

Venkateswaran MR, Jayabal S, Murugesan S, Periyasamy S (2019) Identification of polyphenolic contents, in vitro evaluation of antioxidant and antidiabetic potentials of a polyherbal formulation Mehani. Nat Prod Res. https://doi.org/10.1080/14786419.2019.1660978

Venkateswaran M, Jayabal S, Hemaiswarya S, Murugesan S, Enkateswara S, Doble M, Periyasamy S (2021) Polyphenol-rich Indian ginger cultivars ameliorate GLUT4 activity in C2C12 cells, inhibit diabetes-related enzymes and LPS-induced inflammation: an in vitro study. J Food Biochem. https://doi.org/10.1111/jfbc.13600

Wang Z, Liu X, Ho RLKY, Lam CWK, Chow MSS (2016) Precision or personalized medicine for cancer chemotherapy: is there a role for herbal medicine. Molecules 21:1–13. https://doi.org/10.3390/molecules21070889

Wang Y, Hong D, Qian Y, Tu X, Wang K, Yang X, Shao S, Kong X, Lou Z, Jin L (2018) Lupeol inhibits growth and migration in two human colorectal cancer cell lines by suppression of wnt–β-catenin pathway. Onco Targets Ther 11:7987–7999. https://doi.org/10.2147/OTT.S183925

Xia S, Duan W, Liu W, Zhang X, Wang Q (2021) GRP78 in lung cancer. J Transl Med. https://doi.org/10.1186/s12967-021-02786-6

Yang H, Lou C, Sun L, Li J, Cai Y, Li W, Liu G, Tang Y (2018) AdmetSAR 20: web-service for prediction and optimization of chemical ADMET properties. Bioinformatics. https://doi.org/10.1093/bioinformatics/bty707/5085368

Yu Y, Chen C, Huo G, Deng J, Zhao H, Xu R, Jiang L, Chen S, Wang S (2019) ATP1A1 integrates Akt and ERK signaling via potential interaction with Src to promote growth and survival in glioma stem cells. Front Oncol 9:1–11. https://doi.org/10.3389/fonc.2019.00320
Acknowledgements
The authors are thankful to the Anna University for technical assistance.
Ethics declarations
Conflict of interest
The authors declare no conflict of interest.
Additional information
Publisher's Note
Springer Nature remains neutral with regard to jurisdictional claims in published maps and institutional affiliations.
About this article
Cite this article
Selvakumar, M., Palanichamy, P., Arumugam, V. et al. In silico potential of nutraceutical plant of Pithecellobium dulce against GRP78 target protein for breast cancer. Appl Nanosci (2021). https://doi.org/10.1007/s13204-021-01840-5
Received:

Accepted:

Published:
Keywords
Pithecellobium dulce

Pinitol

Anti-cancer

Molecular docking

Dynamic stimulation