Abstract
Graphene (G) and its derivatives are important nanomaterials with potential medical applications for biosensors and implanting biomaterials. The hydrophobicity and surface microstructures of substrates have great influences on the biological and physical properties of the surface-bound cells. In this work, we used the two-beam laser interference (TBLI) technique to prepare a two-dimensional (2-D) grating structure on the surface of graphene oxide (GO) film. We investigated the effect of GO and the GO film with the 2-D grating structure substrates on the growth behavior of rat brain microvascular endothelial (bEnd.3) cells. The results demonstrated that the cell spreading area and the number of surface-bound cells were closely related to the hydrophobicity of the substrate and the presence of oxygen-containing functional groups (OCGs). Due to the interaction of laser and GO, the GO in the interference area was transformed into reduced graphene oxide (RGO). The grating-structured GO film significantly affected the direction of cell spreading and morphology. It has a good application prospect as a scaffold in tissue engineering, and promising applications in the fields that require highly directional growth of cells, such as nerve injury repair, tendon repair and regeneration.
Access options
Buy single article
Instant access to the full article PDF.
US$ 39.95
Tax calculation will be finalised during checkout.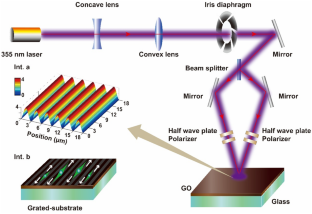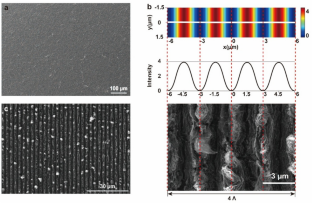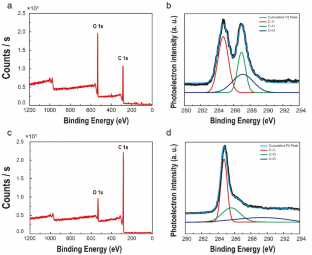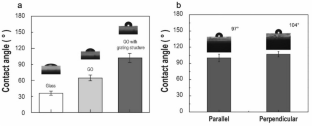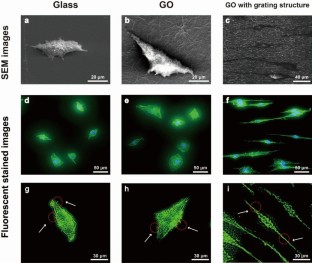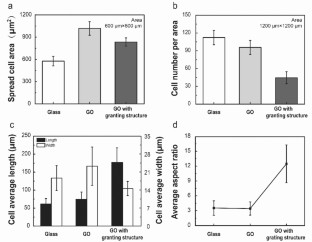 References
Atala A, Kasper FK, Mikos AG (2012) Engineering complex tissues. Sci Transl Med 4:160

Borghi FF, Bean PA, Evans MDM, van der Laan T, Kumar S, Ostrikov K (2018) Nanostructured graphene surfaces promote different stages of bone cell differentiation. Nano-Micro Lett 10:47

Eivazzadeh-Keihan R, Maleki A, de la Guardia M, Bani MS, Chenab KK, Pashazadeh-Panahi P, Baradaran B, Mokhtarzadeh A, Hamblin MR (2019) Carbon based nanomaterials for tissue engineering of bone: Building new bone on small black scaffolds: a review. J Adv Res 18:185–201

Jeong JT, Choi MK, Sim Y, Lim JT, Kim GS, Seong MJ, Hyung JH, Kim KS, Ahmad U, Lee SK (2016) Effect of graphene oxide ratio on the cell adhesion and growth behavior on a graphene oxide-coated silicon substrate. Sci Rep 6:33835

Jiang HB, Zhang YL, Han DD, Xia H, Feng J, Chen QD, Hong ZR, Sun HB (2014) Bioinspired fabrication of superhydrophobic graphene films by two-beam laser interference. Adv Func Mater 24:4595–4602

Ku SH, Park CB (2013) Myoblast differentiation on graphene oxide. Biomaterials 38:2017–2023

Lee WC, Lim CHYX, Shi H, Tang LAL, Wang Y, Lim CT, Loh KP (2011) Origin of enhanced stem cell growth and differentiation on graphene and graphene oxide. ACS Nano 5:7334–7341

Liu X, Miller AL, Park S, George MN (2019) Two-dimensional black phosphorus and graphene oxide nanosheets synergistically enhance cell proliferation and osteogenesis on 3D-printed scaffolds. ACS Appl Mater Interfaces 11:23558–23572

Luo H, Ao H, Peng M, Yao F, Yang Z, Wan Y (2019) Effect of highly dispersed graphene and graphene oxide in 3D nanofibrous bacterial cellulose scaffold on cell responses: a comparative study. Mater Chem Phys 235:121774

Minami K, Kasuya Y, Yamazaki T, Ji Q, Nakanishi W, Hill JP, Sakai H, Ariga K (2015) Highly ordered 1d fullerene crystals for concurrent control of macroscopic cellular orientation and differentiation toward large-scale tissue engineering. Adv Mater 27:4020–4026

Moon JH, Ford J, Yang S (2006) Fabricating three-dimensional polymeric photonic structures by multi-beam interference lithography. Polym Adv Technol 17:83–93

Nie C, Ma L, Li S, Fan X, Yang Y, Cheng C, Zhao W, Zhao C (2019) Recent progresses in graphene based bio-functional nanostructures for advanced biological and cellular interfaces. Nano Today 26:57–97

Panagiotis M, Stavropoulos-Giokas C, Efstathios M (2019) Introduction to the special issue on stem cell and biologic scaffold engineering. Bioengineering 6:72

Pei SF, Cheng HM (2012) The reduction of graphene oxide. Carbon 50:3210–3228

Prasad A, Alizadeh E (2018) Cell form and function: Interpreting and controlling the shape of adherent cells. Trends Biotechnol 37:347–357

Quigley AF, Razal JM, Thompson BC, Moulton SE, Kita M, Kennedy EL, Clark GM, Wallace GG, Kapsa RM (2009) A conducting-polymer platform with biodegradable fibers for stimulation and guidance of axonal growth. Adv Mater 21:4393–4397

Shanmugharaj AM, Yoon JH, Yang WJ, Ryu SH (2013) Synthesis, characterization, and surface wettability properties of amine functionalized graphene oxide films with varying amine chain lengths. J Colloid Interface Sci 401:148–154

Stevens MM, George JH (2015) Exploring and engineering the cell surface interface. Science 310:1135–1138

Sukmana I, Vermette P (2010) Polymer fibers as contact guidance to orient microvascularization in a 3D environment. J Biomed Mater Res Part A 92:1587–1597

Wang LG, Wang LQ, Zhu SY (2009) Formation of optical vortices using coherent laser beam arrays. Opt Commun 282:1088–1094

Wang P, Yu H, Tsai W (2010) Modulation of alignment and differentiation of skeletal myoblasts by submicron ridges/grooves surface structure. Biotechnol Bioeng 106:285–294

Wang G, Wan Y, Ren B, Liu Z (2017) Fabrication of an orderly micro/nanostructure on titanium surface and its effect on cell proliferation. Mater Lett 212:247–250

Wang G, He C, Yang W, Qi F, Qian G, Peng S, Shuai C (2020) Surface-modified graphene oxide with compatible interface enhances poly-l-lactic acid bone scaffold. J Nanomater 2020:1–11

Watari S, Hayashi K, Wood JA, Russell P, Nealey PF, Murphy CJ (2012) Modulation of osteogenic differentiation in h MSCs cells by submicron topographically-patterned ridges and grooves. Biomaterials 33:128–136

Wilkinson CDW, Riehle M, Wood M, Gallagher J, Curtis ASG (2002) The use of materials patterned on a nano-and micro-metric scale in cellular engineering. Mater Sci Eng, C 19:263–269

Wójciak-Stothard B, Curtis A, Monaghan W, McGrath M, Sommer I, Wilkinson C (1995) Role of the cytoskeleton in the reaction of fibroblasts to multiple grooved substrata. Cell Motil Cytoskelet 31:147–158

Xia D, Brueck SRJ (2008) Strongly anisotropic wetting on one-dimensional nanopatterned surfaces. Nano Lett 8:2819–2824

Yang SP, Lee TM, Mater J (2011) The effect of substrate topography on hFOB cell behavior and initial cell adhesion evaluated by a cytodetacher. J Mater Sci Mater Med 22:1027–1036

Zhang X, Nie J, Yang X, Liu Z, Guo W, Qiu J, Wang S, Yu X, Guan Y, Liu H, Li L (2017) Nanostructured molybdenum disulfide biointerface for adhesion and osteogenic differentiation of mesenchymal stem cells. Appl Mater Today 10:164–172

Zhou H, Zhang B, Zheng J, Yu M, Zhou T, Zhao K, Jia Y, Gao X, Chen C, Wei T (2014) The inhibition of migration and invasion of cancer cells by graphene via the impairment of mitochondrial respiration. Biomaterials 35:597–1607
Acknowledgements
This work was supported by National Key R&D Program of China (No. 2017YFE0112100), EU H2020 Program (MNR4SCell No.734174), Jilin Provincial Science and Technology Program (Nos. 20180414002GH, 20180414081GH, 20180520203JH, 20190702002GH, 20190201287JC and 20200901011SF), and "111" Project of China (D17017). It was partly supported by Changli Nano Biotechnology (China).
Ethics declarations
Conflict of interest
The authors declare that there is no conflict of interest.
Additional information
Publisher's Note
Springer Nature remains neutral with regard to jurisdictional claims in published maps and institutional affiliations.
Supplementary Information
Below is the link to the electronic supplementary material.
About this article
Cite this article
Yan, J., Cao, L., Wang, L. et al. Response of bEnd.3 cells to growing behavior on the graphene oxide film with 2-D grating structure by two-beam laser interference. Appl Nanosci 11, 1141–1149 (2021). https://doi.org/10.1007/s13204-021-01701-1
Received:

Accepted:

Published:

Issue Date:
Keywords
Graphene oxide

Two-beam laser interference

Reduced graphene oxide

Oxygen-containing functional groups