Synthesis, optical, photocatalytic, and electrochemical studies on Ag2S/ZnS and ZnS/Ag2S nanocomposites
Open Access
Original Article
Abstract
Novel Ag2S/ZnS and ZnS/Ag2S nanocomposites were synthesized by a simple chemical method in air. Different morphologies were obtained for Ag2S/ZnS nanocomposites annealed at different temperatures. The products were characterized by X-ray diffraction (XRD), scanning electron microscopy (SEM), UV–visible absorption, and photoluminescence (PL) spectroscopy. Thermal stability and phase transition of the sample were studied by TG–DTA. Compared the PL spectra of Ag2S/ZnS at 640 nm, it was significantly red shifted from 640 to 670 nm for reversed ZnS/Ag2S nanocomposites. The band gaps of nanocomposites were lying between 2.25 and 2.55 eV range. It has been found that as-synthesized powder has excellent photocatalytic activity toward degradation of methylene blue (MB) under visible light and electrochemical activity, indicating that Ag2S/ZnS and ZnS/Ag2S nanocomposites can play an important role as semiconductor photocatalyst and energy storage applications.
Keywords
Nanocomposites 
Photoluminescence 
Electrochemical 
Photocatalytic activity 
Thermal analysis 
Introduction
In the past 2 decades, nanostructured semiconductors with various structures and morphologies have received much attention due to their novel applications, intriguing properties, and quantum size effects (Cui and Lieber 2001; Xie et al. 2012; Harrison et al. 1999). It is well known that ZnS is a commercially important II–VI group semiconductor having a wide optical band gap, rendering it as a very attractive material for optical application especially in nanocrystalline form. As an intrinsic semiconductor compound, silver sulfide (Ag2S) possesses a narrow band gap and good chemical stability. In the past few years, Ag2S nanoparticles have attracted much attention due to their potential applications in photoconductors, solar cells, near-infrared photo-detectors (Xiaodong et al. 2008), and so on. The low-temperature phase of bulk silver sulfide is stable up to approximately 177 °C and is usually denoted as α-Ag2S. It is well known that α-Ag2S is a semiconductor with a monoclinic structure (Sadanaga and Sueno 1967) and a band gap of approximately 1 eV at room temperature (Junod et al. 1977).
Recently, attempts have been made to prepare core–shell nanocomposites of both organic and inorganic materials (Murugadoss 2012a, b, 2013). Core–shell nanoparticles often exhibit improved physical and chemical properties over their single-component counterparts, and hence are potentially useful in a broad range of applications. To realize the practical applications of the nanocomposites, it is desirable to develop novel, simple, fast, and low-cost methods for the synthesis of these nanocomposites. The control over nanoparticle size, size distribution, and dispersity is very important for the synthesis of high-performance nanocomposites. Different combinations of metal oxides and metal sulfide have been extensively examined as potential photocatalysts for the degradation of organic dyes (Reddy et al. 2007; Wu and Chern 2006). Heterogeneous photocatalysis is a good method for the decontamination and mineralization of organic pollutants because of its high efficiency, low-energy consumption, and satisfactory environmental compatibility (Su et al. 2008; Žukauskas et al. 2010). In view of this, ZnS and Ag2S with band gap energy of 3.6 and 0.9 eV, respectively, are considered to be good photo-responsive catalysts. Herein, we have synthesized ZnS/Ag2S and Ag2S/ZnS nanocomposites with different morphology such as seeding, spherical, antenna, and rod-like structure by with and without thermal treatment and studied their optical, electrochemical, photocatalytic, and thermal properties.
Materials and method
All chemicals were analytical grade and used as received without further purification. In the whole synthesize process, de-ionized water was used as a solvent. The schematic diagram of the synthesis process is shown in Fig. 
1
. In a typical synthesis of Ag
2
S/ZnS nanocomposites, 50 ml of 0.1 M of sodium sulfide (Na
2
S.xH
2
O) solution was added into 100 ml of 0.1 M silver nitrate (AgNO
3
) solution, which was stirred vigorously at room temperature. After 30-min stirring, 0.5 M of 50 ml zinc acetate (Zn (CH
3
COO)
2
.H
2
O) was added drop-by-drop into the above colloidal solution, which was stirred for 2 h. Then, the collected precipitate was washed with ethanol and acetone for several times to remove the residual component then dried in hot air oven at 120 °C for 2 h. For synthesize of ZnS/Ag
2
S nanocomposites, the above experimental processes was applied in the reverse order.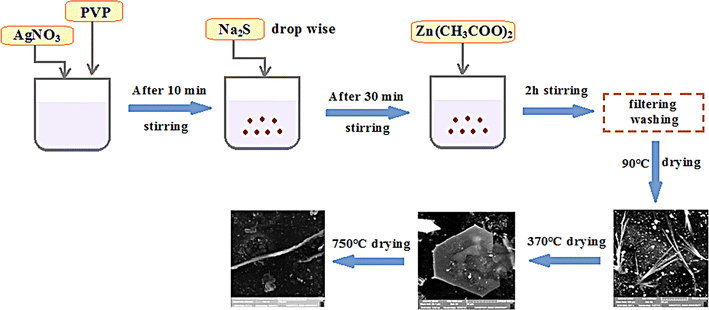 Characterization
The obtained products were characterized by XRD (Rigaku miniFlex IIC diffractometer), SEM (VEGA 3 SEM), UV–visible absorption (1650PC SHIMADZU spectrometer), and photoluminescence (RF-5301PC spectrophotometer) spectra. Thermogravimetric and differential thermal analyses (TG–DTA) were performed using SDT Q600 20.
Photocatalytic properties study
The photocatalytic activities of the Ag2S/ZnS and ZnS/Ag2S nanocomposites were evaluated by degrading methylene blue (MB) in aqueous solution under visible irradiation. Before the reaction, 10 mg photocatalyst was added into 50 mL MB solution (0.01 g/L), and stirred in the dark for 2 h. Then the system was irradiated for 6 h with a 300 W visible lamp with wavelengths of 400–700 nm. Initially, every 5 min, 5 mL solution was taken out of the system and centrifuged at 5000 rpm for 5 min, and the concentration of MB in the supernatants was determined with UV–vis absorption spectroscopy.
Electrochemical study
Electrochemical measurements were performed using CHI 660D Biologic electrochemical workstation. In a typical electrochemical measurement, three-electrode cell system composed of Ag2S/ZnS and ZnS/Ag2S nanocomposites electrode as the working electrode, a platinum wire as the counter electrode, and an Ag/AgCl as the reference electrode were used. The working electrodes were prepared by coating a slurry containing a mixture of the active material (80 wt %), Nafion®117 solution (20 wt %). The coated mesh was dried at 80 °C in vacuum cabinet overnight. The cyclic voltammetry measurements of the nanocomposites were carried out at a scan rate of 10 mVs−1.
Conclusion
Here, we have presented the first comprehensive investigation on growth kinetics, optical, photocatalytic, and thermal properties of water soluble Ag2S/ZnS and ZnS/Ag2S nanostructures. The XRD measurements indicate the formation of nanocomposites with mixed phases. SEM images of nanocomposites signify the possibility of preparing different morphology Ag2S/ZnS. The photocatalytic results showed that the binary hybrid, ZnS/Ag2S nanostructures exhibited an enhanced performance under visible light. First time, high crystal quality of Ag–ZnO nanocomposites was prepared thermally from Ag2S/ZnS nanocomposite and the possible mechanism was also presented. The strong visible light absorption and fast photocatalytic properties of the nanocomposites promise that they may be used as a sensitizer to fabricate an efficient solar cell, energy storage, and photocatalytic applications.
Notes
Acknowledgments
The authors would like to thank the Department of Science and Technology, India for the financial support of this work through Nanomission Research Programme (DST–NST, Project No. JNC/AO/A-0610/(16)/12).
Copyright information
© The Author(s) 2015
Open AccessThis article is distributed under the terms of the Creative Commons Attribution 4.0 International License (http://creativecommons.org/licenses/by/4.0/), which permits unrestricted use, distribution, and reproduction in any medium, provided you give appropriate credit to the original author(s) and the source, provide a link to the Creative Commons license, and indicate if changes were made.