Abstract
Fungal rhizomorphs, largely from the suborder Marasmiineae, are routinely used in the construction of bird nests in tropical and subtropical forests. Fungal rhizomorphs provide structural benefits that include increased tensile strength and water repellence. Additionally, it has been hypothesized that the incorporation of rhizomorphs into nests may provide a means of parasite control through the production of antibiotics or volatiles. However, this hypothesis was not supported when a prior study of rhizomorphs in a tropical dry forest were found to be non-viable. Therefore, in this study, we tested the viability of four species of fungal rhizomorphs from bird nests constructed in a tropical rainforest. Twenty-five different rhizomorphs were harvested from 22 bird nests collected in the Iwokrama Forest in the Guiana Shield. Rhizomorphs were surface sterilized and plated on nutrient media. All rhizomorphs produced hyphae, suggesting they were metabolically active. Of these, ten were isolated in axenic culture and DNA barcoding was used to match cultures and originating rhizomorphs. The results showed that, at least in wet tropical rainforests, bird nest rhizomorphs used for nest construction are viable. This supports the hypothesis that the utilization of rhizomorphs by birds may provide additional benefits, including the production of antimicrobials, but that climatic conditions may influence the viability of these structures.
This is a preview of subscription content,
to check access.
Access this article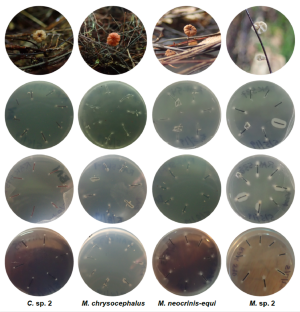 Data Availability
All sequences generated during this study are deposited in the NCBI GenBank, while live cultures are maintained in the laboratory of M. Catherine Aime at Purdue University, and a dried voucher of each species is deposited in the Kriebel Herbarium (PUL), also housed at Purdue University. Living cultures are maintained within the culture collection of the Aime lab and dried cultures are housed in PUL, at Purdue University.
References
Amoako-Attah I, Shahin AS, Aime MC, Odamtten GT, Cornelius E, Nyaku ST, Kumi-Asare E, Yahaya HB, Bailey BA (2020) Identification and characterization of fungi causing thread blight diseases on cacao in Ghana. Plant Dis 104:3033–3042

Anke T, Kupka J, Schramm G, Steglich W (1980) Antibiotics from basidiomycetes. X Scorodonin, a new antibacterial and antifungal metabolite from Marasmius scorodonius (Fr.) Fr.J Antibiot 33: 463–467

Aubrecht G, Huber W, Weissenhofer A (2013) Coincidence or benefit? The use of Marasmius (horse-hair fungus) filaments in bird nests. Avian Biol Res 6:26–30

Bendz G, Wallmark G, Öblom K (1948) The antibiotic agent from Marasmius ramealis. Nature 162:61–62

César E, Bandala VM, Montoya L, Ramos A (2018) A new Gymnopus species with rhizomorphs and its record as nesting material by birds (Tyrannideae) in the subtropical cloud forest from eastern Mexico. MycoKeys 42:21–34

César E, Montoya L, Bandala VM, Ramos A (2020) Three new marasmioid-gymnopoid rhizomorph-forming species from Mexican mountain cloud forest relicts. Mycol Prog 19:1017–1029

Clark L, Mason JR (1985) Use of nest material as insecticidal and anti-pathogenic agents by the European Starling. Oecologia 67:169–176

Dassanayake N, Wanigasundara W, Balasuriya A, Amaratunge M (2009) A field assessment of the factors affecting horse hair blight (Marasmius equicrinis) in tea in the Ratnapura District. J Agric Sci 4:59–66

Dexter KG, Pennington RT, Oliveira-Filho AT, Bueno ML, Silva de Miranda PL, Neves DM (2018) Inserting tropical dry forests into the discussion on biome transitions in the tropics. Front Ecol Evol 6:104

Elliott TF, Jusino MA, Trappe JM, Lepp H, Ballard G-A, Bruhl JJ, Vernes K (2019) A global review of the ecological significance of symbiotic associations between birds and fungi. Fungal Divers 98:161–194

Freymann BP (2008) Physical properties of fungal rhizomorphs of marasmioid basidiomycetes used as nesting material by birds. Ibis 150:395–399

Garraway MO, Hütterman A, Wargo PM (1991) Ontogeny and physiology. In: Shaw CG, Kile GA (eds) Armillaria Root Disease. Agriculture Handbook 691. USDA Forest Service, Washington, DC, pp 21–47

Hansell MH (1996) The function of lichen flakes and white spider cocoons on the outer surface of birds' nests. J Nat Hist 30:303–311

Hu CC (1984) Horse-hair blight, new disease of tea bush caused by Marasmius equicrinis Mull in Taiwan. Taiwan Tea Res Bull 3:1–4

Ibañez IM, García RA, Fiorini VD (2018) Lichens in the nests of European starling Sturnus vulgaris serve a mate attraction rather than insecticidal function. Turk Zool Derg 42:316–322

Kerekes JF, Desjardin DE (2009) A monograph of the genera Crinipellis and Moniliophthora from Southeast Asia including a molecular phylogeny of the nrITS region. Fungal Divers 37:101–152

Koch RA, Liu J, Brann M, Jumbam B, Siegel N, Aime MC (2020) Marasmioid rhizomorphs in bird nests: Species diversity, functional specificity, and new species from the tropics. Mycologia 112:1086–1103

Koch RA, Lodge DJ, Sourell S, Nakasone K, McCoy AG, Aime MC (2018) Tying up loose threads: revised taxonomy and phylogeny of an avian-dispersed Neotropical rhizomorph-forming fungus. Mycol Prog 17:989–998

Koch RA, Wilson AW, Séné O, Henkel TW, Aime MC (2017) Resolved phylogeny and biogeography of the root pathogen Armillaria and its gasteroid relative, Guyanagaster. BMC Evol Biol 17:33

McCormac J, Showman RE (2009) Lichen composition in blue-gray gnatcatcher and ruby-throated hummingbird nests. Ohio Cardinal Fall 2009 and Winter 2009–2010:72–82

McGinnis S, Madden TL (2004) BLAST: at the core of a powerful and diverse set of sequence analysis tools. Nucleic Acids Res 32:W20–W25

Melin E, Wikén T, Öblom K (1947) Antibiotic agents in the substrates from cultures of the genus Marasmius. Nature 159:840–841

Meši A, Tkalčec Z, Deng C-Y, Li T-H, Pleše B, Ćetković H (2011) Gymnopus fuscotramus (Agaricales), a new species from southern China. Mycotaxon 117:321–330

Petersen RH, Hughes KW (2019) Two additional species of Gymnopus. Basidiomycotina) MycoKeys 45:1–24Euagarics

Ramesh C, Pattar MG (2010) Antimicrobial properties, antioxidant activity and bioactive compounds from six wild edible mushrooms of western ghats of Karnataka, India. Pharmacogn Res 2:107–112

Richardson DHS, Young CM (1977) Lichens and vertebrates. In: Seaward MRD (ed) Lichen ecology. Academic Press, London, pp 121–144

Rosa LH, Machado KM, Jacob CC, Capelari M, Rosa CA, Zani CL (2003) Screening of Brazilian basidiomycetes or antimicrobial activity.Mem Inst Oswaldo Cruz98:967–974

Seaver FJ (1944) The horse-hair fungi. Mycologia 36:340–342

Singer R (1986) The Agaricales in Modern Taxonomy, 4th edn. Koeltz Scientific Books, Koenigsten, p 981

Su JG, Thseng FM, Chen JS, Ko W-H (2011) Production of volatile substances by rhizomorphs of Marasmius crinisequi and its significance in nature. Fungal Divers 49:199–202

Thompson W, Rayner ADM (1983) Extent, development and functioning of mycelial cord systems in soil. Trans Brit Mycol Soc 81:333–345
Acknowledgements
The authors wish to thank two anonymous reviewers for their helpful comments on the manuscript, along with Francino and Luciano Edmund for help collecting nests. Research and export permits were issued by the Guyana Environmental Protection Agency and Iwokrama. Raquel Thomas-Cesar greatly facilitated our work at Iwokrama.
Funding
This study was funded by a National Geographic Society Early Career Grant EX59602R-19 and the USDA National Institute of Food and Agriculture Hatch project 1010662.
Ethics declarations
Declarations
We declare that this paper consists of original, unpublished work, which is not under consideration for publication elsewhere.
Ethics approval
Not applicable.
Consent to participate
Not applicable.
Consent for publication
Not applicable.
Conflicts of interest/Competing interests
The authors declare that they have no known competing financial interests or personal relationships that could have appeared to influence the work reported in this paper.
Additional information
Publisher's Note
Springer Nature remains neutral with regard to jurisdictional claims in published maps and institutional affiliations.
About this article
Cite this article
Bach, R.A.K., Brann, M. & Aime, M.C. Viability of fungal rhizomorphs used in bird nest construction in tropical rainforests. Symbiosis 87, 175–179 (2022). https://doi.org/10.1007/s13199-022-00856-x
Received:

Accepted:

Published:

Issue Date:

DOI: https://doi.org/10.1007/s13199-022-00856-x
Keywords