Abstract
Chemical crosstalk between plant roots and associated microbes is imperative for the initiation of symbiosis. Phenolics, flavonoids and indole-3-acetic acid (IAA) are acclaimed as signaling molecules in developing plant-microbe symbiosis. The role of IAA and flavonoids in establishing a symbiotic relationship between Aspergillus nomius wlg2 and maize roots have also been observed during the present study. The isolate A. nomius wlg2 and maize roots have secreted flavonoids and IAA that helped in A. nomius-maize association. However, the suppression of either flavonoids or IAA secretion reduced the endophyte colonization of the maize roots by 77% and 67%, respectively. The main flavonoids secreted by maize were identified as luteolin, calycosin, phenolics cis-caftaric acid, and caffeoyl-d-glucose. The identified flavonoids were most likely to be involved in the root-endophyte association. To establish a plant-microbe interaction, the complex chemical dialogue is necessary for which IAA and flavonoids play a central role.
Access options
Buy single article
Instant access to the full article PDF.
USD 39.95
Price excludes VAT (USA)
Tax calculation will be finalised during checkout.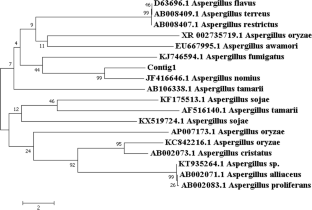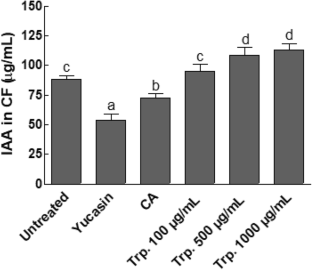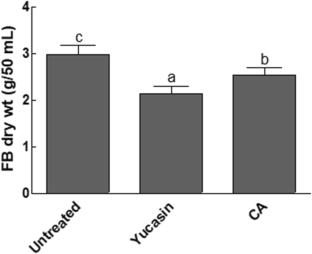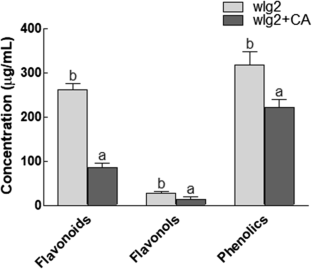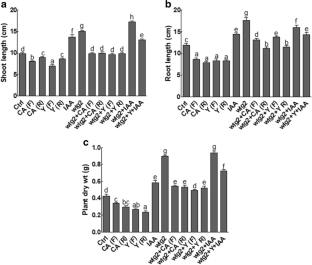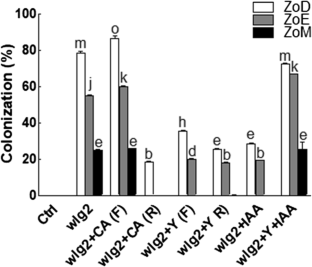 References
Abdel-lateif K, Bogusz D, Hocher V (2012) The role of flavonoids in the establishment of plant roots endosymbioses with arbuscular mycorrhiza fungi, rhizobia and Frankia bacteria. Plant Signal Behav 7:636–641

Ahmad R, Muniandy S, Shukri NIA, Alias SMU, Hamid AA, Yusoff WMW, Senafi S, Daud F (2014) Antioxidant properties and glucan compositions of various crude extract from Lentinus squarrosulus mycelial culture. Adv Biosci Biotechnol 5:805–814

Bhattacharya A, Sood P, Citovsky V (2010) The roles of plant phenolics in defence and communication during Agrobacterium and Rhizobium infection. Mol Plant Pathol 11:705–719

Bilal L, Asaf S, Hamayun M, Gul H, Iqbal A, Ullah I, Lee I-J, Hussain A (2018) Plant growth promoting endophytic fungi Asprgillus fumigatus TS1 and Fusarium proliferatum BRL1 produce gibberellins and regulates plant endogenous hormones. Symbiosis 1-11

Cesco S, Neumann G, Tomasi N, Pinton R, Weisskopf L (2010) Release of plant-borne flavonoids into the rhizosphere and their role in plant nutrition. Plant Soil 329:1–25

Dai X, Mashiguchi K, Chen Q, Kasahara H, Kamiya Y, Ojha S, Dubois J, Ballou D, Zhao Y (2013) The biochemical mechanism of auxin biosynthesis by an Arabidopsis YUCCA flavin-containing monooxygenase. J Biol Chem 288:1448–1457

Dardanelli MS, Manyani H, González-Barroso S, Rodríguez-Carvajal MA, Gil-Serrano AM, Espuny MR, López-Baena FJ, Bellogín RA, Megías M, Ollero FJ (2010) Effect of the presence of the plant growth promoting rhizobacterium (PGPR) Chryseobacterium balustinum Aur9 and salt stress in the pattern of flavonoids exuded by soybean roots. Plant Soil 328:483–493

Djeridane A, Yousfi M, Nadjemi B, Boutassouna D, Stocker P, Vidal N (2006) Antioxidant activity of some Algerian medicinal plants extracts containing phenolic compounds. Food Chem 97:654–660

Ferro AP, Marchiosi R, De Cássia Siqueira-Soares R, Bonini EA, Ferrarese M, Ferrarese-Filho O (2015) Effects of cinnamic and ferulic acids on growth and lignification of maize roots. J Allel Int 1:29–38

Fu S-F, WEI J-Y, Chen H-W, Liu Y-Y, Lu H-Y, Chou J-Y (2015) Indole-3-acetic acid: A widespread physiological code in interactions of fungi with other organisms. Plant Signal Behav 10:e1048052

Gravel V, Antoun H, Tweddell RJ (2007) Growth stimulation and fruit yield improvement of greenhouse tomato plants by inoculation with Pseudomonas putida or Trichoderma atroviride: possible role of indole acetic acid (IAA). Soil Biol Biochem 39:1968–1977

Hamayun M, Khan SA, Iqbal I, Ahmad B, Lee I-J (2010) Isolation of a gibberellin-producing fungus (Penicillium sp. MH7) and growth promotion of crown daisy (Chrysanthemum coronarium). J Microbiol Biotechnol 20:202–207

Hamayun M, Hussain A, Khan SA, Kim H-Y, Khan AL, Waqas M, Irshad M, Iqbal A, Rehman G, Jan S (2017) Gibberellins producing endophytic fungus Porostereum spadiceum AGH786 rescues growth of salt affected soybean. Front Microbiol 8:686

Han B, Li X, Dong X, Zhou N, Jiang B (2013) Effects of AM Fungi infection on the secondary metabolites and root of Astragalus englerianus. Acta Agric Boreali-Occidentalis Sin 12:026

Hardoim PR, Van Overbeek LS, Berg G, Pirttilä AM, Compant S, Campisano A, Doring M, Sessitsch A (2015) The hidden world within plants: ecological and evolutionary considerations for defining functioning of microbial endophytes. Microbiol Mol Biol Rev 79(3):293–320

Hassan S, Mathesius U (2012) The role of flavonoids in root–rhizosphere signalling: opportunities and challenges for improving plant–microbe interactions. J Exp Bot 63:3429–3444

Huang W-Y, CAI Y-Z, Hyde KD, Corke H, Sun M (2007) Endophytic fungi from Nerium oleander L (Apocynaceae): main constituents and antioxidant activity. World J Microbiol Biotechnol 23:1253–1263

Huang X-F, Chaparro JM, Reardon KF, Zhang R, Shen Q, Vivanco JM (2014) Rhizosphere interactions: root exudates, microbes, and microbial communities. Botany 92:267–275

Hussain A, Shah ST, Rahman H, Irshad M, Iqbal A (2015a) Effect of IAA on in vitro growth and colonization of Nostoc in plant roots. Front Plant Sci 6:1–9

Hussain A, Shah ST, Rahman H, Irshad M, Iqbal A (2015b) Effect of IAA on in vitro growth and colonization of Nostoc in plant roots. Front Plant Sci 6:46

Ikram M, Ali N, Jan G, Jan FG, Rahman IU, Iqbal A, Hamayun M (2018) IAA producing fungal endophyte Penicillium roqueforti Thom., enhances stress tolerance and nutrients uptake in wheat plants grown on heavy metal contaminated soils. PLoS One 13:e0208150

Ismail I, Hamayun M, Hussain A, Iqbal A, Khan SA, Lee I-J (2018) Endophytic fungus Aspergillus japonicus mediates host plant growth under normal and heat stress conditions. Biomed Res Int 2018:1–11

Jan FG, Hamayun M, Hussain A, JAN G, Iqbal A, Khan A, Lee I-J (2019) An endophytic isolate of the fungus Yarrowia lipolytica produces metabolites that ameliorate the negative impact of salt stress on the physiology of maize. BMC Microbiol 19:3

Jia Y-J, Ito H, Matsui H, Honma M (2000) 1-aminocyclopropane-1-carboxylate (ACC) deaminase induced by ACC synthesized and accumulated in Penicillium citrinum intracellular spaces. Biosci Biotechnol Biochem 64:299–305

Kakei Y, Yamazaki C, Suzuki M, Nakamura A, Sato A, Ishida Y, Kikuchi R, Higashi S, KOKUDO Y, Ishii T (2015) Small-molecule auxin inhibitors that target YUCCA are powerful tools for studying auxin function. Plant J 84:827–837

Khan SA, Hamayun M, Yoon H, Kim H-Y, Suh S-J, Hwang S-K, Kim J-M, Lee I-J, Choo Y-S, Yoon U-H (2008) Plant growth promotion and Penicillium citrinum. BMC Microbiol 8:231

Khan AL, Hamayun M, Kang S-M, Kim Y-H, Jung H-Y, Lee J-H, Lee I-J (2012) Endophytic fungal association via gibberellins and indole acetic acid can improve plant growth under abiotic stress: an example of Paecilomyces formosus LHL10. BMC Microbiol 12:3

Khan AA, Sajid M, Iqbal A, Khan ZH, Islam B, Ali F, Ali K, Ahmed A, Sajjad M, Arif M (2017) Improving yield and mineral profile of tomato through changing crop micro-environment. Fresenius Environ Bull 26:4911–4918

Klamer M, Bååth E (2004) Estimation of conversion factors for fungal biomass determination in compost using ergosterol and PLFA 18: 2ω6, 9. Soil Biol Biochem 36:57–65

Ling N, Zhang W, Wang D, Mao J, Huang Q, Guo S, Shen Q (2013) Root exudates from grafted-root watermelon showed a certain contribution in inhibiting Fusarium oxysporum f sp niveum. PLoS One 8:e63383

Liu C-W, Murray JD (2016) The role of flavonoids in nodulation host-range specificity: an update. Plants 5:33

Liu C-Y, Zhang F, Zhang D-J, Srivastava A, Wu Q-S, Zou Y-N (2018) Mycorrhiza stimulates root-hair growth and IAA synthesis and transport in trifoliate orange under drought stress. Sci Rep 8:1978

Ludwig-Muller J (2015) Bacteria and fungi controlling plant growth by manipulating auxin: balance between development and defense. J. Plant Physiol 172:4–12

Lupini A, Sorgonà A, Princi MP, Sunseri F, Abenavoli MR (2016) Morphological andphysiologicaleffectsoftrans-cinnamicacidanditshydroxylatedderivativeson maizeroottypes. Plant Growth Regul 78:263–273

Mandal SM, Chakraborty D, Dey S (2010) Phenolic acids act as signaling molecules in plant-microbe symbioses. Plant Signal Behav 5:359–368

Mehmood A, Hussain A, Irshad M, Hamayun M, Iqbal A, Khan N (2018a) In vitro production of IAA by endophytic fungus Aspergillus awamori and its growth promoting activities in Zea mays. Symbiosis 1-11

Mehmood A, Hussain A, Irshad M, Hamayun M, Iqbal A, Rahman H, Tawab A, Ahmad A, Ayaz S (2018b) Cinnamic acid as an inhibitor of growth, flavonoids exudation and endophytic fungus colonization in maize root. Plant Physiol Biochem 135:61–68

Qiu M, Xie R-S, Shi Y, Zhang H, Chen H-M (2010) Isolation and identification of two flavonoid-producing endophytic fungi from Ginkgo biloba L. Ann Microbiol 60:143–150

Salvador VH, Lima RB, Dos Santos WD, Soares AR, Böhm PAF, Marchiosi R, Ferrarese MDLL, Ferrarese-Filho O (2013) Cinnamic acid increases lignin production and inhibits soybean root growth. PLoS One 8:e69105

Shahab S, Ahmed N, Khan NS (2009) Indole acetic acid production and enhanced plant growth promotion by indigenous PSBs. Afr J Agric Res 4:1312–1316

Steinmann D, Ganzera M (2011) Recent advances on HPLC/MS in medicinal plant analysis. J Pharm Biomed Anal 55:744–757

Suzuki M, Yamazaki C, Mitsui M, Kakei Y, Mitani Y, Nakamura A, Ishii T, Soeno K, Shimada Y (2015) Transcriptional feedback regulation of YUCCA genes in response to auxin levels in Arabidopsis. Plant Cell Rep 34(8):1343–1352

Tanaka E, Tanaka C, Ishihara A, Kuwahara Y, TSUDA M (2003) Indole-3-acetic acid biosynthesis in Aciculosporium take, a causal agent of witches' broom of bamboo. J Gen Plant Pathol 69:1–6

Wang Q, LIU J, ZHU H (2018) Genetic and molecular mechanisms underlying symbiotic specificity in legume-rhizobium interactions. Front Plant Sci 9:313

Waqas M, Khan AL, Kamran M, Hamayun M, Kang S-M, Kim Y-H, Lee I-J (2012) Endophytic fungi produce gibberellins and indoleacetic acid and promotes host-plant growth during stress. Molecules 17:10754–10773

Zhou X, Wu F (2012) P-Coumaric acid influenced cucumber rhizosphere soil microbial communities and the growth of Fusarium oxysporum f. sp. cucumerinum Owen. PLoS One 7:e48288

Zhou J, Lyu Y, Richlen ML, Anderson DM, Cai Z (2016) Quorum sensing is a language of chemical signals and plays an ecological role in algal-bacterial interactions. Crit Rev Plant Sci 35(2):81–105

Zubek S, Rola K, Szewczyk A, Majewska ML, Turnau K (2015) Enhanced concentrations of elements and secondary metabolites in Viola tricolor L. induced by arbuscular mycorrhizal fungi. Plant Soil 390:129–142
Funding
We are thankful to the Higher Education Commission (HEC-Pakistan) and Abdul Wali Khan University Mardan for providing the funds for the study.
Ethics declarations
Competing interests
The authors state that there is no competitive concern of any nature with this manuscript.
Additional information
Publisher's note
Springer Nature remains neutral with regard to jurisdictional claims in published maps and institutional affiliations.
About this article
Cite this article
Mehmood, A., Hussain, A., Irshad, M. et al. Yucasin and cinnamic acid inhibit IAA and flavonoids biosynthesis minimizing interaction between maize and endophyte Aspergillus nomius. Symbiosis 81, 149–160 (2020). https://doi.org/10.1007/s13199-020-00690-z
Received:

Accepted:

Published:

Issue Date:

DOI: https://doi.org/10.1007/s13199-020-00690-z
Keywords
IAA

Flavonoids

Phenolics

Endophyte

Maize