Abstract
Understanding interactions between species in altered ecosystems is important, as they influence resilience and opportunities for restoration. Here we explore a multipartite interaction between an important early succession myrmecophytic tree in Borneo (Macaranga pearsonii), and its ant mutualists that provide protection from herbivores. We compare the mutualistic system between two highly degraded habitats that are candidates for future restoration: oil palm plantation and recently heavily-logged forest. For each tree we measured tree structure (height, diameter, number of branches), leaf biomass and herbivore damage. We also measured soil characteristics (phosphate and nitrate content, pH, density) and canopy openness as these may influence tree health. For each branch, we quantified number of ant workers, brood, alates and queens as well as number of coccids. The ants tend these symbiotic coccids for their sugar-rich exudate produced by sucking the tree's sap. We demonstrate that herbivore damage was up to twice as high in oil palm plantation compared to heavily-logged forest. This herbivory increase was not related directly to changes in abiotic conditions or to higher herbivore pressure, but rather to the distribution of the ant workers within the trees. However, trees in oil palm were able to compensate for the increased herbivory by increasing leaf production. For similar ant abundance, fewer branches were occupied in oil palm plantation, and there were relatively more ants in the presence of coccids. Taken together, our findings indicate that although this mutualism has variation in its functioning, with reduced benefits for the tree of ant occupation in oil palm plantation, the mutualism persists in oil palm. Therefore Macaranga pearsonii is a viable candidate for forest restoration (just as in secondary forest) if these trees are allowed to grow in oil palm plantations.
Access options
Buy single article
Instant access to the full article PDF.
US$ 39.95
Tax calculation will be finalised during checkout.
Subscribe to journal
Immediate online access to all issues from 2019. Subscription will auto renew annually.
US$ 79
Tax calculation will be finalised during checkout.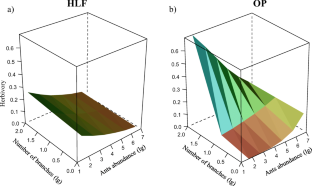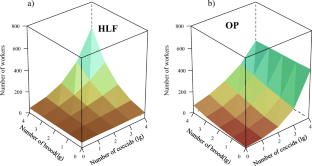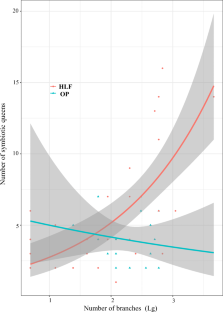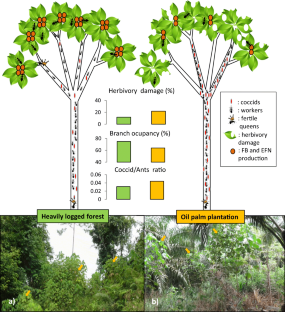 References
Ashton P (2014) On the Forest of tropical Asia. Smith, G, Kew

Becerra JXI, Venable L (1989) Extrafloral nectaries: A defense Against Ant-Homoptera Mutualisms? Oikos 55:276–280

Bernasconi G, Strassmann JE (1999) Cooperation among unrelated individuals: the ant foundress case. Trends Ecol Evol 14:477–482

Bolton B (1997) Identification guide to the ant genera of the world. Harvard University Press

Bronstein JL (1998) The contribution of ant-plant protection studies to our understanding of mutualism. Biotropica 30:150–161

Câmara T, Leal IR, Blüthgen N, Oliveira FMP, Queiroz RT, Arnan X (2018) Effects of chronic anthropogenic disturbance and rainfall on the specialization of ant–plant mutualistic networks in the Caatinga, a Brazilian dry forest. J Anim Ecol 87:1022–1033. https://doi.org/10.1111/1365-2656.12820

Canestrari D, Bolopo D, Turlings TCJ et al (2014) From parasitism to mutualism: unexpected interactions between a cuckoo and its host. Science 343:1350–1352. https://doi.org/10.1126/science.1249008

Chamberlain SA, Holland JN (2009) Quantitative synthesis of context dependency in ant–plant protection mutualisms. Ecology 90:2384–2392

Chomicki G, Weber M, Antonelli A, Bascompte J, Kiers ET (2019) The impact of mutualisms on species richness. Trends Ecol Evol 34:698–711. https://doi.org/10.1016/j.tree.2019.03.003

Davidson DW, McKey D (1993a) The evolutionary ecology of symbiotic ant-plant relationships. J Hymenopt Res 2:13–83. https://doi.org/10.5962/bhl.part.29733

Davidson DW, McKey D (1993b) Ant-plant symbioses: stalking the Chuyachaqui. Trends Ecol Evol 8:326–332. https://doi.org/10.1016/0169-5347(93)90240-P

Davidson EA, De Carvalho CJR, Vieira ICG et al (2004) Nitrogen and phosphoruslimitation of biomass growth in a tropical secondary forest. Ecol Appl 14:150–163. https://doi.org/10.1890/01-6006

Ewers RM, Didham RK, Fahrig L, Ferraz G, Hector A, Holt RD, Kapos V, Reynolds G, Sinun W, Snaddon JL, Turner EC (2011) A large-scale forest fragmentation experiment: the stability of altered forest ecosystems project. Philos Trans R Soc B Biol Sci 366:3292–3302. https://doi.org/10.1098/rstb.2011.0049

Fayle TM, Wanji C, Turner EC, Yusah KM (2017) Ant-plant interactions: impacts of humans on terrestrial ecosystems. In: Oliveira P, Koptur S (eds) Living together in novel habitats: a review of land-use change impacts on mutualistic ant-plant symbioses in tropical forests (pp 52–72). Cambridge University Press

Federle W, Maschwitz U, Hölldobler B (2002) Pruning of host plant neighbours as defence against enemy ant invasions: Crematogaster ant partners of Macaranga protected by "wax barriers" prune less than their congeners. Oecologia 132:264–270. https://doi.org/10.1007/s00442-002-0947-z

Feldhaar H, Fiala B, Hashim R, Maschwitz U (2003) Patterns of the Crematogaster-Macaranga association: the ant partner makes the difference. Insect Soc 50:9–19. https://doi.org/10.1007/s000400300002

Feldhaar H, Fiala B, Gadau J (2005) A shift in colony founding behaviour in the obligate plant-ant Crematogaster (Decacrema) morphospecies 2. Insect Soc 52:222–230. https://doi.org/10.1007/s00040-004-0797-2

Feldhaar H, Maschwitz U, Fiala B (2016) Taxonomic revision of the obligate plant-ants of the genus Crematogaster Lund (Hymenoptera: Formicidae: Myrmicinae), associated with Macaranga Thouars (Euphorbiaceae) on Borneo and the Malay peninsula. Sociobiology 63:651–681. https://doi.org/10.13102/sociobiology.v63i1.949

Finegan B (1996) Pattern and process in neotropical secondary rain forests: the first 100 years of succession. Tree 11:119–124

Frederickson ME (2017) Mutualisms are not on the verge of breakdown. Trends Ecol Evol 32:727–734. https://doi.org/10.1016/j.tree.2017.07.001

Gastreich KR (1999) Trait-mediated indirect effects of a theridiid spider on an ant-plant mutualism. Ecology 80:1066–1070. https://doi.org/10.1890/0012-9658(1999)080[1066:TMIEOA]2.0.CO;2

Handa C, Okubo T, Yoneyama A, Nakamura M, Sakaguchi M, Takahashi N, Okamoto M, Tanaka-Oda A, Kenzo T, Ichie T, Itioka T (2013) Change in biomass of symbiotic ants throughout the ontogeny of a myrmecophyte, Macaranga beccariana (Euphorbiaceae). J Plant Res 126:73–79. https://doi.org/10.1007/s10265-012-0500-z

Hatada A, Ishiguro S, Itioka T, Kawano S (2001) Myrmecosymbiosis in the Bornean Macaranga species with special reference to food bodies (Beccarian bodies) and extrafloral nectaries. Plant Species Biol 16:241–246. https://doi.org/10.1046/j.1442-1984.2001.00066.x

Heil M (2015) Extrafloral nectar at the plant-insect interface: a spotlight on chemical ecology, phenotypic plasticity, and food webs. Annu Rev Entomol 60:213–232. https://doi.org/10.1146/annurev-ento-010814-020753

Heil M, Fiala B, Linsenmair KE, Zotz G, Menke P (1997) Food body production in Macaranga triloba (Euphorbiaceae): a plant investment in anti-herbivore defence via symbiotic ant partners. J Ecol 85:847–861

Heil M, Fiala B, Maschwitz U, Linsenmair KE (2001) On benefits of indirect defence: short- and long-term studies of antiherbivore protection via mutualistic ants. Oecologia 126:395–403. https://doi.org/10.1007/s004420000532

Heil M, Hilpert A, Fiala B, Bin Hashim R, Strohm E, Zotz G, Linsenmair KE (2002) Nutrient allocation of Macaranga triloba ant plants to growth, photosynthesis and indirect defence. Funct Ecol 16:475–483. https://doi.org/10.1046/j.1365-2435.2002.00643.x

Heil M, Baumann B, Krüger R, Linsenmair KE (2004) Main nutrient compounds in food bodies of Mexican Acacia ant-plants. Chemoecology 52:45–52. https://doi.org/10.1007/s00049-003-0257-x

Heil M, Gonzalez-Teuber M, Clement LW, Kautz S, Verhaagh M, Bueno JCS (2009) Divergent investment strategies of Acacia myrmecophytes and the coexistence of mutalists and exploiters. Proc Natl Acad Sci 106:18091–18096. https://doi.org/10.1073/pnas.0904304106

Hooke R, Martín-Duque J, Pedraza J (2012) Land transformation by humans: a review Roger. GSA Today 22:1–9. https://doi.org/10.1130/GSAT151A.1.Figure

Houadria M, Klimes P, Fayle TM, Gullan PJ (2018) Host-plant dissections reveal contrasting distributions of Crematogaster ants and their symbionts in two myrmecophytic Macaranga species. Ecol Entomol 43:601–611. https://doi.org/10.1111/een.12633

Hughes AC (2017) Understanding the drivers of southeast Asian biodiversity loss. Ecosphere. 8. https://doi.org/10.1002/ecs2.1624

Itino T, Itioka T, Hatada A, Hamid AA (2001) Effects of food rewards offered by ant-plant Macaranga on the colony size of ants. Ecol Res 16:775–786. https://doi.org/10.1046/j.1440-1703.2001.00433.x

Itioka T, Nomura M, Inui Y, Itino T, Inoue T (2000) Difference in intensity of ant defense among three species of Macaranga myrmecophytes in a southeast Asian Dipterocarp forest. Biotropica 32:318–326. https://doi.org/10.1111/j.1744-7429.2000.tb00475.x

Jürgens A, Feldhaar H, Feldmeyer B, Fiala B (2006) Chemical composition of leaf volatiles in Macaranga species (Euphorbiaceae) and their potential role as olfactory cues in host-localization of foundress queens of specific ant partners. Biochem Syst Ecol 34:97–113. https://doi.org/10.1016/j.bse.2005.08.005

Kersch M, Fonseca C (2005) Abiotic factors and the conditional outcome of an ant – plant mutualism. Ecology 86:2117–2126

Kiers ET, Palmer TM, Ives AR et al (2010) Mutualisms in a changing world: an evolutionary perspective. Ecol Lett 13:1459–1474. https://doi.org/10.1111/j.1461-0248.2010.01538.x

McGuire K (2007) Common ectomycorrhizal networks may maintain monodominance in a tropical rain forest. Ecology 88:567–574

Miler K, Yahya BE, Czarnoleski M (2016) Reduced damage and epiphyll cover of leaves of Korthalsia rattans that host Camponotus ants in the rain forest of Malaysian Borneo. J Trop Ecol 32:330–334. https://doi.org/10.1017/S0266467416000316

Murase K, Yamane S, Itioka T (2010) Multiple factors maintaining high species-specificity in ( Hymenoptera: Formicidae) Myrmecophytism: Higher Mortality in Mismatched Ant- Seedling Pairs

Orona-Tamayo D, Heil M (2013) Stabilizing mutualisms threatened by exploiters : new insights from ant-plant research. Biotropica 45:654–665. https://doi.org/10.1111/btp.12059

Palmer TM, Stanton ML, Young T et al (2008) Breakdown of an ant-plant mutualism follows the loss of large herbivores from an African savanna. Science 319:192–195. https://doi.org/10.1126/science.1151579

Sagers L, Ginger M, Evans D (2000) Carbon and nitrogen isotopes trace nutrient exchange in an ant-plant mutualism. Oecologia 123:582–586

Schindelin J, Arganda-Carreras I, Frise E, Kaynig V, Longair M, Pietzsch T, Preibisch S, Rueden C, Saalfeld S, Schmid B, Tinevez JY, White DJ, Hartenstein V, Eliceiri K, Tomancak P, Cardona A (2012) Fiji: an open-source platform for biological-image analysis. Nat Methods 9:676–682. https://doi.org/10.1038/nmeth.2019

Slik F, Kessler PJA, van Welzen PC (2003) Macaranga and Mallotus (Euphorbiaceae) as indicators for disturbance in the lowland dipterocarp forests of East Kalimantan, Indonesia. Ecol Indic 2:311–324

Tuller J, Marquis RJ, Andrade SMM, Monteiro AB, Faria LDB (2018) Trade-offs between growth, reproduction and defense in response to resource availability manipulations. PLoS One 13:1–12. https://doi.org/10.1371/journal.pone.0201873

Türke M, Fiala B, Linsenmair KE, Feldhaar H (2010) Estimation of dispersal distances of the obligately plant-associated ant Crematogaster decamera. Ecol Entomol 35:662–671. https://doi.org/10.1111/j.1365-2311.2010.01222.x
Acknowledgements
We thank Sabah Biodiversity Council, Maliau Basin Management Committee, the South East Asian Rainforest Reseach Partnership, and the Stability of Altered Forest Ecosystems project for support with field work in Sabah. In particular, Dr. Glen Reynolds of SEARRP was of great assistance. A special thanks to Dr. Marion Pfeifer for providing satellite data through ESA Cat 1 Project 1373, and Dr. Sarah Luke for map forest cover layers. In addition to this, we are grateful to the great SAFE staff for making our stay a pleasurable experience and the research assistants for their efficiency. The two local student projects in relation to this project were supervised in collaboration with Dr. Kalsum Yusah at Universiti Malaysia Sabah. Thanks also to Nathan Thong for his work as a volunteer and Jana Liparova for assistance with fieldwork logistics. MH, DL and TMF were supported by a standard grant from the Czech Science Foundation (project 16-09427S), and the Bayerisch-Tschechische Hochschulagentur (BTHA), project BTHA-AP-2018-4 for supporting international collaboration. We pay special tribute to our co-author Dr. Brigitte Fiala; she was a leader in the Macaranga mutualism and collaborated enthusiastically on this project before sadly passing away before submission of this manuscript.
Additional information
Publisher's note
Springer Nature remains neutral with regard to jurisdictional claims in published maps and institutional affiliations.
About this article
Cite this article
Houadria, M.Y.I., Feldhaar, H., Fiala, B. et al. Reduced benefits of ant occupation for ant-trees in oil palm compared with heavily logged forest. Symbiosis 81, 79–91 (2020). https://doi.org/10.1007/s13199-020-00684-x
Received:

Accepted:

Published:

Issue Date:
Keywords
Myrmecophytism

Forest restoration

Coccids

Multipartite interactions

Macaranga
Crematogaster