Abstract
The endophytic aquatic fungus Tetracladium setigerum Grove (Ingold) isolated from healthy roots of Berberris vulgaris growing in a riparian area was screened for its phosphate solubilization potential. This was estimated by a solubilization index (SI) using Pikovskaya's (PVK) agar medium. Solubilized phosphate was quantified with the help of PVK broth medium. The Solubilization index of T. setigerum was ranged from 1.33 to 1.50 during the seven days of incubation and the highest soluble P (3.51 mg/L) was recorded in PVK broth after 21 days of incubation. The present study indicates that the studied root endophytic aquatic fungus may be a promising source of bio-fertilizer.
This is a preview of subscription content, log in to check access.
Access options
Buy single article
Instant access to the full article PDF.
US$ 39.95
Price includes VAT for USA
Subscribe to journal
Immediate online access to all issues from 2019. Subscription will auto renew annually.
US$ 99
This is the net price. Taxes to be calculated in checkout.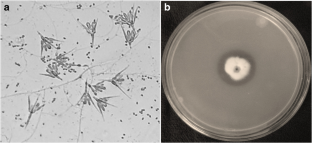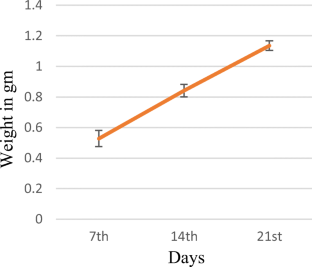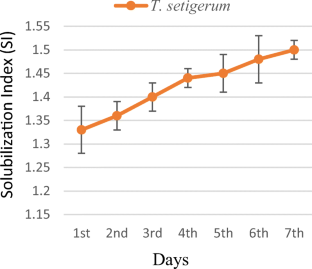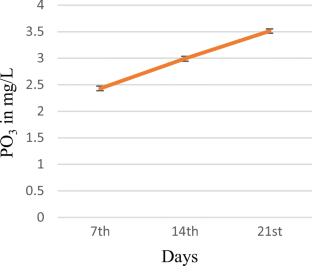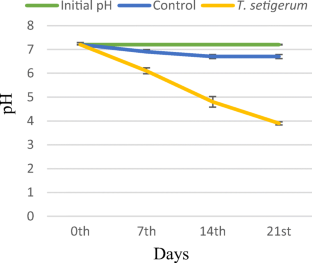 References
Ames BN (1964) Assay of inorganic phosphate, total phosphate and phosphatases. Methods Enzymol 8: 115–118

Arya P, Sati SC (2011) Evaluation of endophytic hyphomycetes for their antagonistic activity against pathogenic bacteria. Int Res J Microbiol 2:343–347 http://www.interesjournals.org/IRJM

Banik S, Dey BK (1982) Available phosphate content of an alluvial soil as influenced by inoculation of some isolated phosphate solubilizing microorganisms. Plant Soil 69:353–364 0032-079X/82/0693-0353501.80

Bills GE, Polishok JD (1992) Recovery of endophytic fungi from Chamaecyparis thyoides. Sydowia 44:1–12 https://www.zobodat.at/pdf/Sydowia_44_0001-0012.pdf

Cunningham J, Kuiack C (1992) Production of citric and oxalic acids and solubilization of calcium phosphate by Penicillium billai. Appl Enviorn Microbiol 58:1451–1458 https://www.ncbi.nlm.nih.gov/pubmed/162221

Descals E (2005) Diagnostic characters of propagules of Ingoldian fungi. Mycol Res 101: 545-555

Descals E, Webster J (1982) Taxonomic studies on "aquatic hyphomycetes" III some new species and a new combination. Trans Brit Mycol Soc 78:405–437. https://doi.org/10.1016/S0007-1536(82)80149-6

Elias F, Woyessa D, Muleta D (2016) Phosphate solubilization potential of rhizosphere fungi isolated from plants in Jimma Zone, Southwest Ethiopia. Int J Microbiol Article ID 5472601, 11 pages https://doi.org/10.1155/2016/5472601

Fankem H, Nwaga D, Deubel A, Dieng L, Merbach W, Etoa FX (2006) Occurrence and functioning of phosphate solubilizing microorganisms from oil palm tree (Elaeis guineensis) rhizosphere in Cameroon. Afr J Biotechnol 5(24):2450–2460 https://www.ajol.info/index.php/ajb/article/view/56044

Gulis VI, Suberkropp K (2003) Interactions between stream fungi and bacteria associated with decomposing leaf litter at different levels of nutrient availability. Aquatic Microbiol Ecol 30:149–157. https://doi.org/10.3354/ame030149

Hara FAS, Oliveira LA (2005) Physiological and ecological characteristics of rhizobia isolates from acid soils of Iranduba, Amazonas. Pesq Agropec Bras 40:667–672. https://doi.org/10.1590/S0100-204X2005000700007

Illmer P, Schinner F (1995) Phosphate solubililizing microorganisms under nonsterile conditions. Bodenkultur 46:197–204 https://diebodenkultur.boku.ac.at/volltexte/band-46/heft-1/illmer.pdf

Ingold CT (1942) Aquatic Hyphomycetes of decaying alder leaves. Trans Brit Mycol Soc 25:339–417. https://doi.org/10.1016/S0007-1536(42)80001-7

Iyamuremye F, Dick RP (1996) Organic amendments and phosphorus sorption by soil. Adv Agron 56:139–185. https://doi.org/10.1016/S0065-2113(08)60181-9

Jain R, Saxena J, Sharma V (2010) The evaluation of free and encapsulated A. awamori for phosphate solubilization in fermentation and soil-plant system. Appl Soil Ecol 46:90–94. https://doi.org/10.1016/j.apsoil.2010.06.008

Kucey RMN (1983) Phosphate solubilizing bacteria and fungi in various cultivated and virgin Alberta soils. Can J Soil Sci 63:671–678. https://doi.org/10.4141/cjss83-068

Kucey RMN (1987) Increased phosphorus uptake by wheat and field beans inoculated with a phosphorus solubihzing Penicillium bilaji strain and vesicular arbuscular mycorrhizal fungi. Appl Environ Microbiol 53: 2699–2703

Mittal V, Singh O, Nayyar H, Kaur J Tewari R (2008) Stimulatory effect of phosphate-solubilizing fungal strains (Aspergillus awamori and Penicilliumc itrinum) on the yield of chickpea (Cicer arietinum L. cv. GPF2). Soil Biol Biochem 40(3):718–727. https://doi.org/10.1016/j.soilbio.2007.10.008

Murphy J, Riley HP (1962) A modified single solution method for the determination of phosphate in natural waters. Anal Chim Acta 27:31–36. https://doi.org/10.1016/S0003-2670(00)88444-5

Oberson A, Friesen DK, Rao IM, Buhler S, Frossard E (2001) Phosphorus transformations in an oxisol under contrasting land-use system: the role of the microbial biomass. Plant Soil 237:197–210. https://doi.org/10.1023/A:1013301716913

Omar SA (1998) The role of rock-phosphate-solubilizing fungi and vesicular-arbusular-mycorrhiza (VAM) in growth of wheat plants fertilized with rock phosphate. World J Microbiol Biotech 14:211–218. https://doi.org/10.1023/A:1008830129262

Pradhan N, Sukla LB (2005) Solubilization of inorganic phosphates by fungi isolated from agriculture soil. Afr J Biotecnol 5:850–855

Quilliam RS, Jones DL (2010) Fungal root endophytes of the carnivorous plant Drosera rotundifolia. Mycorrhiza 20:341–348. https://doi.org/10.1007/s00572-009-0288-4

Sati SC, Arya P (2010a) Antagonism of some aquatic hyphomycetes against plant pathogenic fungi. Sci World J 10:760–765. https://doi.org/10.1100/tsw.2010.80

Sati SC, Arya P (2010b) Assessment of root endophytic aquatic hyphomycetous fungi on plant growth. Symbiosis 50:143–149. https://doi.org/10.1100/tsw.2010.80

Sati SC, Belwal M (2005) Aquatic hyphomycetes as endophyte of riparian plant roots. Mycologia 97:45–49. https://doi.org/10.1080/15572536.2006.11832837

Sati SC, Pant N, Belwal M (2002) Conidial aquatic fungi of Kumaun Himalaya, India. Mycotaxon 80:445–455 http://www.mycotaxon.com/vol/abstracts/81/81.445.html

Sati SC, Arya P, Belwal M (2009) Tetracladium nainitalense sp. nov, a root endophyte from Kumaun Himalaya, India. Mycologia 101(5):692–695. https://doi.org/10.3852/08-192

Sharma S, Kumar, Tripathi RB (2011) Isolation of phosphate solubilizing microorganism (PSMs) from soil. J Microbiol Biotechnol Res 1(2):90–95 https://jmbronline.com/index.php/JMBR/article/view/22

Sridhar KR, Bärlocher F (1992) Aquatic hyphomycetes in spruce roots. Mycologia 84:580–584. https://doi.org/10.2307/3760325

Vassileva M, Serrano M, Bravo V, Jurado E, Nikolaeva I, Martos V, Vassilev N (2010) Multifunctional properties of phosphate-solubilizing microorganisms grown on agro-industrial wastes in fermentation and soil conditions. Appl Microbiol Biotechnol 85:1287–1299. https://doi.org/10.1007/s00253-009-2366-0

Whitelaw MA (2000) Growth promotion of plants inoculated with phosphate solubilizing fungi. In: Advances in Agronomy (Ed. Donald L. Sparks). Academic press. 69: 99–151
Acknowledgements
We are thankful to the University Grant Commission, New Delhi for financial support under DRS-SAP (UGC) scheme. Thanks are also due to the Head, Department of Botany, D.S.B. Campus, Kumaun University, Nainital, India for providing necessary lab facilities.
Ethics declarations
Disclosure
The authors declare no conflicts of interest. Each author has equal share of contribution for this paper.
About this article
Cite this article
Sati, S.C., Pant, P. Evaluation of phosphate Solubilization by root endophytic aquatic Hyphomycete Tetracladium setigerum. Symbiosis 77, 141–145 (2019). https://doi.org/10.1007/s13199-018-0575-y
Received:

Accepted:

Published:

Issue Date:
Keywords
Aquatic hyphomycetes

Endophyte

T. setigerum

Phosphate solubilization

Biofertilizer