Abstract
The heterocystous cyanobacterium Richelia intracellularis Schmidt 1901 is well known for its capability to fix atmospheric nitrogen (N2) in oligotrophic waters. Symbiotic associations of Richelia intracellularis with the diatoms Rhizosolenia hebetata, Rhizosolenia clevei, Rhizosolenia cylindrus and Hemiaulus membranaceus is reported for the first time from the coastal waters of South Andaman, India. In these the symbiotic associations, variations were observed in the number of vegetative cells, trichomes, and the shape of the heterocysts. The highest number of trichomes was observed in Rhizosolenia clevei (14) per host. The trichomes consisted of 9–10 vegetative cells and a spherical heterocyst that was orientiated toward one end of the host diatom cell. In Rhizosolenia hebetata, three trichomes of Richelia intracellularis were present, one trichome at one end with 7–8 vegetative cells and two trichomes at the other end. In Rhizosolenia cylindrus, two trichomes of Richelia were observed, with a spherical heterocyst and 5–6 vegetative cells. An association between Hemiaulus membranaceus and Richelia intracellularis was also observed but with less frequency. Trichomes were observed in the centre of the diatom. By using the cell-specific rates, the amount of new N provided by the Diatom-Diazotrophic Associations was estimated. This is the first record of a symbiotic association of Richelia in diatoms from Andaman coastal waters.
This is a preview of subscription content, log in to check access.
Access options
Buy single article
Instant access to the full article PDF.
US$ 39.95
Price includes VAT for USA
Subscribe to journal
Immediate online access to all issues from 2019. Subscription will auto renew annually.
US$ 99
This is the net price. Taxes to be calculated in checkout.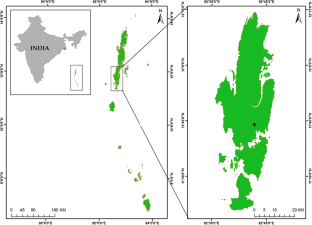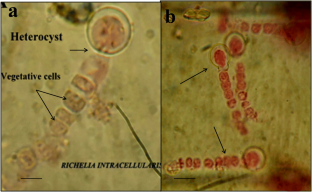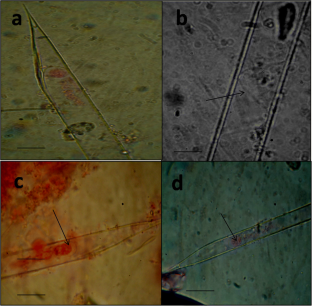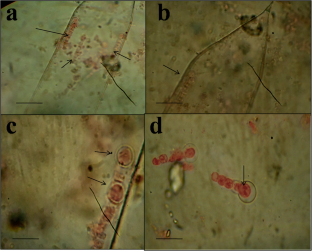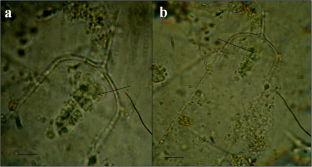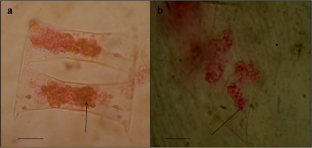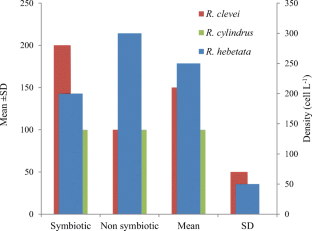 References
Capone DG, Zehr JP, Paerl HW, Bergman B, Carpenter EJ (1997) Trichodesmium, a globally significant marine cyanobacterium. Science 276:1221–1229

Carpenter EJ, Foster R (2002) Marine cyanobacterial symbioses. In: Rai AN, Bergman B, Rasmussen U (eds) Cyanobacteria in symbiosis. Kluwer Academic Publishers, Dorchedt, pp 11–17

Carpenter EJ, Romans K (1991) Major role of the cyanobacterium Trichodesmium in nutrient cycling in the North Atlantic Ocean. Science 254:1356–1358

Carpenter EJ, Montoya JP, Burns J, Mulholland M, Subramaniam A, Capone DG (1999) Extensive bloom of N2-fixing diatom/cyanobacterial association in the tropical Atlantic Ocean. Mar Ecol Prog Ser 185:273–283

Church MJ, Jenkins BD, Karl DM, Zehr JP (2005) Vertical distributions of nitrogen-fixing phylotypes at Stn Aloha in the oligotrophic North Pacific Ocean. Aquat Microb Ecol 38(1):3–14

Cupp EE (1943) Marine plankton diatoms of the west coast of North America. Bull Scripps Inst Oceanogr 5:1–238

Decelle J, Romac S, Stern R, Bendif EM, Zingone A, Guiry M et al (2015) PhytoREF: a reference database of the plastidial 16S rRNA gene of photosynthetic eukaryotes with curated taxonomy. Mol Ecol Resour 15:1435–1445

Foster RA, O'Mullan GD (2008) Nitrogen-fixing and nitrifying symbioses in the marine environment. In: Capone DG, Bronk DA, Mulholland MR, Carpenter EJ (eds) Nitrogen in the marine environment. Academic Press, London, pp 1197–1218

Foster RA, Zehr JP (2006) Characterization of diatom-cyanobacteria symbioses on the basis of nifH,hetR, and 16S rRNA sequences. Environ Microbiol 8:1913–1925

Foster RA, Collier JL, Carpenter EJ (2006a) Reverse transcription PCR amplification of cyanobacterial symbiont 16S rRNA sequences from single non-photosynthetic eukaryotic marine planktonic host cells. J Phycol 42:243–250

Foster RA, Carpenter EJ, Bergman B (2006b) Unicellular cyanobionts in open ocean dinoflagellates, radiolarians, and tintinnids: ultrastructural characterization and immuno-localization of phycoerythrin and nitrogenase. J Phycol 42:453–463

Foster RA, Subramaniam A, Mahaffey C, Carpenter EJ, Capone DG, Zehr JP (2007) Influence of the Amazon River plume on distributions of free-living and symbiotic cyanobacteria in the western tropical North Atlantic Ocean. Limnol Oceanogr 52:517–532

Foster RA, Goebel NL, Zehr JP (2010) Isolation of Calothrix Rhizosoleniae (cyanobacteria) Strain Sc01 from Chaetoceros (bacillariophyta) Spp. Diatoms of the Subtropical North Pacific Ocean1. J Phycol 46(5):1028–1037. https://doi.org/10.1111/j.1529-8817.2010.00885.x

Foster RA, Kuypers MMM, Tomas V, Ryan WP, Niculina M, Zehr JP (2011) Nitrogen fixation and transfer in open ocean diatom–cyanobacterial symbioses. ISME J 5:1484–1493

Gallon JR, Jones DA, Page TS (1996) Trichodesmium, the paradoxical diazotroph. Algol Stud 83:215–243

Geitler L (1932) Cyanophyceae. In: Rabenhorst L (ed) Rabenhorst's Kryptogamen-Flora von Deutchland, Osterreich und der Schweiz, vol 14. Akademische Verlagsgesellschaft, Leipzig, pp 1–1196

Goebel NL, Edwards CA, Church MJ, Zehr JP (2007) Modeled contributions of three types of diazotrophs to nitrogen fixation at station ALOHA. ISME J 1:606–619. https://doi.org/10.1038/ismej.2007.80

Gomez F, Furuya K, Takeda S (2005) Distribution of the cyanobacterium Richelia intracellularisas an epiphyte of the diatom Chaetoceros compressusin the western PacificOcean. J Plankton Res 27:323–330

Hasle GR, Syvertsen EE (1997) Marine Diatoms. In: Tomas CR (ed) Identifying marine phytoplankton. Academic Press, New York, pp 1–858

Heinbokel JF (1986) Occurrence of Richelia intracellularis(Cyanophyta) within the diatoms Hemiaulus hauckiiand H. membranaceusoff Hawaii. J Phycol 22:399–403

Hilton JA, Foster RA, Tripp HJ, Carter BJ, Zehr JP, Villareal TA (2012) Genomic deletions disrupt nitrogen metabolism pathways of a cyanobacterial diatom symbiont. Nat Commun 4:767

Iyengar MOP, Desikachary TV (1944) A systematic account of some marine myxophyceae of the south Indian coast. J Madras Univ 16:37–68

Jabir T, Dhanya V, Jesmi Y, Prabhakaran MP, Saravanane N, Gupta GVM, Hatha AAM (2013) Occurrence and distribution of a Diatom-Diazotrophic cyanobacteria association during a Trichodesmium bloom in the southeastern Arabian Sea. Int J Oceanogr 2013:1–6

Janson S, Rai AN, Bergmann B (1995) Intracellular cyanobiont Richelia intracellularis: ultrastructure and immunolocalisation of phycoerythrin, nitrogenase, Rubisco and glutamine synthetase. Mar Biol 128:1–8

Janson S, Wouters J, Bergman B, Carpenter EJ (1999) Host specificity in the Richelia–diatom symbiosis revealed by hetR gene sequence analysis. Environ Microbiol 1:431–438

Karl D, Letelier R, Tupas L, Done J, Christian J, Hebel D (1997) The role of nitrogen fixation in biogeochemical cycling in the subtropical North Pacific Ocean. Nature 388:533–538

Karl D, Michaels A, Bergman B, Capone D, Carpenter E, Letelier R, Lipschultz F, Paerl H, Sigman D, Stal L (2002) Dinitrogen fixation in the world's oceans. Biogeochemistry 57/58:47–98

Kimor B, Feid FMH, Jordan JB (1978) An unusual occurrence of Hemiaulusmembranaceus Cleve (Bacillariophyceae) with Richelia intracellularis Schmidt (Cyanophyceae) off the coast of Southern California in October 1976. Phycologia 17:162–166

Kimor B, Gordon N, Neori A (1992) Symbiotic associations among the micro plankton in oligotrophic marine environments, with special reference to the Gulf of Aqaba, Red Sea. J Plankton Res 14:1217–1231

Kulkarni VV, Chitari RR, Narale DD, Patil JS, Anil AC (2010) Occurrence of cyanobacteria- diatom symbiosis in the bay of Bengal: implications in biogeochemistry. CurrSci 99(6):736–737

Lugomela (2002) Cyanobacterial diversity and productivity in coastal areas of Zanzibar, Tanzania. Ph.D. thesis. Department of Botany, Stockholm University

Lugomela C, Bergman B, Waterbury J (2001) Cyanobacteria diversity and nitrogen fixation in coastal areas around Zanzibar, Tanzania. Algol Stud 103:95–115

Madhu NV, Paul M, Ullas N, Ashwini R, Rehitha TV (2013) Occurrence of cyanobacteria (Richelia intracellularis)- diatom Rhizosolenia hebetata consortium in the Palk Bay, south east coast of India. Indian J Geo Mar Sci 42(4):453–457

Messer LF, Mahaffey C, Robinson CM, Jeffries TC, Baker KG, Bibiloni Isaksson J, Ostrowski M, Doblin MA, Brown MV, Seymour JR (2016) High levels of heterogeneity in diazotroph diversity and activity within a putative hotspot for marine nitrogen fixation. ISME J 10(6):1499–1513. https://doi.org/10.1038/ismej.2015.205

Moisander PH, Beinart RA, Hewson I, White AE, Johnson KS, Carlson CA, Montoya JP, Zehr JP (2010) Unicellular cyanobacterial distributions broaden the oceanic N2 fixation domain. Science 327(5972):1512–1514. https://doi.org/10.1126/science.1185468

Norris EE (1967) Algal consortiums in marine plankton. In: Krishnamurthy V (ed) Proce on sea, salt, and plants. Central Salt and Marine Chemicals Research Institute, Bharnagar, pp 178–189

Ostenfeld CH, Schmidt J (1901) Plankton from the Red Sea and the Gulf of Aden. Vidensk Medd 52:141–182

Padmakumar KB, Menon NR, Sanjeevan VN (2010) Occurrence of endosymbiont Richelia intracellularis(Cyanophyta) within the diatom Rhizosolenia hebetatain northern Arabian Sea. Inter J Biodiversity and Con 2(4):70–74

Poulton AJ, Stinchcombe MC, Quartly GD (2009) Geophys Res Lett (36): L15610

Shen YW, Li YY (1989) A new species of Richelia of blue-green algae. Acta Phytotaxonomica Sinica 27:158–159

Stenegren M, Berg C, Padilla CC, David SS, Montoya JP, Yager PL, Foster RA (2017) Piecewise structural equation model (SEM) disentangles the environmental conditions favoring diatom Diazotroph associations in the western tropical North Atlantic (WTNA). Front Microbiol 8:810

Stewart WDP (1973) Nitrogen fixation by photosynthetic microorganisms. Annu Rev Microbiol 27:283–316

Subrahmanyan R (1946) A systematic account of the marine plankton diatoms of the Madras coast. Proc Indian Acad Sci 24:85–197

Subramaniam A, Yager PL, Carpenter EJ, Mahaffey C, Björkman K et al (2008) Amazon River enhances diazotrophy and carbon sequestration in the tropical North Atlantic Ocean. Proc Natl Acad Sci U S A 105:10460–10465

Sundstrom BG (1984) Observations on Rhizosolenia clevei Ostenfeld (Bacillariophyceae) and Richelia intracellularis Schmdt (Cyanophyceae). Bot Mar 27:345–355

Thompson AW, Foster RA, Krupke A, Carter BJ, Musat N, Vaulot D, Kuypers MMM, Zehr JP (2012) Unicellular cyanobacterium symbiotic with a single-celled eukaryotic alga. Science 337(6101):1546–1550

Villareal TA (1991) Nitrogen-fixation by the cyanobacterial symbiont of the diatom genus Hemiaulus. Mar Ecol Prog Ser 76:201–204

Villareal TA (1992) Marine nitrogen-fixing diatom-cyano bacterial symbioses. In: Carpenter EJ, Capone DG, Reuter J (eds) Marine pelagic cyanobacteria. Trichodesmium and other diazotrophs. Kluwer Academic Press, Dordrecht, pp 163–175

Villareal TA (1994) Widespread occurrence of the Hemiaulus cyanobacterial symbiosis in the Southwest North Atlantic Ocean. Bull Mar Sci 54:1–7

Zeev EB, Yogev T, Man-Aharonovich D, Kress N, Herut B, Béjà O, Berman-Frank I (2008) Seasonal dynamics of the endosymbiotic, nitrogen-fixing cyanobacterium Richelia intracellularisin the eastern Mediterranean Sea. Int Soc Microbiol Ecol J 2:911–923
Acknowledgements
The authors are thankful to the Director, Central Marine Fisheries Research Institute, Kochi for facilities provided. They are grateful to the Ministry of Earth Sciences, New Delhi, for financial assistance.
About this article
Cite this article
Manjumol, C.C., Linoy Libini, C., Albert Idu, K.A. et al. Occurrence of Diatom – Diazotrophic association in the coastal surface waters of south Andaman, India. Symbiosis 76, 293–302 (2018). https://doi.org/10.1007/s13199-018-0559-y
Received:

Accepted:

Published:

Issue Date:
Keywords
Cyanobacteria

Richelia intracellularis
Rhizosolenia hebetata

Diazotrophy

Hemiaulus membranaceus