Abstract
Endophytes can serve as plant growth promoters as they secret a vast array of phytohormones to support host plants. Keeping the growth promoting activity of the endophytes in view, two endophytic fungi, Asprgillus fumigatus TS1 and Fusarium proliferatum BRL1 have been isolated from the roots of Oxalis corniculata. The isolates have been screened initially for growth promoting activities, including siderophores activity, phosphate solubilization, and secreation of indole acetic acid and gibberellins. Further, the isolates have assayed for the ability to promote the growth of mutant rice Waito-C. The plants associated with TS1 and BRL1 have shown higher chlorophyll content, root-shoot length, and biomass production. The growth promoting activity of the endophytes can be attributed to the various types of GAs and IAA that have been observed in the culture filtrates of the endophytes by the Gas chromatography/mass spectrometry (GC/MS). The GC/MS analysis revealed the presence of different gibberellins concentrations (ng/ml) in TS1 and BRL1 culture filtrate, i.e. GA1 (0.091 ± 0.009, 0.392 ± 0.007), GA3 (0.324 ± 0.077, 0.089 ± 0.0007) and GA7 (0.023 ± 0.002, 0.492 ± 0.005), respectively. Besides, a significant up regulation of plant endogenous GA1 (12.443 ± 0.454 and 15.434 ± 0.245) has been obsereved in TS1 and BRL1 associated plants compared to the control. Moreover, semi quantitative RT-PCR has confirmed the presence/invovment of GA pathways genes (P50–1, P450–3, P450–4, ggs2, and des). The results conclude that the endophytes isolated in this study can ably synthesize bioactive compounds, which play an important role in plant growth promotion.
Access options
Buy single article
Instant access to the full article PDF.
US$ 39.95
Tax calculation will be finalised during checkout.
Subscribe to journal
Immediate online access to all issues from 2019. Subscription will auto renew annually.
US$ 79
Tax calculation will be finalised during checkout.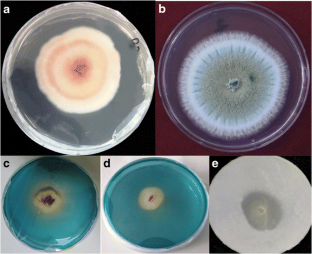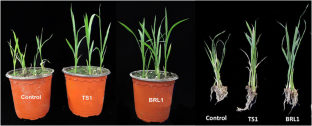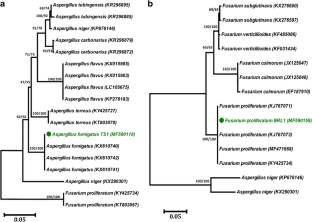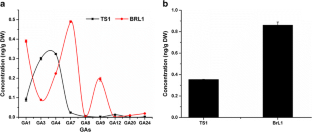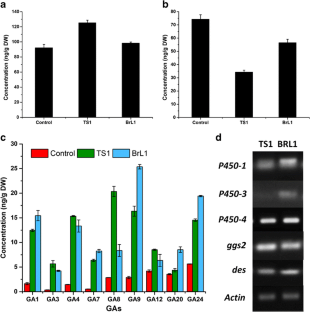 References
Albermann S, Elter T, Teubner A, Krischke W, Hirth T, Tudzynski B (2013) Characterization of novel mutants with an altered gibberellin spectrum in comparison to different wild-type strains of Fusarium fujikuroi. Appl Microbiol Biotechnol 97(17):7779–7790. https://doi.org/10.1007/s00253-013-4917-7

Aly AH, Debbab A, Proksch P (2011) Fifty years of drug discovery from fungi. Fungal Divers 50(1):3–19. https://doi.org/10.1007/s13225-011-0116-y

Anderson JP, Badruzsaufari E, Schenk PM, Manners JM, Desmond OJ, Ehlert C, Maclean DJ, Ebert PR, Kazan K (2004) Antagonistic interaction between abscisic acid and jasmonate-ethylene signaling pathways modulates defense gene expression and disease resistance in Arabidopsis. Plant Cell 16(12):3460–3479. https://doi.org/10.1105/tpc.104.025833

Angelard C, Colard A, Niculita-Hirzel H, Croll D, Sanders IR (2010) Segregation in a mycorrhizal fungus alters rice growth and symbiosis-specific gene transcription. Curr Biol 20(13):1216–1221. https://doi.org/10.1016/j.cub.2010.05.031

Ansari MW, Trivedi DK, Sahoo RK, Gill SS, Tuteja N (2013) A critical review on fungi mediated plant responses with special emphasis to Piriformospora indica on improved production and protection of crops. Plant Physiol Biochem 70:403–410. https://doi.org/10.1016/j.plaphy.2013.06.005

Asaf S, Khan MA, Khan AL, Waqas M, Shahzad R, Kim AY, Kang SM, Lee IJ (2017) Bacterial endophytes from arid land plants regulate endogenous hormone content and promote growth in crop plants: an example of Sphingomonas sp. and Serratia marcescens. J Plant Interact 12(1):31–38. https://doi.org/10.1080/17429145.2016.1274060

Audenaert K, De Meyer GB, Höfte MM (2002) Abscisic acid determines basal susceptibility of tomato toBotrytis cinerea and suppresses salicylic acid-dependent signaling mechanisms. Plant Physiol 128(2):491–501. https://doi.org/10.1104/pp.010605

Bacon CW, White J (2000) Microbial endophytes. Marcel Dekker Inc., New York

Beaudoin N, Serizet C, Gosti F, Giraudat J (2000) Interactions between abscisic acid and ethylene signaling cascades. Plant Cell 12(7):1103–1115. https://doi.org/10.1105/tpc.12.7.1103

Blakesley D, Weston G, Hall J (1991) The role of endogenous auxin in root initiation. Plant Growth Regul 10(4):341–353. https://doi.org/10.1007/BF00024593

Bömke C, Rojas MC, Gong F, Hedden P, Tudzynski B (2008) Isolation and characterization of the gibberellin biosynthetic gene cluster in Sphaceloma manihoticola. Appl Environ Microbiol 74(17):5325–5339. https://doi.org/10.1128/AEM.00694-08

Bottini R, Luna V (1993) Bud dormancy in deciduous fruit trees. Curr Top Plant Physiol 1:147–159

Chan C-X, Teo S-S, Ho C-L, Othman RY, Phang S-M (2004) Optimisation of RNA extraction from Gracilaria changii (Gracilariales, Rhodophyta). J Appl Phycol 16(4):297–301. https://doi.org/10.1023/B:JAPH.0000047782.20940.de

Crozier A (2000) Biosynthesis of hormones and elicitor molecules. In: Buchanan BB, Gruissem W, Jones RL (eds) Biochemistry and Molecular Biology of Plants MD: American Society ofPlant Physiologists, Rockville, pp 850–929

Davies PJ (2010) The Plant Hormones: Their Nature, Occurrence, and Functions. In: Plant Hormones. Davies PJ (ed) Springer, Dordrecht, pp 1–15. https://doi.org/10.1007/978-1-4020-2686-7_1

Edi Premono M, Moawad AM, Vlek PL (1996) Effect of phosphate-solubilizing Pseudomonas putida on the growth of maize and its survival in the rhizosphere. Indones J Crop Sci 11:13–23

Fulchieri M, Lucangeli C, Bottini R (1993) Inoculation with Azospirillum lipoferum affects growth and gibberellin status of corn seedling roots. Plant Cell Physiol 34:1305–1309

Gazzarrini S, McCourt P (2001) Genetic interactions between ABA, ethylene and sugar signaling pathways. Curr Opin Plant Biol 4(5):387–391. https://doi.org/10.1016/S1369-5266(00)00190-4

Ghassemian M, Nambara E, Cutler S, Kawaide H, Kamiya Y, McCourt P (2000) Regulation of abscisic acid signaling by the ethylene response pathway in Arabidopsis. Plant Cell 12(7):1117–1126. https://doi.org/10.1105/tpc.12.7.1117

Ghimire SR, Charlton ND, Bell JD, Krishnamurthy YL, Craven KD (2011) Biodiversity of fungal endophyte communities inhabiting switchgrass (Panicum virgatum L.) growing in the native tallgrass prairie of northern Oklahoma. Fungal Divers 47(1):19–27. https://doi.org/10.1007/s13225-010-0085-6

Glick BR (2012) Plant growth-promoting bacteria: mechanisms and applications. Scientifica 2012:1–15. https://doi.org/10.6064/2012/963401

Guo Y, Zhu C, Gan L, Ng D, Xia K (2015) Effects of exogenous gibberellic acid 3 on iron and manganese plaque amounts and iron and manganese uptake in rice. PLoS One 10(2):e0118177. https://doi.org/10.1371/journal.pone.0118177

Hamayun M, Khan SA, Iqbal I, Na CI, Khan AL, Hwang YH, Lee BH, Lee IJ (2009a) Chrysosporium pseudomerdarium produces gibberellins and promotes plant growth. J Microbiol 47(4):425–430. https://doi.org/10.1007/s12275-009-0268-6

Hamayun M, Khan SA, Khan MA, Khan AL, Kang SM, Kim SK, Joo GJ, Lee IJ (2009b) Gibberellin production by pure cultures of a new strain of Aspergillus fumigatus. World J Microbiol Biotechnol 25(10):1785–1792. https://doi.org/10.1007/s11274-009-0078-3

Hamayun M, Hussain A, Khan SA, Kim HY, Khan AL, Waqas M, Irshad M, Iqbal A, Rehman G, Jan S, Lee IJ (2017) Gibberellins producing endophytic fungus Porostereum spadiceum AGH786 rescues growth of salt affected soybean. Front Microbiol 8:686. https://doi.org/10.3389/fmicb.2017.00686

Hao G, Du X, Zhao F, Ji H (2010) Fungal endophytes-induced abscisic acid is required for flavonoid accumulation in suspension cells of Ginkgo biloba. Biotechnol Lett 32(2):305–314. https://doi.org/10.1007/s10529-009-0139-6

Hasan H (2002) Gibberellin and auxin production by plant root-fungi and their biosynthesis under salinity-calcium interaction. Rostlinna Vyroba 48:101–106

Herrera-Medina MJ, Steinkellner S, Vierheilig H, Ocampo Bote JA, García Garrido JM (2007) Abscisic acid determines arbuscule development and functionality in the tomato arbuscular mycorrhiza. New Phytol 175(3):554–564. https://doi.org/10.1111/j.1469-8137.2007.02107.x

Holbrook AA, Edge W, Bailey F (1961) Spectrophotometric method for determination of gibberellic acid. Adv Chem Ser 28:159–167

Hou X, Lee LY, Xia K, Yan Y, Yu H (2010) DELLAs modulate jasmonate signaling via competitive binding to JAZs. Dev Cell 19(6):884–894. https://doi.org/10.1016/j.devcel.2010.10.024

Hou X, Ding L, Yu H (2013) Crosstalk between GA and JA signaling mediates plant growth and defense. Plant Cell Rep 32(7):1067–1074. https://doi.org/10.1007/s00299-013-1423-4

Huang W-Y, Cai Y-Z, Hyde KD, Corke H, Sun M (2007) Endophytic fungi from Nerium oleander L (Apocynaceae): main constituents and antioxidant activity. World J Microbiol Biotechnol 23(9):1253–1263. https://doi.org/10.1007/s11274-007-9357-z

Jae-Han J, Shin D-M, Bae W-C, Hong S-K, Suh J-W, Koo S, Jeong B-C (2002) Identification of FM001 as plant growth-promoting substance from Acremonium strictum MJN1 culture. J Microbiol Biotechnol 12:327–330

Jeon Y-H, Chang S-P, Hwang I, Kim Y-H (2003) Involvement of growth-promoting rhizobacterium Paenibacillus polymyxa in root rot of stored Korean ginseng. J Microbiol Biotechnol 13:881–891

Kang S-M, Khan AL, Waqas M, You YH, Hamayun M, Joo GJ, Shahzad R, Choi KS, Lee IJ (2015) Gibberellin-producing Serratia nematodiphila PEJ1011 ameliorates low temperature stress in Capsicum annuum L. Eur J Soil Biol 68:85–93. https://doi.org/10.1016/j.ejsobi.2015.02.005

Katoh K, Standley DM (2013) MAFFT multiple sequence alignment software version 7: improvements in performance and usability. Mol Biol Evol 30:772–780. https://doi.org/10.1093/molbev/mst010

Kawaguchi M, Syōno K (1996) The excessive production of indole-3-acetic acid and its significance in studies of the biosynthesis of this regulator of plant growth and development. Plant Cell Physiol 37(8):1043–1048. https://doi.org/10.1093/oxfordjournals.pcp.a029051

Kawaide H (2006) Biochemical and molecular analyses of gibberellin biosynthesis in fungi. Biosci Biotechnol Biochem 70(3):583–590. https://doi.org/10.1271/bbb.70.583

Khan SA, Hamayun M, Yoon H, Kim HY, Suh SJ, Hwang SK, Kim JM, Lee IJ, Choo YS, Yoon UH, Kong WS, Lee BM, Kim JG (2008) Plant growth promotion and Penicillium citrinum. BMC Microbiol 8(1):231. https://doi.org/10.1186/1471-2180-8-231

Khan AL, Hamayun M, Kim Y-H, Kang S-M, Lee I-J (2011) Ameliorative symbiosis of endophyte (Penicillium funiculosum LHL06) under salt stress elevated plant growth of Glycine max L. Plant Physiol Biochem 49(8):852–861. https://doi.org/10.1016/j.plaphy.2011.03.005

Khan AL, Hamayun M, Kang S-M, Kim Y-H, Jung H-Y, Lee J-H, Lee I-J (2012) Endophytic fungal association via gibberellins and indole acetic acid can improve plant growth under abiotic stress: an example of Paecilomyces formosus LHL10. BMC Microbiol 12(1):3. https://doi.org/10.1186/1471-2180-12-3

Khan AL, Hussain J, Al-Harrasi A, Al-Rawahi A, Lee I-J (2015) Endophytic fungi: resource for gibberellins and crop abiotic stress resistance. Crit Rev Biotechnol 35(1):62–74. https://doi.org/10.3109/07388551.2013.800018

King RW, Evans LT (2003) Gibberellins and flowering of grasses and cereals: prizing open the lid of the "florigen" black box. Annu Rev Plant Biol 54(1):307–328. https://doi.org/10.1146/annurev.arplant.54.031902.135029

Kusari S, Spiteller M (2011) Are we ready for industrial production of bioactive plant secondary metabolites utilizing endophytes? Nat Prod Rep 28(7):1203–1207. https://doi.org/10.1039/c1np00030f

Lee I-J, Foster KR, Morgan PW (1998) Photoperiod control of gibberellin levels and flowering in sorghum. Plant Physiol 116(3):1003–1011. https://doi.org/10.1104/pp.116.3.1003

León P, Sheen J (2003) Sugar and hormone connections. Trends Plant Sci 8(3):110–116. https://doi.org/10.1016/S1360-1385(03)00011-6

Li H-Y, Wei D-Q, Shen M, Zhou Z-P (2012) Endophytes and their role in phytoremediation. Fungal Divers 54(1):11–18. https://doi.org/10.1007/s13225-012-0165-x

Lopez-Carbonell M, Alegre L, Van Onckelen H (1994) Effects of water stress on cellular ultrastructure and on concentrations of endogenous abscisic acid and indole-3-acetic acid in Fatsia Japonica leaves. Plant Growth Regul 14(1):29–35. https://doi.org/10.1007/BF00024138

Lott TJ, Kuykendall RJ, Reiss E (1993) Nucleotide sequence analysis of the 5· 8S rDNA and adjacent ITS2 region of Candida Albicans and related species. Yeast 9(11):1199–1206. https://doi.org/10.1002/yea.320091106

Luo Z-B, Li K, Gai Y, Göbel C, Wildhagen H, Jiang X, Feußner I, Rennenberg H, Polle A (2011) The ectomycorrhizal fungus (Paxillus involutus) modulates leaf physiology of poplar towards improved salt tolerance. Environ Exp Bot 72(2):304–311. https://doi.org/10.1016/j.envexpbot.2011.04.008

Magome H, Nomura T, Hanada A, Takeda-Kamiya N, Ohnishi T, Shinma Y, Katsumata T, Kawaide H, Kamiya Y, Yamaguchi S (2013) CYP714B1 and CYP714B2 encode gibberellin 13-oxidases that reduce gibberellin activity in rice. Proc Natl Acad Sci 110(5):1947–1952. https://doi.org/10.1073/pnas.1215788110

Mauch-Mani B, Mauch F (2005) The role of abscisic acid in plant–pathogen interactions. Curr Opin Plant Biol 8(4):409–414. https://doi.org/10.1016/j.pbi.2005.05.015

McCloud ES, Baldwin IT (1997) Herbivory and caterpillar regurgitants amplify the wound-induced increases in jasmonic acid but not nicotine in Nicotiana sylvestris. Planta 203(4):430–435. https://doi.org/10.1007/s004250050210

Meixner C, Ludwig-Müller J, Miersch O, Gresshoff P, Staehelin C, Vierheilig H (2005) Lack of mycorrhizal autoregulation and phytohormonal changes in the supernodulating soybean mutant nts1007. Planta 222(4):709–715. https://doi.org/10.1007/s00425-005-0003-4

Murakami-Mizukami Y, Yamamoto Y, Yamaki S (1991) Analyses of indole acetic acid and absclsic acid contents in nodules of soybean plants bearing VA mycorrhizas. Soil Sci Plant Nutr 37(2):291–298. https://doi.org/10.1080/00380768.1991.10415039

Petrini O (1991) Fungal endophytes of tree leaves. In: Andrews JH, Hirano SS (eds) Microbial Ecology of Leaves. Springer-Verlag,New York, pp 179–197

Pharis RP, King RW (1985) Gibberellins and reproductive development in seed plants. Annu Rev Plant Physiol 36(1):517–568. https://doi.org/10.1146/annurev.pp.36.060185.002505

Qi Q, Rose PA, Abrams GD, Taylor DC, Abrams SR, Cutler AJ (1998) (+)-Abscisic acid metabolism, 3-Ketoacyl-coenzyme a synthase gene expression, and very-long-chain monounsaturated fatty acid biosynthesis in Brassica napus. Embryos. Plant Physiol 117(3):979–987. https://doi.org/10.1104/pp.117.3.979

Rajulu MBG, Thirunavukkarasu N, Suryanarayanan TS, Ravishankar JP, El Gueddari NE, Moerschbacher BM (2011) Chitinolytic enzymes from endophytic fungi. Fungal Divers 47(1):43–53. https://doi.org/10.1007/s13225-010-0071-z

Reinhardt D, Mandel T, Kuhlemeier C (2000) Auxin regulates the initiation and radial position of plant lateral organs. Plant Cell 12(4):507–518. https://doi.org/10.1105/tpc.12.4.507

Reinoso H, Luna V, Dauría C, Pharis RP, Bottini R (2002) Dormancy in peach (Prunus persica) flower buds. VI. Effects of gibberellins and an acylcyclohexanedione (trinexapac-ethyl) on bud morphogenesis in field experiments with orchard trees and on cuttings. Can J Bot 80(6):664–674. https://doi.org/10.1139/b02-051

Robinson T, Singh D, Nigam P (2001) Solid-state fermentation: a promising microbial technology for secondary metabolite production. Appl Microbiol Biotechnol 55(3):284–289. https://doi.org/10.1007/s002530000565

Rodriguez R, White Jr J, Arnold A, Redman R (2009) Fungal endophytes: diversity and functional roles. New Phytol 182(2):314–330. https://doi.org/10.1111/j.1469-8137.2009.02773.x

Salas-Marina MA, Silva-Flores MA, Cervantes-Badillo MG, Rosales-Saavedra MT, Islas-Osuna MA, Casas-Flores S (2011) The plant growth-promoting fungus Aspergillus ustus promotes growth and induces resistance against different lifestyle pathogens in Arabidopsis thaliana. J Microbiol Biotechnol 21(7):686–696. https://doi.org/10.4014/jmb.1101.01012

Salkowski E (1885) Ueber das Verhalten der Skatolcarbonsäure im Organismus Zeitschrift für physiologische. Chem Aust 9:23–33

Souza R, Ambrosini A, Passaglia LM (2015) Plant growth-promoting bacteria as inoculants in agricultural soils. Genet Mol Biol 38(4):401–419. https://doi.org/10.1590/S1415-475738420150053

Strobel G, Daisy B (2003) Bioprospecting for microbial endophytes and their natural products. Microbiol Mol Biol R 67(4):491–502. https://doi.org/10.1128/MMBR.67.4.491-502.2003

Strobel G, Daisy B, Castillo U, Harper J (2004) Natural products from endophytic microorganisms⊥. J Nat Prod 67(2):257–268. https://doi.org/10.1021/np030397v

Sturz AV, Christie BR, Nowak J (2000) Bacterial endophytes: potential role in developing sustainable systems of crop production. Crit Rev Plant Sci 19(1):1–30. https://doi.org/10.1016/S0735-2689(01)80001-0

Tamura K, Stecher G, Peterson D, Filipski A, Kumar S (2013) MEGA6: molecular evolutionary genetics analysis version 6.0. Mol Biol Evol 30:2725–2729. https://doi.org/10.1093/molbev/mst197

Tan RX, Zou WX (2001) Endophytes: a rich source of functional metabolites. Nat Prod Rep 18(4):448–459. https://doi.org/10.1039/b100918o

Tanimoto E (1987) Gibberellin-dependent root elongation in Lactuca sativa: recovery from growth retardant-suppressed elongation with thickening by low concentration of GA3. Plant Cell Physiol 28:963–973

Ullah I, Khan AR, Park G-S, Lim J-H, Waqas M, Lee I-J, Shin J-H (2013) Analysis of phytohormones and phosphate solubilization in Photorhabdus spp. Food Sci Biotechnol 22(S1):25–31. https://doi.org/10.1007/s10068-013-0044-6

ÜNyayar S, Topcuoglu ŞF, Bozcuk S (1997) Abscisic acid production by Pleurotus florida cultured in various conditions and its relation to growth. Israel J Plant Sci 45(1):19–22. https://doi.org/10.1080/07929978.1997.10676665

Vellore JM (2001) Iron Acquisition in Rhodococcus erythrolpolis: the Isolation of Mutant (s) that DoNot Produce a Siderophore. Electronic Theses and Dissertations. Paper 41. http://dc.etsu.edu/etd/41

Verma VC, Kharwar RN, Strobel GA (2009) Chemical and functional diversity of natural products from plant associated endophytic fungi. Nat Prod Commun 4(11):1511–1532

Waqas M, Khan AL, Lee I-J (2014) Bioactive chemical constituents produced by endophytes and effects on rice plant growth. J Plant Interact 9(1):478–487. https://doi.org/10.1080/17429145.2013.860562

Waqas M, Khan AL, Hamayun M, Shahzad R, Kim Y-H, Choi K-S, Lee I-J (2015) Endophytic infection alleviates biotic stress in sunflower through regulation of defence hormones, antioxidants and functional amino acids. Eur J Plant Pathol 141(4):803–824. https://doi.org/10.1007/s10658-014-0581-8

Wei Z, Liang X, Pendlowski H, Hillier S, Suntornvongsagul K, Sihanonth P, Gadd GM (2013) Fungal biotransformation of zinc silicate and sulfide mineral ores. Environ Microbiol 15(8):2173–2186. https://doi.org/10.1111/1462-2920.12089

Wijayanti L, Fujioka S, Kobayashi M, Sakurai A (1996) Effect of uniconazole and gibberellin on the flowering of Pharbitis nil. Biosci Biotechnol Biochem 60(5):852–855. https://doi.org/10.1271/bbb.60.852

Woodward AW, Bartel B (2005) Auxin: regulation, action, and interaction. Ann Bot-London 95(5):707–735. https://doi.org/10.1093/aob/mci083

Yang D-L et al (2012a) Plant hormone jasmonate prioritizes defense over growth by interfering with gibberellin signaling cascade. Proc Natl Acad Sci 109:E1192–E1200

Yang D-L et al (2012b) Plant hormone jasmonate prioritizes defense over growth by interfering with gibberellin signaling cascade. Proc Natl Acad Sci 109:E1192–E1200. https://doi.org/10.1073/pnas.1201616109

You Y-H, Yoon H, Kang SM, Shin JH, Choo YS, Lee IJ, Lee JM, Kim JG (2012) Fungal diversity and plant growth promotion of endophytic fungi from six halophytes in Suncheon Bay. J Microbiol Biotechnol 22(11):1549–1556. https://doi.org/10.4014/jmb.1205.05010

You Y-H, Kwak TW, Kang S-M, Lee M-C, Kim J-G (2015) Aspergillus clavatus Y2H0002 as a new endophytic fungal strain producing gibberellins isolated from Nymphoides pe ltata in fresh water. Mycobiology 43(1):87–91. https://doi.org/10.5941/MYCO.2015.43.1.87

Zhang S, Gan Y, Xu B (2016) Application of plant-growth-promoting fungi Trichoderma longibrachiatum T6 enhances tolerance of wheat to salt stress through improvement of antioxidative defense system and gene expression. Front Plant Sci 7. https://doi.org/10.3389/fpls.2016.01405

Zhao J, Zhou L, Wang J, Shan T, Zhong L, Liu X, Gao X (2010) Endophytic fungi for producing bioactive compounds originally from their host plants. Curr Res Technol Educ Trop Appl Microbiol Microbial Biotechnol 1:567–576
Electronic supplementary material
About this article
Cite this article
Bilal, L., Asaf, S., Hamayun, M. et al. Plant growth promoting endophytic fungi Asprgillus fumigatus TS1 and Fusarium proliferatum BRL1 produce gibberellins and regulates plant endogenous hormones. Symbiosis 76, 117–127 (2018). https://doi.org/10.1007/s13199-018-0545-4
Received:

Accepted:

Published:

Issue Date:
Keywords
Endophytic fungi

Indole acetic acid

Gibberellins

Oxalis corniculata
Waito-C