Abstract
Endophyte-mediated plant growth and stress tolerance have been increasingly acknowledged. Our knowledge of functions of endophytes from saline environments, however, is currently scant indeed. In this work, we found that an endophytic ascomycetous Curvularia sp. isolated from a halophytic plant Suaeda salsa was able to establish beneficial symbiosis with poplar (Populus tomentosa). Microscopic staining technique confirmed that the Curvularia sp. can penetrate the poplar roots after two week inoculation and readily form sclerotia-like structures and monilioid hyphal cells in root hair and/or cortex cells, both intercellularly and intracellularly. This implied that this fungus can be referred to as a dark septate endophyte. Pot experiments revealed that Curvularia sp. significantly promoted the poplar growth and resulted in increased production of the antioxidant enzymes, particularly the superoxide dismutase (SOD) and ascorbate peroxidase (APX) under salinity stress condition. The presence of Curvularia sp. also enhanced chlorophyll a, b and proline contents in leaves, although not all differences were significant. Compared to the non-inoculated plants, the photosystem II-based electron transport rate (ETR), actual quantum yield in the light-adapted steady state (ϕPSII) and photochemical quenching values (qP) was significantly higher in colonized plants, despite there were only slight differences in the values of the maximum quantum yield in the dark-adapted state (Fv/Fm) and in the light-adapted sate (F'v/F'm). Collectively, our data supports the evidence of the ability of Curvularia sp. to alleviate the adverse effects of salinity stress on poplar growth and highlights the potential use of endophytes from extreme conditions as novel probiotics in improving salt tolerance of tree seedlings.
Access options
Buy single article
Instant access to the full article PDF.
US$ 39.95
Tax calculation will be finalised during checkout.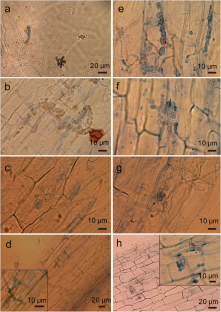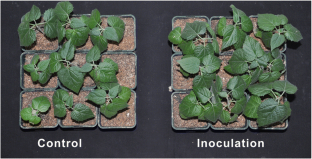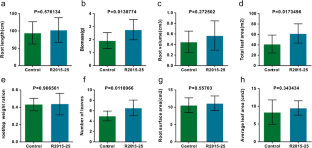 References
Azad K, Kaminskyj S (2016) A fungal endophyte strategy for mitigating the effect of salt and drought stress on plant growth. Symbiosis 68:73–78

Baltruschat H, Fodor J, Harrach BD et al (2008) Salt tolerance of barley induced by the root endophyte Piriformospora indica is associated with a strong increase in antioxidants. New Phytol 180:501–510

Ban YH, Xu ZY, Yang YR et al (2017) Effect of dark septate endophytic fungus Gaeumannomyces cylindrosporus on plant growth, photosynthesis and Pb tolerance of maize (Zea mays L.) Pedosphere 27:283–292

Berthelot C, Leyval C, Foulon J et al (2016) Plant growth promotion, metabolite production and metal tolerance of dark septate endophytes isolated from metal-polluted poplar phytomanagement sites. FEMS Microbiol Ecol. https://doi.org/10.1093/femsec/fiw144

Berthelot C, Blaudez D, Leyval C (2017) Differential growth promotion of poplar and birch inoculated with three dark septate endophytes in two trace element-contaminated soils. Int J Phytoremediation. https://doi.org/10.1080/15226514.2017.1328392

Bonito G, Reynolds H, Robeson MS et al (2014) Plant host and soil origin influence fungal and bacterial assemblages in the roots of woody plants. Mol Ecol 23:3356–3370

Bonito G, Hameed K, Ventura R et al (2016) Isolating a functionally relevant guild of fungi from the root microbiome of Populus. Fungal Ecol 22:35–42

Bonito G, Hameed K, Toome-Heller M et al (2017) Atractiella rhizophila, sp. nov., an endorrhizal fungus isolated from the Populus root microbiome. Mycologia 109:18–26

Casano LM, Zapata JM, Martín M et al (2000) Chlororespiration and poising of cyclic electron transport. Plastoquinone as electron transporter between thylakoid NADH dehydrogenase and peroxidase. J Biol Chem 275:942–948

Coleman-Derr D, Tringe SG (2014) Building the crops of tomorrow: advantages of symbiont-based approaches to improving abiotic stress tolerance. Front Microbiol 5:283

Du QZ, Zhang DQ, Li BL (2012) Development of 15 novel microsatellite markers from cellulose synthase genes in Populus tomentosa (Salicaceae). Am J Bot 99:e46–e48

Hacquard S, Schadt CW (2015) Towards a holistic understanding of the beneficial interactions across the Populus microbiome. New Phytol 205:1424–1430

Hu J, Wang L, Yan D, Lu MZ (2014) Research and application of transgenic poplar in China. Challenges and Opportunities for the World's Forests in the 21st Century. Springer, Berlin, pp 567–584

Jansson S, Douglas CJ (2007) Populus: a model system for plant biology. Annu Rev Plant Biol 58:435–458

Khan AL, Hamayun M, Kim YH et al (2011) Ameliorative symbiosis of endophyte (Penicillium funiculosum LHL06) under salt stress elevatedplant growth of Glycine max L. Plant Physiol Biochem 49:852–861

Knapp DG, Kovács GM, Zajta E et al (2015) Dark septate endophytic pleosporalean genera from semiarid areas. Persoonia 35:87–100

Lacercat-Didier L, Berthelot C, Foulon J et al (2016) New mutualistic fungal endophytes isolated from poplar roots display high metal tolerance. Mycorrhiza 26:657–671

Langenfeld-Heyser R, Gao J, Ducic T et al (2007) Paxillus involutus mycorrhiza attenuate NaCl-stress responses in the salt-sensitive hybrid poplar Populus ˟Canescens. Mycorrhiza 17:121–131

Li J, Bao S, Zhang Y et al (2012) Paxillus involutus strains MAJ and NAU mediate K+/Na+ homeostasis in ectomycorrhizal Populus×Canescens under NaCl stress. Plant Physiol 159:1771–1786

Lichtenthaler HK, Buschmann C, Knapp M (2005) How to correctly determine the different fluorescence parameters and the chlorophyll fluorescence decrease ration Rfd of leaves with the PAM fluorymetr. Photosynthetica 43:379–393

Luo ZB, Li K, Gai Y et al (2011) The ectomycorrhizal fungus (Paxillus involutus) modulates leaf physiology of poplar towards improved salt tolerance. Environ Exp Bot 72:304–311

Maciá-Vicente JG, Ferraro V, Burruano S et al (2012) Fungal assemblages associated with roots of halophytic and non-halophytic plant species vary differentially along a salinity gradient. Microb Ecol 64:668–679

Peterson R, Wagg C, Pautler M (2008) Associations between microfungal endophytes and roots: do structural features indicate function? Botany 86:445–456

Pinior A, Grunewaldt-Stöcker G, von Alten H et al (2005) Mycorrhizal impact on drought stress tolerance of rose plants probed by chlorophyll a fluorescence, proline content and visual scoring. Mycorrhiza 15:596–605

Qin Y, Druzhinina IS, Pan XY et al (2016) Microbially-mediated plant salt tolerance and microbiome-based solutions for saline agriculture. Biotechnol Adv 34:1245–1259

Qin Y, Pan XY, Kubicek CP et al (2017) Diverse plant-associated pleosporalean fungi from saline areas: ecological tolerance and nitrogen-status dependent effects on plant growth. Front Microbiol 8:158

Rodriguez R, Redman R (2008) More than 400 million years of evolution and some plants still can't make it on their own: plant stress tolerance via fungal symbiosis. J Exp Bot 59:1109–1114

Rodriguez RJ, Henson J, Van Volkenburgh E et al (2008) Stress tolerance in plants via habitat-adapted symbiosis. ISME J 2:404–416

Shahabivand S, Parvaneh A, Aliloo AA (2017) Root endophytic fungus Piriformospora indica affected growth, cadmium partitioning and chlorophyll fluorescence of sunflower under cadmium toxicity. Ecotoxicol Environ Saf 145:496–502

Sheng M, Tang M, Chen H et al (2008) Influence of arbuscular mycorrhizae on photosynthesis and water status of maize plants under salt stress. Mycorrhiza 18:287–296

Singh LP, Gill SS, Tuteja N (2011) Unraveling the role of fungal symbionts in plant abiotic stress tolerance. Plant Signal Behav 6:175–191

Suryanarayanan TS (2013) Endophyte research: going beyond isolation and metabolite documentation. Fungal Ecol 6:561–568

Vannier N, Mony C, Bittebière AK et al (2015) Epigenetic mechanisms and microbiota as a toolbox for plant phenotypic adjustment to environment. Front Plant Sci 6:1159

Vélez JM, Tschaplinski TJ, Vilgalys R et al (2017) Characterization of a novel, ubiquitous fungal endophyte from the rhizosphere and root endosphere of Populus trees. Fungal Ecol 27:78–86

Vodnik D, Gogala N (1994) Seasonal fluctuation of photosynthesis and its pigments in 1-year mycorrhized spruce seedlings. Mycorrhiza 4:277–281

Wang W, Tsuneda A, Gibas CF et al (2007) Cryptosporiopsis species isolated from the roots of aspen in central Alberta: identification, morphology, and interactions with the host, in vitro. Can J Bot 85:1214–1226

Wellburn AR (1994) The spectral determination of chlorophyll a and chlorophyll b, as well as total carotenoids, using various solvents with spectrophotometers of different resolution. J Plant Physiol 144:307–313

Yuan ZL, Druzhinina IS, Labbé J et al (2016) Specialized microbiome of a halophyte and its role in helping non-host plants to withstand salinity. Sci Rep 6:32467
Acknowledgements
This work was financially supported by the National Natural Science Foundation of China (No. 31370704 and No. 31722014) and the Fundamental Research Funds for the Central Non-profit Research Institution of RISF-CAF (RISF2013005). We greatly appreciated Dr. Shengqing Shi (Institute of Forestry, Chinese Academy of Forestry, Beijing) for providing the poplar clone materials. We would like to extend our sincerest thanks and great appreciation to Dr. Jessy Labbé, Oak Ridge National Labor, for his useful suggestions and technical assistance.
Ethics declarations
Conflicts of interest
The authors declare that there is no conflict of interest.
About this article
Cite this article
Pan, X., Qin, Y. & Yuan, Z. Potential of a halophyte-associated endophytic fungus for sustaining Chinese white poplar growth under salinity. Symbiosis 76, 109–116 (2018). https://doi.org/10.1007/s13199-018-0541-8
Received:

Accepted:

Published:

Issue Date:
Keywords
Poplar

Fungal endophytes

Salinity

Symbiosis