Abstract
While strangler figs in the genus Ficus have been assumed to have only epiphytic and parasitic relationships with the host trees on which they grow, we suggest that a mutualistic relationship may also exist that benefits host trees during severe storms. Twenty-nine months after a cyclone, uprooted and standing trees in Lamington National Park, Queensland, Australia were compared for the presence of attached strangler figs. A significantly smaller percentage of uprooted (12.8%) than standing trees (58.5%) had large attached strangler figs. Strangler figs might provide four different mechanisms that make it less likely that their host trees will be uprooted in storms. Aerial roots may provide two distinct mechanisms, first through attachments to surrounding vegetation, and second through attachments to rooting points in the ground. The canopy closure added by strangler fig canopies may provide shielding from winds. Anastomosing root networks adhering to host tree trunks may also provide scaffolding support.
Access options
Buy single article
Instant access to the full article PDF.
US$ 39.95
Tax calculation will be finalised during checkout.
Subscribe to journal
Immediate online access to all issues from 2019. Subscription will auto renew annually.
US$ 79
Tax calculation will be finalised during checkout.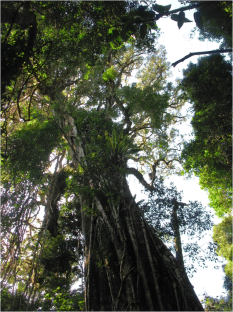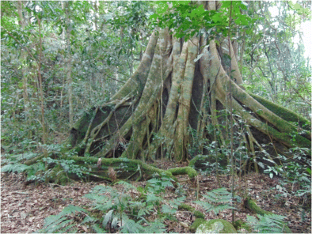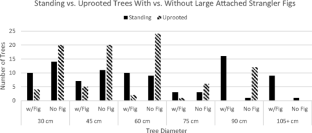 References
Australia's Virtual Herbarium, Council of Heads of Australasian Herbaria (2015) http://avh.ala.org.au/. Accessed 11 Oct 2016

Australian Emergency Management Knowledge Hub: Cyclone Oswald, Queensland & New South Wales (2013) https://emknowledge.org.au/resource/3487/2013/cyclone-oswald-queensland-new-south-wales-2013. Accessed 27 March 2017

Compton SG, Musgrave MK (1993) Host relationships of Ficus burtt-davyi when growing as a strangler fig. S Afr J Bot 59(4):425–430

Dawkins R, Krebs JR (1979) Arms races between and within species. Proc R Soc Lond B 205:489–511

Kariuki M, Rolfe M, Smith RGB, Vanclay JK, Kooyman RM (2006) Diameter growth performance varies with species functional-group and habitat characteristics in subtropical rainforests. For Ecol Manag 225:1–14

Male TD, Roberts GE (2005) Host associations of the strangler fig Ficus watkinsiana in a subtropical Queensland rain forest. Austral Ecology 30:229–236

McDonald WJF, Thomas MB (1990) The flora of Lamington National Park: a preliminary checklist of the vascular plant species, 2nd edn. Department of Primary Industries, Queensland Government, Brisbane

O'Reilly's Rainforest Retreat staff (2015) http://www.oreillys.com.au/lamington-national-park/flora. Accessed 21 Dec 2015

Putz FE (1984) How trees avoid and shed lianas. Biotropica 16(1):19–23

Putz FE (1991) Silvicultural effects of lianas. Ch. 18. In: Putz FE, Mooney HA (eds) The biology of vines. Cambridge University Press, Cambridge, p 494

Putz FE (2012) Vine ecology. ECOLOGY.INFO 24. Online review. http://www.ecology.info/vines.htm. Accessed 14 July 2016

Richards PW (1996) The tropical rain forest: an ecological study, 2nd edn. Cambridge University Press, Cambridge, pp 126, 134

Schnitzer SA, Putz FE, Bongers F, Kroening K (2015) The past, present, and future of liana ecology. Ch. 1. In: Schnitzer SA, Bongers F, Burnham RJ, Putz FE (eds) Ecology of lianas. Wiley Blackwell, West Sussex

Smith AP (1973) Stratification of temperate and tropical forests. Am Nat 107(957):671–683

Van Valen L (1973) A new evolutionary law. Evolutionary Theory 1:1–30

Vanclay JK (1991) Aggregating tree species to develop diameter increment equations for tropical rainforests. For Ecol Manag 42:143–168

Williams-Linera G, Lawton RO (1995) The ecology of hemiepiphytes in forest canopies. Ch. 12. In: Lowman MD, Nadkarni NM (eds) Forest canopies. Academic Press, San Diego, pp 255–283

Wyse SV, Burns BR (2011) Do host bark traits influence trunk epiphyte communities? N Z J Ecol 35(3):296–301
Acknowledgements
We thank Michael (Mick) O'Reilly and the O'Reilly's staff for logistical assistance, information, and advice; Daniel S. Miller for statistical advice and testing; David Richardson and an anonymous reviewer for helpful ideas and suggestions; Francis E. Putz, Robert E. Cook, Thomas Mione and Douglas Carter for helpful comments on an earlier draft of the manuscript; and Dale Dixon, Barbara J. Nicholson, and George C. Elliott for useful discussions.
About this article
Cite this article
Richard, L.S., Halkin, S.L. Strangler figs may support their host trees during severe storms. Symbiosis 72, 153–157 (2017). https://doi.org/10.1007/s13199-017-0484-5
Received:

Accepted:

Published:

Issue Date:
Keywords
Ficus mutualism

Tree wind resistance

Lamington National Park

Strangler fig

Semitropical rainforest

Hemiepiphyte