Abstract
The use of beneficial fungi as crop inoculants is constrained by the need for application of fungicides because the pathogen controlling fungicides often concurrently suppress the efficacy of the beneficial mycobiont. Root endophytic fungi have been shown to improve agronomic traits in spring barley and may be less sensitive to the regularly applied foliar fungicides. We hypothesised that a consortium of fungal endophyte species applied as a seed spore dressing may improve the germination and subsequent growth of barley and oat seedlings. We tested a range of seed dressings to evaluate the effects of the endophytes: untreated seed, regular fungicidal dressing (triticonazole and prochloraz), endophyte seed spore dressing and a combination of endophyte and fungicide. We found significant increases in mean barley seedling length induced by the endophytes after 28 days of seedling growth at time points of up to 6 months from seed dressing. The increases in mean seedling length were greatest for the combined fungal endophyte and fungicide treatment. For the oat cultivar, we found even more substantial endophyte associated increases in mean seedling length. These results indicate that the endophytes tested here are persistent in a seed dressing, enhance early seedling growth, are fungicide tolerant and are competent in two different genera of cereal crops.
Access options
Buy single article
Instant access to the full article PDF.
USD 39.95
Price excludes VAT (USA)
Tax calculation will be finalised during checkout.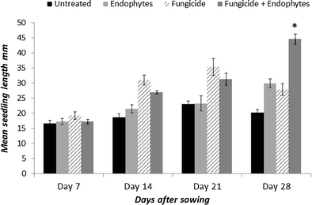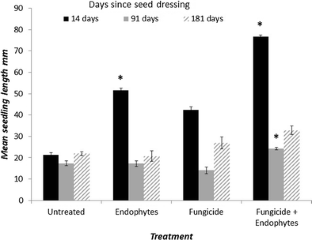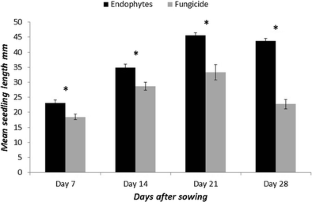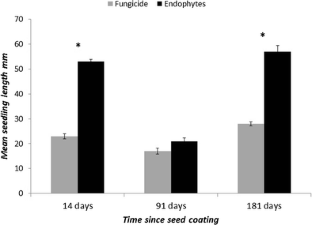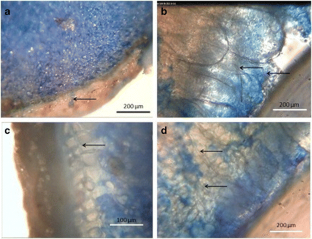 References
Achatz B, Rüden S, Andrade D, Neumann E, Pons-Kühnemann J, Kogel K-H, Franken P, Waller F (2010) Root colonization by Piriformospora indica enhances grain yield in barley under diverse nutrient regimes by accelerating plant development. Plant Soil 333:59–70

American Malting Barley Association (2015) Harvesting, Drying and Storing Barley, pp. 7. http://ambainc.org/media/AMBA_PDFs/Pubs/Harvesting_Drying_and_Storing_Barley.pdf. Accessed 16/12/2015

Bagde US, Prasad R, Varma A (2011) Influence of culture filtrate of Piriformospora indica on growth and yield of seed oil in Helianthus annus. Symbiosis 53:83–88

Chen LY, Liu RJ, Bi YL, Feng G (2014) Use of mycorrhizal fungi for Forest plantations and Minesite rehabilitation. In: Abbott LK, Solaiman Z, Varma A (eds) Mycorrhizal fungi use sustain. Agric. L. Restor. Springer, Berlin, p. 407

Chiocchio V, Venedikian N, Martinez AE, Menendez A, Ocampo J, Godeas A (2000) Effect of the fungicide benomyl on spore germination and hyphal length of the arbuscular mycorrhizal fungus Glomus mosseae. Int Microbiol 3:173–175

Gamboa MA, Wen S, Fetcher N, Bayman P (2005) Effects of fungicides on endophytic fungi and photosynthesis in seedlings of a tropical tree, Guarea guidonia (Meliaceae). Acta Biol Colomb 10:41–48

Harvey IC, Fletcher LR, Emms LM (2012) Effects of several fungicides on the Lolium endophyte in ryegrass plants, seeds and in culture. New Zeal J Agr Res 25:601–606

Hong TD, Ellis RH, Moore D (1997) Development of a model to predict the effect of temperature and moisture on fungal spore longevity. Ann Bot 79:121–128

Jakobs-Schönwandt D, Döring M, Patel A (2014) Application Techniques of Endophytes. Proceedings of a meeting held at the FH Bielefeld, Germany, 14–15 July 2014. Veröffentlichungsreihe-IuM-03. Bielefeld, Germany, pp. 89. ISSN 2196–6192

Johnson JM, Alex T, Oelmüller R (2014) Piriformospora indica: the versatile and multifunctional root endophytic fungus for enhanced yield and tolerance to biotic and abiotic stress in crop plants. J Trop Agric 52:103–122

Jones D (2013) Home-saved seed helps save a packet. Farmer's Weekly, 1st June

Kedar A, Rathod D, Yadav A, Agarkar G, Rai M (2014) Endophytic Phoma sp. isolated from medicinal plants promote the growth of Zea mays. Nusantara Bioscie 6:1–8

Koch KA, Potter BD, Ragsdale DW (2010) Non-target impacts of soybean rust fungicides on the fungal entomopathogens of soybean aphid. J Invertebr Pathol 103:156–164

Latch GCM (1983) Incidence of endophytes in seed lines and their control with fungicides. Proc New Zeal Grassland Assoc 253:251–253

Li T-X, Yang M-H, Wang X-B, Wang Y, Kong L-Y (2015) Synergistic antifungal meroterpenes and dioxolanone derivatives from the endophytic fungus Guignardia sp. J Nat Prod 78:2511–2520

Marx DH, Jarl K, Ruehle JL, Bell W (1984) Development of Pisolithus tinctorius ectomycorrhizae on pine seedlings using basidiospore-encapsulated seeds. For Sci 30:897–907

Mercer EI, Khalil IA, Wang ZX (1989) Effect of some sterol-biosynthesis-inhibiting fungicides on the biosynthesis of polyisoprenoid compounds in barley seedings. Steroids 53:393–412

Minamor AA (2013) Effect of two fungicides (Caocobre and Ridomil) on germination and radicle elongation of cocoa (Theobroma cacao L) seedlings. Int J Pure Appl Sci Technol 15:79–86

Murphy BR, Doohan FM, Hodkinson TR (2014a) Persistent fungal root endophytes isolated from a wild barley species suppress seed- borne infections in a barley cultivar. Symbiosis 60:281–292

Murphy BR, Doohan FM, Hodkinson TR (2014b) Yield increase induced by the fungal root endophyte Piriformospora indica in barley grown at low temperature is nutrient limited. Symbiosis 62:29–39

Murphy BR, Doohan FM, Hodkinson TR (2015a) Fungal root endophytes of a wild barley species increase yield in a nutrient-stressed barley cultivar. Symbiosis 65:1–7

Murphy BR, Martin Nieto L, Doohan FM, Hodkinson TR (2015b) Fungal endophytes enhance agronomically important traits in severely drought-stressed barley. J Agron Crop Sci 201:419–427

Owen D, Williams AP, Griffith GW, Withers PJ (2015) Use of commercial bio-inoculants to increase agricultural production through improved phosphrous acquisition. Appl Soil Ecol 86:41–54

Schreiner RP, Bethlenfalvay GJ (1997) Mycorrhizae, biocides, and biocontrol 3. Effects of three different fungicides on developmental stages of three AM fungi. Biol Fertil Soils 24:18–26

Sun C, Johnson JM, Cai D, Sherameti I, Oelmüller R, Lou B (2010) Piriformospora indica confers drought tolerance in Chinese cabbage leaves by stimulating antioxidant enzymes, the expression of drought-related genes and the plastid-localized CAS protein. J Plant Physiol 167:1009–1017

TeKrony DM, Egli DB (1991) Relationship of seed vigor to crop yield: a review. Crop Sci 31:816–822

Tripathi S, Das A, Chandra A, Varma A (2014) Development of carrier-based formulation of root endophyte Piriformospora indica and its evaluation on Phaseolus vulgaris L. World J Microbiol Biotechnol 31:337–344

Waller F, Achatz B, Baltruschat H, Fodor J, Becker K, Fischer M, Heier T, Hückelhoven R, Neumann C, von Wettstein D, et al. (2005) The endophytic fungus Piriformospora indica reprograms barley to salt-stress tolerance, disease resistance, and higher yield. PNAS 102:13386–13391

Williams MJ, Backman PA, Clark EM, White JF (1984) Seed treatments for control of the tall fescue endophyte Acremonium-Coenophialum. Plant Dis 68:49–52

Wilson AD, Leste DG, Luckenbill BK (2008) Control of clavicipitaceous anamorphic endophytes with fungicides, aerated steam and supercritical fluid C02-seed extraction. Plant Pathol 7:65–74

Yara Ireland (2015) Increasing Oat Yield. Yara Crop Nutrition, http://www.yara.ie/crop-nutrition/crops/oats/yield/. Accessed 17/12/2015
Acknowledgments
We thank: Goldcrop Limited, Cork, Ireland for the generous supply of barley and oat seeds, and for advice on suitable cultivars to use; Helena Murphy for proof reading and the de-cluttering of technical terms; laboratory technicians at Trinity College Dublin for providing supplies and technical support. Trinity College Dublin provided financial support through a PhD studentship grant.
About this article
Cite this article
Murphy, B.R., Doohan, F.M. & Hodkinson, T.R. A seed dressing combining fungal endophyte spores and fungicides improves seedling survival and early growth in barley and oat. Symbiosis 71, 69–76 (2017). https://doi.org/10.1007/s13199-016-0418-7
Received:

Accepted:

Published:

Issue Date:

DOI: https://doi.org/10.1007/s13199-016-0418-7
Keywords
Barley

Oat

Germination

Fungal root endophytes

Fungicide