Abstract
Some of the positive benefits of the symbiotic relationship between the yellow spotted salamander Ambystoma maculatum and the green alga Oophila amblystomatis on salamander embryonic development have been well documented. However, the fundamental basis of the relationship, in terms of the exchange of metabolic and photosynthetic products, is under debate, especially as it relates to newly discovered endosymbiotic aspects of the relationship. We developed a novel experimental approach in which we liberated egg capsules from egg masses and compared de-capsulated embryos to capsulated embryos. We were able to discern the contribution of salamander embryo respiration and ammonia excretion and algal photosynthesis to oxygen and ammonia dynamics within the egg capsules under light and dark conditions. Algal photosynthesis drove oxygen production under light conditions, while salamander respiration caused hypoxia during dark conditions. Ammonia was consumed to such an extent that it may be the limiting factor for algal growth. Algal cells actively penetrated the developing gut of embryos through the blastopore from an early developmental stage, and some algae came to reside in the vicinity of liver primordia towards later embryonic development, perhaps explaining the lack of detectable ammonia production by de-capsulated embryos. We suggest that oxygen and ammonia may influence A. maculatum growth and O. amblystomatis population dynamics. We have also demonstrated the extent to which algal cells penetrate internal spaces of embryos, which may be the precursor to endosymbiosis between these two species.
Access options
Buy single article
Instant access to the full article PDF.
US$ 39.95
Tax calculation will be finalised during checkout.
Subscribe to journal
Immediate online access to all issues from 2019. Subscription will auto renew annually.
US$ 79
Tax calculation will be finalised during checkout.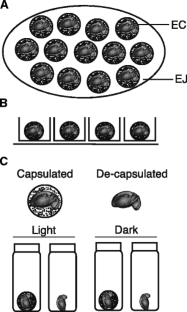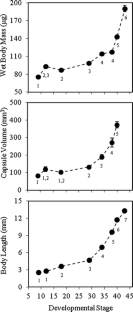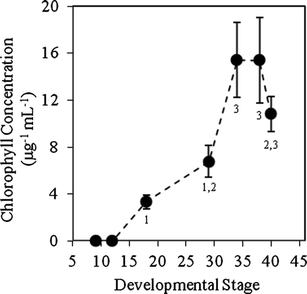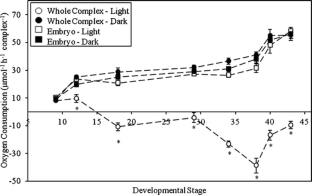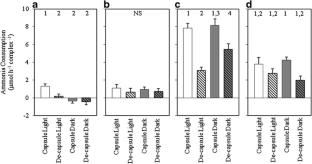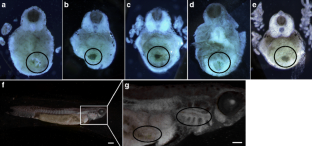 References
Bachmann MD, Carlton RG, Burkholder JM, Wetzel RG (1986) Symbiosis between salamander eggs and green algae: microelectrode measurements inside eggs demonstrate effect of photosynthesis on oxygen concentration. Can J Zool 64:1586–1588

Bianchini K, Tattersall GJ, Sashaw J, Porteus CS, Wright PA (2012) Acid water interferes with salamander-green algae symbiosis during early embryonic development. Physiol Biochem Zool 85(5):470–480

Bishop CD, Miller AG (2014) Dynamics of the growth, life history transformation and photosynthetic capacity or Oophila amblystomatis (Chlorophyceae), a green algal symbiont associated with embryos of the northeastern yellow spotted salamander Ambystoma maculatum (Amphibia). Symbiosis. doi:10.1007/s13199-014-0287-x

Boell EJ (1948) Biochemical differentiation during amphibian development. Ann N Y Acad Sci 49(5):773–800

Gilbert PW (1942) Observations on the eggs of Ambystoma maculatum with especial reference to the green algae found within the egg envelopes. Ecol 23(2):215–227

Gilbert PW (1944) The alga-egg relationship in Ambystoma maculatum, a case of symbiosis. Ecol 25:366–369

Goff LJ, Stein JR (1978) Ammona: basis for algal symbiosis in salamander egg masses. Life Sci 22:1463–1468

Graham ER, Fay SA, Davey A, Sanders RW (2013) Intracapsular algae provide fixed carbon to developing embryos of the salamander Ambystoma maculatum. J Exp Biol 216:452–459

Harrison RG (1969) Harrison stages and description of the normal development of the spotted salamander, Ambystoma punctatum (Linn). In: Wilens S (ed) Organization and development of the embryo. Yale University Press, New Haven CT, pp 44–66

Kerney R (2011) Symbioses between salamander embryos and green algae. Symbiosis 54:107–117

Kerney R, Kim E, Hangarter RP, Heiss AA, Bishop CD, Hall BK (2011) Intracellular invasion of green algae in a salamander host. PNAS 108(16):6497

Kim E, Lin Y, Kerney R, Blumenberg L, Bishop CD (2014) Phylogenetic analysis of algal symbionts associated with four North American amphibian egg masses. PLoS One (Accepted)

Matsuda Y, Shimada T, Sakamoto Y (1992) Ammonium ions control gametic differentiation and dedifferentiation in Chlamydomonas reinhardtii. Plant Cell Physiol 33(7):909–914

Orr H (1888) Note on the development of amphibians, chiefly concerning the central nervous system; with additional observations on the hypophysis, mouth, and the appendages and skeleton of the head. Q J Micro Sci N S 115:483–489

Pinder AW, Friet SC (1994) Oxygen transport in egg masses of the amphibians Rana sylvatica and Ambystoma maculatum: convection, diffusion and oxygen production by algae. J Exp Biol 197:17–30

Ritchie RJ (2006) Consistent sets of spectrophotometric chlorophyll equations for acetone, methanol and ethanol solvents. Photosynth Res 89:27–41

Sager R, Granick S (1954) Nutritional control of sexuality in Chlamydomonas reinhardtii. J Gen Physiol 37:729–742

Seymour RS, Bradford DF (1995) Respiration of amphibian eggs. Physiol Zool 68(1):1–25

Solórzano L (1969) Determination of ammonia in natural waters by the phenolhypochlorite method. Limnol Oceanogr 14(5):799–801

Stanley GC (2006) Photosymbiosis and the evolution of modern coral reefs. Science 312:857–858

Steinert M, Hentschel U, Hacker J (2000) Symbiosis and pathogenesis: evolution of the microbe-host interaction. Naturwissenschaften 87(1):1–11

Tattersall GJ, Spiegelaar N (2008) Embryonic motility and hatching success of Ambystoma maculatum are influenced by a symbiotic alga. Can J Zool 86(11):1289–1298

Trench RK (1993) Microalgal-invertebrate symbiosis: a review. Endocytobiosis Cell Res 9:135–175

Valls JH, Mills NE (2007) Intermittent hypoxia in eggs of Ambystoma maculatum: embryonic development and egg capsule conductance. J Exp Biol 210:2340–2345

Yellowlees D, Rees TAV, Leggat W (2008) Metabolic interactions between algal symbionts and invertebrate hosts. Plant Cell Environ 31:679–694
Acknowledgments
Anthony Miller is thanked for the use of his O2 microelectrode and valuable review of the manuscript. Bill Marshall is thanked for use of his vibratome and Stephen Jewkes is thanked for permission to collect egg masses from the Upper Fairmont pond. A NSERC Discovery Grant and an infrastructure grant from the Canada Foundation for Innovation to CDB supported this research. RSB was partially supported by a Jack McLachlan fellowship for undergraduate student research. Two anonymous reviewers provided useful comment.
Conflicts of interest
None.
About this article
Cite this article
Small, D.P., Bennett, R.S. & Bishop, C.D. The roles of oxygen and ammonia in the symbiotic relationship between the spotted salamander Ambystoma maculatum and the green alga Oophila amblystomatis during embryonic development. Symbiosis 64, 1–10 (2014). https://doi.org/10.1007/s13199-014-0297-8
Received:

Accepted:

Published:

Issue Date:
Keywords
Ambystoma maculatum

Symbiosis

Embryonic development

Ammonia exchange

Oxygen exchange