Abstract
Few studies have addressed the presence and bioactivity of endophytic fungi living in plantlets growing under in vitro conditions. After unfruitful attempts to grow axenic shoot cultures of the medicinal plant Smallanthus sonchifolius (yacon) were made, healthy shoots grew on half strength Murashigue and Skoog media supplemented with 2.2 μM benzylaminopurine without sucrose. We isolated a fungus UM109 from these autotrophic tissue cultures and it was identified as Coniochaeta ligniaria using molecular, physiological and morphological methods. Dichloromethane extracts from C. ligniaria and its host S. sonchifolius exhibited antifungal activity against phytopathogenic fungi Colletotrichum acutatum, C. fragariae and C. gloeosporioides. Both extracts of C. ligniaria and S. sonchifolius were subjected to antifungal bioassay-directed fractionation using NMR spectroscopy and GC-FID analysis. Twelve antifungal fatty acids were identified and 8 out of the total were produced by the fungus and the plant including caproic, caprylic, myristic, palmitic, heptadecanoic, stearic, oleic and linoleic acids. Additionally, caproic, caprylic and palmitic acids were produced at high concentrations by the endophytic fungus and its host. The detection of these antifungal fatty acids produced by both C. ligniaria and S. sonchifolius suggests that these bioactive compounds may be partially responsible for the high resistance of S. sonchifolius to phytopathogenic fungal attacks. This finding also indicates the existence of an interesting chemical symbiosis between an endophytic fungus and its host. Furthermore, the isolation of C. ligniaria from tissue culture of S. sonchifolius demonstrates that plantlets growing in vitro as autotrophic cultures can shelter specific endophytic fungal communities. The use of autotrophic tissue cultures may become an important tool for studies on the taxonomy, ecology, evolution and biotechnological application of endophytes.
Access options
Buy single article
Instant access to the full article PDF.
US$ 39.95
Tax calculation will be finalised during checkout.
Subscribe to journal
Immediate online access to all issues from 2019. Subscription will auto renew annually.
US$ 79
Tax calculation will be finalised during checkout.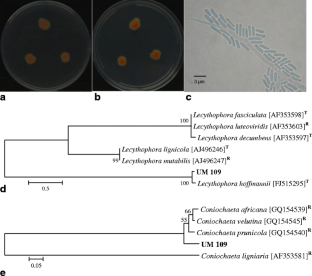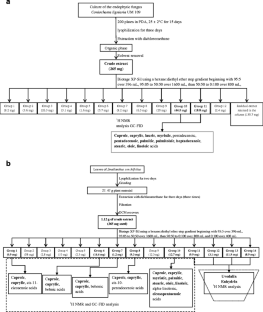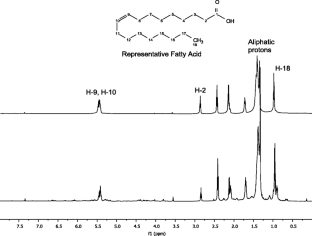 References
Agoramoorthy G, Chandrasekaran M, Venkatesalu V, Hsu MJH (2007) Antibacterial and antifungal activities of fatty acids methyl esters of the blind-your-eye mangrove from India. Braz J Microbiol 38:739–742

Altschul SF, Madden TL, Schaffer AA, Zhang JH, Zhang Z, Miller W, Lipman DJ (1997) Gapped BLASTand PSI-BLAST: a new generation of protein database search programs. Nucleic Acids Res 25:3389–3402

Aráoz MVC, Mercado MI, Grau A, Catalán CAN (2010) Ent-kaurane derivatives from the root cortex of yacon and other three Smallanthus species (Heliantheae, Asteraceae). Biochem Syst Ecol 38:1042–1048

Ayer WA, Kawahara N (1995) Lecythophorin, a potent inhibitor of blue-stain fungi, from the hyphomycetous Fungus Lecythophora hoffmannii. Tetrahed Lett 36:7953–7956

Carballeira NM (2008) New advances in fatty acids as antimalarial, antimycobacterial and antifungal agents. Prog Lip Res 47:50–61

Casieri L, Hofstetter V, Viret O, Gindro K (2009) Fungal communities living in the wood of different cultivars of young Vitis vinifera plants. Phytopathol Mediterr 48:73–83

Chakravarty P, Hiratsuka Y (1994) Evaluation of Lecythophora hoffmannii as a potential biological control agent against a blue stain fungus on Populus tremuloides. J Plant Dis Prot 101:74–79

Chen X, Qi Y, Wei J, Zhang Z, Wang D, Feng J, Gan B (2011) Molecular identification of endophytic fungi from medicinal plant Huperzia serrata based on rDNA ITS analysis. World J Microbiol Biotechnol 27:495–503

Clay K, Holah J (1999) Fungal endophyte symbiosis and plant diversity in successional fields. Science 285:1742–1744

Clay K, Schardl CL (2002) Evolutionary origins and ecological consequences of endophyte symbiosis with grasses. Am Nat 160:S99–S127

Damm U, Fourie PH, Crous W (2010) Coniochaeta (Lecythophora), Collophora gen. nov. and Phaeomoniella species associated with wood necroses of Prunus trees. Persoonia 24:60–80

de Hoog GS, Guarro J, Genó J, Figueras MJ (2000) Atlas of clinical fungi. CBS Baarn and Delft and Universitat Rovira i Virgili

Drees M, Wickes BL, Gupta M, Hadley S (2007) Lecythophora mutabilis prosthetic valve endocarditis in a diabetic patient. Med Mycol 45:463–467

Dugan FM, Lupien SL, Grove GG (2002) Incidence, aggressiveness, and in planta interactions of Botrytis cinerea and other filamentous fungi quiescent in grape berries and dormant buds in central Washington state. J Phytopathol 150:375–381

Ellis R, Kock JLF, Van Wyk PWJ, Botes PJ, Pohl CH (2009) Arachidonic acid increases antifungal susceptibility of Candida albicans and Candida dubliniensis. J Antimicrobl Chemoth 63:124–128

Errasti A, Carmarán CC, Novas MV (2010) Diversity and significance of fungal endophytes from living stems of naturalized trees from Argentina. Fungal Div 41:29–40

Gazis R, Rehner S, Chaverri P (2011) Species delimitation in fungal endophyte diversity studies and its implications in ecological and biogeographic inferences. Mol Ecol 20:3001–3013

Hawksworth D, Crous PW, Redhead SA et al (2011) The Amsterdam declaration on fungal nomenclature. IMA Fungus 2:105–112

Inoue A, Tamogami S, Kato H, Nakazato Y, Akiyama M, Kodama O, Akatsuka T, Hashidoko Y (1995) Antifungal melampolides from leaf extracts of Smallanthus sonchifolius. Phytochemistry 39:845–848

Kabara JJ, Swieczkowski DM, Conley AJ, Tuant JP (1972) Fatty acids and derivatives as antimicrobial agents. Antimicrob Agents Chemother 2:23–28

Kakuta H, Seki T, Hashidoko Y, Mizutani J (1992) Entkaurenic acid and its related-compounds from glandular trichome exudate and leaf extracts of Polymnia sonchifolia. Biosci Biotechnol Biochem 56:1562–1564

Ko TWK, Stephenson SL, Bahkali AH, Hyde KD (2011) From morphology to molecular biology: can we use sequence data to identify fungal endophytes? Fungal Div 50:113–120

Kokaew J, Manoch L, Worapong J, Chamswarng C, Singburaudom N, Visarathanonth N, Piasai O, Strobel G (2011) Coniochaeta ligniaria an endophytic fungus from Baeckea frutescens and its antagonistic effects against plant pathogenic fungi. Thai J Agric Sci 44:123–131

Lin F, Morifumi H, Kodama O (2003) Purification and identification of antimicrobial sesquiterpene lactones from Yacon (Smallanthus sonchifolius) leaves. Biosci Biotechnol Biochem 67:2154–2159

Liu S, Weibin R, Jing L, Hua X, Jingan W, Yubao G, Jingguo W (2008) Biological control of phytopathogenic fungi by fatty acids. Mycopathologia 166:93–102

Lucero M, Barrow JR, Osuna P, Reyes I (2008) A cryptic microbial community persists within micropropagated Bouteloua eriopoda (Torr.) Torr. Cultures Plant Sci 174:570–575

Moerman DE (1991) The medicinal flora of native North America- an analysis. J Ethnopharmacol 31:1–42

Murashige T, Skoog F (1962) A revised medium for rapid growth and bioassays with tobacco tissue cultures. Physiol Plant 15:473–497

Pirttila AM, Pospiech H, Laukkanen H, Myllyla R, Hohtola A (2003) Two endophytic fungi in different tissues of scots pine buds (Pinus sylvestris L.). Microb Ecol 45:53–62

Pohl CH, Kock JLF, Thibane VS (2011) Antifungal free fatty acids: a review, in: Science against microbial pathogens: communicating current research and technological advances. Microbiology Book Series - Number 3 A. Méndez-Vilas, pp. 61–71

Rivera-Orduña NF, Suarez-Sanchez RA, Flores-Bustamante ZR, Gracida-Rodriguez JN, Flores-Cotera LB (2011) Diversity of endophytic fungi of Taxus globosa (Mexican yew). Fungal Div 47:65–74

Rosa LH, Gonçalves VN, Caligiorne RB, Alves TMA, Rabello A, Sales PA, Romanha AJ, Sobral MEG, Rosa CA, Zani CL (2010) Leishmanicidal, trypanocidal, and cytotoxic activities of endophytic fungi associated with bioactive plants in Brazil. Braz J Microbiol 41:114–122

Rosa LH, Vieira MLA, Cota BB, Johann S, Alves TMA, Zani CL, Rosa CA (2011) Endophytic fungi of tropical forests: a promising source of bioactive prototype molecules for the treatment of neglected diseases. In: Ekinci D (ed) Drug development - a case study based insight into modern strategies. Intech, Croatia

Rosa LH, Tabanca N, Techen N, Wedge DE, Pan Z, Moraes RM (2012) Biological activity of endophytic fungal community associated with Smallanthus maintained in vitro as autotrophic cultures and as pot plants in the greenhouse. Can J Microbiol 58:1202–1211

Sakaeyama SI, Sano A, Murata Y, Kamei K, Nishimura KH (2007) Lecythophora hoffmannii isolated from a case of canine osteomyelitis in Japan. Med Mycol 45:267–272

Segeth MP, Bonnefoy A, Brönstrup M, Knauf M, Schummer D, Toti L, Vértesy L, Wetzel-Raynal MC, Wink J, Seibert G (2003) Coniosetin, a novel tetramic acid antibiotic from Coniochaeta ellipsoidea DSM 13856. J Antibiot 56:114–122

Stone JK, Polishook JD, White JF (2004) Endophytic fungi. In: Mueller GM, Bills GF, Foster MS (eds) Biodiversity of fungi: inventory and monitoring methods. Elsevier Academic Press, San Diego

Strobel G, Daisy B (2003) Bioprospecting for Microbial Endophytes and their natural products. Microbiol Mol Biol Rev 67:491–502

Sugijanto NE, Diesel A, Ebel R, Indrajanto G, Zaini NC (2009) Chemical constituents of the endophytic fungus Lecythophora sp. isolated from Alyxia reinwardtii. Nat Prod Commun 4:1485–1488

Sugijanto NE, Diesel A, Rateb M, Pretsch A, Gogalic S, Zaini NC, Ebel R, Indrayanto G (2011) Lecythomycin, a new macrolactone glycoside from the endophytic fungus Lecythophora sp. Nat Prod Commun 6:677–678

Tamura K, Peterson D, Peterson N, Stecher G, Nei M, Kumar S (2011) MEGA5: molecular evolutionary genetics analysis using maximum likelihood, evolutionary distance, and maximum parsimony methods. Mol Biol Evol 28:2731–2739

Taylor JW (2011) One fungus = one name: DNA and fungal nomenclature twenty years after PCR. IMA Fungus 2:113–120

Thibane VS, Ells R, Hugo A, Albertyn J, van Rensburg WJ, Van Wyk PW, Kock JL, Pohl CH (2010) Polyunsaturated fatty acids cause apoptosis in C. albicans and C. dubliniensis biofilms. Biochim Biophys Acta 1820:1463–1468

Wedge DE, Kuhajek JM (1998) A microbioassay for fungicide discovery. SAAS Bull Biochem Biotechnol 11:1–7

Wedge DE, Klun JA, Tabanca N, Demirci B, Ozek T, Baser KHC, Liu Z, Zhang S, Cantrell CL, Zhang J (2009) Bioactivity-guided fractionation and GC-MS fingerprinting of Angelica sinensis and A. archangelica root components for antifungal and mosquito deterrent activity. J Agric Food Chem 57:464–470

White TJ, Bruns TD, Lee SB (1990) Amplification and direct sequencing of fungal ribosomal RNA genes for phylogenetics. In: Innis NA, Gelfand J, Sninsky J (eds) PCR protocols: a guide to methods and applications. Academic Press, San Diego
Acknowledgements
This work received support of the Conselho Nacional of the Desenvolvimento Científico and Tecnológico (processo 200774/2011-5), Fundação of Amparo the Pesquisa of Minas Gerais (FAPEMIG), and Coordenação de Aperfeiçoamento de Pessoal de Nível Superior (CAPES/PGCI 036/13). The authors thank Ms. J.L. Robertson, Mrs. R. Pace, Mrs. Amber Reichley, Mr. Solomon Green III and Mrs. Marilyn Ruscoe for technical support. We also thank Dr. N. Tabanca and Dr. A. L. Cerdeira for valuable comments on the manuscript. The National Center for Natural Products Research, University of Mississippi is partially supported through a cooperative scientific agreement 58-6408-2-0009 from the USDA, Agricultural Research Service.
About this article
Cite this article
Rosa, L.H., Queiroz, S.C.N., Moraes, R.M. et al. Coniochaeta ligniaria: antifungal activity of the cryptic endophytic fungus associated with autotrophic tissue cultures of the medicinal plant Smallanthus sonchifolius (Asteraceae). Symbiosis 60, 133–142 (2013). https://doi.org/10.1007/s13199-013-0249-8
Received:

Accepted:

Published:

Issue Date:
Keywords
Antifungal

Fatty acids

Medicinal plant

Plant tissue culture

Symbiosis