Abstract
With continuously evolving and unpredictable markets, manufacturing firms are sorting to different interventions so that an optimal utilization of resources can be attained. One factor with forever focus of production managers is the demand variation. The efficient models can no longer rely on a constant production rate and non-agile systems. Thus, the objective of the presented model is to provide an optimum production schedule for a deteriorating item. The production rate is variable and the production process is unreliable. Keeping in mind the value of customer satisfaction in long run, produced units are screened to segregate items which do not conform to required quality standards. Realistically, unit production cost is assumed to be a function of production rate. Further, due to increased environmental concerns and government regulations, the manufacturer takes into account the effect of carbon emissions. An algorithm has been developed to provide the optimum values of production rate, selling price and non-production cycle duration. The presented model has been supported with numerical and sensitivity analyses.
Access options
Buy single article
Instant access to the full article PDF.
US$ 39.95
Tax calculation will be finalised during checkout.
Subscribe to journal
Immediate online access to all issues from 2019. Subscription will auto renew annually.
US$ 79
Tax calculation will be finalised during checkout.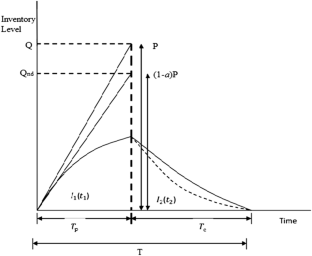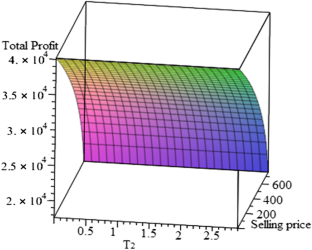 References
Chen SC, Teng JT (2014) Retailer's optimal ordering policy for deteriorating items with maximum lifetime under supplier's trade credit financing. Appl Math Model 38(15):4049–4061

Daryanto Y, Wee HM, Widyadana GA (2019) Low carbon supply chain coordination for imperfect quality deteriorating items. Mathematics 7(3):234

Dave U, Patel LK (1981) (T, S i) policy inventory model for deteriorating items with time proportional demand. J Op Res Soc 32:137–142

Dey O, Giri BC (2019) A new approach to deal with learning in inspection in an integrated vendor-buyer model with imperfect production process. Comput Ind Eng 131:515–523

Dey BK, Pareek S, Tayyab M, Sarkar B (2021) Autonomation policy to control work-in-process inventory in a smart production system. Int J Prod Res 59(4):1258–1280

Digiesi S, Mossa G, Mummolo G (2013) A sustainable order quantity model under uncertain product demand. IFAC Proc Vol 46(9):664–669

Ghare PM, Schrader GF (1963) An inventory model for deteriorating item for exponentially deteriorating items. J Ind Eng 14:238–243

Giri BC, Pal H, Maiti T (2017) A vendor-buyer supply chain model for time-dependent deteriorating item with preservation technology investment. Int J Math in Op Res 10(4):431–449

Glock, C. H., and Grosse, E. H. (2020). The impact of controllable production rates on the performance of inventory systems: a systematic review of the literature. European Journal of Operational Research.

Halim MA, Paul A, Mahmoud M, Alshahrani B, Alazzawi AY, Ismail GM (2021) An overtime production inventory model for deteriorating items with nonlinear price and stock dependent demand. Alex Eng J 60(3):2779–2786

Hua G, Cheng TCE, Wang S (2011) Managing carbon footprints in inventory management. Int J Prod Econ 132(2):178–185

Jaggi CK, Kausar A (2010) Retailer's optimal credit and replenishment policy for deteriorating items with credit linked demand in a supply chain. Int J App Decis Sci 3(2):117–131

Jaggi CK, Kishore A (2020) Replenishment policies for imperfect inventory system under natural idle time and shortages. Yugosl J Op Res 30(3):253–272

Jaggi CK, Sharma A, Tiwari S (2015) Credit financing in economic ordering policies for non-instantaneous deteriorating items with price dependent demand under permissible delay in payments: a new approach. Int J Ind Eng Comput 6(4):481–502

Khanna A, Pritam P, Jaggi CK (2020) Optimizing preservation strategies for deteriorating Items with time-varying holding cost and stock-dependent demand. Yugosl J Op Res 30(2):237–250

Khouja M (1995) The economic production lot size model under volume flexibility. Comput Oper Res 22(5):515–523

Kishore A, Gautam P, Khanna A, Jaggi CK (2020) Investigating the effect of learning on setup cost in imperfect production systems using two-way inspection plan for rework under screening constraints. Scientia Iranica 27(6):3265–3288

Palanivel M, Uthayakumar R (2015) An EPQ model for deteriorating items with variable production cost, time dependent holding cost and partial backlogging under inflation. Opsearch 52(1):1–17

Palanivel M, Uthayakumar R (2017) A production-inventory model with promotional effort, variable production cost and probabilistic deterioration. Int J Syst Assur Eng Manag 8(1):290–300

Panda S, Saha S, Modak NM, Sana SS (2017) A volume flexible deteriorating inventory model with price sensitive demand. Tékhne 15(2):117–123

Porteus EL (1986) Optimal lot sizing, process quality improvement and setup cost reduction. Oper Res 34(1):137–144

Rabbani M, Zia NP, Rafiei H (2016) Joint optimal dynamic pricing and replenishment policies for items with simultaneous quality and physical quantity deterioration. Appl Math Comput 287:149–160

Salameh MK, Jaber MY (2000) Economic production quantity model for items with imperfect quality. Int J Prod Econ 64(1):59–64

Sana SS (2011) Price-sensitive demand for perishable items–an EOQ model. Appl Math Comput 217(13):6248–6259

Sarkar M, Chung BD (2020) Flexible work-in-process production system in supply chain management under quality improvement. Int J Prod Res 58(13):3821–3838

Sarkar M, Pan L, Dey BK, Sarkar B (2020) Does the autonomation policy really help in a smart production system for controlling defective production? Mathematics 8(7):1142

Sharifi E, Hasanpour J, Taleizadeh AA (2021) A lot sizing model for imperfect and deteriorating product with destructive testing and inspection errors. Int J Syst Sci Oper Logistics 8(1):87–98

Shu T, Wu Q, Chen S, Wang S, Lai KK, Yang H (2017) Manufacturers'/remanufacturers' inventory control strategies with cap-and-trade regulation. J Clean Prod 159:11–25

Taleizadeh AA, Moshtagh MS, Moon I (2018) Pricing, product quality, and collection optimization in a decentralized closed-loop supply chain with different channel structures: game theoretical approach. J Clean Prod 189:406–431

Wang KJ, Lin YS (2012) Optimal inventory replenishment strategy for deteriorating items in a demand-declining market with the retailer's price manipulation. Ann Oper Res 201(1):475–494

Wang Q, Wu J, Zhao N, Zhu Q (2019) Inventory control and supply chain management: A green growth perspective. Resour Conserv Recycl 145:78–85

Xiao T, Xu T (2013) Coordinating price and service level decisions for a supply chain with deteriorating item under vendor managed inventory. Int J Prod Econ 145(2):743–752

Yadav AS, Swami A (2019) A volume flexible two-warehouse model with fluctuating demand and holding cost under inflation. Int J Procure Manag 12(4):441–456
Acknowledgements
All the authors show their gratitude to the editor and anonymous reviewers for their constant support in significantly shaping the manuscript. The current form of the manuscript would not have been possible without their encouragement and motivation throughout the review process.
The third author would like to thank Institution of Eminence (IoE), University of Delhi for supporting this research. (Vide Grant No. lOE/FRP/PCMS/2020/27)
Additional information
Publisher's Note
Springer Nature remains neutral with regard to jurisdictional claims in published maps and institutional affiliations.
About this article
Cite this article
Rini, Priyamvada & Jaggi, C.K. Sustainable and flexible production system for a deteriorating item with quality consideration. Int J Syst Assur Eng Manag (2021). https://doi.org/10.1007/s13198-021-01169-w
Received:

Revised:

Accepted:

Published:
Keywords
Sustainability

Production

Carbon emissions

Imperfect quality

Deterioration

Flexible production rate