Abstract
New Product Development has gotten significant for supportability in the present advanced and aggressive market. It is a critical factor in an organization's success. A firm may encounter a situation where in a number of feasible alternatives are available and they would like to invest in all these available alternatives. In this situation, obstruction comes in apportioning assets to various new item on premise of item esteem, venture hazard and business system. New item portfolio allotment includes designating constrained arrangement of assets to extend with the end goal that equalization is built up as far as hazard, worth and business system arrangement. This paper deals with new product portfolio allocation in a pharmaceutical healthcare industry involved in manufacturing of various types of X-ray machines. The aim was to evaluate the available alternatives for resource allocation. Various decision makers were included having an equivalent state in basic leadership process. Information was taken in semantic structure from the partners and changed over into quantitative structure. Multi-Attribute Decision Making (MADM) is one such method which can solve this problem. To approve the outcome, Fuzzy-TOPSIS (Technique for Order of Preference by Similarity to Ideal Solution) and (COPRAS) complex proportional assessment Grey strategy were utilized. The strategy includes getting the weightages for criteria, trailed by elective rating against every model from the leaders in an etymological structure. Fuzzy scale and Grey numbers were utilized to change over the phonetic information into quantitative structure. The methods were applied and the results were validated. Sensitivity examination was done to check the legitimacy of the outcome.
Access options
Buy single article
Instant access to the full article PDF.
USD 39.95
Price excludes VAT (USA)
Tax calculation will be finalised during checkout.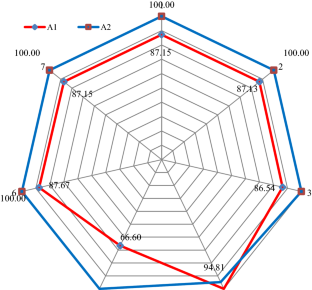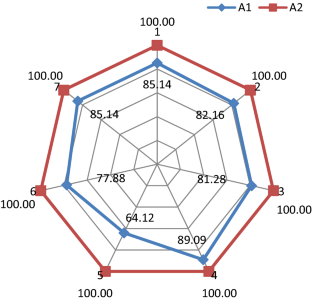 References
Ai F-Y, Yang J-Y, Zhang P-D (2014) An approach to multiple attribute decision making problems based on hesitant fuzzy set. J Intell Fuzzy Syst 27:2749–2755

Araz C, Ozfirat PM, Ozkarahan I (2007) An integrated multicriteria decisionmaking methodology for outsourcing management. Comput Oper Res 34:3738–3756

Chai J, Liu JNK, Ngai EWT (2013) Application of decision-making techniques in supplier selection: a systematic review of literature. Expert Syst Appl 40:3872–3885

De Boer L, Labro E, Morlacchi P (2001) A review of methods supporting supplier selection. Eur J Purch Supply Manag 7:75–89

Ertugrul Karsak E et al (2003) Product planning in quality function deployment using a combined analytic network process and goal programming approach. Comput Ind Eng 44(1):171–190

Feinzig SL et al (1993) Fuzzy sets and personnel selection: discussion and an application. J Occup Organ Psychol 66:163–169

Gargano M et al (1991) Abstract data types for the logical modeling of complex data. Inf Syst 16(6):565–583

Gupta H (2018) Assessing organizations performance on the basis of GHRM practices using BWM and Fuzzy TOPSIS. J Environ Manag 226:201–216

Kahraman C, Cebeci U, Ulukan Z (2003) Multi-criteria supplier selection using fuzzy AHP. Logist Inf Manag 16:382–394

Khoshi A et al (2018) The data on the effective qualifications of teachers in medical sciences: an application of combined fuzzy AHP and fuzzy TOPSIS methods. J Data Brief 21:2689–2693

Liang GS, Wang MJJ (1994) Personnel selection using fuzzy MCDM algorithm. Eur J Oper Res 78(1):22–33

Liao W-H, Qiu W-L (2016) Applying analytic hierarchy process to assess healthcare-oriented cloud computing service systems. SpringerPlus 5:1030

Lima-Junior FR, Carpinetti LCR (2016) Combining SCOR® model and fuzzy TOPSIS for supplier evaluation and management. Int J Prod Econ 174:128–141

Lohan LS et al (2017) Indoor location-based services challenges, requirements and usability of current solutions. Comput Sci Rev 24:1–12

Mahmood Salih M et al (2019) Survey on fuzzy TOPSIS state-of-the-art between 2007 and 2017. Comput Oper Res 104:207–227

Malakouti M et al (2019) Evaluation of flexibility components for improving housing quality using fuzzy TOPSIS method. J Build Eng 22:154–160

Memari A et al (2019) Assessment of the building components in the energy efficient design of tropical residential buildings: an application of BIM and statistical Taguchi method. Energy 188:116080

Pei Z et al (2019) FLM-TOPSIS: the fuzzy linguistic multiset TOPSIS method and its application in linguistic decision making. Inf Fusion 45:266–281

Rashidi K, Cullinane K (2018) A comparison of fuzzy DEA and fuzzy TOPSIS in sustainable supplier selection: implications for sourcing strategy. Expert Syst Appl 121:266–281

Razmak J, Bélanger CH (2017) Comparing Canadian physicians and patients on their use of e-health tools. Technol Soc 51:102–111

Rodríguez RM et al (2013) A group decision making model dealing with comparative linguistic expressions based on hesitant fuzzy linguistic term sets. Inf Sci 241:28–42

Sarkar A, Mohapatra PKJ (2006) Evaluation of supplier capability and performance: a method for supply base reduction. J Purch Supply Manag 12:148–163

Simić D et al (2016) 50 years of fuzzy set theory and models for supplier assessment and selection: a literature review. J Appl Log 1:1–12

Wu C, Barnes D (2011) A literature review of decision-making models and approaches for partner selection in agile supply chains. J Purch Supply Manag 17:256–274

Yuksel I, Dagdeviren M (2007) Using the analytical network process (ANP) in SWOT analysis—a case study for a textile firm. Inf Sci 177:3364–3382
Additional information
Publisher's Note
Springer Nature remains neutral with regard to jurisdictional claims in published maps and institutional affiliations.
This article has been retracted. Please see the retraction notice for more detail: https://doi.org/10.1007/s13198-022-01781-4
Rights and permissions
Springer Nature or its licensor holds exclusive rights to this article under a publishing agreement with the author(s) or other rightsholder(s); author self-archiving of the accepted manuscript version of this article is solely governed by the terms of such publishing agreement and applicable law.
About this article
Cite this article
Caisucar, M., Naik Dessai, A. & Usgaonkar, G. RETRACTED ARTICLE: Validation of portfolio allocation in NPD: fuzzy-TOPSIS and COPRAS-grey approach. Int J Syst Assur Eng Manag 12, 37–43 (2021). https://doi.org/10.1007/s13198-020-01024-4
Received:

Revised:

Published:

Issue Date:

DOI: https://doi.org/10.1007/s13198-020-01024-4
Keywords