Abstract
Over time, the definition of maintenance has evolved from activities meant to keep equipment in an operable condition, to a set of activities required to keep the means of production in the desired operating conditions or to restore them to this condition. Further, all those systematic activities geared towards the actual execution and improvement of maintenance are referred to as maintenance practices. There is a general assumption that maintenance practices in the developing world are below standard, when compared to what happens in the developed world. However, this is not a fact that has been determined empirically, but rather a perception. This paper presents the results of an assessment of maintenance practices in Kenyan industries, using a maintenance practices evaluation tool. The analysis provides a critical overview of the current status of maintenance practices, and shows how these maintenance practices compare with the best practices globally. Research was carried out through a survey, using a questionnaire developed to establish the maintenance practices in a number of Kenyan companies. The survey clustered industries into different categories, namely, service, power generation, food manufacturing and processing, agro/chemical, metal processing, motor vehicle assemblers, transport, maintenance and construction industries. The responses from the survey were analyzed using three aspects of maintenance practices, namely, technical, managerial and human aspects. For each of these aspects, an evaluation index was developed and calculated. Subsequently, the general evaluation index was determined. This index showed that Kenyan companies are at the managed level of maintenance practices, where processes are partially planned, and performance depends on the operators' experience and competence. It is recommended that Kenyan companies should aim at improving the index to the highest level, namely the optimizing stage, by focusing more on improvements in the technical aspects of maintenance.
Access options
Buy single article
Instant access to the full article PDF.
US$ 39.95
Tax calculation will be finalised during checkout.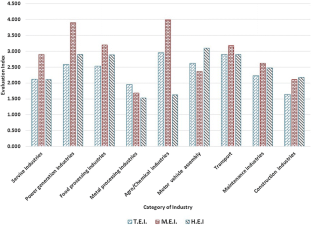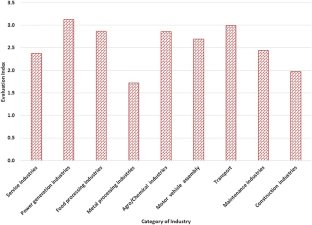 References
European Union (2010) List of NACE codes. Retrieved on 29 Dec 2015

Labib A (1998) World-class maintenance using a computerised maintenance management system. J Qual Maint Eng 4(1):66–75

Macchi M, Fumagalli L (2013) A maintenance maturity assessment method for the manufacturing industry. J Qual Maint Eng 19(3):295–315

Mjema E (2002) Analysis or personnel capacity requirement in maintenance department using simulation method. J Qual Maint Eng 8(3):253–273

Mjema E, Mweta A (2003) An analysis of economics of investing in it in the maintenance department: an empirial study on a cement factory in Tanzania. J Qual Maint Eng 9(1):411–435

Muchiri P (2010) Performance modeling of manufacturing equipment with focus on maintenance. PhD thesis, Katholieke Universiteit Leuven, Arenberg Doctoral School of Science, Engineering and Technology

Muchiri P, Pintelon L, Martin H, de Meyer A (2009) Empirical analysis of maintenance performance measurement in Belgian industries. Int J Prod Res 48(20):5905–5924

Muchiri AK, Ikua BW, Muchiri PN, Irungu PK (2014) Development of a theoretical framework for evaluating maintenance practices. Int J Syst Assur Eng Manag. doi:10.1007/s13198-014-0333-3

Pinjala K, Pintelon L, Verreecke A (2006) An empirical investigation on the relationship between business and maintenance strategies. Int J Prod Econ 104:214–229

Pintelon L, Pinjala S, Vereecke A (2006) Evaluating the effectiveness of maintenance strategies. J Qual Maint Eng 12(1):7–20

Raouf A (1993) On evaluating maintenance performance. Int J Qual Reliab 10(3):1–9

Reiman T, Oedewald P (2006) Assessing the maintenance unit of a nuclear power plant—identifying the cultural concepts concerning the maintenance work and the maintenance organization. Saf Sci 44:821–850

Tahboub KK (2011) An assessment of maintenance practices and problems in Jordanian industries. Jordan J Mech Ind Eng 5(4):315–323

US Securities and Exchange Commission (2011) Standard Industrial Classification (SIC) code List. Retrieved on 29 Dec 2015 (online)

Zio E, Compare M (2013) Evaluating maintenance policies by quantivative modeling. Reliab Eng Syst Saf 109:53–65
Acknowledgements
The authors would like to acknowledge the National Commission for Science and Technology (NACOSTI: NCST/5/003/3rd CALL PhD/068), Wärtsilla (EA) Ltd and the Jomo Kenyatta University of Agriculture and Technology for the support given towards this research.
Appendix: Survey questionnaire
Appendix: Survey questionnaire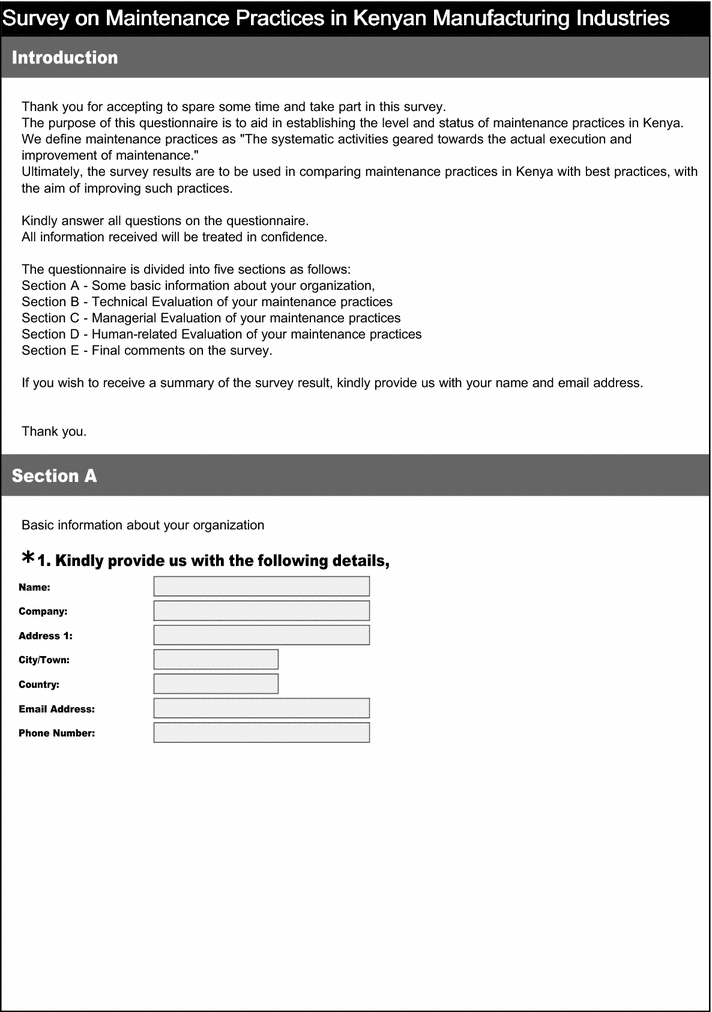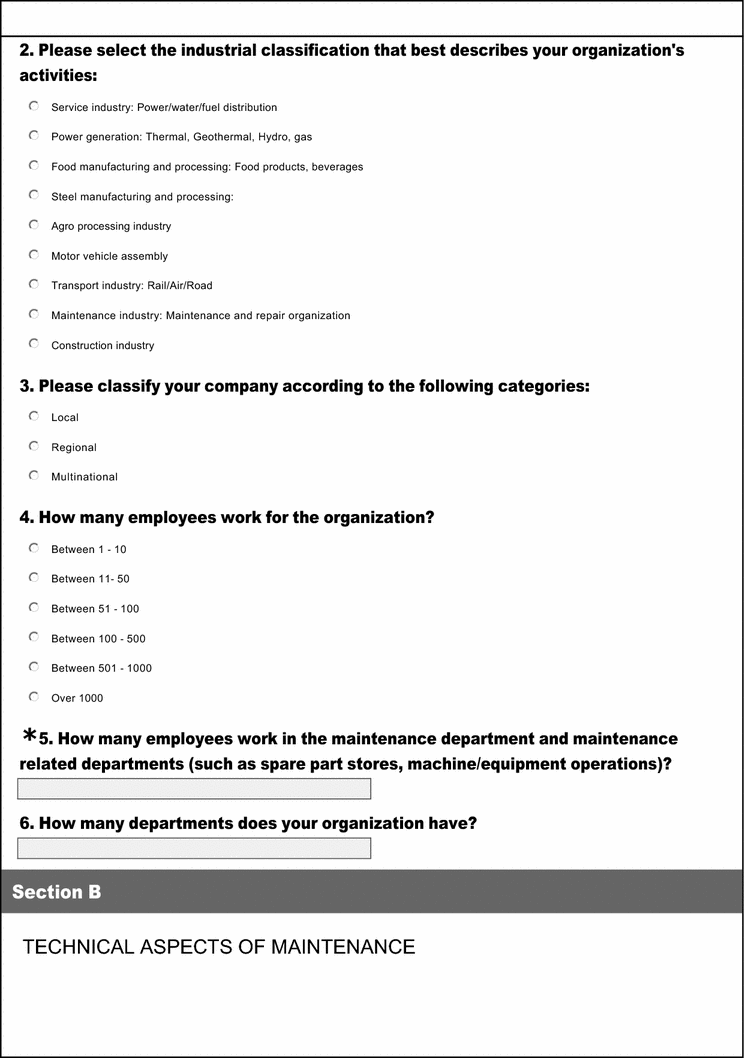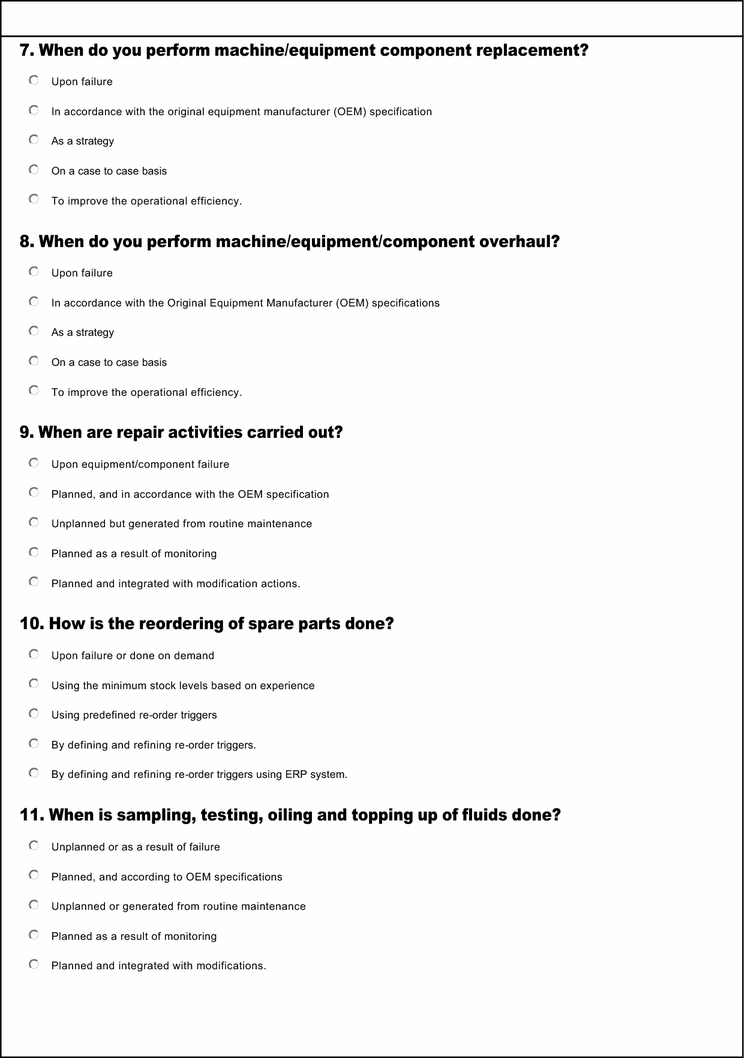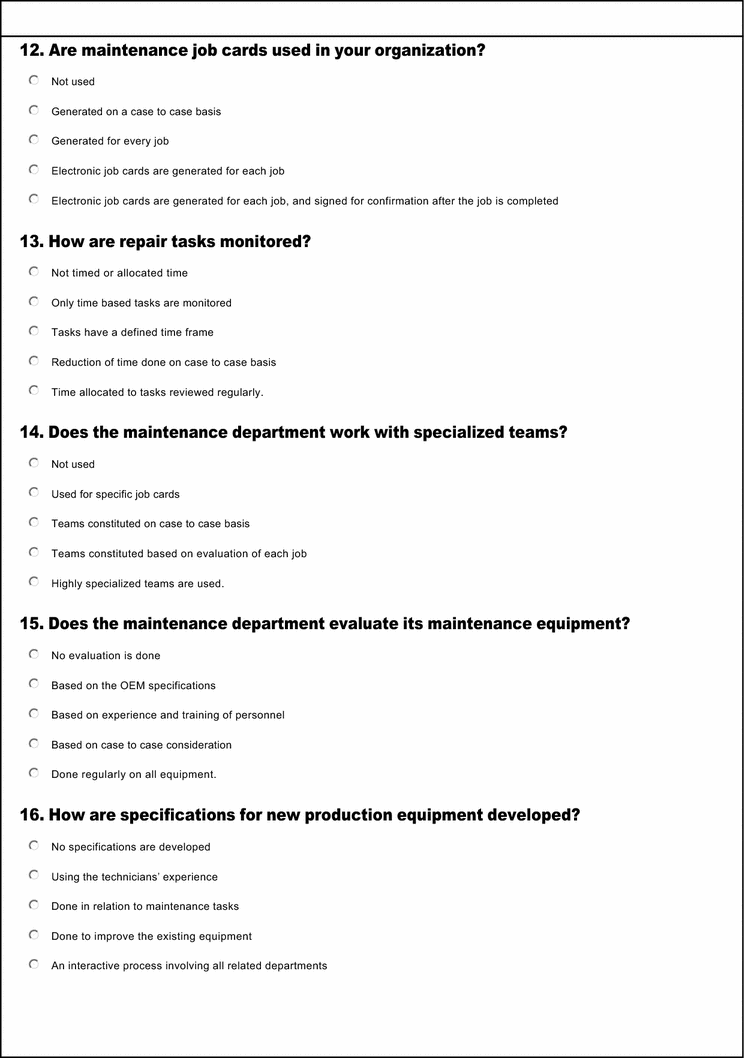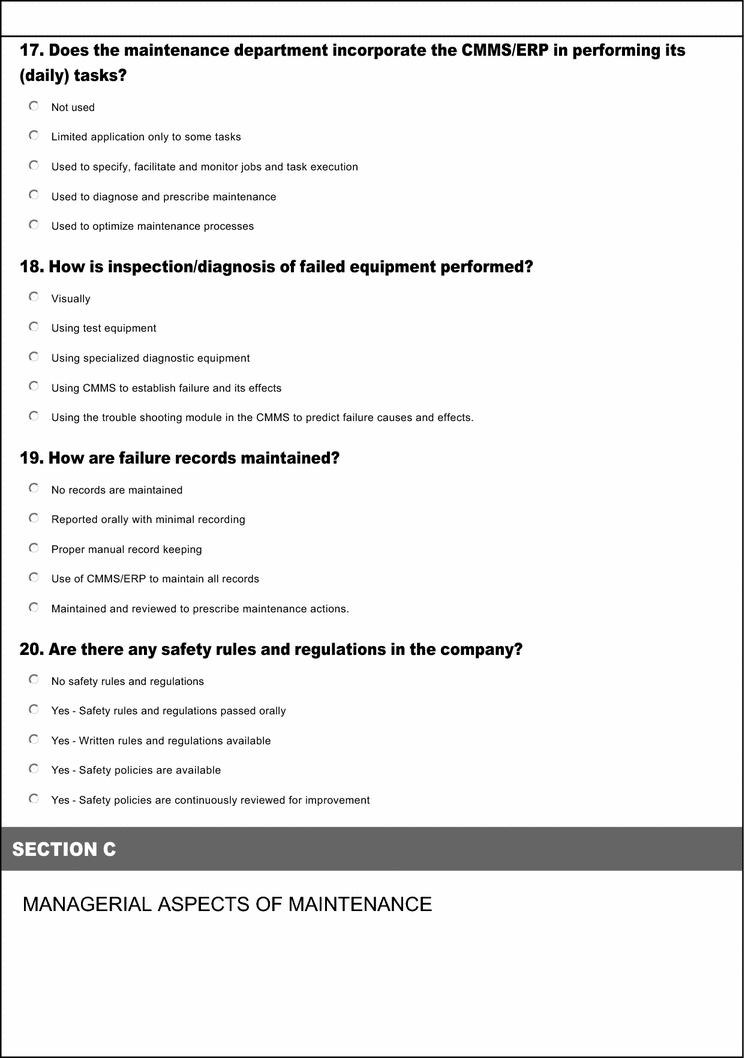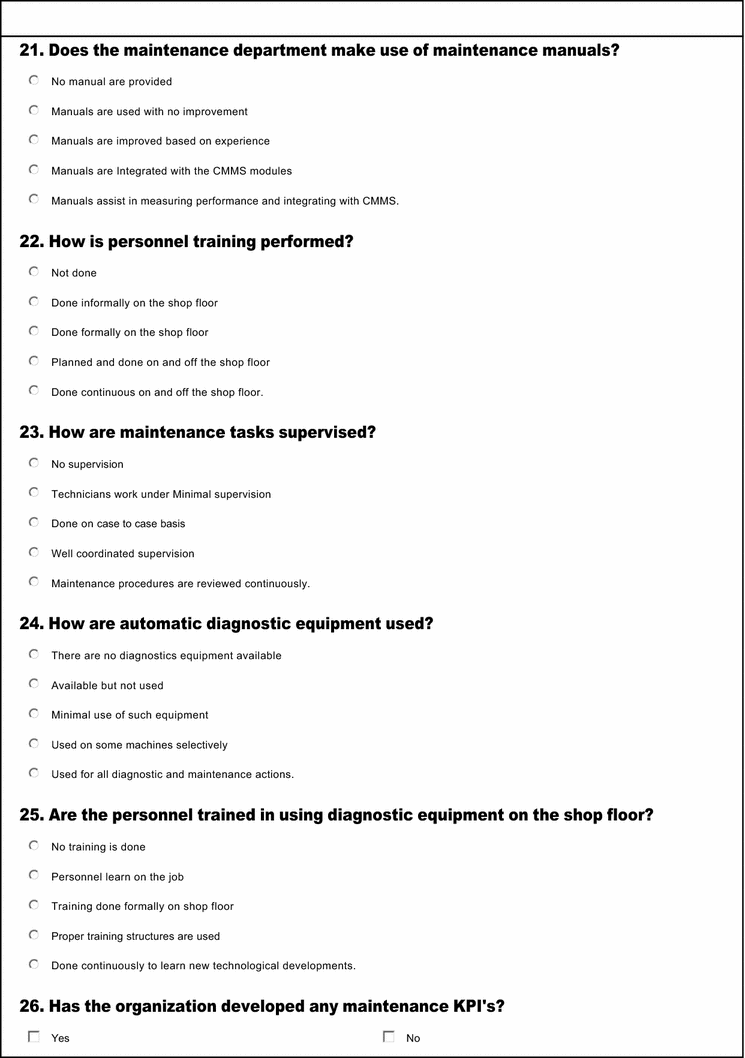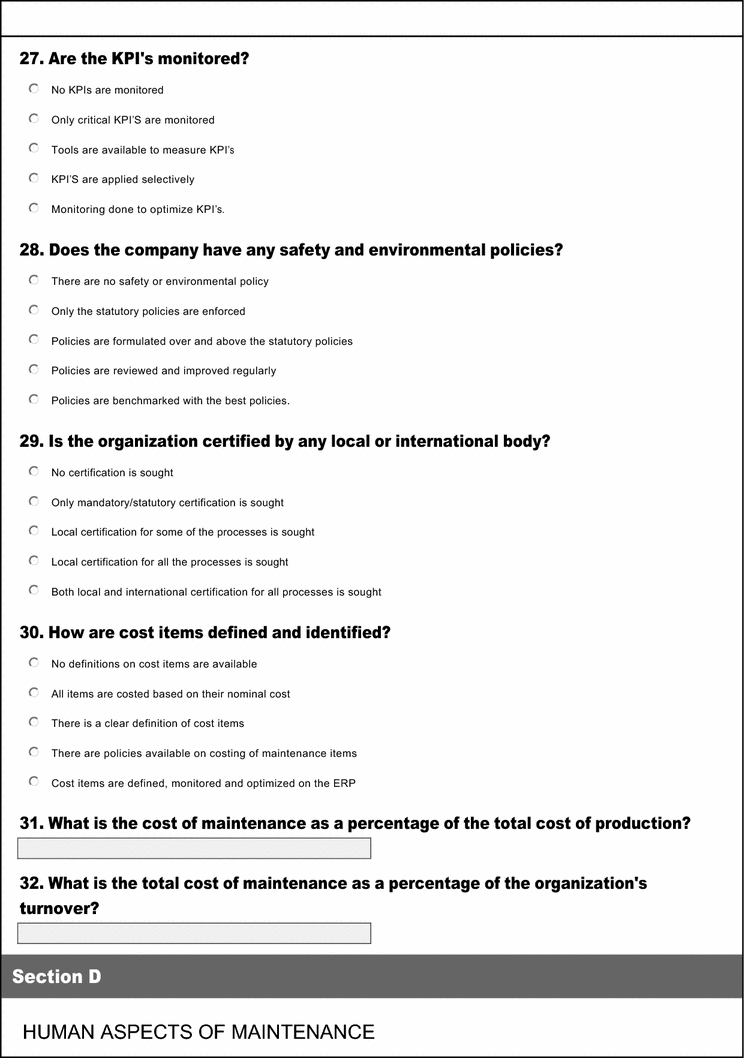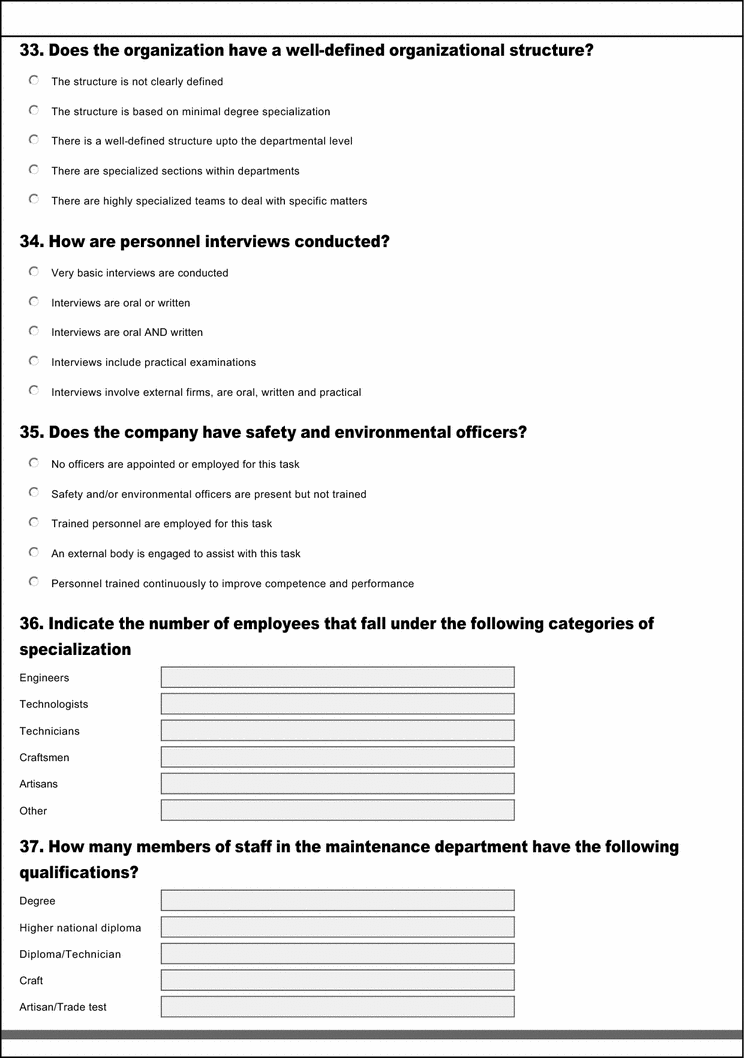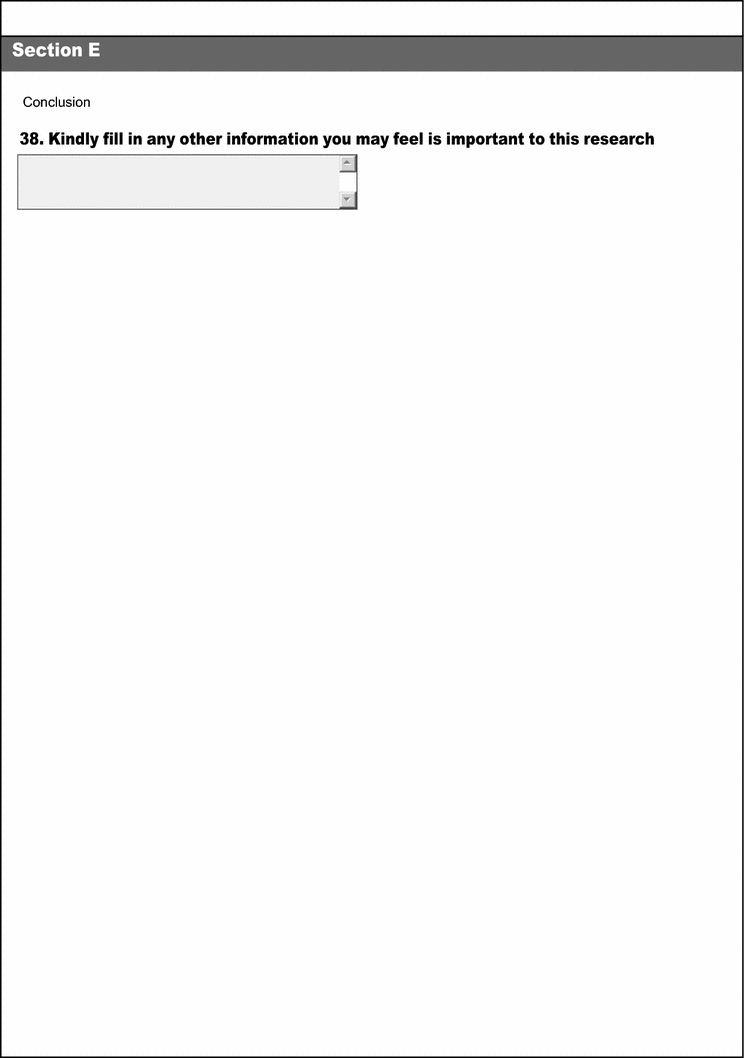 About this article
Cite this article
Muchiri, A.K., Ikua, B.W., Muchiri, P.N. et al. An evaluation of maintenance practices in Kenya: preliminary results. Int J Syst Assur Eng Manag 8, 990–1007 (2017). https://doi.org/10.1007/s13198-016-0559-3
Received:

Revised:

Published:

Issue Date:
Keywords
Maintenance practices

Maintenance actions

Evaluation criteria

Maintenance in Kenya