Abstract
Maintenance practices are those systematic activities that are geared towards the actual execution and improvement of maintenance. Maintenance plays a major role in ensuring that an organization remains productive and competitive. It is primarily dependent on an organization's objectives, products, structure, internal and external constraints under which it has to function. From these, various elements and aspects of maintenance practices can be identified. By evaluating maintenance practices, it is possible to establish how well an organization is performing when compared to other organizations of a similar nature. There is no well defined framework for identifying and evaluating maintenance practices. This paper proposes a framework for evaluating and rating maintenance practices to enable an organization to gauge how well developed its maintenance practices are. The framework starts by classifying maintenance practices according to their core function, which can either be maintenance execution or maintenance improvement. It further defines sub-classification of these functions as technical, managerial or human, and identifies five levels describing the advancement of maintenance practices. The lowest level defines practices that lean towards little to no understanding of best maintenance practices, while the highest level defines the best maintenance practices that an organization should be pursuing. Using a scoring and ranking criteria, an organization can be placed in one of the five levels. The tool developed in this paper can be used by an organization to identify maintenance practices that require improvement in order to bring the organizations practices to an acceptable level.
Access options
Buy single article
Instant access to the full article PDF.
US$ 39.95
Tax calculation will be finalised during checkout.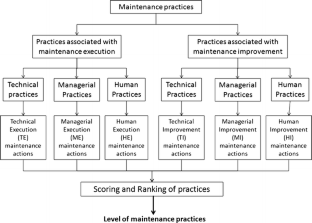 References
Alsyouf I (2009) Maintenance practices in Swedish industries: survey results. Int J Prod Econ 121:212–223

Carnero M, Noves J (2006) Selection of computerized maintenance management system by means of multicriteria methods. Prod Plan Control 17(4):335–356

Chemweno P, Pintelon L, Horenbeek AV (2013) Asset maintenance maturity model as a structured guide to maintenance process maturity. In: Monto S, Pirttil M, TK (eds) Proceedings of the maintenance performance measurement and management conference. Lappeenranta University of Technology, pp 58–70

Cigolini R, Turco F (1997) Total productive maintenance practices: a survey in Italy. J Qual Maint Eng 3(4):259–272

D'Alesio C (2012) Maturity assessment of physical asset management practices in manufacturing plants and infrastructure. Master's thesis, Politecnico Di Milano

Gulati R, Smith R (2009) Maintenance and reliability best practices. Industrial Press Inc., New York

Hayes R, Wheelwright S (1984) Restoring our competitive edge: competing through manufacturing. Wiley, New York

Macchi M, Fumagalli L (2013) A maintenance maturity assessment method for the manufacturing industry. J Qual Maint Eng 19(3):295–315

Marquez A, Gupta J (2004) Contemporary maintenance management. Int J Manag Sci 34:313–326

Mitchell E, Robson A, Prabhu V (2002) The impact of maintenance practices on operational and business performance. Managerial Auditing J 17(5):234–240

Muchiri P (2010) Performance modeling of manufacturing equipment with focus on maintenance. PhD thesis, Katholieke Universiteit Leuven, Arenberg Doctoral School of Science, Engineering & technology

Muchiri P, Pintelon L, Gelders L, Martin H (2011) Development of maintenance function performance measurement framework and indicators. Int J Prod Econ 131(1):295–302

Pintelon L, van Puyvelde F (2006) Maintenance decision making. ACCO, Leuven

Pintelon L, Pinjala S, Vereecke A (2006) Evaluating the effectiveness of maintenance strategies. J Qual Maint Eng 12(1):7–20

Riis J, Luxhoj J, Thorsteinsson U (1997) A situational maintenance model. Int J Qual Reliab Manag 14(4):349–366

Salonen A (2011) Strategic maintenance development in manufacturing industry. PhD thesis, Mlardalen University Press Dissertations

Sherwin D (2003) A review of overall models for maintenance management. J Qual Maint Eng 6:138–164

Smith R (2002) Best maintenance practices. Technical report, maintenance technology—life cycle engineering

Swanson L (2001) Linking maintenance strategies to performance. Int J Prod Econ 70:237–244
Acknowledgments
The authors would like to acknowledge the National Commission for Science and Technology (NACOSTI), Wa¨rtsilla (EA) Ltd and the Jomo Kenyatta University of Agriculture and technology for the support given towards this research.
About this article
Cite this article
Muchiri, A.K., Ikua, B.W., Muchiri, P.N. et al. Development of a theoretical framework for evaluating maintenance practices. Int J Syst Assur Eng Manag 8, 198–207 (2017). https://doi.org/10.1007/s13198-014-0333-3
Received:

Revised:

Published:

Issue Date:
Keywords
Maintenance practices

Maintenance actions

Evaluation criteria