Abstract
The present study investigated the bioaccessibility of minerals, bioactive compounds, and sensory acceptance of isotonic beverages formulated with Ricotta cheese whey (RCW) and passion fruit cv. BRS Sertão Forte. Three formulations were developed: I1 with 50% RCW and 5% passion fruit pulp, I2 with 50% RCW and 8.5% pulp, and I3 with 30% RCW and 12% pulp. I3 showed higher ascorbic acid content and antioxidant activity, exhibited the highest scores in the consumer test, and maintained its physicochemical stability and microbiological safety during the storage at 7 °C for 56 days. (−)-Epicatechin gallate, (−)-epigallocatechin gallate, and cis-resveratrol were the main phenolic compounds quantified in the isotonic beverages. I1 and I3 exhibited high bioaccessibility of the minerals K, Na, and Mg (37–70%) compared to I2, which showed bioaccessibility between 31 and 40%. The beverages developed are innovative alternatives for the market of supplements for athletes, combining the use of a dairy industry by-product and a new variety of passion fruit to date little-explored economically.
Access options
Buy single article
Instant access to the full article PDF.
USD 39.95
Price excludes VAT (USA)
Tax calculation will be finalised during checkout.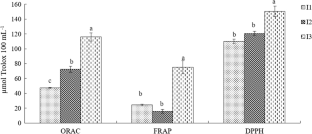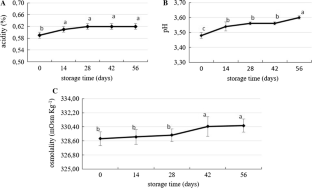 Data availability
The datasets used and/or analyzed during the current study are available from the corresponding author on reasonable request.
Abbreviations
AOAC:

Association of official agricultural chemists.

APHA:

American public health association.

DAD:

Diode-array detection.

FRAP:

Ferric reducing antioxidant power.

ORAC:

Oxygen radical absorbance capacity.

RCW:

Ricotta cheese whey.

TPTZ:

 2,4,6-tris (2-pyridyl)-s-triazine.
References
Abella M, Leano ML, Malig J, Martin G, Cruz CD, De Leon A (2016) Formulation of a Sports drink from fermented whey. CLSU-IJST 1(1):1–10. https://doi.org/10.22137/ijst.2016.v1n1.01

American Public Health Association – APHA (2015) Compendium of methods for the microbiological examination of foods\salfinger Y, Tortorello L. editorial board.https://doi.org/10.2105/MBEF.0222.001

Association of Official Analytical Chemists – AOAC (2016) Official methods of analysis - AOAC international. 20th edn. Revision. Washington  DC, p 3172

Becker AF, Rebelatto E, Sabadin K, Becker J, Steffens J, Bagatini L, Rigo E (2021) Evaluation of whey permeate obtained through nanofiltration for the formulation sports drinks. Braz J Dev 7(2):18753–18769. https://doi.org/10.34117/bjdv7n2-493

Berry CW, Wolf ST, Murray B, Kenney WL (2020) Hydration efficacy of a milk permeate-based oral hydration solution. Nutrients 12(5):1502. https://doi.org/10.3390/nu12051502

Brazil. Ministério da Saúde/ Agência Nacional de Vigilância Sanitária (2018a) IN n° 28 de 26/07/2018. Estabelece as listas de constituintes, de limites de uso, de alegações e de rotulagem complementar dos suplementos alimentares. Diário oficial da união. https://www.in.gov.br/materia/-/asset_publisher/Kujrw0TZC2Mb/content/id/34380639/doi-2018-07-27-instrucao-normativa-in-n-28-de-26-de-julho-de-2018-34380550

Brazil (2018b) IN n°49 de 26/09/2018. Padrões de identidade e qualidade de suco e polpa de fruta. Diário oficial da união. https://www.gov.br/agricultura/pt-br/assuntos/inspecao/produtos-vegetal/legislacao-1/biblioteca-de-normas-vinhos-e-bebidas/instrucao-normativa-no-49-de-26-de-setembro-de-2018.pdf/view

Costa RR, Rodrigues AAM, De Vasconcelos VAF, Costa JPD, De Lima MAC (2020) Trellis systems, rootstocks and season influence on the phenolic composition of 'Chenin Blanc' grape. Sci Agric. https://doi.org/10.1590/1678-992x-2018-0207

Ferreira PR, Marins JCB, de Oliveira LL, Bastos DSS, Júnior DTS, da Silva CD, Fontes EAF (2020) Beverage based on whey permeate with phenolic extract of jabuticaba peel: a pilot study on effects on muscle and oxidative stress in trained individuals. J Funct Food 65:103749. https://doi.org/10.1016/j.jff.2019.103749

Fontes EAF, Alves YPC, Fontes PR, Minim VPR (2015) Bebida eletrolítica a base de permeado da ultrafiltração de leite: avaliação física, química e microbiológica durante o armazenamento. Cienc Rural 45(2):342–348. https://doi.org/10.1590/0103-8478cr20131432

Gironés-Vilaplana A, Huertas JP, Moreno DA, Periago PM, García-Viguera C (2016) Quality and microbial safety evaluation of new isotonic beverages upon thermal treatments. Food Chem 194:455–462. https://doi.org/10.1016/j.foodchem.2015.08.011

He Z, Yuan B, Zeng M, Tao G, Chen J (2015) Effect of simulated processing on the antioxidant capacity and in vitro protein digestion of fruit juice-milk beverage model systems. Food Chem 175:457–464. https://doi.org/10.1016/j.foodchem.2014.12.007

Hong MY, Mansour L, Klarich DS, Copp L, Bloem K (2016) Comparison of antioxidant capacity of commonly consumed youth beverages in the United States. Int J Food Sci 51(6):1409–1416. https://doi.org/10.1111/ijfs.13107

Lamothe S, Azimy N, Bazinet L, Couillard C, Britten M (2014) Interaction of green tea polyphenols with dairy matrices in a simulated gastrointestinal environment. Food Funct 5(10):2621–2631. https://doi.org/10.1039/c4fo00203b

Lorieau L, Le Roux L, Gaucheron F, Ligneul A, Hazart E, Dupont D, Floury J (2018) Bioaccessibility of four calcium sources in different whey-based dairy matrices assessed by in vitro digestion. Food Chem 245:454–462. https://doi.org/10.1016/j.foodchem.2017.10.108

Meilgaard M, Civille GV, Carr BT (2006) Sensory evaluation techniques, 5 edn. CRC Press, Boca Ratoon

Mettler S, Weibel E (2018) Osmolality, pH, and titratable acidity of sports drinks on the swiss market. Swiss Sport Exerc Med 66(4):56–63. https://doi.org/10.34045/SSEM/2018/30

Oliveira PMO, Dantas AM, Morais ARS, Gibbert L, Krüger CCH, Lima MS, Magnani M, Borges GSC (2020) Juá fruit (Ziziphus joazeiro) from Caatinga: a source of dietary fiber and bioaccessible flavanols. Food Res Int 129:108745. https://doi.org/10.1016/j.foodres.2019.108745

Prakash M, Basavaraj BV, Murthy KC (2019) Biological functions of epicatechin: plant cell to human cell health. J Funct Food 52:14–24. https://doi.org/10.1016/j.jff.2018.10.021

Preetha SS, Narayanan R (2020) Factors influencing the development of microbes in food. Humanities 7(3):57–77. https://doi.org/10.34293/sijash.v7i3.473

Raizel R, Coqueiro AY, Bonvini A, Tirapegui J (2019) Sports and energy drinks: aspects to consider. Sports and energy drinks. Woodhead Publishing, Sawston, Cambridge, pp 1–37

Rufino MSM, Fernandes FAN, Alves RE, Brito ES (2009) Free radical-scavenging behaviour of some north-east brazilian fruits in a DPPH_ system. Food Chem 114(2):693–695. https://doi.org/10.1016/j.foodchem.2008.09.098

Schleh MW, Dumke CL (2018) Comparison of sports drink versus oral rehydration solution during exercise in the heat. Wilderness Environ Med 29(2):185–193. https://doi.org/10.1016/j.wem.2018.01.005

Silva GS, Borges GDSC, da Costa Castro CDP, de Tarso Aidar S, Marques ATB, de Freitas ST, Rybka ACP, Cardarelli HR (2020) Physicochemical quality, bioactive compounds and in vitro antioxidant activity of a new variety of passion fruit cv. BRS Sertão Forte (Passiflora cincinnata mast.) From brazilian semiarid region. Sci Hortic 272:109595. https://doi.org/10.1016/j.scienta.2020.109595

Silva JGS, Rebellato AP, Greiner R, Pallone JAL (2017) Bioaccessibility of calcium, iron and magnesium in residues of citrus and characterization of macronutrients. Food Res Int 97:162–169. https://doi.org/10.1016/j.foodres.2017.04.005

Tedesco MJ, Gianello C, Bissani CA, Bohnen H, Volkweiss SJ (1995) Análises de solo, plantas e outros materiais, Boletim Técnico n° 5, 2nd edn. UFRGS, Porto Alegre

Toscano LDLT, Silva AS, de França ACL, de Sousa BRV, de Almeida Filho EJB, da Silveira Costa M, Gonçalves MDCR (2020) A single dose of purple grape juice improves physical performance and antioxidant activity in runners: a randomized, crossover, double-blind, placebo study. Eur J Nutr 59(1):2997–3007. https://doi.org/10.1007/s00394-019-02139-6

Trindade MB, Soares BC, Scudino H, Guimaraes JT, Esmerino EA, Freitas MQ, Cruz AG (2019) Cheese whey exploitation in Brazil: a questionnaire survey. Food Sci Technol 39(3):788–791. https://doi.org/10.1590/fst.07419

Valadão NK, Shimoda SY, Jory JC, Fratassi GC, Petrus RR (2019) Stability of a dairy-based electrolyte replenishment beverage. Food Sci Technol 39(4):824–829. https://doi.org/10.1590/fst.09018

Watt B, Merrill AL (1963) Composition of foods: raw, processed, prepared. Consumer and Food Economics Research Division/Agricultural Research Service, Washington DC, p 189
Acknowledgements
The authors thank to the Brazilian Agricultural Research Corporation (Embrapa) and Bem Diverso (project BRA/14/G33 Embrapa/PNUD/GEF) for their financial support, and CAPES/FAPESQ for providing the scholarship for the first author.
Ethics declarations
Conflicts of interest
The authors declare that they have no known competing financial interests or personal relationships that could have influenced the work reported in this paper.
Ethics approval
The Brazilian Research Ethics Committee approved this research proposal for the analysis of food with humans (approval number: 2.843.518).
Consent to participate
This work been submitted in Journal of Food Science and Technology is approved by all authors.
Consent for publication
All authors consented to submit this manuscript to Journal of Food Science and Technology for publication.
Additional information
Publisher's Note
Springer Nature remains neutral with regard to jurisdictional claims in published maps and institutional affiliations.
Electronic supplementary material
Below is the link to the electronic supplementary material.
Rights and permissions
Springer Nature or its licensor (e.g. a society or other partner) holds exclusive rights to this article under a publishing agreement with the author(s) or other rightsholder(s); author self-archiving of the accepted manuscript version of this article is solely governed by the terms of such publishing agreement and applicable law.
About this article
Cite this article
Silva, G.d., da Costa Castro, C.D.P., Borges, G.d.C. et al. Physicochemical and functional properties of new sports drink with ricotta cheese whey and a brazilian passion fruit variety. J Food Sci Technol 60, 538–548 (2023). https://doi.org/10.1007/s13197-022-05636-5
Revised:

Accepted:

Published:

Issue Date:

DOI: https://doi.org/10.1007/s13197-022-05636-5
Keywords