Abstract
Obtaining high-quality value-added bread with extended shelf-life by utilizing food industry by-products that would have minimal negative effect on gluten structure while avoiding the usage of synthetic preservatives, was the challenge of this study. For this purpose the influence of the combination of carob pod flour (C, 0–15%), sugar beet fibers (F, 0–10%) and sugar beet molasses (M, 0–6%) on dough rheology and bread quality was investigated. Selected materials were of good microbiological quality, while carob flour and sugar beet fibers were rich in dietary fibers (43.6% and 67.0%, respectively). The presence of high share of dietary fibers (combination of C and F) increased dough resistance to extension up to 2.5 times, while dough extensibility was reduced by 50%. The addition of molasses had less pronounced single effect on dough properties however its impact in combination with fiber-rich materials outweighed the individual effect (an increase of dough resistance at about 55%). Molasses alone and in combination with other ingredients had positive effect on bread quality. Sample M6F5 attained crumb quality score (6.0 of maximum 7.0) higher than in control sample (5.6). High share of C and F reduced loaf volume and crumb quality of bread up to 56% and 50%, respectively and increased hardness 7.5 times. However, carob flour (7.5%) increased polyphenols content and antioxidant capacity 3 and 4 times, respectively. Moreover, carob flour and molasses and their combination showed inhibitory effect on mold mycelia growth and spores formation. Regarding all of the above, C7.5M3F5 was chosen as optimal sample.
This is a preview of subscription content,
to check access.
Access this article
We're sorry, something doesn't seem to be working properly.
Please try refreshing the page. If that doesn't work, please contact support so we can address the problem.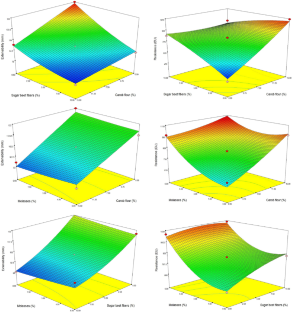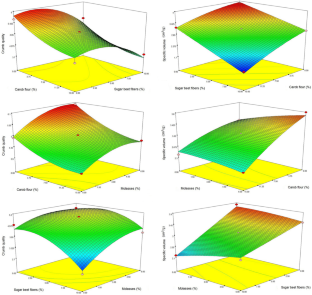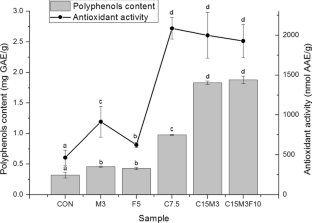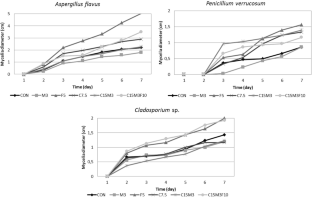 References
AACC International (2000a) AACCI method 54-10.01 physical dough tests: extensigraph method. In: Approved methods of the American Association of cereal chemists, 10th edn. St. Paul, MN, pp 8

AACC International (2000b) AACCI method 10-10B optimized straight-dough bread-making method. In: Approved methods of the American Association of cereal chemists, 10th edn. St. Paul, MN, pp 2

AACC International (2008) AACCI method 10-05. Baking quality: guidelines for measurement of volume by rapeseed displacement method. In: Approved methods of the American Association of cereal chemists, 11th edn. St. Paul, MN, pp 4

AOAC (2000) Official methods of analysis of AOAC international, 17th ed. Association of Analytical Communities, Gaithersburg, MD

Axel C, Zannini E, Arendt EK (2017) Mold spoilage of bread and its biopreservation: a review of current strategies for bread shelf life extension. Crit Rev Food Sci Nutr 57(16):3528–3542

Berghofer LK, Hocking AD, Miskelly D, Jansson E (2003) Microbiology of wheat and flour milling in Australia. Int J Food Microbiol 85(1):137–149

Chakrabarti-Bell S, Patel MJ, Ng J, Hawkins WE (2017) On the use of low protein flours and "smart" sheeting lines for making bakery products. J Food Eng 209:36–44

Chen M, Zhao Z, Meng H, Yu S (2017) The antibiotic activity and mechanisms of sugar beet (Beta vulgaris) molasses polyphenols against selected food-borne pathogens. LWT Food Sci Technol 82:354–360

Dinand E, Chanzy H, Vignon RM (1999) Suspensions of cellulose microfibrils from sugar beet pulp. Food Hydrocoll 13(3):275–283

Egan H, Kirk R, Sawyer R (1981) The Luff Schoorl method. Sugars and preserves. In: Longman scientific and technical, 8th edn. Pearson's Chemical Analysis of Foods, Harlow, United Kingdom

Filipčev B, Lević L, Bodroža-Solarov M, Mišljenović N, Koprivica G (2010) Quality characteristics and antioxidant properties of breads supplemented with sugar beet molasses-based ingredients. J Food Prop 13(5):1035–1053

Ghasemi-Kebria F, Joshaghani H, Taheri NS, Semnani S, Aarabi M, Salamat F, Roshandel G (2013) Aflatoxin contamination of wheat flour and the risk of esophageal cancer in a high risk area in Iran. Cancer Epidemiol 37(3):290–293

Gómez M, Ronda F, Blanco CA, Caballero PA, Apesteguía A (2003) Effect of dietary fibre on dough rheology and bread quality. Eur Food Res Technol 216(1):51–56

Hsouna AB, Trigui M, Mansour RB, Jarray RM, Damak M, Jaoua S (2011) Chemical composition, cytotoxicity effect and antimicrobial activity of Ceratoni siliqua essential oil with preservative effects against Listeria inoculated in minced beef meat. Int J Food Microbiol 148(1):66–72

ISO (1987) ISO 7954 Microbiology—general guidance for enumeration of yeasts and moulds—colony count technique at 25 degrees C

ISO (1991) ISO 4833 Microbiology—general guidance for the enumeration of micro-organisms—colony count technique at 30 degrees C

ISO (1999) ISO 6887–1 Microbiology of food and animal feeding stuffs—preparation of test samples, initial suspension and decimal dilutions for microbiological examination—Part 1: general rules for the preparation of the initial suspension and decimal dilutions

Kähkönen MP, Hopia AI, Vuorela HJ, Rauha JP, Pihlaja K, Kujala TS, Heinonen M (1999) Antioxidant activity of plant extracts containing phenolic compounds. J Agric Food Chem 47:3954–3962

Kaluđerski G, Filipović N (1998) Metode ispitivanja kvaliteta žita, brašna i gotovih proizvoda [Methods for the investigation of cereals, flour and final product quality]. Faculty of Technology, Novi Sad, Serbia

Križman L (2016) Vpliv dodatka rožičeve moke na mikrobiološke, kemijske in senzorične lastnosti brezglutenskega ajdovega kruha. Graduate thesis. Ljubljana, Biotehnical Faculty, pp 64

Li F-Q, Li Y-W, Luo X-Y, Yoshizawa T (2002) Fusarium toxins in wheat from an area in Henan Province PR China with a previous human red mould intoxication episode. Food Addit Contam 19(2):163-167

Li Q, Liu R, Wu T, Zhang M (2017) Interactions between soluble dietary fibers and wheat gluten in dough studied by confocal laser scanning microscopy. Food Res Int 95:19–27

Martins ZE, Pinho O, Ferreira IMPLVO (2017) Food industry by-products used as functional ingredients of bakery products. Trends Food Sci Technol 67:106–128

Miś A, Dziki D (2013) Extensograph curve profile model used for characterising the impact of dietary fibre on wheat dough. J Cereal Sci 57(3):471–479

Montgomery DC (2001) Design and analysis of experiments, 5th edn. John Whiley & Sons Inc, New York

Nasar-Abbas SM, eH Z, Vu TH, Khan MK, Esbenshade H, Jayasena V (2016) Carob kibble: a bioactive-rich food ingredient. Compr Rev Food Sci Food Saf 14(1):63–72

Pedersen B, Knudsen KEB, Eggum BO (1989) Nutritive value of cereal products with emphasis on the effect of milling. In: Bourne GH (ed) Nutritional value of cereal products, beans and starches, vol 60. Karger Publishers, St. Georges, pp 1–91

Peng X, Ma J, Cheng KW, Jiang Y, Chen F, Wang M (2010) The effects of grape seed extract fortification on the antioxidant activity and quality attributes of bread. Food Chem 119(1):49–53

Quiles A, Campbell GM, Struck S, Rohm S, Hernando I (2016) Fiber from fruit pomace: a review of applications in cereal-based products. Food Rev Int 34(2):162–181

Roseiro LB, Tavares CS, Roseiro JC, Rauter AP (2013) Antioxidants from aqueous decoction of carob pods biomass (Ceretonia siliqua L.): optimisation using response surface methodology and phenolic profile by capillary electrophoresis. Ind Crops Prod 44(Supplement C):119–126

Samapundo S, Devlighere F, Vroman A, Eeckhout M (2017) Antifungal activity of fermentates and their potential to replace propionate in bread. LWT Food Sci Technol 76(Part A):101–107

Saranraj P, Geetha M (2012) Microbial spoilage of bakery products and its control by preservatives. Int J Pharm Biol Arch 3(1):38–48

Sęczyk Ł, Świeca M, Gawlik-Dziki U (2016) Effect of carob (Ceratonia siliqua L.) flour on the antioxidant potential, nutritional quality, and sensory characteristics of fortified durum wheat pasta. Food Chem 194:637–642

Šereš Z, Gyura J, Filipović N, ŠoronjaSimović D (2005) Application of decolorization on sugar beet pulp in bread production. Eur Food Res Technol 221:54–60

Sivam AS, Sun-Waterhouse D, Quek SY, Perera CO (2010) Properties of bread dough with added fiber polysaccharides and phenolic antioxidants: a review. J Food Sci 75(8):163–174

Skendi A, Biliaderis CG, Papageorgiou M, Izydorczyk MS (2009) Effects of two barley β-glucan isolates on wheat flour dough and bread properties. Food Chem 199(3):1159–1167

Šoronja-Simović D, SmoleMožina S, Raspor P, Maravić N, Zahorec J, Luskar L, Šereš Z (2016) Carob flour and sugar beet fiber as functional additives in bread. Acta Period Technol 47:83–93

Torres-León C, Ramírez-Guzman N, Londoño-Hernandez L, Martinez-Medina GA, Díaz-Herrera R, Navarro-Macias V, Alvarez-Pérez OB, Picazo B, Villarreal-Vázquez M, Ascacio-Valdes J, Aguilar CN (2018) Food waste and byproducts: an opportunity to minimize malnutrition and hunger in developing countries. Front Sustain Food Syst. https://doi.org/10.3389/fsufs.2018.00052

USDA (2003) Full Report All Nutrient: 19304, Molasses. Agricultural research. Department of Agriculture, Service Betsville, USA. https://fdc.nal.usda.gov/fdc-app.html#/?query=ndbNumber:19304. Accessed 20 January 2020

Wang J, Rosell CM, de Barber CB (2002) Effect of the addition of different fibres on wheat dough performance and bread quality. Food Chem 79(2):221–226

Weipert D (2007) Fundamentals of rheology and spectrometry. In: Popper L, Schäfer W, Freund W (eds) Future of flour. Sosland Publishing Co, Kansas City, pp 117–146

Youssef MKE, El-Manfaloty MM, Ali HM (2013) Assessment of proximate chemical composition, nutritional status, fatty acid composition and phenolic compounds in carob (Ceraotnia siliqua L.). Food Public health 3(6):304–308
Acknowledgements
This study is supported by the Ministry of Education, Science and Technological Development of Serbia (Project No. 451-03-68/2020-14/200134), Slovenian Research Agency (P4-0116) and CEEPUS network CIII-HR-0306-10-1718-M-117120, For Safe and Healthy Food in Middle Europe.
Funding
This study is supported by the Ministry of Education, Science and Technological Development of Serbia (Project no. 451-03-68/2020-14/200134), Slovenian Research Agency (P4-0116) and CEEPUS network CIII-HR-0306-10-1718-M-117120, For Safe and Healthy Food in Middle Europe.
Ethics declarations
Conflict of interest
The authors declare that there are no conflicts of interest.
Consent to participate
Not applicable.
Consent for publication
Not applicable.
Ethical approval
Not applicable.
Additional information
Publisher's Note
Springer Nature remains neutral with regard to jurisdictional claims in published maps and institutional affiliations.
About this article
Cite this article
Šoronja-Simović, D., Zahorec, J., Šereš, Z. et al. The food industry by-products in bread making: single and combined effect of carob pod flour, sugar beet fibers and molasses on dough rheology, quality and food safety. J Food Sci Technol 59, 1429–1439 (2022). https://doi.org/10.1007/s13197-021-05152-y
Revised:

Accepted:

Published:

Issue Date:

DOI: https://doi.org/10.1007/s13197-021-05152-y
Keywords