Abstract
Single-use plastic (SUP) being a versatile material, is adopted as an alternate to traditional materials specifically for the use in food packaging due to its inherent characteristics like high durability, inertness, and protecting ability but has become a curse for living being today due to its random usage and unplanned rejection to nature. Mostly plastics used in packaging of beverages, fresh meats, fruits and vegetables are under concern today. Single-use packages result in generation of several billion tons of garbage till date, which pollutes the environment. At the immediate past, it has come to light that micro plastics obtained due to slow degradation of SUP present in oceans, are also being consumed by marine organisms such as fishes and shellfish species which disturbs the marine life extensively. Hence, finding right strategy to mitigate the plastic waste related issues has becoming inevitable today. This review paper briefs various strategies undertaken worldwide to mitigate the pollution due to generation of plastic waste. Various notable impact of adopted strategies and recent innovations to replace the SUP products are also discussed and in view of this a roadmap is also suggested which can be used to achieve the milestone of Zero Plastic Waste.
This is a preview of subscription content,
to check access.
Access this article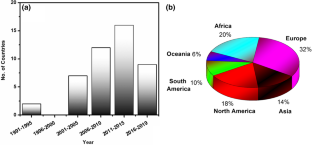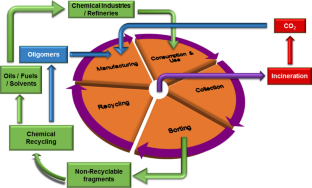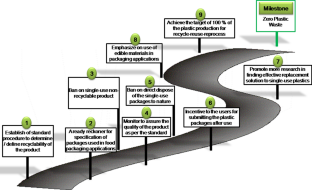 Similar content being viewed by others
References
Abdel-Bary EM (2003) Handbook of plastic films. iSmithersRapraPublishing, UK, pp 235–244

Abreu AS, Oliveira M, de Sá A, Rodrigues RM, Cerqueira MA, Vicente AA, Machado AV (2015) Antimicrobial nanostructured starch based films for packaging. Carbohyd Polym 129:127–134. https://doi.org/10.1016/j.carbpol.2015.04.021

Albano C, Camacho N, Hernandez M, Matheus A, Gutierrez A (2009) Influence of content and particle size of waste pet bottles on concrete behavior at different w/c ratios. Waste Manage 29(10):2707–2716. https://doi.org/10.1016/j.wasman.2009.05.007

Aloui H, Khwaldia K, Ben Slama M, Hamdi M (2011) Effect of glycerol and coating weight on functional properties of biopolymer-coated paper. Carbohyd Polym 86(2):1063–1072. https://doi.org/10.1016/j.carbpol.2011.06.026

Al-Salem SM, Lettieri P, Baeyens J (2009) Recycling and recovery routes of plastic solid waste (PSW): a review. Waste Manage 29(10):2625–2643. https://doi.org/10.1016/j.wasman.2009.06.004

Al-Salem SM, Lettieri P, Baeyens J (2010) The valorization of plastic solid waste (PSW) by primary to quaternary routes: from re-use to energy and chemicals. Prog Energy Combust Sci 36(1):103–129

American chemistry council (2018) Plastic packaging history: innovations through the decades, https://www.plasticsmakeitpossible.com/about-plastics/history-of-plastics/plastic-innovations-in-packaging-through-the-decades/. Accessed 16 April 2020

Barboza LG, Cunha SC, Monteiro C, Fernandes JO, Guilhermino L (2020) Bisphenol A and its analogs in muscle and liver of fish from the North East Atlantic Ocean in relation to microplastic contamination. Exposure and risk to human consumers. J Hazard Mater 393:122419. https://doi.org/10.1016/j.jhazmat.2020.122419

Bhadra J, Al-Thani N, Abdulkareem A (2017) 11 - Recycling of polymer-polymer composites A2 - Mishra, Raghvendra Kumar. In: Thomas S, Kalarikkal N (eds) Micro and nano fibrillar composites (MFCs and NFCs) from polymer blends. Woodhead Publishing, Cambridge, pp 263–277

Bhunia K, Sablani SS, Tang J, Rasco B (2013) Migration of chemical compounds from packaging polymers during microwave, conventional heat treatment, and storage. Compr Rev Food Sci Food Saf 12(5):523–545

Biedermann M, Ingenhoff J-E, Zurfluh M, Richter L, Simat T, Harling A, Altkofer W, Helling R, Grob K (2013) Migration of mineral oil, photoinitiators and plasticisers from recycled paperboard into dry foods: a study under controlled conditions. Food Addit Contam Part A 30(5):885–898

Blair RM, Waldron S, Phoenix VR, Gauchotte-Lindsay C (2019) Microscopy and elemental analysis characterisation of microplastics in sediment of a freshwater urban river in Scotland, UK. Environ Sci Pollut Res 26:12491–12504. https://doi.org/10.1007/s11356-019-04678-1

Bonilla J, Fortunati EL, Vargas M, Chiralt A, Kenny JM (2013) Effects of chitosan on the physicochemical and antimicrobial properties of PLA films. J Food Eng 119(2):236-243. 0.1016/j.jfoodeng.2013.05.026

Brooks L, Gaustad G, Gesing A, Mortvedt T, Freire F (2019) Ferrous and non-ferrous recycling: challenges and potential technology solutions. Waste Manage 85:519–528. https://doi.org/10.1016/j.wasman.2018.12.043

Capital documents solutions (2018). https://www.capital-solutions.co.uk/cutting-down-paper-not-trees/. Accessed 16 April 2020.

Caretto A, Passoni V, Brenna N, Sitta M, Ogliosi L, Catel G, Turri S, Griffini G (2018) Fully biobased polyesters based on an isosorbide monomer for coil coating applications. ACS Sustain Chem Eng 6(11):14125–14134. https://doi.org/10.1021/acssuschemeng.8b02659

Chae Y, An YJ (2018) Current research trends on plastic pollution and ecological impacts on the soil ecosystem: a review. Environ Pollut 240:387–395. https://doi.org/10.1016/j.envpol.2018.05.008

Chamas A, Moon H, Zheng J, Qiu Y, Tabassum T, Jang JH, Abu-Omar M, Scott SL, Suh S (2020) Degradation rates of plastics in the environment. ACS Sustain Chem Eng 8(9):3494–3511

Cohen N, Sicher E, Uğur Yavuz S (2019) Designing with microbial cellulose to feed new biological cycles. Int J Food Des 4(2):155–171

Correa JP, Molina V, Sanchez M, Kainz C, Eisenberg P, Massani MB (2017) Improving ham shelf life with a polyhydroxybutyrate/polycaprolactone biodegradable film activated with nisin. Food Packag Shelf Life 11:31–39. https://doi.org/10.1016/j.fpsl.2016.11.004

Cristi MA, Holzapfel C, Nehls M, De Veer D, Gonzalez C, Holtmann G, Honorato-Zimmer D, Kiessling T, Muñoz AL, Reyes SN, Nuñez P (2020) The rise and demise of plastic shopping bags in Chile-Broad and informal coalition supporting ban as a first step to reduce single-use plastics. Ocean Coast Manag 187:105079. https://doi.org/10.1016/j.ocecoaman.2019.105079

Cruz RM, Rico BP, Vieira MC (2019) Food packaging and migration. Food Quality and Shelf Life. Academic Press, Netherland, pp 281–301

Dhumal CV, Ahmed J, Bandara N, Sarkar P (2019) Improvement of antimicrobial activity of sago starch/guar gum bi-phasic edible films by incorporating carvacrol and citral. Food Packag Shelf Life 21:100380. https://doi.org/10.1016/j.fpsl.2019.100380

Ebnesajjad S (2012) Plastic films in food packaging: materials, technology and applications. William Andrew, Waltham, USA

EC (2016) Commission regulation (EU) No 2016/1416 of 24 August 2016 on plastic materials and articles intended to come into contact with food. Official Journal of the European Union (L 230/22). https://data.europa.eu/eli/reg/2016/1416/oj (Accessed on October 10, 2020)

Erkmen O, Barazi A (2018) General characteristics of edible films. 2(1):3. https://www.semanticscholar.org/paper/General-Characteristics-of-Edible-Films-Erkmen-Barazi/928937756e0d4b833884640e0988d9d19c7c4442

Ezeoha SL, Ezenwanne JN (2013) Production of biodegradable plastic packaging film from cassava starch. IOSR J Eng 3(10):14–20

Fortunati E, Armentano I, Iannoni A, Barbale M, Zaccheo S, Scavone M, Visal L, Kenny JM (2012) New multifunctional poly (lactide acid) composites: mechanical, antibacterial, and degradation properties. J Appl Polym Sci 124:87–98. https://doi.org/10.1002/app.35039

Feghali E, Tauk L, Ortiz P, Vanbroekhoven K, Eevers W (2020) Catalytic chemical recycling of biodegradable polyesters. Polym Degrad Stab 179:109241

FSSAI (2018), https://foodsafetyhelpline.com/fssai-notifies-the-new-packaging-regulation-2018. (Accessed on October 10, 2020)

FSSAI (2020), https://www.fssai.gov.in/upload/advisories/2020/02/5e3d4cdfba1ebDirection_Antinomy_limits_Packaged_Drinking_Water_07_02_2020.pdf (Accessed on October 10, 2020)

Fu Z, Wang J (2019) Current practices and future perspectives of microplastic pollution in freshwater ecosystems in China. Sci Total Environ. https://doi.org/10.1016/j.scitotenv.2019.07.167

Gahleitner M, Paulik C (2017) Polypropylene and other polyolefins. In: Gilbert M (ed) Brydson's plastics materials, 8th edn. Butterworth-Heinemann, Oxford, UK, pp 279–309

Gan I, Chow WS (2018) Antimicrobial poly (lactic acid)/cellulose bionanocomposite for food packaging application: a review. Food packag shelf life 17:150–161. https://doi.org/10.1016/j.fpsl.2018.06.012

Gasperi J, Wright SL, Dris R, Collard F, Mandin C, Guerrouache M, Langlois V, Kelly FJ, Tassin B (2018) Microplastics in air: Are we breathing it in? Curr Opin Environ Sci Health 1:1–5. https://doi.org/10.1016/j.coesh.2017.10.002

Geyer R, Jambeck JR, Law KL (2017) Production, use, and fate of all plastics ever made. Sci adv 3(7):e1700782. https://doi.org/10.1126/sciadv.1700782

Geueke B, Groh K, Muncke J (2018) Food packaging in the circular economy: overview of chemical safety aspects for commonly used materials. J Clean Prod 193:491–505

Godfrey L (2019) Waste plastic, the challenge facing developing countries-ban it, change it, collect it? Recycling 4:3. https://doi.org/10.3390/recycling4010003

Gómez-Estaca J, Gavara R, Catalá R, Hernández-Muñoz P (2016) The potential of proteins for producing food packaging materials: a review. Packag Technol Sci 29(4–5):203–224. https://doi.org/10.1002/pts.2198

Hahladakis JN (2020) Delineating the global plastic marine litter challenge: clarifying the misconceptions. Environmental Monitoring and Assessment 192(5)

Hahladakis JN, Iacovidou E (2018) Closing the loop on plastic packaging materials: What is quality and how does it affect their circularity? Sci Total Environ 630:1394–1400. https://doi.org/10.1016/j.scitotenv.2018.02.330

Hahladakis JN, Iacovidou E (2019) An overview of the challenges and trade-offs in closing the loop of post-consumer plastic waste (PCPW): focus on recycling. J Hazard Mater 380:120887. https://doi.org/10.1016/j.jhazmat.2019.120887

Hahladakis JN, Velis CA, Weber R, Iacovidou E, Purnell P (2018) An overview of chemical additives present in plastics: migration, release, fate and environmental impact during their use, disposal and recycling. J Hazard Mater 344:179–199

Hopewell J, Dvorak R, Kosior E (2009) Plastics recycling: challenges and opportunities. Philos Trans Royal Soc B Biol Sci 364(1526):2115–2126. https://doi.org/10.1098/rstb.2008.0311

Horodytska O, Valdés FJ, Fullana A (2018) Plastic flexible films waste management–a state of art review. Waste Manage 77:413–425. https://doi.org/10.1016/j.wasman.2018.04.023

Hutley TJ, Ouederni M (2016). In: Al-Ali AlMa'adeed M, Krupa I (eds) Polyolefin compounds and materials. Switzerland, Springer Series on Polymer and Composite Materials. Springer, pp 13–50

Ibarra VG, de Quirós ARB, Losada PP, Sendón R (2018) Identification of intentionally and non-intentionally added substances in plastic packaging materials and their migration into food products. Anal Bioanal Chem 410(16):3789–3803

Ignatyev IA, Thielemans W, Vander Beke B (2014) Recycling of polymers: a review. ChemSus Chem 7(6):1579–1593

Jambeck JR, Geyer R, Wilcox C, Siegler TR, Perryman M, Andrady A, Narayan R, Law KL (2015) Plastic waste inputs from land into the ocean. Science 347(6223):768–771. https://doi.org/10.1126/science.1260352

Jayakumar A, Heera KV, Sumi TS, Joseph M, Mathew S, Praveen G, Nair IC, Radhakrishnan EK (2019) Starch-PVA composite films with zinc-oxide nanoparticles and phytochemicals as intelligent pH sensing wraps for food packaging application. Int J Biol Macromol 136:395–403. https://doi.org/10.1016/j.ijbiomac.2019.06.018

Jiun YL, Tze CT, Moosa U, Tawawneh MA (2016) Effects of recycling cycle on used thermoplastic polymer and thermoplastic elastomer polymer. Polym Polym Compos 24(9):735–740

Ke AY, Chen J, Zhu J, Wang YH, Hu Y, Fan ZL, Chen M, Peng P, Jiang SW, Xu XR, Li HX (2019) Impacts of leachates from single-use polyethylene plastic bags on the early development of clam Meretrixmeretrix (Bivalvia: Veneridae). Mar Pollut Bull 142:54–57

Kim Y, Kim JS, Lee SY, Mahajan RL, Kim YT (2020) Exploration of hybrid nanocarbon composite with polylactic acid for packaging applications. Int J Biol Macromol 144:135–142. https://doi.org/10.1016/j.ijbiomac.2019.11.239

Kumar R (2020) Tertiary and quaternary recycling of thermoplastics by additive manufacturing approach for thermal sustainability. Materials today: proceedings.

Kumar S, Panda AK, Singh RK (2011) A review on tertiary recycling of high-density polyethylene to fuel. Resour Conserv Recycl 55(11):893–910. https://doi.org/10.1016/j.resconrec.2011.05.005

Lavilla C, de Ilarduya AM, Alla A, García-Martín MD, Galbis JA, Muñoz-Guerra S (2012) Bio-based aromatic polyesters from a novel bicyclic diol derived from D-mannitol. Macromolecules 45(20):8257–8266. https://doi.org/10.1021/ma3013288

Lavilla C, De Ilarduya AM, Alla A, Munoz-Guerra S (2013) PET copolyesters made from ad-mannitol-derived bicyclic diol. Polym Chem 4(2):282–289. https://doi.org/10.1039/C2PY20531A

Law BD, Bunn WB, Hesterberg TW (1990) Solubility of polymeric organic fibers and manmade vitreous fibers in gambles solution. Inhal Toxicol 2(4):321–339. https://doi.org/10.3109/08958379009145261

Lebreton L, Slat B, Ferrari F, Sainte-Rose B, Aitken J, Marthouse R, Hajbane S, Cunsolo S, Schwarz A, Levivier A, Noble K (2018) Evidence that the great Pacific garbage patch is rapidly accumulating plastic. Sci Rep 8(1):1–15

Lee A, Liew MS (2020) Tertiary recycling of plastics waste: an analysis of feedstock, chemical and biological degradation methods. J Mater Cycles Waste Manage. https://doi.org/10.1007/s10163-020-01106-2

Leissner S, Ryan-Fogarty Y (2019) Challenges and opportunities for reduction of single-use plastics in healthcare: a case study of single use infant formula bottles in two Irish maternity hospitals. Resour Conserv Recycl 151:104462. https://doi.org/10.1016/j.resconrec.2019.104462

Lewis H, Verghese K, Fitzpatrick L (2010) Evaluating the sustainability impacts of packaging: the plastic carry bag dilemma. Packag Technol Sci Int J 23:145–160. https://doi.org/10.1002/pts.886

Liu C, Huang J, Zheng X, Liu S, Lu K, Tang K, Liu J (2020) Heat sealable soluble soybean polysaccharide/gelatin blend edible films for food packaging applications. Food Packag Shelf Life 24:100485. https://doi.org/10.1016/j.fpsl.2020.100485

Long M, Moriceau B, Gallinari M, Lambert C, Huvet A, Raffray J, Soudant P (2015) Interactions between microplastics and phytoplankton aggregates: impact on their respective fates. Mar Chem 175:39–46. https://doi.org/10.1016/j.marchem.2015.04.003

Macintosh A, Simpson A, Neeman T, Dickson K (2020) Plastic bag bans: lessons from the Australian Capital Territory. Resour Conserv Recycl 154:104638. https://doi.org/10.1016/j.resconrec.2019.104638

Maguire R, Johnson H, Taboada MB, Barner L, Caldwell GA (2019). A review of single-use plastic waste policy in 2018: What will 2019 hold in store?, Faculty of Law Blog, Queensland University of Technology, https://eprints.qut.edu.au/127711/. Accessed 16 April 2020.

Mangaraj S, Goswami TK, Mahajan PV (2009) Applications of plastic films for modified atmosphere packaging of fruits and vegetables: a review. Food Eng Rev 1:133. https://doi.org/10.1007/s12393-009-9007-3

Marichelvam MK, Jawaid M, Asim M (2019) Corn and rice starch-based bio-plastics as alternative packaging materials. Fibers 7(4):32. https://doi.org/10.3390/fib7040032

Lawrence MJ (2017) 10-Disposal of plastics. In: Orzolek MD (ed) Plastics Design Library, A Guide to the Manufacture, Performance, and Potential of Plastics in Agriculture. Elsevier, Netherland, pp 187–195

McCubbin N (1983) The basic technology of the pulp and paper industry and its environmental practices, environmental protection programs directorate, report EPS 6-EP-83-1. Environment Canada, Ottawa, pp 1–204

Meraldo A (2016) Introduction to bio-based polymers. In: Wagner JR (ed) Multilayer Flexible Packaging, 2nd edn. William Andrew Publishing, USA, pp 47–52

Miao L, Walton WC, Wang L, Li L, Wang Y (2019) Characterization of polylactic acids-polyhydroxybutyrate based packaging film with fennel oil, and its application on oysters. Food Packag Shelf Life 22:100388. https://doi.org/10.1016/j.fpsl.2019.100388

Mohan Raj J (2019) Picnic benches and the circular economy. Reinf Plast 63(4):213–215. https://doi.org/10.1016/j.repl.2019.05.001

Mulyani SH, Hendrik B, Putra RA, Masril M (2017) Pattern of cleanliness with technology intervention for innovation life. In: IOP conference series: earth and environmental science. IOP Publishing 97(1):012011

Nechita P, Roman (Iana-Roman) M, (2020) Review on polysaccharides used in coatings for food packaging papers. Coatings 10(6):566

Nelsen TD, Hasselbalch J, Holmberg K, Stripple J (2020) Politics and the plastic crisis: a review throughout the plastic life cycle. Energy and Environment, Wiley Interdisciplinary Reviews. https://doi.org/10.1002/wene.360

Ohara H (2003) Biorefinery. Appl Microbiol Biotechnol 62(5–6):474–477. https://doi.org/10.1007/s00253-003-1383-7

Paine FA (1991) The packaging users handbook. AVI, Van Nostrand Reinhold, New York, USA, pp 519–520

Papageorgiou GZ, Tsanaktsis V, Papageorgiou DG, Chrissafis K, Exarhopoulos S, Bikiaris DN (2015) Furan-based polyesters from renewable resources: crystallization and thermal degradation behavior of poly (hexamethylene 2, 5-furan-dicarboxylate). Eur Polymer J 67:383–396. https://doi.org/10.1016/j.eurpolymj.2014.08.031

Passamonti FJ, Sedran U (2012) Recycling of waste plastics into fuels. LDPE conversion in FCC. Appl Catal B 125:499–506. https://doi.org/10.1016/j.apcatb.2012.06.020

Prata JC (2018) Airborne microplastics: Consequences to human health? Environ Pollut 234:115–126. https://doi.org/10.1016/j.envpol.2017.11.043

Prakash C, Singh S, Krolczyk G, Pabla BS (Eds.) (2020) Advances in materials science and engineering. Lecture Notes in Mechanical Engineering. 10.1007/978-981-15-4059-2

Qin Y, Liu Y, Yong H, Liu J, Zhang X, Liu J (2019) Preparation and characterization of active and intelligent packaging films based on cassava starch and anthocyanins from Lycium ruthenicum Murr. Int J Biol Macromol 134:80–90. https://doi.org/10.1016/j.ijbiomac.2019.05.029

Ramírez Tapias YA, Peltzer MA, Delgado JF, Salvay AG (2020) Kombucha tea by-product as source of novel materials: formulation and characterization of films. Food Bioprocess Technol. https://doi.org/10.1007/s11947-020-02471-4

Ramos ÓL, Fernandes JC, Silva SI, Pintado ME, Malcata FX (2012) Edible films and coatings from whey proteins: a review on formulation, and on mechanical and bioactive properties. Crit Rev Food Sci Nutr 52(6):533–552

Risch SJ (2009) Food packaging history and innovations. J Agric Food Chem 57(18):8089–8092. https://doi.org/10.1021/jf900040r

Sakai SI, Yoshida H, Hiratsuka J, Vandecasteele C, Kohlmeyer R, Rotter VS, Passarini F, Santini A, Peeler M, Li J, Oh GJ (2014) An international comparative study of end-of-life vehicle (ELV) recycling systems. J Mater Cycles Waste Manage 16(1):1–20

Sanchez W, Bender C, Porcher JM (2014) Wild gudgeons (Gobiogobio) from French rivers are contaminated by microplastics: preliminary study and first evidence. Environ Res 128:98–100. https://doi.org/10.1016/j.envres.2013.11.004

Saxon DJ, Luke AM, Sajjad H, Tolman WB, Reineke TM (2020) Next-generation polymers: isosorbide as a renewable alternative. Prog Polym Sci. https://doi.org/10.1016/j.progpolymsci.2019.101196

Schnurr RE, Alboiu V, Chaudhary M, Corbett RA, Quanz ME, Sankar K, Srain HS, Thavarajah V, Xanthos D, Walker TR (2018) Reducing marine pollution from single-use plastics (SUPs): a review. Mar Pollut Bull 137:157–171. https://doi.org/10.1016/j.marpolbul.2018.10.001

Sengupta S, Manna S, Roy U, Das P (2020) Manufacturing of biodegradable poly lactic acid (pla): green alternatives to petroleum derived plastics. In: Hashmi S, Choudhury IA (eds) Encyclopedia of Renewable and Sustainable Materials, vol 1. Elsevier, Netherlands, pp 561–569

Sharobem TT (2010) Tertiary recycling of waste plastics: an assessment of pyrolysis by microwave radiation. columbia university. https://pdfs.semanticscholar.org/3b19/b1bf23efd6266830f807da1cde1f063408a0.pdf. Accessed 17 April 2020

Shit SC, Shah PM (2014) Edible polymers: challenges and opportunities. J Polym 2014:1–13. https://doi.org/10.1155/2014/427259

Silano V, Bolognesi C, Castle L, Chipman K, Cravedi JP, Engel KH, Fowler P, Franz R, Grob K, Gürtler R (2017) EFSA panel on food contact materials, enzymes, flavourings and processing aids (CEF). Safety of benzophenone to be used as flavouring. EFSA J 15(11):e05013

Singh DK, Ray AR (1998) Characterization of grafted chitosan films. Carbohyd Polym 36:251–255. https://doi.org/10.1016/S0144-8617(97)00260-9

Singh N, Hui D, Singh R, Ahuja IP, Feo L, Fraternali F (2017) Recycling of plastic solid waste: a state of art review and future applications. Compos B Eng 115:409–422. https://doi.org/10.1016/j.compositesb.2016.09.013

Siracusa V, Rocculi P, Romani S, Dalla Rosa M (2008) Biodegradable polymers for food packaging: a review. Trends Food Sci Technol 19(12):634–643. https://doi.org/10.1016/j.tifs.2008.07.003

Sjollema SB, Redondo-Hasselerharm P, Leslie HA, Kraak MH, Vethaak AD (2016) Do plastic particles affect microalgal photosynthesis and growth? Aquat Toxicol 170:259–261. https://doi.org/10.1016/j.aquatox.2015.12.002

Solis M, Silveira S (2020) Technologies for chemical recycling of household plastics–a technical review and TRL assessment. Waste Manage 105:128–138. https://doi.org/10.1016/j.wasman.2020.01.038

Song X-C, Wrona M, Nerin C, Lin Q-B, Zhong H-N (2019) Volatile non-intentionally added substances (NIAS) identified in recycled expanded polystyrene containers and their migration into food simulants. Food Packag Shelf Life 20:100318

Standard I (2004) Indian standard, packaged drinking water (other than packaged natural mineral water) specification. First Rev 14543:2004

Sulaiman S, Yamato S, Kanaya E, Kim JJ, Koga Y, Takano K, Kanaya S (2012) Isolation of a novel cutinase homolog with polyethylene terephthalate-degrading activity from leaf-branch compost by using a metagenomic approach. Appl Environ Microbiol 78(5):1556–1562

Sun Y, Lin S (2019) A feasibility study on the transformation and sustainable development of "disposable tableware" in Taiwan night market. In: Rau PL. (eds) Cross-Cultural Design. Culture and Society. HCII 2019. Lecture Notes in Computer Science, Springer, Cham 11577. https://doi.org/10.1007/978-3-030-22580-3_27

Vartiainen J, Pasanen S, Kenttä E, Vähä-Nissi M (2018) Mechanical recycling of nanocellulose containing multilayer packaging films. J Appl Polym Sci 135(19):46237

Velickova E, Winkelhausen E, Kuzmanova S, Alves VD, Moldão-Martins M (2013) Impact of chitosan-beeswax edible coatings on the quality of fresh strawberries (Fragaria ananassa cv Camarosa) under commercial storage conditions. LWT-Food Sci Technol 52(2):80–92. https://doi.org/10.1016/j.lwt.2013.02.004

Whitt M, Brown W, Danes JE, Vorst KL (2015) Migration of heavy metals from recycled polyethylene terephthalate during storage and microwave heating. J Plast Film Sheeting 32(2):189–207

WMW 2016. Tackling complex plastic recycling challenges. https://waste-management-world.com/a/tackling-complex-plastic-recycling-challenges. Accessed 17 April 2020

Wu X, Li J, Yao L, Xu Z (2019) Auto-sorting commonly recovered plastics from waste household appliances and electronics using near-infrared spectroscopy. J Clean Prod. https://doi.org/10.1016/j.jclepro.2019.118732

Xanthos D, Walker TR (2017) International policies to reduce plastic marine pollution from single-use plastics (plastic bags and microbeads): a review. Mar Pollut Bull 118(1–2):17–26. https://doi.org/10.1016/j.marpolbul.2017.02.048

Yadav A, Mangaraj S, Singh R, Kumar N, Arora S (2018) Biopolymers as packaging material in food and allied industry. IJCS 6(2):2411–2418

Zhang H, Hortal M, Jordá-Beneyto M, Rosa E, Lara-Lledo M, Lorente I (2017) ZnO-PLA nanocomposite coated paper for antimicrobial packaging application. Lwt 78:250–257. https://doi.org/10.1016/j.lwt.2016.12.024

Zhao X, Cornish K, Vodovotz Y (2020) Narrowing the gap for bioplastic use in food packaging-an update. Environ Sci Technol. https://doi.org/10.1021/acs.est.9b03755

Zhou X, Yang R, Wang B, Chen K (2019) Development and characterization of bilayer films based on pea starch/polylactic acid and use in the cherry tomatoes packaging. Carbohyd Polym 222:114912. https://doi.org/10.1016/j.carbpol.2019.05.042
Acknowledgement
The authors acknowledge Indian Institute of Packaging for the support in the work related to this review article.
Additional information
Publisher's Note
Springer Nature remains neutral with regard to jurisdictional claims in published maps and institutional affiliations.
About this article
Cite this article
Dey, A., Dhumal, C.V., Sengupta, P. et al. Challenges and possible solutions to mitigate the problems of single-use plastics used for packaging food items: a review. J Food Sci Technol 58, 3251–3269 (2021). https://doi.org/10.1007/s13197-020-04885-6
Revised:

Accepted:

Published:

Issue Date:

DOI: https://doi.org/10.1007/s13197-020-04885-6
Keywords