Abstract
Diamine oxydase and peroxidase have been co-immobilized onto layered double hydroxide (LDH) thin films for the development of real-time histamine biosensors. The chosen LDH materials are Mg2AlCO3, Mg4FeCl and Ca2AlCl. Prepared bi-enzymatic hybrid nanomaterials are capable of detecting histamine through the electrochemical oxidation of H2O2 and are used as the sensitive membrane for potentiometric microelectrode. Histamine biosensors developed in this work have fast response of less than 20 s, are sensitive and selective, with a large dynamic range of 10–8–10–3 M and a limit of detection of less than 10–8 M. The detection limit of the developed bi-enzymatic biosensors is relatively higher than those corresponding with gas and liquid chromatography, which are still considered as the reference methods. Finally, the reproducibility, the specificity and the storage stability of the biosensors were studied.
This is a preview of subscription content,
to check access.
Access this article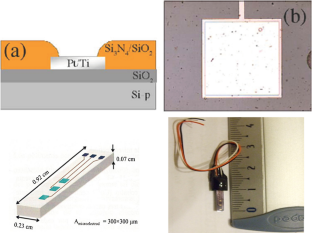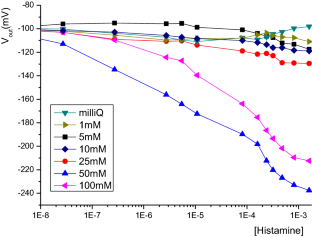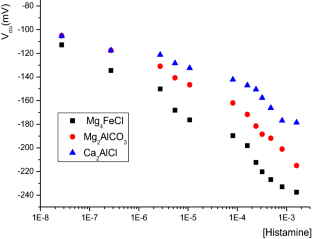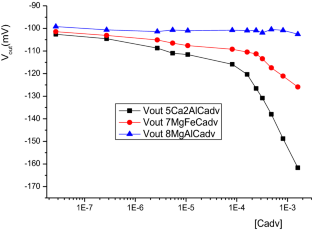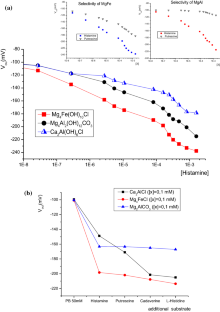 Similar content being viewed by others
References
Apetrei IM, Apetrei C (2016) Amperometric biosensor based on diamine oxidase/platinum nanoparticles/graphene/chitosan modified screen-printed carbon electrode for histamine detection. Sensors 16:422. https://doi.org/10.3390/s16040422

Baccar ZM, Hidouri S, El Bari N, Jaffrezic-Renault N, Errachid A, Zine N (2009) Stable immobilization of anti-beta casein antibody onto layered double hydroxides materials for biosensor applications. Sens Lett 7(9):647–655

Baccar ZM, Hidouri S, Errachid A, Ruiz-Sanchez O (2011) Study of bi-enzyme immobilization onto layered double hydroxides nanomaterials for histamine biosensor application. J Nanosci Nanotechnol 11(10):8798–8803. https://doi.org/10.1166/jnn.2011.3461

Biji KB, Ravishankar CN, Venkateswarlu R, Mohan CO, Srinivasa Gopal TK (2016) Biogenic amines in seafood: a review. J Food Sci Technol 53(5):2210–2218. https://doi.org/10.1007/s13197-016-2224-x

Chemnitius GC, Suzuki M, Isobe K, Kimura J, Karube I, Schmid RD (1992) Thin-film polyamine biosensor: substrate specificity and application of fish freshness determination. Anal Chim Acta 263:93–100

Del Rio B, Redruello B, Linares DM, Ladero V, Ruas-Madiedo P, Fernandez M, Cruz Martin M, Alvarez MA (2019) The biogenic amines putrescine and cadaverine show in vitro cytotoxicity at concentrations that can be found in foods. Sci Rep 9:120

Jumarie C, Séïde M, Marcocci L et al (2017) Diamine oxidase from white pea (Lathyrus sativus) combined with catalase protects the human intestinal Caco-2 cell line from histamine damage. Appl Biochem Biotechnol 182:1171–1181. https://doi.org/10.1007/s12010-016-2390-3

Keow CM, Abu BF, Salleh AB, Yook HL, Wagiran R, Sim BL (2007) An amperometric biosensor for the rapid assessment of histamine level in tiger prawn (Penaeus monodon) spoilage. Food Chem 105:1636–1641. https://doi.org/10.1016/j.foodchem.2007.04.027

Keow CM, Abu BF, Abu BS, Yook HL, Wagiran R, Siddiquee S (2012) Screen-printed histamine biosensors fabricated from the entrapment of diamine oxidase in a photocured poly(HEMA) film int. J Electrochem Sci 7:4702–4715

Landete JM, De las Rivas B, Marcobal A, Muñoz R (2008) Updated Molecular Knowledge about Histamine Biosynthesis by Bacteria. Crit Rev Food Sci Nutr 48(8):697–714. https://doi.org/10.1080/10408390701639041

Lange J, Wittmann C (2002) Enzyme sensor array for the determination of biogenic amines in food samples. Anal Bioanal Chem 372:276–283. https://doi.org/10.1007/s00216-001-1130-9

Lange J, Thomas K, Wittmann C (2002) Comparison of a capillary electrophoresis method with high-performance liquid chromatography for the determination of biogenic amines in various food samples. J Chromatogr B Anal Technol Biomed Life Sci 779(2):229–239. https://doi.org/10.1016/s1570-0232(02)00372-0

Lieberman P (2009) Histamine, antihistamines, and the central nervous system. Allergy Asthma Proc 30(5):482–486. https://doi.org/10.2500/aap.2009.30.3264

Maintz L, Novak N (2007) Histamine and histamine intolerance. Am J Clin Nutr 85(5):1185–1196

Marconi W (1989) Immobilized enzymes: their catalytic behaviour and their industrial and analytical applications. React Polym 11:1–19. https://doi.org/10.1016/0923-1137(89)90078-X

Marcus RA (1997) Electron transfer reactions in chemistry. Theory and experiment. Pure Appl Chem 69(1):13–29

Marcus RA, Sutin N (1985) Electron transfers in chemistry and biology. Biochim Biophys Acta 811:265–322. https://doi.org/10.1016/0304-4173(85)90014-X

Marques de Oliveira IA, Pla-Roca M, Escriche L, Casab J, Zine N, Bausells J, Teixidor F, Crespo E, Errachid A, Samitier J (2006) Novel all-solid-state copper(II) microelectrode basedon a dithiomacrocycle as a neutral carrier. Electrochim Acta 51:5070–5074. https://doi.org/10.1016/j.electacta.2006.03.042

Marques de Oliveira IA, Risco D, Vocanson F, Crespo E, Teixidor F, Zine N, Bausells J, Samitier J, Errachid A (2008) Sodium ion sensitive microelectrode based on a p-tert-butylcalix[4] arene ethyl ester. Sens Actuators B-Chem 130:295–299. https://doi.org/10.1016/j.snb.2007.08.026.2008

Miyasaka T, Okuyama-Dobashi K, Masuda C, Iwami S, Sato M, Mizoguchi H, Kawano T, Ohkawara Y, Sakurada S, Takayanagi M, Ohno I (2016) The involvement of central nervous system histamine receptors in psychological stress-induced exacerbation of allergic airway inflammation in mice. Allergol Int 65:S38–S44. https://doi.org/10.1016/j.alit.2016.05.015

Niwa O, Kurita R, Hayashi K, Horiuchi T, Torimitsu K, Maeyama K, Tanizawa K (2000) Continuous measurement of histamine from rat basophilic leukemia cells (RBL-2H3) with an on-line sensor using histamine oxidase. Sens Actuators B 67:43–51

Onnerfjord P, Emneus J, Marko-Varga G, Gorton L, Ortega F, Dominguez E (1995) Tyrosinase graphite-epoxy based composite electrodes for detection of phenols. Biosens Bioelectron 10:607–619. https://doi.org/10.1016/0956-5663(95)96937-T

Pietrzyk A, Suriyanarayanan S, Kutner W, Chitta R, D'Souza F (2009) Selective histamine piezoelectric chemosensor using a recognition film of the molecularly imprinted polymer of bis(bithiophene) derivatives. Anal Chem 81(7):2633–2643

Prester L (2011) Biogenic amines in fish, fish products and shellfish: a review. Food Addit Contam Part A 28(11):1547–2156

Prodromidis MI, Karayannis MI (2002) Enzyme based amperometric biosensors for food analysis. Electroanalysis 14(4):241–261. https://doi.org/10.1002/1521-4109

Razavi Rohani SM, Aliakbarlu J, Ehsani A, Hassanzadazar H (2013) Biogenic amines determination in some traditional cheeses in West Azerbaijan province of Iran. Vet Res Forum 4(2):115–118

Salleres S, González I, Arantzamendi A, González R, Maza S, Jaureguibeitia A, Hungerford JM, DeWitt CA, Benner RA (2016) Validation of the biofish-300 HIS enzymatic biosensor for the detection of histamine in fishery products. J AOAC Int 99(5):1338–1355. https://doi.org/10.5740/jaoacint.16-0180

Taylor SL, Eitenmiller RR (1986) Histamine food poisoning: toxicology and clinical aspects. Crit Rev Toxicol 17(2):91–128

Tombelli S, Mascini M (1998) Electrochemical biosensors for biogenic amines: a comparison between different approaches. Anal Chim Acta 358:277–284

Tortorella V, Masciari P, Pezzi M, Mola A, Tiburzi SP, Zinzi MC, Scozzafava A, Verre M (2014) Histamine poisoning from ingestion of fish or scombroid syndrome. Case Rep Emerg Med 2014:482531. https://doi.org/10.1155/2014/482531

Tsutsumi M, Tsujimura S, Shirai O, Kano K (2009) Direct electrochemistry of histamine dehydrogenase from Nocardioides simplex. J Electroanal Chem 625:144–148

Visciano P, Schirone M, Tofalo R, Suzzi G (2014) Histamine poisoning and control measures in fish and fishery products. Front Microbiol 5:500. https://doi.org/10.3389/fmicb.2014.00500

Zine N, Bausells J, Ivorra A, Aguilo J, Zabala M, Teixidor F, Masalles C, Viñas C, Errachid A (2003) Hydrogen-selective microelectrodes based on silicon needles. Sens Actuators B Chem 91:76–82. https://doi.org/10.1016/S0925-4005(03)00069-8
Acknowledgements
The authors thank Tunisian and Spanish governments for their financial support of the Projects A/9711/07 and A/20225/08 in Spanish Agency for International Development Cooperation programs.
Ethics declarations
Conflict of interest
The authors declare that they have no conflict of interest.
Additional information
Publisher's Note
Springer Nature remains neutral with regard to jurisdictional claims in published maps and institutional affiliations.
About this article
Cite this article
Hidouri, S., Errachid, A.H., Baussels, J. et al. Potentiometric sensing of histamine using immobilized enzymes on layered double hydroxides. J Food Sci Technol 58, 2936–2942 (2021). https://doi.org/10.1007/s13197-020-04795-7
Revised:

Accepted:

Published:

Issue Date:

DOI: https://doi.org/10.1007/s13197-020-04795-7
Keywords