Abstract
In order to explore the taste characteristics and molecular sensory basis of Chinese yellow tea, in this study, quantitative descriptive analysis (QDA) and partial least squares regression (PLSR) were used to analyze the sensory characteristics and chemical components of 15 yellow tea samples from different regions of China. The results showed that: 11 sensory descriptors and their definitions were obtained by QDA, namely, sweet, umami, bitter, sour, astringent, sweet after taste, mellow, neutral, after-taste, thick and tainted taste. The results of variance indicated that there were significant variation in taste sub-attributes of different samples (p <0.05). Principal component analysis indicated that there was a positive correlation between bitter and astringent, between sweet, umami and sour, and between mellow, thick, after-taste and neutral. All yellow tea samples were divided into four categories according to cluster analysis. The results of PLSR showed that there were 22 chemical components that had an important contribution to the taste characteristics of yellow tea, and the chemical components that had an important influence on each taste component were obtained. The identification of key contribution components of taste characteristics in yellow teas will provide a theoretical basis for further research on the directional adjustment and control of tea taste quality.
This is a preview of subscription content, log in to check access.
Access options
Buy single article
Instant access to the full article PDF.
US$ 39.95
Price includes VAT for USA
Subscribe to journal
Immediate online access to all issues from 2019. Subscription will auto renew annually.
US$ 99
This is the net price. Taxes to be calculated in checkout.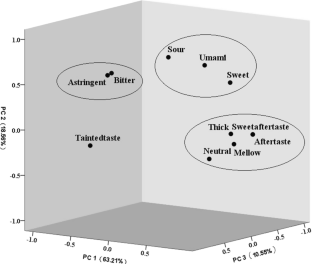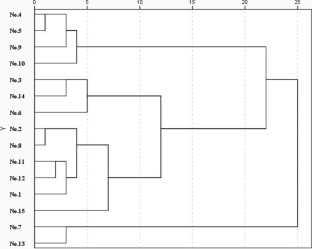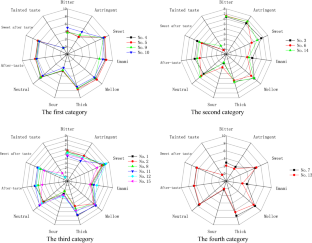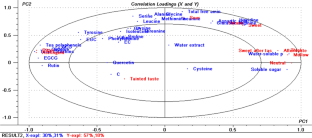 References
Albert A, Varela P, Salvador A et al (2011) Overcoming the issues in the sensory description of hot served food with a complex texture. Application of QDA, flash profiling and projective mapping using panels with different degrees of training. Food Qual Prefer 22(5):463–473

Blainski A, Lopes GC, de Mello JC (2013) Application and analysis of the folin ciocalteu method for the determination of the total phenolic content from Limonium brasiliense L. Molecules 18:6852–6865

Chen MX, Guo YL, Guo XN et al (2014) The research situation of tea color and flavor constituents. J Food Saf Qual 5(06):1818–1823

Emmanuel DJR, Pablo DR, Lorena GRC et al (2018) Comparison of performance and quantitative descriptive analysis sensory profiling and its relationship to consumer liking between the artisanal cheese producers panel and the descriptive trained panel. J Dairy Sci 101(1):5851–5864

Eric K, Raymond LV, Abbas S et al (2014) Temperature and cysteine addition effect on formation of sunflower hydrolysate Maillard reaction products and corresponding influence on sensory characteristics assessed by partial least square regression. Food Res Int 57:242–258

Fang YF, Xiao LY, Shu YG et al (2019) The effect of technological factors on yellow tea quality and taste-chemical constituents in the yellowing process. J Tea Sci 39(01):63–73

Gramza-MichaOwska A, Kobus-Cisowska J, Kmiecik D et al (2016) Antioxidative potential, nutritional value and sensory profiles of confectionery fortified with green and yellow tea leaves (Camellia sinensis). Food Chem 211:448–454

Granato D, Santos JS, Escher GB et al (2018) Use of principal component analysis (PCA) and hierarchical cluster analysis (HCA) for multivariate association between bioactive compounds and functional properties in foods: a critical perspective. Trends Food Sci Technol 72:83–90

Hashimoto T, Goto M, Sakakibara H et al (2010) Yellow tea is more potent than other types of tea in suppressing liver toxicity induced by carbon tetrachloride in rats. Phytother Res 21(7):668–670

Hayashi N, Ujihara T, Kohata K (2005) Reduction of catechin astringency by the complexation of gallate-type catechins with pectin. J Agric Chem Soc Jpn 69(7):1306–1310

Hua JJ, Jiang YW, Yuan HB et al (2015) Review on the changes of biochemical components and the influencing factors in piling process of yellow tea. J Tea Sci 35(3):203–208

Kallithraka S, Bakker J, Clifford MN (1997) Evaluation of bitterness and astringency of (+)-catechin and (−)-epicatechin in red wine and in model solution. J Sens Stud 12(1):25–37

Kujawska M, Ewertowska M, Ignatowicz E et al (2016) Evaluation of safety and antioxidant activity of yellow tea (Camellia sinensis) extract for application in food. J Med Food 19(3):330–336

Liu PP, Deng YL, Yin JF et al (2014) Quantitative analysis of the taste and its correlation research of chemical constitutes of green tea. J Chin Inst Food Sci Technol 14(12):173–181

Liu PP, Yin JF, Chen GS et al (2018) Flavor characteristics and chemical compositions of oolong tea processed using different semi-fermentation times. J Food Sci Technol 55(3):1185–1195

Mao SH (2018) Quality analysis and control of congou black tea based on sensomics. Southwest University, Chongqing

Morais FJM, Azevedo BM, Luccas V et al (2017) Sensory profile and consumer acceptability of prebiotic white chocolate with sucrose substitutes and the addition of Goji Berry (Lycium barbarum). J Food Sci 82(3):818–824

Nicolli KP, Marques ATB, Érica SS et al (2017) Sensory, olfactometry and comprehensive two-dimensional gas chromatography analyses as appropriate tools to characterize the effects of vine management on wine aroma. Food Chem 243:103–117

Qi DD (2016) Study of the taste quality of green tea based on metabolomics analysis. Chinese Academy of Agricultural Sciences, Beijing

Sanchezpalomo E, Trujillo M, Garciaa R et al (2017) Aroma profile of malbec red wines from La Mancha region: chemical and sensory characterization. Food Res Int 100(1):201–208

Scharbert S, Holzmann N, Hofmann T (2004) Identification of the astringent taste compounds in black tea infusions by combining instrumental analysis and human bioresponse. J Agric Food Chem 52(11):3498–3508

Shi ZP, Liu ZH (1987) Probe into mathematical model of chemical essence of bitterness and astringency in summer green tea. J Tea Sci 2:7–12

Smriga M, Mizukoshi T, Iwahata D et al (2010) Amino acids and minerals in ancient remnants of fish sauce (garum) sampled in the "Garum Shop" of Pompeii, Italy. J Food Compos Anal 23(5):442–446

Stone H, Sidel JL, Bloomquist J (1980) Quantitative descriptive analysis. Cereal Foods World 25(10):53–69

Wang Q, Zhao X, Qian Y et al (2013) In vitro antioxidative activity of yellow tea and its in vivo preventive effect on gastric injury. Exp Ther Med 6(2):423–426

Wang ZH, Yue CN, Mao SH et al (2018) Study on main flavoring compounds and taste acceptability of yellow tea. Food Ferment Ind 44(3):77–83

Xu WP, Li DX, Zhang ZZ et al (2010) The nonlinear regression of bitterness and astringency of main compounds in green tea and the application in organoleptic tests. J Tea Sci 30(05):399–406

Xu JY, Wang M, Zhao JP, Wang YH, Tang Q (2018a) Yellow tea (Camellia sinensis, L.), a promising Chinese tea: processing, chemical constituents and health benefits. Food Res Int 107:567–577

Xu YQ, Ji WB, Yu P et al (2018b) Effect of extraction methods on the chemical components and taste quality of green tea extract. Food Chem 248:146–154

Yang C, Hu Z, Lu M et al (2018) Application of metabolomics profiling in the analysis of metabolites and taste quality in different subtypes of white tea. Food Res Int 106:909–919

Ye YL, Yan JN, Cui JL et al (2017) Dynamic changes in amino acids, catechins, caffeine and gallic acid in green tea during withering. J Food Compos Anal 66:98–108

Yu P, Yeo AL, Low MY et al (2014) Identifying key non-volatile compounds in ready-to-drink green tea and their impact on taste profile. Food Chem 155:9–16

Yue CN (2017) Establishment of reference material model of green tea based on its taste material research. Southwest University, Chongqing

Yue CN, Wang ZH, Mao SH et al (2017) The main taste substances in tea research progress. Food Res Dev 1:228–233
Acknowledgements
The research was funded by Chongqing Science and Technology Commission (cstc 2013 jcsfC80002).
Ethics declarations
Conflict of interest
The authors declare that they have no conflict of interest.
Additional information
Publisher's Note
Springer Nature remains neutral with regard to jurisdictional claims in published maps and institutional affiliations.
Electronic supplementary material
Below is the link to the electronic supplementary material.
About this article
Cite this article
Wang, Z., Yue, C. & Tong, H. Analysis of taste characteristics and identification of key chemical components of fifteen Chinese yellow tea samples. J Food Sci Technol (2020). https://doi.org/10.1007/s13197-020-04649-2
Revised:

Accepted:

Published:
Keywords
Yellow tea

Sensory characteristics

Chemical components

QDA

PCA

PLSR