Abstract
Droplet size, polydispersity, physical and polymorphic stability of milk fat nanoemulsions produced by hot high-pressure homogenization and stabilized by whey protein isolate (WPI pH 4.0 or 7.0) or sodium caseinate (NaCas pH 7.0) were evaluated for 60 days of storage at 25 °C. Smaller droplets were observed for the NaCas pH 7.0 nanoemulsion, which also showed a lower polydispersity index, resulting in a stable emulsified system for 60 days. On the other hand, the nanoemulsion with bigger droplet size (WPI pH 4.0) showed reduced stability, probably due to the pH near the isoelectric point of the whey proteins. The nanostructured milk fat exhibited the same melting behavior as the bulk milk fat, with a balance between liquid and crystallized fat, and crystals in polymorphic form β′. This could be an advantage concerning the application of the system for delivery of bioactive compounds and improvement of the sensory properties of fat-based food. In summary, nanoemulsions stabilized by NaCas (pH 7.0) showed higher kinetic stability over the storage time, which from a technological application point of view is a very important factor in the food industry.
Access options
Buy single article
Instant access to the full article PDF.
US$ 39.95
Tax calculation will be finalised during checkout.
Subscribe to journal
Immediate online access to all issues from 2019. Subscription will auto renew annually.
US$ 79
Tax calculation will be finalised during checkout.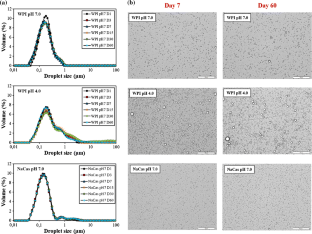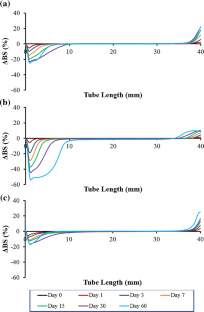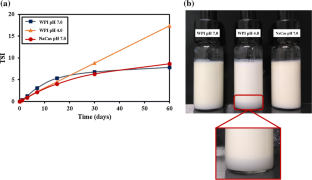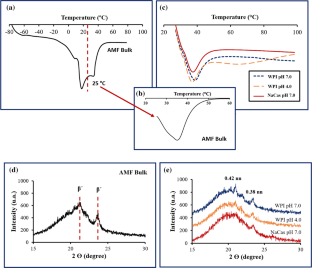 References
AOCS (2009) Official methods and recommended practices of the American Oil Chemists' Society. American Oil Society, Champaign

Bugeat S, Briard-bion V, Pérez J, Pradel P, Martin B, Lesieur S, Bourgaux C, Ollivon M, Lopez C (2011) Enrichment in unsaturated fatty acids and emulsion droplet size affect the crystallization behaviour of milk triacylglycerols upon storage at 4 °C. Food Res Int 44:1314–1330

Cerqueira M, Pinheiro A, Silva H, Ramos P, Azevedo M, Flores-López M, Rivera M, Bourbon A, Ramos Ó, Vicente A (2014) Design of bio-nanosystems for oral delivery of functional compounds. Food Eng Rev 6:1–19

Chevallier M, Riaublanc A, Lopez C, Hamon P, Rousseau F, Croguennec T (2016) Aggregated whey proteins and trace of caseins synergistically improve the heat stability of whey protein-rich emulsions. Food Hydrocoll 61:487–495

Combrinck J, Otto A, Du Plessis J (2014) Whey protein/polysaccharide-stabilized emulsions: effect of polymer type and pH on release and topical delivery of salicylic acid. AAPS PharmSciTech 15:588–600

Damodaran S, Parkin KL, Fennema OR (2007) Fennema's food chemistry, 4th edn. CRC Press, Boca Raton

Dickinson E (2010) Flocculation of protein-stabilized oil-in-water emulsions. Colloids Surf B 81:130–140

Farrell HM Jr, Jimenez-Flores R, Bleck GT, Brown EM, Butler JE, Creamer LK, Hicks CL, Hollar CM, Ng-Kwai-Hang KF, Swaisgood HE (2004) Nomenclature of the proteins of cows' milk—sixth revision. J Dairy Sci 87:1641–1674

Fox PF, Uniacke-Lowe T, McSweeney PLH, O'Mahony JA (2015) Milk proteins. In: Dairy chemistry and biochemistry. Springer, Cham, pp 145–239 https://doi.org/10.1007/978-3-319-14892-2_4

Furtado GF, Mantovani RA, Consoli L, Hubinger MD, Cunha RL (2017) Structural and emulsifying properties of sodium caseinate and lactoferrin influenced by ultrasound process. Food Hydrocoll 63:178–188

Huck-Iriart C, Ruiz-Henestrosa VMP, Candal RJ, Herrera ML (2013) Effect of aqueous phase composition on stability of sodium caseinate/sunflower oil emulsions. Food Bioprocess Technol 6:2406–2418

Jafari SM, McClements DJ (2018) Nanoemulsions: formulation, applications, and characterization. Academic Press, Cambridge

Kuhn KR, Cunha RL (2012) Flaxseed oil—whey protein isolate emulsions: effect of high pressure homogenization. J Food Eng 111:449–457

Llinares R, Ramírez P, Carmona J, Carrillo F, Munñoz J (2018) Formulation and optimization of emulsions based on bitter fennel essential oil and EO/BO block copolymer surfactant. Colloids Surf A 536:142–147

Lopez C, Lavigne F, Lesieur P, Bourgaux C, Ollivon M (2001) Thermal and structural behavior of milk fat. 1. Unstable species of anhydrous milk fat. J Dairy Sci 84:756–766

Lopez C, Bourgaux C, Lesieur P, Ollivon M (2002) Crystalline structures formed in cream and anhydrous milk fat at 4 °C. Lait 82:317–335

McClements DJ (2015) Food emulsions: principles, practices, and techniques, 3rd edn. CRC Press, Taylor & Francis Group, Cambridge, p 690

O'Brien RD (2009) Fats and oils: formulating and processing for applications, 3rd edn. CRC Press, Boca Raton, p 744

Pan K, Zhong Q, Baek SJ (2013) Enhanced dispersibility and bioactivity of Curcumin by encapsulation in casein nanocapsules. J Agric Food Chem 61:6036–6043

Relkin P, Yung JM, Kalnin D, Ollivon M (2008) Structural behaviour of lipid droplets in protein-stabilized nano-emulsions and stability of α-tocopherol. Food Biophys 3:163–168

Ribeiro APB, Basso RC, Grimaldi R, Gioielli LA, Gonçalves LAG (2009) Instrumental methods for the evaluation of interesterified fats. Food Anal Methods 2:282–302

Rodrigues RM, Martins AJ, Ramos OL, Malcata FX, Teixeira JA, Vicente AA, Pereira RN (2015) Influence of moderate electric fields on gelation of whey protein isolate. Food Hydrocoll 43:329–339

Rønholt S, Mortensen K, Knudsen JC (2013) The effective factors on the structure of butter and other milk fat-based products. Compr Rev Food Sci Food Saf 12:468–482

Ruttarattanamongkol K, Afizah MN, Rizvi SSH (2015) Stability and rheological properties of corn oil and butter oil emulsions stabilized with texturized whey proteins by supercritical fluid extrusion. J Food Eng 166:139–147

Silva H, Cerqueira M, Vicente A (2012) Nanoemulsions for food applications: development and characterization. Food Bioprocess Technol 5:854–867

Silva EK, Gomes MTS, Hubinger MD, Cunha RL, Meireles MAA (2015) Ultrasound-assisted formation of annatto seed oil emulsions stabilized by biopolymers. Food Hydrocoll 47:1–13

Teo A, Goh KKT, Wen J, Oey I, Ko S, Kwak HS, Lee SJ (2016) Physicochemical properties of whey protein, lactoferrin and Tween 20 stabilised nanoemulsions: effect of temperature, pH and salt. Food Chem 197:297–306

Thomar P, Nicolai T (2015) Dissociation of native casein micelles induced by sodium caseinate. Food Hydrocoll 49:224–231

Timms RE (1984) Phase behaviour of fats and their mixtures. Prog Lipid Res 23:1–38

Trujillo-Cayado LA, Alfaro MC, Muñoz J (2018) Effects of ethoxylated fatty acid alkanolamide concentration and processing on d-limonene emulsions. Colloids Surf A 536:198–203

Truong T, Bansal N, Sharma R, Palmer M, Bhandari B (2014) Effects of emulsion droplet sizes on the crystallization of milk fat. Food Chem 145:725–735

Truong T, Morgan GP, Bansal N, Palmer M, Bhandari B (2015) Crystal structures and morphologies of fractionated milk fat in nanoemulsions. Food Chem 171:157–167

Viriato RLS, Queirós MS, da Gama MAS, Ribeiro APB, Gigante ML (2018) Milk fat as a structuring agent of plastic lipid bases. Food Res Int 111:120–129

Walker RM, Gumus CE, Decker EA, McClements DJ (2017) Improvements in the formation and stability of fish oil-in-water nanoemulsions using carrier oils: MCT, thyme oil, and lemon oil. J Food Eng 211:60–68

Walstra P, Wouters JTM, Geurts TJ (2006) Dairy science and technology, 2nd edn. CRC Press, Taylor & Francis Group, Boca Raton

Wright AJ, Marangoni AG (2006) Crystallization and rheological properties of milk fat. In: Fox PF, McSweeney PLH (eds) Advanced dairy chemistry. Lipids, vol 2, 3rd edn. Springer, New York, pp 245–281

Zychowski LM, Logan A, Augustin MA, Kelly AL, Zabara A, O'Mahony JA, Conn CE, Auty MAE (2016) Effect of phytosterols on the crystallization behavior of oil-in-water milk fat emulsions. J Agric Food Chem 64:6546–6655
Acknowledgements
The authors thank Arla Foods for the donation of whey protein isolate and sodium caseinate, and Fonterra Ltda for the donation of anhydrous milk fat. We also acknowledge the National Council for Scientific and Technological Development (CNPq) for Granting the Ph.D. scholarship (140529/2015-2) and the Unicamp Student Support Service (SAE) for granting the scientific initiation scholarship. This study was financed in part by the Coordenação de Aperfeiçoamento de Pessoal de Nível Superior—Brasil (CAPES) Finance Code 001.
Ethics declarations
Conflict of interest
The authors declare that they have no conflict of interest.
Additional information
Publisher's Note
Springer Nature remains neutral with regard to jurisdictional claims in published maps and institutional affiliations.
Electronic supplementary material
Below is the link to the electronic supplementary material.
About this article
Cite this article
de Souza Queirós, M., Viriato, R.L.S., Vega, D.A. et al. Milk fat nanoemulsions stabilized by dairy proteins. J Food Sci Technol 57, 3295–3304 (2020). https://doi.org/10.1007/s13197-020-04362-0
Revised:

Accepted:

Published:

Issue Date:
Keywords
Whey protein

Sodium caseinate

Physical properties

Stability