Abstract
Encapsulation in packaging of food ingredients is of great interest at micro and nano levels. It is a distinct process leading to the entrapping of one substance within another material. Lipid oriented encapsulation methods are currently considered as a superior choice for encapsulation of sensitive ingredients, focusing on foods and dietary supplements of hydrophobic and hydrophilic molecules along with bioactive compounds, food ingredients supplementary systems for therapeutic purpose. Liposome and nanoliposome techniques have been widely used in food industry in nutrient enrichment and supplements. It enhances the sensory attributes and shelf life of the food product and serves as an alternative to micro encapsulation. These lipid and water oriented systems have distinguished advantages and provide higher surface area in food processing, which increases product solubility, bioavailability and permits accurate targeting of the encapsulated material to a greater extent in food and nutraceutical production. This review article focuses on nanoliposome, its preparation techniques, advantages and application of nanoliposome in food and nutraceutical process.
Access options
Buy single article
Instant access to the full article PDF.
US$ 39.95
Tax calculation will be finalised during checkout.
Subscribe to journal
Immediate online access to all issues from 2019. Subscription will auto renew annually.
US$ 79
Tax calculation will be finalised during checkout.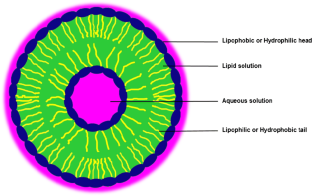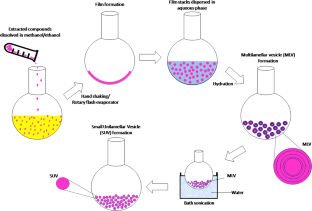 References
Akbarzadeh A, Rezaei-sadabady R, Davaran S et al (2013) Liposome: classification, preparation, and applications. Nanoscale Res Lett 8:1–9

Amoabediny G, Haghiralsadat F, Naderinezhad S et al (2018) Overview of preparation methods of polymeric and lipid-based (niosome, solid lipid, liposome) nanoparticles: a comprehensive review. Int J Polym Mater Polym Biomater 67:383–400. https://doi.org/10.1080/0014037.2017.1332623

Argov N, Danielle G, German JB (2008) Milk fat globule structure and function: nanoscience comes to milk production. Trends Food Sci Technol 19:617–623. https://doi.org/10.1016/j.tifs.2008.07.006

Basniwal RK, Buttar HS, Jain VK, Jain N (2011) Curcumin nanoparticles: preparation, characterization, and antimicrobial study. J Agric Food Chem 59:2056–2061

Benech R, Kheadr EE, Lacroix C, Fliss I (2003) Impact of nisin producing culture and liposome-encapsulated nisin on ripening of Lactobacillus added-Cheddar cheese. J Dairy Sci 86:1895–1909. https://doi.org/10.3168/jds.S0022-0302(03)73776-X

Caddeo C, Teskaˇ K, Sinico C, Kristl J (2008) Effect of resveratrol incorporated in liposomes on proliferation and UV-B protection of cells. Int J Pharm 363:183–191. https://doi.org/10.1016/j.ijpharm.2008.07.024

Cantor S, Vargas L, Rojas A, Yarce CJ, Salamanca CH, Onate-Garzon J (2019) Evaluation of the antimicrobial activity of cationic peptides loaded in surface-modified nanoliposomes against foodborne bacteria. Int J Mol Sci 20(3):1–15. https://doi.org/10.3390/ijms20030680

Chen J, Lin A, Chen Z et al (2010) Ammonium sulfate gradient loading of brucine into liposomes: effect of phospholipid composition on entrapment efficiency and physicochemical properties in vitro. Drug Dev Ind Pharm 36:245–253. https://doi.org/10.3109/03639040903099736

Chen D, Love KT, Chen Y et al (2012a) Rapid discovery of potent siRNA-containing lipid nanoparticles enabled by controlled microfluidic formulation. J Am Chem Soc 134:6948–6951. https://doi.org/10.1021/ja301621z

Chen H, Wu J, Sun M et al (2012b) N-trimethyl chitosan chloride-coated liposomes for the oral delivery of curcumin. J Liposome Res 22:100–109. https://doi.org/10.3109/08982104.2011.621127

Cui H, Li W, Lin L (2017) Antibacterial activity of liposome containing curry plant essential oil against Bacillus cereusin rice. J Food Saf 37:3–7. https://doi.org/10.1111/jfs.12302

Daud M, Jalil JA, Madieha I et al (2017) "Unsafe" nutraceuticals products on the internet : the need for stricter regulation in Malaysia. In: Proceedings of the 5th international conference on information technology for cyber and IT service management at Bali, Indonesia

Desai KGH, Park HJ (2005) Recent developments in microencapsulation of food ingredients. Dry Technol 23(7):1361–1394. https://doi.org/10.1081/DRT-200063478

Fang Z, Bhandari B (2010) Encapsulation of polyphenols—a review. Trends Food Sci Technol 21:510–523. https://doi.org/10.1016/j.tifs.2010.08.003

Fathi M, Mozafari MR, Mohebbi M (2012) Nanoencapsulation of food ingredients using lipid based delivery systems. Trends Food Sci Technol 23:13–27. https://doi.org/10.1016/j.tifs.2011.08.003

Food and Drug Administration (2018) Liposome drug products—guidance for industry. https://www.fda.gov/media/70837/. Accessed 24 May 2019

Food Safety Authority of Ireland (2008) The relevance for food safety of applications of nanotechnology in the food and feed industries. http://www.fsai.ie/assets/0/86/204/b81b142b-9ef7-414c-96143a969835b392.pdf. Accessed 24 May 2019

Ghorbanzade T, Jafari SM, Akhavan S, Hadavi R (2017) Nano-encapsulation of fish oil in nano-liposomes and its application in fortification of yogurt. Food Chem 216:146–152. https://doi.org/10.1016/j.foodchem.2016.08.022

Gibbs F, Kermasha S, Alli I, Mulligan CN (1999) Encapsulation in the food industry: a review. Int J Food Sci Nutr 50:213–224. https://doi.org/10.1007/s11745-006-5049-y

Gubernator J (2011) Active methods of drug loading into liposomes: recent strategies for stable drug entrapment and increased in vivo activity. Expert Opin Drug Deliv 8:565–580

Hasan M, Ben Messaoud G, Michaux F et al (2016) Chitosan-coated liposomes encapsulating curcumin: study of lipid-polysaccharide interactions and nanovesicle behavior. RSC Adv 6:45290–45304. https://doi.org/10.1039/c6ra05574e

Hudiyanti D, Fawrin H, Siahaan P (2018) Simultant encapsulation of vitamin C and beta-carotene in sesame (Sesamum indicum l.) liposomes. In: IOP conference series: materials science and engineering, vol 349, no 1, pp 0129014. IOP Publishing

Hunter JE (2006) Dietary trans fatty acids: review of recent human studies and food industry responses. Lipids 41:967–992

Ibarguren M, Alonso A, Tenchov BG, Goñi FM (2010) Quantitation of cholesterol incorporation into extruded lipid bilayers. Biochim Biophys Acta Biomembr 1798:1735–1738. https://doi.org/10.1016/j.bbamem.2010.06.004

Isailović BD, Kostić IT, Zvonar A et al (2013) Resveratrol loaded liposomes produced by different techniques. Innov Food Sci Emerg Technol 19:181–189. https://doi.org/10.1016/j.ifset.2013.03.006

Jahadi M, Khosravi-Darani K, Ehsani MR et al (2015) The encapsulation of flavourzyme in nanoliposome by heating method. J Food Sci Technol 52:2063–2072. https://doi.org/10.1007/s13197-013-1243-0

Jin H, Lu Q, Jiang J (2016) Curcumin liposomes prepared with milk fat globule membrane phospholipids and soybean lecithin. J Dairy Sci 99:1–11. https://doi.org/10.3168/jds.2015-10391

Johnston MJ, Semple SC, Klimuk SK et al (2006) Therapeutically optimized rates of drug release can be achieved by varying the drug-to-lipid ratio in liposomal vincristine formulations. Biochim Biophys Acta Biomembr 1758(1):55–64. https://doi.org/10.1016/j.bbamem.2006.01.009

Jomova K, Valko M (2011) Advances in metal-induced oxidative stress and human disease. Toxicology 283:65–87. https://doi.org/10.1016/j.tox.2011.03.001

Khorasani S, Danaei M, Mozafari MR (2018) Nanoliposome technology for the food and nutraceutical industries. Trends Food Sci Technol 79:106–115. https://doi.org/10.1016/j.tifs.2018.07.009

Kilcawley KN, Wilkinson MG, Fox PF (2002) Determination of key enzyme activities in commercial peptidase and lipase preparations from microbial or animal sources. Enzyme Microb Technol 31:310–320

Kim CH, Lee SG, Kang MJ et al (2017) Surface modification of lipid-based nanocarriers for cancer cell-specific drug targeting. J Pharm Investig 47:203–227. https://doi.org/10.1007/s40005-017-0329-5

Kirby CJ, Brooker BE, Law BA (1987) Accelerated ripening of cheese using liposome-encapsulated enzyme. Int J Food Sci Technol 22:355–375. https://doi.org/10.1111/j.1365-2621.1987.tb00499.x

Ko YT, Bickel U (2012) Liposome-encapsulated polyethylenimine/oligonucleotide polyplexes prepared by reverse-phase evaporation technique. AAPS PharmSciTech 13(2):373–378. https://doi.org/10.1208/s12249-012-9757-8

Krinsky NI, Johnson EJ (2005) Carotenoid actions and their relation to health and disease. Mol Aspects Med 26:459–516. https://doi.org/10.1016/j.mam.2005.10.001

Kumar A, Badde S, Kamble R, Pokharkar VB (2010) Development and characterization of liposomal drug delivery system for nimesulide. Int J Pharm Pharm Sci 2(4):87–89

Lakkis JM (2007) Encapsulation and controlled release technologies in food systems. Blackwell Pub, New York

Laridi R, Kheadr EE, Benech R et al (2003) Liposome encapsulated nisin Z: optimization, stability and release during milk fermentation. Int Dairy J 13:325–336. https://doi.org/10.1016/S0958-6946(02)00194-2

Lasic DD (1998) Novel applications of liposomes. Trends Biotechnol 16(7):307–321. https://doi.org/10.1016/S0167-7799(98)01220-7

Law BA, King JS (1985) Use of liposomes for proteinase addition to Cheddar cheese. J Dairy Res 52(1):183–188

Li C, Deng Y (2004) A novel method for the preparation of liposomes: freeze drying of monophase solutions. J Pharm Sci 93(6):1403–1414

Li S, Nickels J, Palmer AF (2005) Liposome-encapsulated actin-hemoglobin (LEAcHb) artificial blood substitutes. Biomaterials 26:3759–3769. https://doi.org/10.1016/j.biomaterials.2004.09.015

Liu M, Chen L, Zhao Y et al (2012) Physicochemical and engineering aspects preparation, characterization and properties of liposome-loaded polycaprolactone microspheres as a drug delivery system. Colloids Surf A 395:131–136. https://doi.org/10.1016/j.colsurfa.2011.12.017

Lu Q, Li DC, Jiang JG (2011) Preparation of a tea polyphenol nanoliposome system and its physicochemical properties. J Agric Food Chem 59:13004–13011. https://doi.org/10.1021/jf203194w

Marsden HR, Quer CB, Sanchez EY et al (2010) Detergent-aided polymersome preparation. Biomacromol 11(4):833–838

McClements DJ (2012) Nanoemulsion versus microemulsion: terminology, differences, and similarities. Soft Matter 8:1719–1729

McClements DJ, Rao J (2011) Food-grade nanoemulsions: formulation, fabrication, properties, performance, biological fate, and potential toxicity. Crit Rev Food Sci Nutr 51:285–330. https://doi.org/10.1080/10408398.2011.559558

Mignet N, Seguin J, Romano MR et al (2012) Development of a liposomal formulation of the natural flavonoid fisetin. Int J Pharm 423:69–76. https://doi.org/10.1016/j.ijpharm.2011.04.066

Montero P, Mosquera M, Marín-peñalver D et al (2019) Changes in structural integrity of sodium caseinate films by the addition of nanoliposomes encapsulating an active shrimp peptide fraction. J Food Eng 244:47–54. https://doi.org/10.1016/j.jfoodeng.2018.09.024

Mozafari MR, Johnson C, Hatziantoniou S, Demetzos C (2008) Nanoliposomes and their applications in food nanotechnology. J Liposome Res 18:309–327. https://doi.org/10.1080/08982100802465941

Muñoz P, Humeres A (2012) Iron deficiency on neuronal function. Biometals 25:825–835. https://doi.org/10.1007/s10534-012-9550-x

Nekkanti V, Rueda J, Wang Z, Betageri GV (2016) Comparative evaluation of proliposomes and self micro-emulsifying drug delivery system for improved oral bioavailability of nisoldipine. Int J Pharm 505:79–88. https://doi.org/10.1016/j.ijpharm.2016.03.065

Paula A, Corrêa F, Bertolini D et al (2019) Characterization of nanoliposomes containing bioactive peptides obtained from sheep whey hydrolysates. LWT—Food Sci Technol 101:107–112. https://doi.org/10.1016/j.lwt.2018.11.036

Pezeshki A, Hesari J, Ahmadi ZA, Ghambarzadeh B (2011) Influence of withania coagulans protease as a vegetable rennet on proteolysis of Iranian UF white cheese. J Agric Sci Technol 13(4):567–576

Pothakamury UR, Barbosa-Cánovas GV (1995) Fundamental aspects of controlled release in foods. Trends Food Sci Technol 6:397–406. https://doi.org/10.1016/S0924-2244(00)89218-3

Ray S, Raychaudhuri U, Chakraborty R (2016) An overview of encapsulation of active compounds used in food products by drying technology. Food Biosci 13:76–83. https://doi.org/10.1016/j.fbio.2015.12.009

Reineccius TA, Reineccius GA, Peppard TL (2002) Encapsulation of flavors using cyclodextrins: comparison of flavor retention in alpha, beta, and gamma types. J Food Sci 67:3271–3279. https://doi.org/10.1111/j.1365-2621.2002.tb09577.x

Schrooyen PMM, van der Meer R, De Kruif CG (2001) Microencapsulation: its application in nutrition. Proc Nutr Soc 60(4):475–479. https://doi.org/10.1079/pns2001112

Sercombe L, Veerati T, Moheimani F et al (2015) Advances and challenges of liposome assisted drug delivery. Front Pharmacol 6:1–13. https://doi.org/10.3389/fphar.2015.00286

Sharma A, Sharma US (1997) Liposomes in drug delivery: progress and limitations. Int J Pharm 154(2):123–140

Shukla S, Haldorai Y, Hwang SK et al (2017) Current demands for food-approved liposome nanoparticles in food and safety sector. Front Microbiol 8:1–14. https://doi.org/10.3389/fmicb.2017.02398

Storm G, Crommelin DJA (1998) Liposomes: quo vadis? Pharm Sci Technol Today 1:19–31. https://doi.org/10.1016/S1461-5347(98)00007-8

Swenson CE, Perkins WR, Roberts P, Janoff AS (2001) Liposome technology and the development of Myocet™ (liposomal doxorubicin citrate). Breast 10:1–7. https://doi.org/10.1054/brst.2000.0201

Tehrany EA, Kahn CJ, Baravian C et al (2012) Elaboration and characterization of nanoliposome made of soya; rapeseed and salmon lecithins: application to cell culture. Colloids Surf B 95:75–81

Thompson AK, Singh H (2006) Preparation of liposomes from milk fat globule membrane phospholipids using a microfluidizer. J Dairy Sci 89(2):410–419. https://doi.org/10.3168/jds.s0022-0302(06)72105-1

Toniazzo T, Berbel IF, Cho S et al (2014) β-carotene-loaded liposome dispersions stabilized with xanthan and guar gums: physico-chemical stability and feasibility of application in yogurt. LWT—Food Sci Technol 59(2):1265–1273. https://doi.org/10.1016/j.lwt.2014.05.021

Tsai WC, Rizvi SSH (2016) Liposomal microencapsulation using the conventional methods and novel supercritical fluid processes. Trends Food Sci Technol 55:61–71. https://doi.org/10.1016/j.tifs.2016.06.012

Walde P, Ichikawa S (2001) Enzymes inside lipid vesicles: preparation, reactivity and applications. Biomol Eng 18:143–177. https://doi.org/10.1016/S1389-0344(01)00088-0

Waldvogel-Abramowski S, Waeber G, Gassner C et al (2014) Physiology of iron metabolism. Transfus Med Hemother 41:213–221. https://doi.org/10.1159/000362888

Were LM, Bruce B, Davidson PM, Weiss J (2004) Encapsulation of nisin and lysozyme in liposomes enhances efficacy against Listeria monocytogenes. J Food Prot 67(5):922–927. https://doi.org/10.4315/0362-028x-67.5.922

Yang Y, Ma Y, Wang S (2012) A novel method to load topotecan into liposomes driven by a transmembrane NH4EDTA gradient. Eur J Pharm Biopharm 80:332–339. https://doi.org/10.1016/j.ejpb.2011.10.013

Yang SB, Liu CM, Liu W et al (2013) Preparation and characterization of nanoliposomes entrapping medium-chain fatty acids and vitamin C by lyophilization. Int J Mol Sci 14:19763–19773. https://doi.org/10.3390/ijms141019763

Yuan L, Geng L, Ge L et al (2013) Effect of iron liposomes on anemia of inflammation. Int J Pharm 454:82–89. https://doi.org/10.1016/j.ijpharm.2013.06.078

Zheng S, Alkan-Onyuksel H, Beissinger RL, Wasan DT (1999) Liposome microencapsulations without using any organic solvent. J Dispers Sci Technol 20:1189–1203. https://doi.org/10.1080/01932699908943844
Acknowledgements
Thirukkumar Subramani would like to thank the University Grants Commission (UGC), Government of India for the support of Junior Research Fellowship for doctorate study.
Funding
Funding was provided by University Grants Commission (Grant No. 1543/(OBC)(NET-DEC. 2015)).
Additional information
Publisher's Note
Springer Nature remains neutral with regard to jurisdictional claims in published maps and institutional affiliations.
About this article
Cite this article
Subramani, T., Ganapathyswamy, H. An overview of liposomal nano-encapsulation techniques and its applications in food and nutraceutical. J Food Sci Technol 57, 3545–3555 (2020). https://doi.org/10.1007/s13197-020-04360-2
Revised:

Accepted:

Published:

Issue Date:
Keywords
Encapsulation

Liposome preparation

Nanoliposome application

Food and nutraceutical