Abstract
The interest in carob pod as an ingredient of functional foods is constantly increasing due to its beneficial health effect and functional properties. The aim of this study was to evaluate the chemical composition and antioxidant potential of carob seeds, as well as the functional properties of its isolated galactomannan fraction. The lipid, protein, carbohydrate and phenolic composition were analysed. The obtained results demonstrated that the main detected fatty acids were oleic (45.0%), linoleic (32.4%), and palmitic (16.6%) acid. The primary tocopherol in the tested tocopherol fraction was γ-tocopherol (53.1%). It was established that β-sitosterol (74.2%) and stigmasterol (12.8%) predominated in the sterol fraction. Carob seed was characterized by high protein (25.7%) content, while mannose and galactose were the dominating monosaccharides. Moreover, the isolated galactomannan from carob seed demonstrated good swelling properties—30.1 ml per g sample and oil-holding capacity (27.9 g/g sample). The total polyphenolic and flavonoids content of carob seeds was 1.76 mg Gallic acid equivalent/g dry weight and 0.30 mg quercetin equivalents/g dry weight, respectively. The carob seeds showed the highest antioxidant potential by cupper reduction assay—15.71 mM Trolox® equivalent/g dry weight. The mineral composition was also defined as the macroelements Ca and Mg were the predominant minerals in the seed. The obtained results showed that carob seeds were a valuable source not only of phenolic compounds and antioxidants, but also of proteins, lipids, galactomannan with functional properties that could improve the nutritional value of foods in which are incorporated.
Access options
Buy single article
Instant access to the full article PDF.
USD 39.95
Price excludes VAT (USA)
Tax calculation will be finalised during checkout.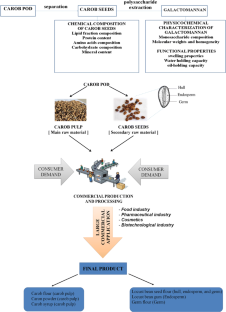 References
Ak T, Gülçin I (2008) Antioxidant and radical scavenging properties of curcumin. Chem Biol Interact 174:27–37

AOAC, Official Methods of Analysis of Association of Official Analytical Chemists, 15th edn/20th edn, Arlington, VA. 1990/2016. Method 976.06

Azab A (2017) Carob (Ceratonia siliqua): health, medicine and chemistry. Eur Chem Bull 610:456–469

Baumel A, Mirleau P, Viruel J, Kharrat MBD, La Malfa S, Ouahman L, Diadema K, Moakhar M, Sanguin H, Médail F (2018) Assessment of plant species diversity associated with the carob tree (Ceratonia siliqua, Fabaceae) at the Mediterranean scale. Plant Ecol Evol 151(2):185–193

Benzie IF, Strain JJ (1996) Ferric reducing ability of plasma (FRAP) as a measure of antioxidant power: the FRAP assay. Anal Biochem 239:70–76

Bojilov DG, Simeonova ZB, Solakov NY, Angelova-Romova MY, Tsvetanova VM, Ivanov II (2013) Chemical composition of Gleditsia triacanthos L. application in phytotherapy of socially significant diseases. J Int Sci Publ Mater Methods Technol 8:382–392

Boulos NN, Greenfield H, Wills RBH (2000) Water holding capacity of selected soluble and insoluble dietary fibre. Int J Food Prop 3(2):17–23

Bouzouita N, Khadi A, Zgoulli S, Chebil L, Chekki R, Chaabouni MM, Thonart P (2007) The analysis of crude and purified locust bean gum: a comparison of samples from different carob tree populations in Tunisia. Food Chem 101:1508–1515

Brand-Williams W, Cuvelier ME, Berset C (1995) Use of a free radical method to evaluate antioxidant activity. Lebensm Wiss Technol 28:25–30

Calislar S, Kaplan Y (2017) Effects of carob (Ceratonia siliqua) pod byproduct on quail performance, egg characteristics, fatty acids, and cholesterol levels. Rev Bras Zootec 46(2):113–117

Dakia PA, Wathelet B, Paquot M (2007) Isolation and chemical evaluation of carob (Ceratonia siliqua L.) seed germ. Food Chem 102(4):1368–1374

Dakia PA, Blecker C, Roberta C, Watheleta B, Paquota M (2008) Composition and physicochemical properties of locust bean gum extracted from whole seeds by acid or water dehulling pretreatment. Food Hydrocoll 22:807–818

El Batal H, Hasib A, Dehbi F, Zaki N, Ouatmane A, Boulli A (2016) Assessment of nutritional composition of carob pulp (Ceratonia Siliqua L.) collected from various locations in Morocco. J Mater Environ Sci 7(9):3278–3285

El Bouzdoudi B, Saïdi R, Embarch K, El Mzibri M, Nejjar EAZ, El Kbiach ML, Badoc A, Patrick M, Lamarti A (2017) Mineral composition of mature Carob (Ceratonia siliqua L.) pod: a study. Int J Food Sci Nutr Eng 7:91–103

El Kahkahi R, Zouhair R, Diouri M, Ait Chitt M, Errakhi R (2015) Morphological and biochemical characterization of Morocco carob tree (Ceratonia siliqua L.). Int J Biol Med Res 6(2):4946–4952

El Khamlichia A, El Hajajia H, Farajb H, Alamib A, El Balia B, Lachkar M (2017) Phytochemical screening and evaluation of antioxidant and antibacterial activities of seeds and pods extracts of Calycotome villosa subsp. intermedia. J Appl Pharm Sci 7(4):192–198

Fadel F, Fattouch S, Tahrouch S, Lahmar R, Benddou A, Hatimi A (2011) The phenolic compounds of Ceratonia siliqua pulps and seeds (Les composés phénoliques des pulpes et des graines de Ceratonia siliqua). J Mater Environ Sci 2(3):285–292

Holloway WD, Greig RI (1984) Water holding capacity of hemicelluloses from fruits, vegetables and wheat bran. J Food Sci 49:1632–1633

ISO 12228-1:2014 Part 1: Animal and vegetable fats and oils. Determination of individual and total sterols contents. Gas chromatographic method

ISO 12966-2:2011 Animal and vegetable fats and oils. Gas chromatography of fatty acid methyl esters Part 2: Preparation of methyl esters of fatty acids

ISO 12966-1:2014 Animal and vegetable fats and oils. Gas chromatography of fatty acid methyl esters. Part 1: Guidelines on modern gas chromatography of fatty acid methyl esters

ISO 18609:2000 Animal and vegetable fat and oils. Determination of unsaponifiable matter (Method using hexane extraction)

ISO 659:2014 Oilseeds. Determination of oil content (Reference method)

ISO 9936:2016 Animal and vegetable fats and oils. Determination of tocopherol and tocotrienol contents by high-performance liquid chromatography

Kıvrak I, Duru M, Öztürk M, Mercan N, Harmandar M, Topçu G (2009) Antioxidant, anticholinesterase and antimicrobial constituents from the essential oil and ethanol extract of Salvia potentillifolia. Food Chem 116(2):470–479

Kujala TS, Loponen JM, Klika KD, Pihlaja K (2000) Phenolics and betacyanins in red beetroot (Beta vulgaris) root: distribution and effect of cold storage on the content of total phenolics and three individual compounds. J Agric Food Chem 48:5338–5342

Mahtout R, Ortiz-Martínez VM, Salar-García MJ, Gracia I, Hernández-Fernández FJ, Pérez de los Ríos A, Zaidia F F, Sanchez-Segado S S, Lozano-Blanco LJ (2018) Algerian carob tree products: a comprehensive valorization analysis and future prospects. Sustainability 10:90

Matthaus B, Özcan M (2011) Lipid evaluation of cultivated and wild carob (Ceratonia silique L.) seed oil growing in Turkey. Sci Hortic 130:181–184

Mekhoukhe A, Kicher H, Ladjouzi A, Medouni-Haroune L, Brahmi F, Medouni-Adrar S, Madani K (2018) Antioxidant activity of carob seeds and chemical composition of their bean gum by–products. J Complement Integr Med 3:1–11

Murdzheva D, Petkova N, Todorova M, Vasileva I, Ivanov I, Denev P (2016) Microwave-assisted synthesis of methyl esters of alginic acids as potential drug carrier. Int J Pharm Clin Res 8(10):1361–1368

Nielsen S (2010) Food analysis, food science texts series. Springer, Berlin. https://doi.org/10.1007/978-1-4419-1478-16

Papaefstathiou E, Agapiou A, Giannopoulos S, Kokkinofta R (2018) Nutritional characterization of carobs and traditional carob products. Food Sci Nutr 6(8):2151–2161

Petkova N, Petrova I, Ivanov I, Mihov R, Hadjikinova R, Ognyanov M, Nikolova V (2017) Nutritional and antioxidant potential of carob (Ceratonia siliqua) flour and evaluation of functional properties of its polysaccharide fraction. J Pharm Sci Res 9(10):2189–2195

Pollard MA, Kelly R, Wahl C, Fischer P, Windhab E, Eder B, Amadό R (2007) Investigation of equilibrium solubility of a carob galactomannan. Food Hydrocoll 21:683–692

Re R, Pellegrini N, Proteggente A, Pannala A, Yang M, Rice-Evans SA (1999) Antioxidant activity applying an improved ABTS radical cation decolorization assay. Free Radic Biol Med 26:1231–1237

Robertson F, Monredon D, Dysseler P, Guillon F, Amado R, Thibault J (2000) Hydration properties of dietary fibre and resistant starch: a European collaborative study. LWT Food Sci Technol 33(2):72–79
Ethics declarations
Conflict of interest
The authors declare that they have no conflict of interest.
Additional information
Publisher's Note
Springer Nature remains neutral with regard to jurisdictional claims in published maps and institutional affiliations.
About this article
Cite this article
Fidan, H., Stankov, S., Petkova, N. et al. Evaluation of chemical composition, antioxidant potential and functional properties of carob (Ceratonia siliqua L.) seeds. J Food Sci Technol 57, 2404–2413 (2020). https://doi.org/10.1007/s13197-020-04274-z
Revised:

Accepted:

Published:

Issue Date:

DOI: https://doi.org/10.1007/s13197-020-04274-z
Keywords
Ceratonia siliqua L.

Seeds

Chemical composition

Antioxidant activity