Abstract
Melatonin is a neurohormone that regulates circadian rhythms in the human body. It can also be taken to alleviate insomnia and sleep disorders. Pasteurized milk is a good source of nutrients and some bioactive compounds. Recently, the growing trend of healthy foods has resulted in higher competition with regard to milk products. Functional milk has been developed with higher bioactive compounds to respond to consumer demand. High melatonin pasteurized milk was developed using selected edible grains and mulberry leaves to fortify melatonin in pasteurized milk. Melatonin and free tryptophan of fourteen edible grains and mulberry leaves were determined using HPLC-FD. Highest melatonin concentrations were observed in white sesame, sunflower and soybean (75.24, 67.45 and 56.49 ng/g dry weight (dw), with highest concentrations of free tryptophan in soybean, red bean and mung bean (2617.83, 1527.23 and 845.27 ng/g dw, respectively), while melatonin and free tryptophan contents in fresh mulberry leaves were 51.57 ng/g and 210.53 ng/g dw, respectively. Soymilk powder and mulberry leaf tea were supplemented to prepare high melatonin pasteurized milk. Results showed that chemical compositions, melatonin and free tryptophan contents significantly increased (P < 0.05) with increasing amounts of soymilk powder and mulberry leaf tea. Sensory evaluation gave highest overall liking score for the treatment consisting of mulberry leaf tea (4.00%), soymilk powder (4.00%) and milk (89.80%). Findings indicated that mulberry leaves and soybean are both good sources of melatonin and free tryptophan and can be applied to prepare high melatonin pasteurized milk.
This is a preview of subscription content, log in to check access.
Access options
Buy single article
Instant access to the full article PDF.
US$ 39.95
Tax calculation will be finalised during checkout.
Subscribe to journal
Immediate online access to all issues from 2019. Subscription will auto renew annually.
US$ 99
Tax calculation will be finalised during checkout.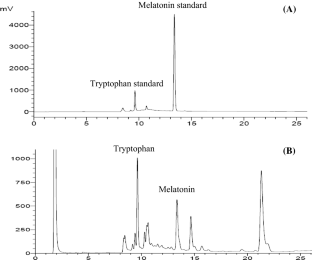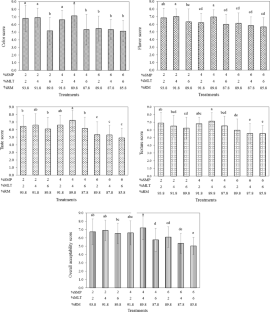 References
Alyaqoubi S, Abdullah A, Samudi M, Abdullah N, Addai ZR, Al-Ghazali M (2014) Effect of different factors on goat milk antioxidant activity. Int J Chemtech Res 6:3091–3196

Arnao MB, Hernández-Ruiz J (2013) Growth conditions influence the melatonin content of tomato plants. Food Chem 138(2):1212–1214. https://doi.org/10.1016/j.foodchem.2012.10.077

Biasiolo M, Bertazzo A, Costa C, Beghetto A, Allegri G (1995) Determination of nonprotein tryptophan in yoghurts by selective fluorescence and HPLC. Food Chem 52(1):87–92. https://doi.org/10.1016/0308-8146(94)P4186-J

Cajochen C, Kräuchi K, Wirz-Justice A (2003) Role of melatonin in the regulation of human circadian rhythms and sleep. J Neuroendocrinol 15(4):432–437. https://doi.org/10.1046/j.1365-2826.2003.00989.x

Cavallo A, Hassan M (1995) Stability of melatonin in aqueous solution. J Pineal Res 18(2):90–92. https://doi.org/10.1111/j.1600-079X.1995.tb00145.x

Chandan RC, Kilara A, Shah NP (2009) Dairy processing and quality assurance. Wiley, London

Chen G, Huo Y, Tan DX, Liang Z, Zhang W, Zhang Y (2003) Melatonin in Chinese medicinal herbs. Life Sci 73(1):19–26. https://doi.org/10.1016/S0024-3205(03)00252-2

Comai S, Bertazzo A, Bailoni L, Zancato M, Costa CV, Allegri G (2007a) Protein and non-protein (free and protein-bound) tryptophan in legume seeds. Food Chem 103(2):657–661. https://doi.org/10.1016/j.foodchem.2006.07.045

Comai S, Bertazzo A, Bailoni L, Zancato M, Costa CV, Allegri G (2007b) The content of proteic and nonproteic (free and protein-bound) tryptophan in quinoa and cereal flours. Food Chem 100(4):1350–1355. https://doi.org/10.1016/j.foodchem.2005.10.072

Corbo MR, Bevilacqua A, Petruzzi L, Casanova FP, Sinigaglia M (2014) Functional beverages: the emerging side of functional foods: commercial trends, research, and health implications. Compr Rev Food Sci Food Saf 13(6):1192–1206. https://doi.org/10.1111/1541-4337.12109

de la Puerta C, Carrascosa-Salmoral MP, García-Luna PP, Lardone PJ, Herrera JL, Fernández-Montesinos R, Guerrero JM, Pozo D (2007) Melatonin is a phytochemical in olive oil. Food Chem 104(2):609–612. https://doi.org/10.1016/j.foodchem.2006.12.010

Gnan SO, Gebali MK, Eshelli MS (2013) Microbial quality and shelf life of pasteurized camel milk. In: Proceedings of the international scientific conference of camel research and production (ISCCRP) Khartoum-Sudan, pp 54–58

Hattori A, Migitaka H, Iigo M, Itoh M, Yamamoto K, Ohtani-Kaneko R, Hara M, Suzuki T, Reiter RJ (1995) Identification of melatonin in plants and its effects on plasma melatonin levels and binding to melatonin receptors in vertebrates. Biochem Mol Biol Int 35(3):627–634

Jiang S, Cai W, Xu B (2013) Food quality improvement of soy milk made from short-time germinated soybeans. Foods 2(2):198–212. https://doi.org/10.3390/foods2020198

Johns NP, Johns J, Porasuphatana S, Plaimee P, Sae-Teaw M (2013) Dietary intake of melatonin from tropical fruit altered urinary excretion of 6-sulfatoxymelatonin in healthy volunteers. J Agric Food Chem 61(4):913–919. https://doi.org/10.1021/jf300359a

Kocadağlı T, Yılmaz C, Gökmen V (2014) Determination of melatonin and its isomer in foods by liquid chromatography tandem mass spectrometry. Food Chem 153:151–156. https://doi.org/10.1016/j.foodchem.2013.12.036

Kpodo FM, Afoakwa EO, Amoa BB, Saalia FKS, Budu AS (2013) Application of multiple component constraint mixture design for studying the effect of ingredient variations on the chemical composition and physico-chemical properties of soy–peanut–cow milk. Int Food Res J 20(2):811

Lerner AB, Case JD, Takahashi Y, Lee TH, Mori W (1958) Isolation of melatonin, the pineal gland factor that lightens melanocyteS1. J Am Chem Soc 80(10):2587–2587. https://doi.org/10.1021/ja01543a060

Manchester LC, Tan DX, Reiter RJ, Park W, Monis K, Qi W (2000) High levels of melatonin in the seeds of edible plants: possible function in germ tissue protection. Life Sci 67(25):3023–3029

Marsanasco M, Márquez AL, Wagner JR, Chiaramoni NS, Alonso SDV (2015) Bioactive compounds as functional food ingredients: characterization in model system and sensory evaluation in chocolate milk. J Food Eng 166:55–63. https://doi.org/10.1016/j.jfoodeng.2015.05.007

Mercolini L, Mandrioli R, Raggi MA (2012) Content of melatonin and other antioxidants in grape-related foodstuffs: measurement using a MEPS-HPLC-F method. J Pineal Res 53(1):21–28. https://doi.org/10.1111/j.1600-079X.2011.00967.x

Milagres MP, Minim VP, Minim LA, Simiqueli AA, Moraes LE, Martino HS (2014) Night milking adds value to cow's milk. J Sci Food Agr 94(8):1688–1692. https://doi.org/10.1002/jsfa.6480

Moussaoui NE, Bendriss A (2014) The influence of storage conditions on melatonin stability. Int J Eng Res Technol 3:2243–2246

Paul-Sadhu S (2016) Impact of low refrigeration temperature on colour of milk. Acta Aliment 45(3):390–397. https://doi.org/10.1556/066.2016.45.3.10

Popov-Raljić JV, Lakić NS, Laličić-Petronijević JG, Barać MB, Sikimić VM (2008) Color changes of UHT milk during storage. Sensors 8(9):5961–5974. https://doi.org/10.3390/s8095961

Pothinuch P, Tongchitpakdee S (2011) Melatonin contents in mulberry (Morus spp.) leaves: effects of sample preparation, cultivar, leaf age and tea processing. Food Chem 128(2):415–419. https://doi.org/10.1016/j.foodchem.2011.03.045

Reiter RJ, Manchester LC, Tan DX (2005) Melatonin in walnuts: influence on levels of melatonin and total antioxidant capacity of blood. Nutrition 21(9):920–924. https://doi.org/10.1016/j.nut.2005.02.005

Rodriguez-Naranjo MI, Gil-Izquierdo A, Troncoso AM, Cantos E, Garcia-Parrilla MC (2011) Melatonin: a new bioactive compound in wine. J Food Compos Anal 24(4–5):603–608. https://doi.org/10.1016/j.jfca.2010.12.009

Sae-Teaw M, Johns J, Johns NP, Subongkot S (2013) Serum melatonin levels and antioxidant capacities after consumption of pineapple, orange, or banana by healthy male volunteers. J Pineal Res 55(1):58–64. https://doi.org/10.1111/jpi.12025

Sawale PD, Singh RRB, Arora S (2015) Stability and quality of herb (Pueraria tuberosa)-milk model system. J Food Sci Technol 52(2):1089–1095. https://doi.org/10.1007/s13197-013-1067-y

Saxena M, Rai P (2013) Microbiological and chemical analysis of raw, pasteurized and UHT milk during preservation in India. Int J Chemtech Res 5(6):2804–2809

Serafini M, Testa MF, Villaño D, Pecorari M, Van Wieren K, Azzini E, Brambilla A, Maiani G (2009) Antioxidant activity of blueberry fruit is impaired by association with milk. Free Radic Biol Med 46(6):769–774. https://doi.org/10.1016/j.freeradbiomed.2008.11.023

Setyaningsih W, Palma M, Barroso CG (2012) A new microwave-assisted extraction method for melatonin determination in rice grains. J Cereal Sci 56(2):340–346. https://doi.org/10.1016/j.jcs.2012.02.012

Shokery ES, El-Ziney MG, Yossef AH, Mashaly RI (2017) Effect of green tea and moringa leave extracts fortification on the physicochemical, rheological, sensory and antioxidant properties of set-type yoghurt. J Adv Dairy Res 5(179):2. https://doi.org/10.4172/2329-888X.1000179

Triantafillidis A, Triantafillidis JK (2009) Melatonin: a potent antioxidant agent with anti-inflammatory and anti-apoptotic effects that might be useful in the treatment of IBD patients. Ann Gastroenterol 22(1):10–12

Valtonen MAIJA, Niskanen L, Kangas AP, Koskinen TEUVO (2005) Effect of melatonin-rich night-time milk on sleep and activity in elderly institutionalized subjects. Nord J Psychiatr 59(3):217–221. https://doi.org/10.1080/08039480510023034
Acknowledgements
This research was supported by the Research and Researchers for Industry Program (RRI) of the Thailand Research Fund (TRF) (Grant No. PHD58010086, 2015) and Mahasarakham University (Graduate Scholarship, 2018). We are grateful to the Unit of Nutrition for Health, Department of Food Technology and Nutrition, Mahasarakham University, and the Faculty of Pharmaceutical Sciences and Melatonin Research Group, Khon Kaen University.
Additional information
Publisher's Note
Springer Nature remains neutral with regard to jurisdictional claims in published maps and institutional affiliations.
About this article
Cite this article
Sangsopha, J., Johns, N.P., Johns, J. et al. Dietary sources of melatonin and benefits from production of high melatonin pasteurized milk. J Food Sci Technol 57, 2026–2037 (2020). https://doi.org/10.1007/s13197-020-04236-5
Revised:

Accepted:

Published:

Issue Date:
Keywords
Melatonin

Tryptophan

Grain

Mulberry leaf tea

Pasteurized milk