Abstract
This study investigated the formation of angiotensin-converting enzyme (ACE) inhibitory peptides from koro kratok beans tempe during gastrointestinal digestion. The absorption of bioactive peptides was also investigated in this study. Koro kratok was fermented by commercial culture including Rhizopus oligosporus for 48 h. Gastrointestinal digestion was simulated sequentially by hydrolysis of tempe protein extract with pepsin and pancreatin for 240 min. The peptide content, degree of hydrolysis, molecular weight distribution, and ACE inhibitory activity were analyzed. The absorption of ACE inhibitory peptides was evaluated using the inverted gut sac of Sprague Dawley rats. Results showed that some amino acids, such as Arg, Lys, Asp, Glu, Phe, and Leu, were predominantly found in tempe. After the hydrolysis process, cooked tempe exhibited the highest ACE inhibitory activity (90.05%). Although the ACE inhibitory activity of nonfermented koro kratok was lower than that of tempe, the increase in its inhibitory activity was too large (23.03%). The ACE inhibitory peptides from tempe showed a predominance of peptides with a molecular weight of < 1 kDa and could inhibit ACE activity by 84.34%. The majority of ACE inhibitory peptides from tempe was absorbed in the jejunum and exhibited an ACE inhibitory activity of 81.59%. Based on these results, it can be concluded that the fermentation and boiling process of koro kratok beans improved the release of ACE inhibitory peptides during the gastrointestinal digestion process and had an impact on its absorption.
Access options
Buy single article
Instant access to the full article PDF.
US$ 39.95
Tax calculation will be finalised during checkout.
Subscribe to journal
Immediate online access to all issues from 2019. Subscription will auto renew annually.
US$ 79
Tax calculation will be finalised during checkout.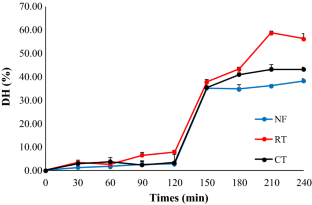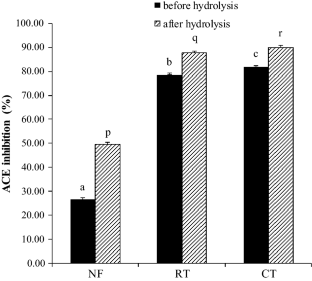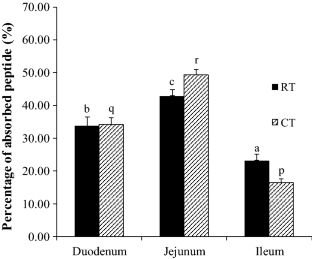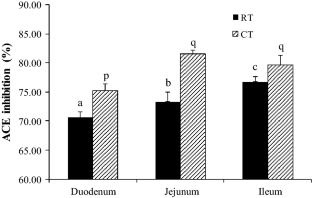 References
Akillioglu HG, Karakaya S (2009) Effects of heat treatment and in vitro digestion on the angiotensin converting enzyme inhibitory activity of some legume species. Eur Food Res Technol 229:915–921

Aluko RE, Girgih AT, He R, Malomo S, Li H, Offengenden M, Wu J (2015) Structural and functional characterization of yellow field pea seed (Pisum sativum L.) protein-derived antihypertensive peptides. Food Res Int 77:10–16

Amenta F, Buccioni M, Ben DD, Lambertucci C, Navia AM, Ngnintedem MAN, Ricciutelli M, Spinaci A, Volpini R, Marucci G (2018) Ex-vivo absorption study of lysine R-lipoate salt, a new pharmaceutical form of R-ALA. Eur J Pharm Sci 118:200–207

Ancona DB, Espinoza TS, Ruiz JR, Campos MS, Guerrero LC (2014) Enzymatic hydrolysis of hard-to-cook bean (Phaseolus vulgaris L.) protein concentrates and its effects on biological and functional properties. Int J Food Sci Tech 49:2–8

Andriati N, Anggrahini S, Setyaningsih W, Sofiana I, Pusparasi DA, Mossberg F (2018) Physicochemical characterization of Jack Bean (Canavalia ensiformis) tempeh. Food Res 2(5):481–485

AOAC (2005) Official methods of analysis of the Association of Official Analytical Chemists, 14th edn. Washington DC

Astuti M, Melial A, Dalais FS, Wahlqvist ML (2000) Tempe, a nutritious and healthy food from Indonesia. Asia Pasific J Clin Nutr 9(4):322–325

Bax ML, Buffiere C, Hafnaoui N, Gaudichon C, Auzeloux IS, Dardevet D, Lhoutellier VS, Remond D (2013) Effects of meat cooking, and of ingested amount, on protein digestion speed and entry of residual proteins into the colon: a study in Minipigs. PLoS ONE 8(4):1–7

Campos MRS, Guerrero LAC, Ancona DAB (2011) Purification of angiotensin I-converting enzyme inhibitory peptides from a cowpea (Vigna unguiculata) enzymatic hydrolysate. Process Biochem 46:864–872

Capriotti AL, Caruso G, Cavaliere C, Samperi R, Ventura S, Chiozzi RZ, Lagana A (2015) Identification of potential bioactive peptides generated by simulated gastrointestinal digestion of soybean seeds and soy milk proteins. J Food Compos Anal 44:205–213

Chang KC, Skauge LH, Satterlee LD (1989) Analysis of amino acids in soy isolates and navy beans using precolumn derivatization with phenylisothiocyanate and reversed-phase high performance liquid chromatography. J Food Sci 54:756–759

Chun H, Sasaki M, Fujiyama Y, Bamba T (1996) Effect of peptide chain length on absorption and intact transport of hydrolyzed soybean peptide in rat intestinal everted sac. J Clin Biochem Nutr 21:131–140

Church FC, Swaisgood HE, Porter GH, Catignani GL (1983) Spectrophotometric assay using o-phthaldialdehyde for determination of proteolysis in milk and isolated milk proteins. J Dairy Sci 66:1219–1227

Cushman DW, Cheung HS (1971) Spectrophotometric assay and properties of the angiotensin converting enzymes from rabit lung. Biochem Pharmacol 20:1637–1648

Davis PJ, Williams SC (1998) Protein modification by thermal processing. Allergy 53:102–105

Gibbs BF, Zougman A, Masse R, Mulligan C (2004) Production and characterization of bioactive peptides from soy hydrolysate and soy-fermented food. Food Res Int 37:123–131

Gilbert ER, Wong EA, Webb KE (2008) Peptide absorption and utilization: implications for animal nutrition and health. J Anim Sci 86:2135–2155

Gu Y, Wu J (2013) LC–MS/MS coupled with QSAR modeling in characterizing of angiotensin I-converting enzyme inhibitory peptides from soybean proteins. Food Chem 141:2682–2690

Guerrero LC, Magaña MD, Ayala AM, Ortiz GD, Ancona DB (2012) Lima bean (Phaseolus lunatus) protein hydrolysates with ACE-I inhibitory activity. FNS 3:511–521

Jayalaxmi B, Vijayalakshmi D, Ravindra U, Revenna ML, Chandru R (2016) Effect of different processing methods on proximate, mineral and antinutrient content of lima bean (Phaseolus lunatus) seeds. Legume Res 39(4):543–549

Lee SY, Hur SJ (2017) Antihypertensive peptides from animal products, marine organisms, and plants. Food Chem 228:506–517

Li H, Aluko RE (2010) Identification and inhibitory properties of multifunctional peptides from pea protein hydrolysate. J Agric Food Chem 58:11471–11476

Lin HC, Alashi AM, Aluko RE, Pan BS, Chang YW (2017) Antihypertensive properties of tilapia (Oreochromis spp.) frame and skin enzymatic protein hydrolysates. Food Nutr Res 61:1–11

Magana MD, Campos MS, Ortiz GD, Ancona DB, Guerrero LC (2015) ACE-I inhibitory properties of hydrolysates from germinated and ungerminated Phaseolus lunatus proteins. Food Sci Technol 35(1):167–174

Matthews DM, Crampton RF, Lis MT (1971) Sites of maximal intestinal absorptive capacity for amino acids and peptides: evidence for an independent peptide uptake system or system. J Clin Pathol 24:882–883

Minekus M, Alminger M, Alvito P, Balance S, Bohn T, Bourlieu C, Carrière F et al (2014) A standardized static in vitro digestion method suitable for food—an international consensus. Food Funct 5(6):1113–1124

Natesh R, Schwager SLU, Sturrock ED, Acharya KR (2003) Crystal structure of the human angiotensin-converting enzyme–lisinopril complex. Nature 42:551–554

Omosebi MO, Otunola ET (2013) Prelimenary studies on tempeh flour produced from three different rhizopus species. Int J Biotechnol Food Sci 1(5):90–96

Pihlanto LA, Koskinen P, Piilola K, Tupasela T, Korhonen H (2000) Angiotensin I-converting enzyme inhibitory properties of whey protein digest: concentration and characterization of active peptides. J Dairy Res 67(1):53–64

Sanjukta S, Rai AK (2016) Production of bioactive peptides during soybean fermentation and their potential health benefits. Trends Food Sci Tech 5:1–10

Tang C (2008) Thermal denaturation and gelation of vicilin-rich protein isolates from three Phaseolus legumes: A comparative study. LWT - Food Sci Technol 41:1380–1388

Uco JT, Guerrero LC, Ayala AM, Ortız GD, Ancona DB (2009) Angiotensin-I converting enzyme inhibitory and antioxidant activities of protein hydrolysates from Phaseolus lunatus and Phaseolus vulgaris seeds. LWT - Food Sci Technol 42:1597–1604

Udenigwe CC, Adebivi AP, Doyen A, Li H, Bazinet L, Aluko RE (2012) Low molecular weight flaxseed protein-derived arginine-containing peptides reduced blood pressure of spontaneously hypertensive rats faster than amino acid form of arginine and native flaxseed protein. Food Chem 132:468–475

Vital DAL, Mojica L, Mejía EG, Mendoza S, Pina GL (2015) Biological potential of protein hydrolysates and peptides from common bean (Phaseolus vulgaris L.): a review. Food Res Int 76:39–50

Wang Y, Li F, Chen M, Li Z, Liu W, Wang C (2015) Angiotensin I-converting enzyme inhibitory activities of Chinese traditional soy-fermented Douchi and soypaste: effects of processing and stimulated gastrointestinal digestion. Int J Food Prop 18:934–944

Xu Q, Hong H, Wu J, Yan X (2019) Bioavailability of bioactive peptides derived from food proteins across the intestinal epithelial membrane: A review. Trends Food Sci Tech 86:399–411
Acknowledgements
This study was financially supported by the Final Project Recognition Program (Program Rekognisi Tugas Akhir) 2019 from the Directorate of Research, Universitas Gadjah Mada (Grant No. 3392/UNI/DITLIT/DIT-LIT/LT/2019). The authors also thank Marta T. Handayani for the technical assistance provided in this study. The authors would like to thank Enago (www.enago.com) for the English language review.
Additional information
Publisher's Note
Springer Nature remains neutral with regard to jurisdictional claims in published maps and institutional affiliations.
About this article
Cite this article
Pertiwi, M.G.P., Marsono, Y. & Indrati, R. In vitro gastrointestinal simulation of tempe prepared from koro kratok (Phaseolus lunatus L.) as an angiotensin-converting enzyme inhibitor. J Food Sci Technol 57, 1847–1855 (2020). https://doi.org/10.1007/s13197-019-04219-1
Revised:

Accepted:

Published:

Issue Date:
Keywords
Tempe

ACE inhibitory activity

Digestion

Absorption