Abstract
Food Security is a multifaceted aspect covering nutrition, availability, sufficiency, accessibility and safety. Millennium Development Goals as framed by United Nations focused to attain food security for all. The biggest hindrance in attaining food security was less productivity due to lack of enough resources. In order to increase the availability and produce sufficient food, malpractices like growing food on contaminated land or using untreated wastewater for irrigation came into play. Such practices have led to the transfer of heavy metals, pathogens and other harmful toxins to food crops. Various studies across the world have documented high concentration of heavy metals in vegetable crops. Root tubers and succulent stems are hyperaccumulators of heavy metals and thus tend to pose health hazard to the consuming population. In many instances the content of toxic metals in vegetables is much beyond permissible limits. Hazard quotient assessment in various studies has shown that consumption of these vegetables can be toxic to both adults and children. So, the question arises are we really attaining the global food security? There is a need to find a solution to produce sufficient, safe and nutritious food for the civilization so as to meet the goal of "zero hunger".
This is a preview of subscription content,
to check access.
Access this article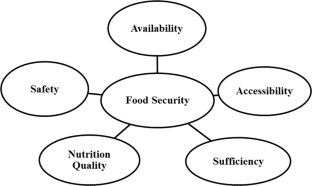 Similar content being viewed by others
References
Ahmad JU, Goni MA (2010) Heavy metal contamination in water, soil, and vegetables of the industrial areas in Dhaka. Bangladesh Environ Monitor Assess 166(1–4):347–357. https://doi.org/10.1007/s10661-009-1006-6

Ali MHH, Al-Qahtani KM (2012) Assessment of some heavy metals in vegetables, cereals and fruits in Saudi Arabian markets. Egypt J Aquat Res 38(1):31–37. https://doi.org/10.1016/j.ejar.2012.08.002

Amin NU, Hussain A, Alamzeb S, Begum S (2013) Accumulation of heavy metals in edible parts of vegetables irrigated with waste water and their daily intake to adults and children, District Mardan. Pakistan Food Chem 136(3–4):1515–1523. https://doi.org/10.1016/j.foodchem.2012.09.058

Angelakis AN, Koutsoyiannis D, Tchobanoglous G (2005) Urban wastewater and stormwater technologies in ancient Greece. Water Res 39:210–220

Arora M, Kiran B, Rani S, Rani A, Kaur B, Mittal N (2008) Heavy metal accumulation in vegetables irrigated with water from different sources. Food Chem 111:811–815. https://doi.org/10.1016/j.foodchem.2008.04.049

Asano T, Burton FL, Leverenz H, Tsuchihashi R, Tchobanoglous G (2007) Water reuse: issues, technologies, and applications. McGraw Hill, New York

Bagdatlioglu N, Nergiz C, Ergonul PG (2010) Heavy metal levels in leafy vegetables and some selected fruits. J Consum Prot Food Saf 5(3):421–428. https://doi.org/10.1007/s00003-010-0594-y

Bakkali K, Martos NR, Souhail B, Ballesteros E (2012) Determination of Heavy Metal Content in Vegetables and Oils From Spain and Morocco by Inductively Coupled Plasma Mass Spectrometry. Anal Lett 45(8):907–919

Banerjee D, Bairagi H, Mukhopadhyay S, Pal A, Ray L (2010) Heavy Metal Contamination in Fruits and Vegetables in Two Districts of West Bengal, India. Electron J Environ Agric Food Chem 9:1423–1432D

Bempah CK, Buah-kwofie A, Osei-tutu A, Denutsui D, Bentil N (2011) Assessing potential dietary intake of heavy metals in some selected fruits and vegetables from Ghanaian markets. Elixir Pollut 39:4921–4926

Bigdeli M, Seilsepour M (2008) Investigation of Metals Accumulation in Some Vegetables Irrigated with Waste Water in Shahre Rey-Iran and Toxicological Implications. Am Eurasian J Agric Environ Sci 4(1):86–92

Boamponsem GA, Kumi M, Debrah I (2012) Heavy Metals Accumulation In Cabbage, Lettuce And Carrot Irrigated With Wastewater From Nagodi Mining Site In Ghana. Int J Sci Technol Res 1(11):124–129

Bosiacki M, Tyksiñski W (2009) Copper, Zinc, Iron and manganese content in edible parts of some fresh vegetables sold on markets in Poznañ. J Elementol 14(1):13–22

Bruinsma J (2009) The resources outlook: by how much do land, water and crop yields need to increase by 2050? In Looking Ahead in World Food and Agriculture: Perspectives to 2050. FAO, Rome, (pp 233–278). Retrieved from https://www.fao.org/docrep/014/i2280e/i2280e06. pdf

Cao H, Chen J, Zhang J, Zhang H, Qiao L, Men Y (2010) Heavy metals in rice and garden vegetables and their potential health risks to inhabitants in the vicinity of an industrial zone in Jiangsu. China J Environ Sci 22(11):1792–1799

Chary NS, Kamala CT, Suman DS (2008) Assessing risk of heavy metals from consuming food grown on sewage irrigated soils and food chain transfer. Ecotoxicol Environ Saf 69:513–524

Chove BE, Ballegu WR, Chove LM (2006) Copper and lead levels in two popular leafy vegetables grown around Morogoro Municipality. Tanzania Tanzania Health Res Bull 8(1):37–40

Elbagermi MA, Edwards HGM, Alajtal AI (2012) Monitoring of Heavy Metal Content in Fruits and Vegetables Collected from Production and Market Sites in the Misurata Area of Libya. ISRN Anal Chem 2012:1–5

FAO, WHO (2011) Joint FAO/WHO food standards programme codex committee on contaminants in foods. FAO WHO. Retrieved from ftp://ftp.fao.org/ codex/meetings/CCCF/cccf5/cf05_INF.pdf

FAO, IFAD, WFP (2015) The State of Food Insecurity in the World: Meeting the 2015 international hunger targets: taking stock of uneven progress. FAO, Rome

Farooq M, Anwar F, Rashid U (2008) Appraisal of heavy metal contents in different vegetables grown in the vicinity of an industrial area. Pak J Bot 40(5):2099–2106

Fytianos K, Katsianis G, Triantafyllou P, Zachariadis G (2001) Accumulation of heavy metals in vegetables grown in an industrial area in relation to soil. Bull Environ Contam Toxicol 67(3):423–430

Gebrekidan A, Weldegebriel Y, Hadera A, Van der Bruggen B (2013) Toxicological assessment of heavy metals accumulated in vegetables and fruits grown in Ginfel river near Sheba Tannery, Tigray, Northern Ethiopia. Ecotoxicol Environ Saf 95:171–178

Gergen I, Harmanescu M (2012) Application of principal component analysis in the pollution assessment with heavy metals of vegetable food chain in the old mining areas. Chem Central J 6(1):156

Guerra F, Trevizam AR, Muraoka T, Marcante NC, Caniatti-Brazaca SG (2012) Heavy metals in vegetables and potential risk for human health. Sci Agricola 69:54–60

Gupta N, Khan DK, Santra SC (2012) Heavy metal accumulation in vegetables grown in a long-term wastewater-irrigated agricultural land of tropical India. Environ Monitor Assess 184(11):6673–6682

Hao XZ, Zhou DM, Huang DQ, Cang L, Zhang HL, Wang H (2009) Heavy metal transfer from soil to vegetable in Southern Jiangsu Province. China Pedosphere 19(3):305–311

Harati M, Varavi M, Rastegar MT, Foghi B (2011) Effect of urban wastewater usage and problems of accumulation of heavy metals in agricultural lands (south of Tehran). Afr J Agric Res 6(14):3224–3231

Harmanescu M, Alda L, Bordean D, Gogoasa I, Gergen I (2011) Heavy metals health risk assessment for population via consumption of vegetables grown in old mining area; a case study: Banat County. Romania Chem Central J 5(1):64

Huang Z, Pan XD, Wu PG, Han JL, Chen Q (2014) Heavy metals in vegetables and the health risk to population in Zhejiang. China Food Control 36(1):248–252

Jiménez B, Asano T (eds) (2008) Water reuse: an international survey of current practice, issues and needs. IWA Publishing, London

Jolly YN, Islam A, Akbar S (2013) Transfer of metals from soil to vegetables and possible health risk assessment. SpringerPlus 2(1):385–392

Kanungsukkasem U, Ng N, Van Minh H, Razzaque A, Ashraf A, Juvekar S, Ahmed SM, Bich TH (2009) Fruit and vegetable consumption in rural adults population in INDEPTH HDSS sites in Asia. Global Health Action 2:35–43

Khan S, Cao Q, Zheng YM, Huang YZ, Zhu YG (2008) Health risks of heavy metals in contaminated soils and food crops irrigated with wastewater in Beijing, China. Environ Pollut 152:686–692

Khan S, Rehman S, Zeb Khan A, Amjad Khan M, Tahir Shah M (2010) Soil and vegetables enrichment with heavy metals from geological sources in Gilgit, northern Pakistan. Ecotoxicol Environ Saf 73(7):1820–1827

Khan K, Lu Y, Khan H, Ishtiaq M, Khan S, Waqas M, Wei L, Wang T (2013) Heavy metals in agricultural soils and crops and their health risks in Swat District, Northern Pakistan. Food Chem Toxicol 58:449–458

Kisku GC, Pandey P, Negi MPS, Misra V (2011) Uptake and accumulation of potentially toxic metals (Zn, Cu and Pb) in soils and plants of Durgapur industrial belt. J Environ Biol 32:831–838

Kumar N, Soni H, Kumar R (2010) Characterization of Heavy Metals in Vegetables Using Inductive Coupled Plasma Analyzer (ICPA). J Appl Sci Environ Manag. https://doi.org/10.4314/jasem.v11i3.55131

Liu P, Zhao HJ, Wang LL, Liu ZH, Wei JL, Wang YQ, Jiang LH, Dong L, Zhang YF (2011) Analysis of heavy metal sources for vegetable soils from Shandong Province, China. Agric Sci China 10:109–119

Liu J, Wang J, Qi J, Li X, Chen Y, Wang C, Wu Y (2012) Heavy metal contamination in arable soils and vegetables around a sulfuric acid factory, China. Clean-Soil, Air, Water 40:766–772

Luo C, Liu C, Wang Y, Liu X, Li F, Zhang G, Li X (2011) Heavy metal contamination in soils and vegetables near an e-waste processing site, south China. J Hazard Mater 186(1):481–490

Mahmood A, Malik RN (2014) Human health risk assessment of heavy metals via consumption of contaminated vegetables collected from different irrigation sources in Lahore. Pakistan Arab J Chem 7(1):91–99

Mahmoud N, Lettinga G (2003) Sewage characterization as a tool for the application of anaerobic treatment in Palestine. Environ Pollut 126:115–122

Mishra A, Tripathi BD (2008) Heavy metal contamination of soil, and bioaccumulation in vegetables irrigated with treated waste water in the tropical city of Varanasi. India Toxicol Environ Chem 90(1):1–10

Mwegoha WJS, Kihampa C (2010) Heavy metal contamination in agricultural soils and water in Dar Es Salaam City, Tanzania. Afr J Environ Sci Technol 4:763–769

Naser HM, Mahmud NU, Sultana S, Gomes R, Rahman M (2012) Trace Elements Content in Vegetables Grown in industrially polluted and non-polluted areas. Bangladesh J Agric Res 37:515–527

National Institute of Nutrition. (2011) Dietary Guidelines for Indians-A Manual. Retrieved from https://ninindia.org/DietaryguidelinesforIndians-Finaldraft.pdf

Orisakwe OE, Kanayochukwu NJ, Nwadiuto AC, Daniel D, Onyinyechi O (2012a) Evaluation of potential dietary toxicity of heavy metals of vegetables. Environ Anal Toxicol 2:2–5

Orisakwe OE, Nduka JK, Amadi CN, Dike DO, Bede O (2012b) Heavy metals health risk assessment for population via consumption of food crops and fruits in Owerri, South Eastern, Nigeria. Chem Cent J 6:77–83

Perveen S, Samad A, Nazif W, Shah S (2012) Impact of sewage water on vegetables quality with respect to heavy metals in Peshawar Pakistan. Pak J Bot 44(6):1923–1931

Ramesh HL, Yogananda Murthy VN (2012) Assessment of Heavy Metal Contamination in Green Leafy Vegetables Grown in Bangalore Urban District of Karnataka. Adv Life Sci Technol 6:40–51

Rattan RK, Datta SP, Chhonkar PK, Suribabu K, Singh AK, (2005) Long-term impact of irrigation with sewage effluents on heavy metal content in soils, crops and groundwater - A case study. Agric Ecosyst Environ 109(3–4):310–322

Safi Z, Buerkert A (2011) Heavy metal and microbial loads in sewage irrigated vegetables of Kabul, Afghanistan. J Agric Rural Dev Tropics Subtropics 112:29–36

Saha N, Zaman MR (2013) Evaluation of possible health risks of heavy metals by consumption of foodstuffs available in the central market of Rajshahi City. Bangladesh Environ Monitor Assess 185(5):3867–3878

Sani HA, Tsafe AI, Bagudo BU, Itodo AU (2011) Toxic metals uptake by spinach (Spinacea oleracea) and lettuce (Lactuca sativa) cultivated in Sokoto: A comparative study. Pak J Nutr 10(6):572–576

Sharma A, Katnoria JK, Nagpal A (2016a) Heavy Metals in Vegetables: Screening health risk involved in cultivation along wastewater drain and irrigating with wastewater. Springerplus 5:488

Sharma A, Kaur M, Katnoria JK, Nagpal AK (2016b) Heavy Metal Pollution: A Global Pollutant of Rising Concern. In: Rathoure A, Dhatwalia V (eds) Toxicity and Waste Management Using Bioremediation. IGI Global, Hershey, PA, pp 1–26

Singh A, Prasad SM (2014) Effect of agro-industrial waste amendment on Cd uptake in Amaranthus caudatus grown under contaminated soil: An oxidative biomarker response. Ecotoxicol Environ Saf 100:105–113

Singh A, Sharma RK, Agrawal M, Marshall F (2009) Effects of wastewater irrigation on physiochemical properties of soil and availability of heavy metals in soil and vegetables. Commun Soil Sci Plant Anal 40:3469–3490

Singh A, Sharma RK, Agrawal M, Marshall FM (2010) Health risk assessment of heavy metals via dietary intake of foodstuffs from the wastewater irrigated site of a dry tropical area of India. Food Chem Toxicol 48(2):611–619

Song B, Lei M, Chen T, Zheng Y, Xie Y, Li X, Gao D (2009) Assessing the health risk of heavy metals in vegetables to the general population in Beijing. China J Environ Sci 21(12):1702–1709

Tiwari KK, Singh NK, Patel MP, Tiwari MR, Rai UN (2011) Metal contamination of soil and translocation in vegetables growing under industrial wastewater irrigated agricultural field of Vadodara, Gujarat. India Ecotoxicol Environ Saf 74(6):1670–1677

UN (2015) Millennium Development Goals and Beyond 2015. Retrieved from https://www.un.org/millenniumgoals/poverty.shtml

Uwah EI, Ndahi NP, Abdulrahman FI, Ogugbuaja VO (2011) Heavy metal levels in spinach (Amaranthus caudatus) and lettuce (Lactuca sativa) grown in Maiduguri. Nigeria J Environ Chem Ecotoxicol 3(10):264–271

Van der Hoek (2004) A Framework for a Global Assessment of the Extent of Wastewater Irrigation: The Need for a Common Typology. In. Scott CA, Faruqui NI, Raschid-Sally L (eds.) Wastewater Use in Irrigated Agriculture: Confronting the Livelihood and Environmental Realities. Wallingford: CABI.

Wang L, Guo Z, Xiao X, Chen T, Liao X, Song J, Wu B (2008) Heavy metal pollution of soils and vegetables in the midstream and downstream of the Xiangjiang River, Hunan Province. J Geogr Sci 18:353–362

Wang Y, Qiao M, Liu Y, Zhu Y (2012) Health risk assessment of heavy metals in soils and vegetables from wastewater irrigated area, Beijing–Tianjin city cluster. China J Environ Sci 24(4):690–698

Weldegebriel Y, Chandravanshi BS, Wondimu T (2012) Concentration levels of metals in vegetables grown in soils irrigated with river water in Addis Ababa, Ethiopia. Ecotoxicol Environ Saf 77:57–63

WHO (2006) WHO Guidelines for the Safe Use of Wastewater, Excreta and Greywater. Vol. I: Policy and Regulatory Aspects. Vol. II: Wastewater Use in Agriculture. Vol. III: Watewater and Excreta Use in Aquaculture. Vol. IV: Excreta and Greywater Use in Agriculture. World Health Organization, Geneva.

WHO World Health Organization (2003) Diet, nutrition, and the prevalence of chronic diseases. Geneva, Switzerland: World Health Organization; Contract No.: WHO Technical Report Series No. 916.

World Bank (2010) Improving Wastewater Use in Agriculture : An Emerging Priority. World Bank Energy Transport and Water Department Water Anchor, Washington, DC

WWF (2016) Water Scarcity: Overview. Retrieved March 1, 2016, from https://www.worldwildlife.org/threats/water-scarcity

Xue ZJ, Liu SQ, Liu YL, Yan YL (2012) Health risk assessment of heavy metals for edible parts of vegetables grown in sewage-irrigated soils in suburbs of Baoding City, China. Environ Monitor Assess 184:3503–3513

Zhuang P, Mcbride MB, Xia H, Li NY, Li ZA (2008) Health risk from heavy metals via consumption of food crops in the vicinity of Dabaoshan mine. South China Sci Total Environ 407(5):1551–1561

Zhuang P, Zou B, Li NY, Li ZA (2009) Heavy metal contamination in soils and food crops around Dabaoshan mine in Guangdong, China: Implication for human health. Environ Geochem and Health 31:707–715
Additional information
Publisher's Note
Springer Nature remains neutral with regard to jurisdictional claims in published maps and institutional affiliations.
About this article
Cite this article
Sharma, A., Nagpal, A.K. Contamination of vegetables with heavy metals across the globe: hampering food security goal. J Food Sci Technol 57, 391–403 (2020). https://doi.org/10.1007/s13197-019-04053-5
Revised:

Accepted:

Published:

Issue Date:

DOI: https://doi.org/10.1007/s13197-019-04053-5
Keywords