Abstract
Eggplant (Solanum melongena L.) is the third solanaceous of horticultural importance in the world, after potato and tomato. In the agricultural production of this vegetable, there are post-harvest losses and waste generation. Reduction of these inconveniences can be avoided by obtaining ingredients with high nutritional value for food processing, as breadmaking. Changes in wheat dough and bread quality due to the incorporation of eggplant flour were studied. Different levels (5, 7.5, 10%) of replacement with flour from Large eggplant were analysed. The optimum level of eggplant flour (7.5%) was used for comparison technological performance of eggplant–wheat breads elaborated with flour from eggplants of different size: small size eggplant (Baby, BE) and large size eggplant (Large, LE). Dough was characterized through farinographic (water absorption, development time, stability, softening degree) and fermentation parameters (maximum volume of fermented dough, fermentation time). Technological quality (specific volume, hardness, elasticity, number of crumb alveolus, colour of crust and crumb) and sensory analysis of breads were evaluated. Proximal composition and antioxidant activity of flour and breads were studied. Water absorption, development time and softening degree increased, while bread volume, elasticity and the area occupied by alveoli decreased with the presence of eggplant flour. Breads also became darker. Breads with 7.5% of BE, presented a harder crumb with lower luminosity than those with LE. Both type of breads were well accepted by consumers; nevertheless, BE was the bread that contains higher amount of compounds with antioxidant activity and therefore it is recommended for formulation of functional breads.
Access options
Buy single article
Instant access to the full article PDF.
USD 39.95
Price excludes VAT (USA)
Tax calculation will be finalised during checkout.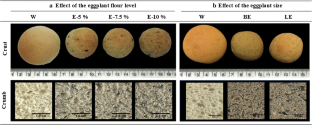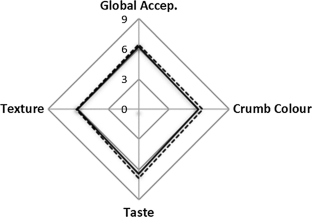 References
AACC (2000) Approved Methods of the American Association of Cereal Chemists. vol v. 1-2, 10th edn. AACC, USA

Anderson JW et al (2009) Health benefits of dietary fiber. Nutr Rev 67:188–205. https://doi.org/10.1111/j.1753-4887.2009.00189.x

AOAC (1998) Official methods of analysis, 16th edn. AOAC International, Gaithersburg

Arnao MB, Cano A, Acosta M (2001) The hydrophilic and lipophilic contribution to total antioxidant activity. Food Chem 73:239–244. https://doi.org/10.1016/S0308-8146(00)00324-1

Benzie IFF, Strain JJ (1996) The ferric reducing ability of plasma (FRAP) as a measure of "antioxidant power": the FRAP assay. Anal Biochem 239:70–76. https://doi.org/10.1006/abio.1996.0292

Bigne F (2016) Rheological and microstructure characterization of composite dough with wheat and mesquite (Prosopis spp.) flours. Int J Food Prop 19:243–256. https://doi.org/10.1080/10942912.2015.1020435

Blanco Canalis MS, Steffolani ME, León AE, Ribotta PD (2017) Effect of different fibers on dough properties and biscuit quality. J Sci Food Agric 97:1607–1615. https://doi.org/10.1002/jsfa.7909

Bower J (2009) Statistical methods for food science, 1st edn. Wiley, Edinburgh

Di Rienzo J, Casanoves F, Balzarini M, Gonzalez L, Tablada M, Robledo C (2008) InfoStat Versión 2011

dos Santos CM, Rocha DA, Madeira RAV, de Rezende Queiroz E, Mendez Mendonça M, Pereira J, Patto de Abreu CM (2018) Preparation, characterization and sensory analysis of whole wheat bread enriched with flour of papaya byproducts. Braz J Food Technol 21:1–9. https://doi.org/10.1590/1981-6723.12017

Doxastakis G, Zafiriadis I, Irakli M, Marlani H, Tananaki C (2002) Lupin, soya and triticale addition to wheat flour doughs and their effect on rheological properties. Food Chem 77:219–227. https://doi.org/10.1016/S0308-8146(01)00362-4

Gajewski M, Arasimowicz D (2004) Sensory quality of eggplant fruits (Solanum Melongena L.) as effected by cultivar and maturity stage. Pol J Food Nutr Sci 54:249–254

Glew RH, Ayaz FA, Sanz C, VanderJagt DJ, Huang HS, Chuang LT, Strnad M (2003) Changes in sugars, organic acids and amino acids in medlar (Mespilus germanica L.) during fruit development and maturation. Food Chem 83:363–369. https://doi.org/10.1016/S0308-8146(03)00097-9

Hobbs DA, Ashouri A, George TW, Lovegrove JA, Methven L (2014) The consumer acceptance of novel vegetable-enriched bread products as a potential vehicle to increase vegetable consumption. Food Res Int 58:15–22. https://doi.org/10.1016/j.foodres.2014.01.038

Jenkins DJA et al (2003) Effects of a dietary portfolio of cholesterol-lowering foods vs lovastatin on serum lipids and C-reactive protein. JAMA 290:502–510. https://doi.org/10.1001/jama.290.4.502

Kulkarni AP, Aradhya SM (2005) Chemical changes and antioxidant activity in pomegranate arils during fruit development. Food Chem 93:319–324. https://doi.org/10.1016/j.foodchem.2004.09.029

Linlaud NE, Puppo MC, Ferrero C (2009) Effect of hydrocolloids on water absorption of wheat flour and farinograph and textural characteristics of dough. Cereal Chem 86:376–382. https://doi.org/10.1094/cchem-86-4-0376

Makrogianni DI, Tsistraki A, Karapanos IC, Passam HC (2017) Nutritional value and antioxidant content of seed-containing and seedless eggplant fruits of two cultivars grown under protected cultivation during autumn–winter and spring–summer. J Sci Food Agric 97:3752–3760. https://doi.org/10.1002/jsfa.8238

Mohammed M, Brecht JK (2002) Immature fruit vegetables. In: Postharvest physiology and pathology of vegetables. CRC Press, Boca Raton, pp 670–689

Mohammed I, Ahmed AR, Senge B (2012) Dough rheology and bread quality of wheat–chickpea flour blends. Ind Crops Prod 36:196–202

National Agricultural Census (2002) Secretaria de Agricultura Ganadería y Pesca (SAGPYA). Buenos Aires, Argentina

Oliviero T, Fogliano V (2016) Food design strategies to increase vegetable intake: the case of vegetable enriched pasta. Trends Food Sci Technol 51:58–64. https://doi.org/10.1016/j.tifs.2016.03.008

Peng X, Ma J, Cheng K-W, Jiang Y, Chen F, Wang M (2010) The effects of grape seed extract fortification on the antioxidant activity and quality attributes of bread. Food Chem 119:49–53

Ranawana V, Raikos V, Campbell F, Bestwick C, Nicol P, Milne L, Duthie G (2016) Breads fortified with freeze-dried vegetables: quality and nutritional attributes. Part 1: breads containing oil as an ingredient. Foods 5:19

Reshmi S, Sudha M, Shashirekha M (2017) Starch digestibility and predicted glycemic index in the bread fortified with pomelo (Citrus maxima) fruit segments. Food Chem 237:957–965

Sagar NA, Pareek S, Sharma S, Yahia EM, Lobo MG (2018) Fruit and vegetable waste: bioactive compounds, their extraction, and possible utilization. Compr Rev Food Sci Food Saf 17:512–531

Salinas MV, Puppo MC (2013) Effect of organic calcium salts–inulin systems on hydration and thermal properties of wheat flour. Food Res Int 50:298–306

Scalzo RL, Fibiani M, Francese G, D'Alessandro A, Rotino GL, Conte P, Mennella G (2016) Cooking influence on physico-chemical fruit characteristics of eggplant (Solanum melongena L.). Food Chem 194:835–842

Sciammaro LP, Ferrero C, Puppo MC (2018) Gluten-free baked muffins developed with Prosopis alba flour. LWT 98:568–576. https://doi.org/10.1016/j.lwt.2018.09.045

Sękara A, Cebula S, Kunicki E (2007) Cultivated eggplants–origin, breeding objectives and genetic resources: a review. Folia Horticulturae 19:97–114

Sirbu A, Arghire C (2017) Functional bread: effect of inulin-type products addition on dough rheology and bread quality. J Cereal Sci 75:220–227

Valerga L, Darré M, Zaro MJ, Lemoine ML, Concellón A (2017) Influencia de la estación de cosecha sobre los antioxidantes de berenjena en distintos estados de desarrollo. Full paperpresentedto: XVI Congreso Argentino de Ciencia y Tecnología de Alimentos, Buenos Aires, Argentina. ISBN 978-987-22165-8-0

Valerga L, Quintero-Ruiz NA, Concellón A, Puppo MC (2019) Artichoke, eggplant and tomato flours as nutritional ingredients for wheat dough: Hydration properties. Food Sci Nutr (under evaluation)

WHO (2003) Diet, nutrition, and the prevention of chronic diseases: report of a joint WHO/FAO expert consultation, vol 916. World Health Organization, Geneva

Wieser H (2012) 18—the use of redox agents in breadmaking. In: Cauvain SP (ed) Breadmaking, 2nd edn. Woodhead Publishing, Sawston, pp 447–469

Yao LH, Jiang Y, Shi J, Tomas-Barberan F, Datta N, Singanusong R, Chen S (2004) Flavonoids in food and their health benefits. Plant Foods Hum Nutr 59:113–122

Zaro MJ, Keunchkarian S, Chaves AR, Vicente AR, Concellón A (2014) Changes in bioactive compounds and response to postharvest storage conditions in purple eggplants as affected by fruit developmental stage. Postharvest Biol Technol 96:110–117
Acknowledgements
We want to acknowledge to University of La Plata (UNLP), Scientific Research Council (CONICET) and Science and Technology Minister (MINCYT) of Argentina for the financial support (PICT2016-3047). We also want to thank Molino Campodónico S.A, Molino Rio de la Plata S.A and AE María Emilia Dosantos.
Additional information
Publisher's Note
Springer Nature remains neutral with regard to jurisdictional claims in published maps and institutional affiliations.
Electronic supplementary material
Below is the link to the electronic supplementary material.
About this article
Cite this article
Valerga, L., Quintero-Ruiz, N.A., Concellón, A. et al. Technological and nutritional characterization of wheat breads added with eggplant flour: dependence on the level of flour and the size of fruit. J Food Sci Technol 57, 182–190 (2020). https://doi.org/10.1007/s13197-019-04046-4
Revised:

Accepted:

Published:

Issue Date:

DOI: https://doi.org/10.1007/s13197-019-04046-4
Keywords
Eggplant

Dough optimization

Eggplant–wheat

Bread quality

Bread composition