Abstract
Four natural sweeteners (sucrose, stevioside, maltose and xylitol) and six artificial sweeteners (acesulfame, sucralose, aspartame, cyclamate, saccharin and neotame) were used to study the effects of different sweeteners on the behavior and neurotransmitter release of mice with two-bottle preference experiments. The results showed that very significant preference behavior for 8% sucrose solution, 0.3% stevioside solution, 10 mM acesulfame, 10 mM sucralose and 10 mM aspartame solutions (p < 0.01) was observed on mice. Long-term exposure of sucrose solution and acesulfame solution can affect the behavioral indicators such as solution consumption, feed intake, body weight and the release of neurotransmitters in mice. The solution consumption and the release of neurotransmitters were significantly greater (p < 0.05) than that of the control group (water group), but there was no significant difference in feed intake. The acesulfame-A and acesulfame-B groups had no significant difference on the consumption of solution and feed intake, but there was significant difference in the release of neurotransmitters. The result also showed that different sweetener solutions with similar sweetness had the same effect on the neurotransmitters release, and it can be inferred that mice have an addictive behavioral characteristic to sucrose.
Access options
Buy single article
Instant access to the full article PDF.
US$ 39.95
Tax calculation will be finalised during checkout.
Subscribe to journal
Immediate online access to all issues from 2019. Subscription will auto renew annually.
US$ 79
Tax calculation will be finalised during checkout.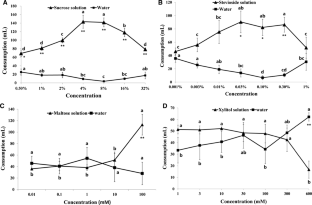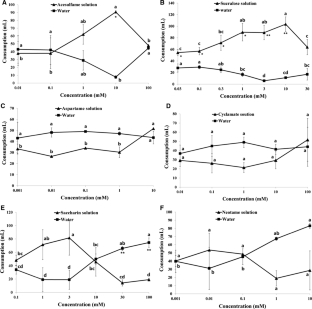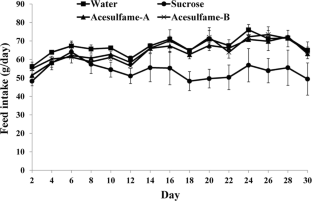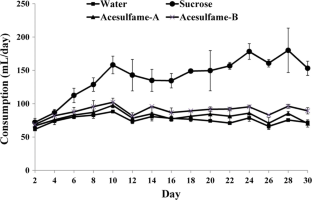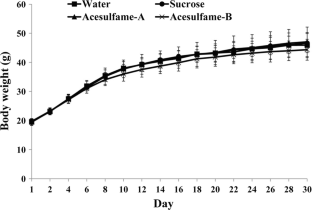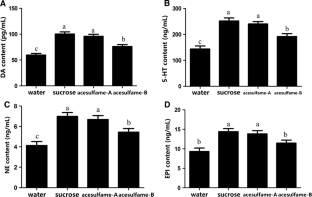 References
Abhilash M, Paul MVS, Varghese MV, Nair RH (2013) Long-term consumption of aspartame and brain antioxidant defense status. Drug Chem Toxicol 36(2):135–140

Andrews CM, Lucki I (2001) Effects of cocaine on extracellular dopamine and serotonin levels in the nucleus accumbens. Psychopharmacology 155(3):221–229

Avena NM, Rada P, Moise N, Hoebel BG (2006) Sucrose sham feeding on a binge schedule releases accumbens dopamine repeatedly and eliminates the acetylcholine satiety response. Neuroscience 139(3):813–820

Avena NM, Rada P, Hoebel BG (2008) Evidence for sugar addiction: behavioral and neurochemical effects of intermittent, excessive sugar intake. Neurosci Biobehav Rev 32(1):20–39

Bachmanov AA, Tordoff MG, Beauchamp GK (2001) Sweetener preference of C57BL/6ByJ and 129P3/J mice. Chem Senses 26(7):905–913

Bandyopadhyay A, Ghoshal S, Mukherjee A (2008) Genotoxicity testing of low-calorie sweeteners: aspartame, acesulfame-K, and saccharin. Drug Chem Toxicol 31:447–457

Bian XM, Chi L, Gao B, Tu P, Ru H, Lu K (2017) The artificial sweetener acesulfame potassium affects the gut microbiome and body weight gain in CD-1 mice. PLoS ONE 12(6):e0178426

Burke MV, Small DM (2015) Physiological mechanisms by which non-nutritive sweeteners may impact body weight and metabolism. Physiol Behav 152:381–388

Chi L, Bian X, Gao B, Tu P, Lai Y, Ru H, Lu K (2018) Effects of the artificial sweetener neotame on the gut microbiome and fecal metabolites in mice. Molecules 23:367

De Araujo IE, Oliveira-Maia AJ, Sotnikova TD, Gainetdinov RR, Caron MG, Nicolelis MAL, Simon SA (2008) Food reward in the absence of taste receptor signaling. Neuron 57(6):930–941

Duffey KJ, Steffen LM, Van Horn L, Jacobs DR Jr, Popkin BM (2012) Dietary patterns matter: diet beverages and cardiometabolic risks in the longitudinal Coronary Artery Risk Development in Young Adults (CARDIA) Study. Am J Clin Nutr 95:909–915

Fowler SP, Williams K, Hazuda HP (2015) Diet soda intake is associated with long-term increases in waist circumference in a biethnic cohort of older adults: the San Antonio longitudinal study of aging. J Am Geriatr Soc 63:708–715

Garber AK, Lustig RH (2011) Is fast food addictive? Curr Drug Abuse Rev 4:146–162

Gardner C, Wylie-Rosett J, Gidding SS, Steffen LM, Johnson RK, Reader D, Lichtenstein AH (2012) Non-nutritive sweeteners: current use and health perspectives: a scientific statement from the American heart association and the American diabetes association. Circulation 126:509–519

Guo HL (2013) The biological basis research of sweet perception in oral cavity and intestine of mice after preference sweetness exposure. Zhejiang Gongshang University, Hangzhou

Hamada FN, Rosenzweig M, Kang K, Pulver SR, Ghezzi A, Jegla TJ, Garrity PA (2008) An internal thermal sensor controlling temperature preference in Drosophila. Nature 454(7501):217–220

Kuk JL, Brown RE (2016) Aspartame intake is associated with greater glucose intolerance in individuals with obesity. Appl Physiol Nutr Metab 41:795–798

Liauchonak I, Qorri B, Dawoud F, Riat Y, Szewczuk MR (2019) Non-nutritive sweeteners and their implications on the development of metabolic syndrome. Nutrients 11(3):644

Lustig RH (2010) Fructose: metabolic, hedonic, and societal parallels with ethanol. J Am Diet Assoc 110(9):1307–1321

Mao WF, Song Y (2018) Major problems and hazards in use of sweeteners commonly found in foods. J Food Sci Technol 36(6):9–14

Miller PE, Perez V (2014) Low-calorie sweeteners and body weight and composition: a meta-analysis of randomized controlled trials and prospective cohort studies. Am J Clin Nutr 100(3):765–777

Nishida C, Uauy R, Kumanyika S, Shetty P (2004) The joint WHO/FAO expert consultation on diet and the prevention of chronic diseases: process, product and policy implications. Public Health Nutr 7(1A):245–250

Noorjahan A, Amrita B, Kavita S (2014) In vivo evaluation of taste masking for developed chewable and orodispersible tablets in humans and rats. Pharm Dev Technol 19(3):290–295

Peters JC, Beck J, Cardel M, Wyatt HR, Foster GD, Pan Z, Wojtanowski AC, Vander-Veur SS, Herring SJ, Brill C, Hill JO (2016) The effects of water and non-nutritive sweetened beverages on weight loss and weight maintenance: a randomized clinical trial. Obesity 24:297–304

Petro AE, Cotter J, Cooper DA, Peters JC, Surwit SJ, Surwit RS (2004) Fat, carbohydrate, and calories in the development of diabetes and obesity in the C57BL/6J mouse. Metabolism 53(4):454–457

Sclafani A, Touzani K, Bodnar RJ (2011) Dopamine and learned food preferences. Physiol Behav 104:64–68

Seiden LS, Sabol KE, Ricaurte GA (1993) Amphetamine: effects on catecholamine systems and behavior. Annu Rev Pharmacol Toxicol 33:639–677

Sun C, Liu J (2018) Modern food hygiene. People's Medical Publishing House, Beijing

Talukdar S, Owen BM, Song P, Hernandez G, Zhang Y, Zhou Y, Scott WT, Paratala B, Turner T, Smith A, Bernardo B, Müller CP, Tang H, Mangelsdorf DJ, Goodwin B, Kliewer SA (2016) FGF21 regulates sweet and alcohol preference. Cell Metab 23:344–349

Wang QP, Lin YQ, Zhang L, Wilson YA, Oyston LJ, Cotterell J, Qi Y, Khuong TM, Bakhshi N, Planchenault Y, Browman DT, Lau MT, Cole TA, Wong AC, Simpson SJ, Cole AR, Penninger JM, Herzog H, Neely GG (2016) Sucralose promotes food intake through NPY and a neuronal fasting response. Cell Metab 24(1):75–90

Wise RA, Bozarth MA (1987) A psychomotor stimulant theory of addiction. Psychol Rev 94(4):469–492

Wong DL (2006) Epinephrine biosynthesis: hormonal and neural control during stress. Cell Mol Neurobiol 26(4–6):889–898

Zhao DY, Huang PH, Cao JQ, Sun W, Han XL, Wang DL (2019) Effects of sesame aroma Baijiu on drinking behavior and dopamine neurotransmitter Levels in mice. Liquor Mak Sci Technol 4:55–60

Zukerman S, Ackroff K, Sclafani A (2013) Post-oral glucose stimulation of intake and conditioned flavor preference in C57BL/6J mice: a concentration-response study. Physiol Behav 109:33–41
Acknowledgements
This study was supported by the National Key Research and Development Plan of China (2017YFD0400101), National Natural Science Foundation of China (Program No. 31671824).
Ethics declarations
Conflict of interest
The authors declare that they have no conflict of interest.
Additional information
Publisher's Note
Springer Nature remains neutral with regard to jurisdictional claims in published maps and institutional affiliations.
About this article
Cite this article
Yin, KJ., Xie, DY., Zhao, L. et al. Effects of different sweeteners on behavior and neurotransmitters release in mice. J Food Sci Technol 57, 113–121 (2020). https://doi.org/10.1007/s13197-019-04036-6
Revised:

Accepted:

Published:

Issue Date:
Keywords
Sweeteners

Two-bottle preference test

Neurotransmitters

Mice